I'm Shabbir Bhimani – freelancer, blogger and investor. Guiding developers to become self-employed by sharing my journey and experience.
Thank you for visiting my blog's about page to know more about me and my blog!
I have a lovely wife and 2 kids and have been an online freelancer working from home for more than a decade now.
When I was doing a job …
I am B.Tech in Information Technology 2004 Pass out. I got a job in an on-campus interview. I still remember the first day of my job. It was on 14th June 2004 Monday.
When in college and before my first job, as I had a keen interest in programming, I was looking to get involved in some real hands-on projects which lead me to RentACoder (a freelancing site then).
Back then I did few of those homework help type of projects in C and C++ Programming that were being posted on RentAcoder.
It was my first hands on freelancing and work from home and as far as I can remember it was in 2002.
After completing the college I joined a full-time job and that is when I realized that freelancing is not something that can be done along with a full-time day job and I decided not to continue very actively with freelancing but do something where I can work in my free time.
I started researching online and finally decided that sharing my content online is one of those few things which can be done when I have free time i.e. after reaching home from my full-time job and on weekends.
At that time I thought of going for a blog but as blogging was something relatively new in 2004, I figured out that blogging is something where I constantly need to write and I was not sure if I can manage that along with my full-time job and so I decided to go with online forums.
The 9 to 5 Boredom
I was doing my job along with managing and growing my online sites as well as doing freelancing in bits and pieces but I was never satisfied with my job. Was in my third job in first 12 months. I always found a reason to switch but …
First Job was Visual Basic development and as I was inclined more towards the web because of my own websites that were started to grow. Was doing a job in a fairly large company and so thought I should be working in a small web based company.
Second Job was a web development and SEO job in a small company. I started to get the feel that no this is not the kind of work I prefer to be doing and so I started to look for a C++ Job. Remember I loved C and C++ in my college days. I started to think I should be working in an MNC.
Third Job was a C++ job in an MNC and this is when I started to feel that I have no more excuse to switch jobs and this was the time I decided I will work more towards my own online business instead of working for others.
After I decided, it took me a couple of years to finally quit my job and be a full-time freelancer, blogger, and freelancer in 2008.
How did I Quit My Job
My first job was in June 2004 and in the first year of doing a job I was in my third job already. Something somewhere was not working for me as I wanted it to be.
I was hopping from one job to other finding the perfect job for me. Had various reasons for changing my job from not right kind of technology to the right kind of company size? The list goes on and on.
The first year of my third job was really enjoyable but soon I got bored with it.
After I ran out of reasons, I decided that I will be a blogger, build more community sites and work for freelancing clients.
So after a couple of years into my third job and having a total experience of 3 years now, I was prepared to quit my job.
The plan now was to have 6 to 8 months of family expenses in my bank account so if things don't work out the way I want in the next 6 to 8 months, I can get back to the job.
I accumulated the money and when I was about to quit, got a real big raise in my salary. Double of what I was making.
This is when I convinced myself to continue doing a job because now becoming a freelancing was being compared to what I was making instead of what I needed.
6 more months after the raise when I actually decided to say goodbye to the job.
Once you are quitting a job that is paying you handsome money, no dirty office politics, and you love the technology you are working on, it is a lot more difficult.
Finally I did it and it has been the best decision ever for my career and life.
In the News and Media
In The Times of India for Go4Expert.com.
My interview with Arnab Datta of LiveMint. Click the image to enlarge and read the paper version of the interview or you can read the online version here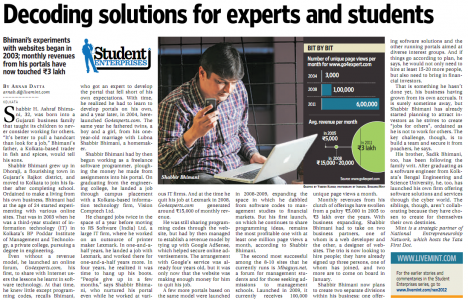 My story in YourStory.com.
My solution to PayPal India Problems in TechCrunch
What I blog About?
I share my entrepreneurship, freelancing and blogging experience as well as do the experimentation on new ways to internet marketing strategies for my web properties.
Here are some of the topics I write about.
Download my free eBook – How to be a Freelancer
In my eBook, I have shared the exact same strategies I use in crafting my proposals to attract clients, get paid my hourly rate and ask clients for feedback.
A community of Freelancers, for Freelancers and by a Freelancer and I'll be honored to have you as part of this community. You can unsubscribe anytime with a single click.
Follow me on twitter where I share resources and content that I read on web.
Popular articles here
It's very difficult to be selecting few articles and I really like all of them. So I leave it on my readers and selected those that have the most views and are enjoyed the most. You can check them out!
Working on Upwork
Being a Better Freelancer
Freelancing Business
How to Scale up Web Services Business – A Leaf From TCS & Infosys Business Model – Small web design and web development startups have issues scaling up to the 10 fold or 100 fold marks. The solution is to apply the business models of the best service industry companies.
9 Awesome Customer Acquisition Strategies for SaaS Startup – Software as a Service is a hot trend in India but many falter at acquiring new customers and clients because they are not aware of the right process to follow.
How to Scale Up Web Services Business – A Leaf From TCS & Infosys Business Model – Small web design and web development startups have issues scaling up to 10 folds or 100 folds. The solution is to apply the business model of the best service industry companies.
Blogging
Marketing
Entrepreneurship
Remember these are just a few and I updated my blog with a new articles every week!
Get in Touch
You can contact me or ask me questions. I love interacting one on one with my readers. Just be patient as I reply personally to my blog reader's.