My Upwork proposal sample is opportunity to introduce, highlight expertise & ask questions to show how I'm the best person for the job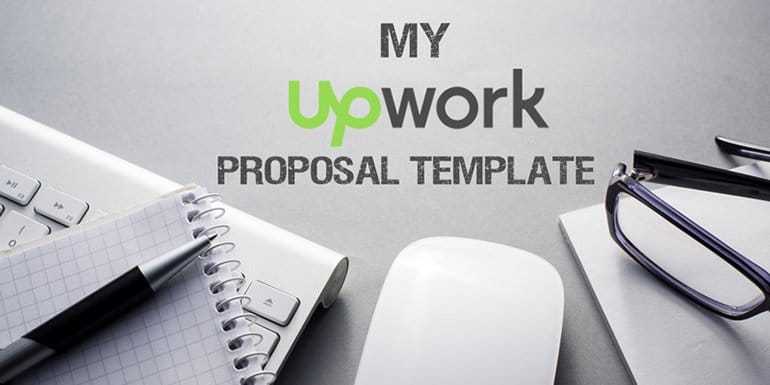 In Upwork, the proposal is your first interaction with a potential client. It's the first impression, and you want to make it a lasting impression. My Upwork proposal sample can help you achieve the same.
I use proposals as an opportunity to introduce myself, highlight my expertise, and ask relevant questions to show I'm the best-suited person to get the job done.
So what I write in my proposals?
I use a Predefined Upwork Proposal Template.
In straightforward words, the Upwork proposal template is a shell to fit in the client's exact requirements and create a custom proposal for a client in brief.
A template can help you quicken writing a proposal for a client on Upwork and still maintain it's originality for the client.
Some parts remain the same in the template, and the other part varies as per the client's requirement. It helps me send a proposal to clients faster and avoid missing the details that can be crucial to converting it into an interview.
Also read:
Is your Upwork profile getting rejected? So how to get an Upwork profile approved even if it has been rejected previously?
Why use a Template for a Proposal on Upwork?
Every client's requirement is different, so one should never copy and paste the same proposal to multiple clients. Though you will see the same sample proposal I use on Upwork, copying word by word won't help. It would be best if you used it to build your template for the proposal on Upwork.
One can have a template that can be used repeatedly with the details as per the client's requirement. It can help you be consistent with your proposal yet craft it so that it is different for each client. It helps to craft a proposal that isn't lengthy, has every detail needed for clients to hire you, and asks relevant questions.
Still, you may have the question as to why should you write proposals like I do? The answer lies in the fact that it is using the same proposal template. I have managed my Upwork profile to be what it is now.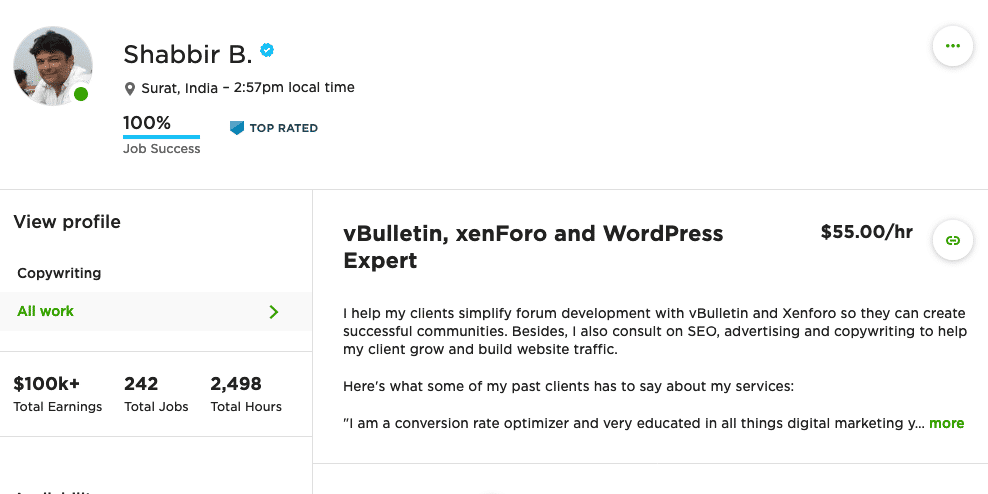 Write an Upwork Proposal That Converts
I always prefer a template that I can reuse. Remember, there is a difference between a copy pasted proposal and a template-based proposal.
In a copy-paste proposal, you say the same thing for each job in a particular category. But in a template, you have common parts to reuse. You have areas to fill from what the client is looking for.
Let me share the exact template I use with you and have used for almost a decade to grab hundreds of thousands of dollars worth of development client's work from Upwork.
If you are looking for SEO specific Upwork proposal template, check out this article here.
1. Start with a gratitude
My proposals always start with gratitude.
Hi,

Thanks for sharing your XYZ requirement here at Upwork and I will be more than happy to help you. Let me share with you my expertise with XYZ and ABC.
From my experience with overseas clients, I prefer a Hi over, Hello. So all my proposals will start with Hi.
If I can get the client's name from the job details, I will add it like Hi John. If they have not shared their name in job details, I keep it to only Hi.
The first paragraph of my proposal is always a thank note. If I get an invite from a client, I usually change the wording for the first para as
Thanks for inviting me to your XYZ requirement here at Upwork. I am more than happy to help you on your project. Let me share with you my expertise with XYZ and ABC.
But the basic structure remains the same.
It is always recommended to start a conversation with gratitude and a thank note.
2. Share the expertise
My first paragraph always begins with a thanks note. The aim is to drive the client to my next para. Then I keep my 2nd para as short as possible. With 10+ years of experience as a freelancer, one can be tempted to include many more samples, but I prefer to add a maximum of 3.
So my next para is
I am the owner of www.go4expert.com for more than a decade now. Have been doing a lot of XenForo development. Apart from my own forum, I have clients like ABC, DEF and GHI where I have been a developer recently. Needless to say but you can also see my Upwork profile for the feedback about XYZ jobs.
XYZ Could be vBulletin, Xenforo, PHP, CakePHP, CodeIgnitor, WordPress, or any web technology.
If I am applying for WordPress development work, I change go4expert to BizTips. Change the word forum to blog, aka – Apart from my blog, I have clients …
You get the point I am trying to say in my Upwork proposal sample para above. It is all about writing that 2 to 3 sentences that can help build your expertise.
3. Ask Questions, Offer Suggestions
The third paragraph is a completely custom part of the proposal. It depends on how the client has shared his requirements.
If a client has shared a list of things, I keep numbers matching the client's easy reference requirements.
So if a client shares
Do X.
Then Do Y.
Do Z.
I keep my proposal's third para as a list.
I can do X.
Have questions in Y.

Question 1
Question 2

I can do Z, but moving Z to stage 2 can help you finish things within the timeline and very low on budget.
This is where the template differs from the copy-paste proposal. Clients are looking for custom solutions, and that is why they are using Upwork. If you don't write a custom proposal for them, you will not see an excellent conversion ratio with your proposal for sure.
I have seen people use some 3 to 4 samples like one of my friends. He used to have a WordPress design, plugin development, and Speed up WordPress proposal. He used to paste the same proposal that he thinks best suits the client's requirement. His conversion was pathetic, as expected. He now has a view that Upwork is too competitive for WordPress related work.
Don't try to make the same mistake as it doesn't work that way. I have seen time and again for many of my friends who have tried playing the Upwork game with copy and paste proposal.
4. The concluding part
Proposals should never be more than three paragraphs, but if you have the 4th, it has to be only for the call to action and include essential information. I conclude my proposal with a short line about when I can start and any critical information that can impact the project's delivery.
Normally it is
I can start your project immediately and let me know if you would like to discuss anything further with me.

Thanks
Shabbir Bhimani
Or
I can start your project immediately and look forward to working with you.

Thanks
Shabbir Bhimani
If I cannot start immediately, I will share a tentative time like next week or even provide a date from the 15th of this month.
5. Exclude Fluff
I have been tempted to write a lengthy proposal and have tried many templates. As an example, I experimented when I see others bid with low price; I tried including
You may find my quote a little higher than what most people here would charge. The reason is simple: I am not desperate to generate quick bucks here at Upwork but provide a complete technical expertise for my clients.
Or if I see too many companies apply
I am an individual who personally works for you and not a company where you discuss things with a person who actually is not working on your tasks.
Or if I am not the best
Should you find my proposal inappropriate for your current needs and budget, feel free to move forward and find the best provider for this project. But keep me on your list; you may need me in the future. Please contact me anytime if you need help.
And can have a lot of such templatized content, but then it does not make sense to add more content to the proposal, which is not relevant.
Write a Proposal, So Client Knows Extra Work Costs More
The upwork proposal template has 3 parts.
Requirements
Terms & conditions
Price
Normally payment terms and any change in requirements will change the final payment because of the terms and conditions.
And…
It is a section that is avoided in the initial phase of the project discussion. However, when things become slightly complicated, the terms & conditions referred to the most create a bad business relationship in the future.
Every freelancer will face the scenario.
Often clients aren't technically sound to understand such changes can cause more time and eventually more money.
Typically pricing section of the proposal is most discussed in the initial stages of the project. So, I price the proposal such that it becomes imminent that change in requirements costs money. It helps me eliminate issues arising due to requirement changes.
The Price Structure
Many times clients aren't aware that a change in the requirement actually costs money.
So the trick that I use in pricing structure is that instead of placing a price for the complete requirement, I break down the price into components in my proposal template itself, so the client understands that each requirement costs money.
Example: A quote for a design job, instead of quoting as $250, break up the pricing as
$100 for 3 variations of design. Extra variation at $50 for each variation.
$100 for converting the design into a template (PSD to HTML or PSD to WordPress).
$50 for installing the template on the server and provide support for a month for any bug fixes in CSS, images, or Javascript code.
As a general rule for my development project proposals, I like to keep each task cost under $500, and if anything is above $500, I break it down.
Advantages
Using the pricing templates for proposals on Upwork has many advantages, and the biggest of all advantages is for clients who are on a shoe-string budget to eliminate good to have features to fit things within budget.
Other advantages being
Clarity on what costs how much.
Reduces the risk of being not paid out completely as the client easily agrees on partial payments.
Eliminate good to have requirements that otherwise may have been included.
Clients become aware that more requirement means more price.
Better estimation of the complete requirement of clients as you are estimating in small parts.
Increase in client's confidence to work with you due to price transparency.
Also read:
If your Upwork proposal has these 7 elements, there are higher chances that client will take a note of your proposals.
Upwork Proposal Sample
Finally, here are two Upwork proposal sample for you to use. First is the CakePHP proposal, and feel free to adapt it to your development expertise as needed.
Hi,

Thanks for sharing your CakePHP requirement here on Upwork and I will be more than happy to help you. Let me share with you my expertise with Core PHP along with CakePHP.

For the past 9 years, I have been working in CorePHP along with CakePHP for my clients. Here are some of the samples I would like to share with you. Example1 where I have been the lead developer to develop functionality 1 and functionality 2. Example 2 is where I have integrated PDF functionality using TCPDF etc. You can also see my Upwork profile for feedback for many CakePHP development work.

Coming back to your requirement …

I can start your project immediately and look forward to working with you.

Thanks
YOUR FULL NAME
The second one I will share is a marketing proposal or specifically for a PPC marketing expert.
Hi,

Thanks for posting your sales and marketing requirement here in Upwork Marketplace and I will be more than happy to assist you. Let me share a line about my expertise with Google and Facebook Ads to drive business in XYZ niche.

I do PPC ads for my blog BizTips. I have a decent conversion ratio of close to 5% from Google Ad click to a lead when we offer a lead magnet in the form of a downloadable PDF file. Moreover, for some of my clients, the conversion has been better than 5% as well. I improved the conversion for Client 1 from 2% to 7% by changing the landing page copy alongiwth the ad copy.  Apart from that, you can check my Upwork profile for feedback on lead generation with Google and Facebook Ads.

Now coming back to your requirement …

I can start your project immediately and look forward to working with you.

Thanks
YOUR FULL NAME
Also read:
Do you feel clients are ignoring your proposals for WordPress on Upwork? Not anymore. Use my Upwork Proposal Template For WordPress to get clients at will.
Final Thoughts
I have tried many proposal templates over a decade of submitting proposals to sites like Elance and Upwork, but the above model has worked well for me.
Do you use a template for your proposals?