Here are 6 of the most common fear among Indian bloggers and freelancers that keeps them away from starting a blog even in 2020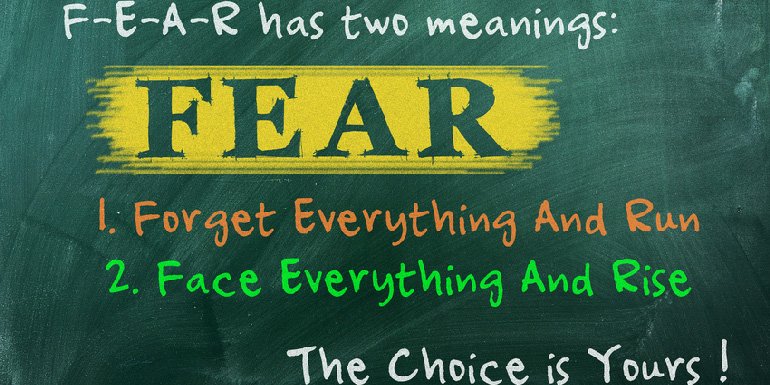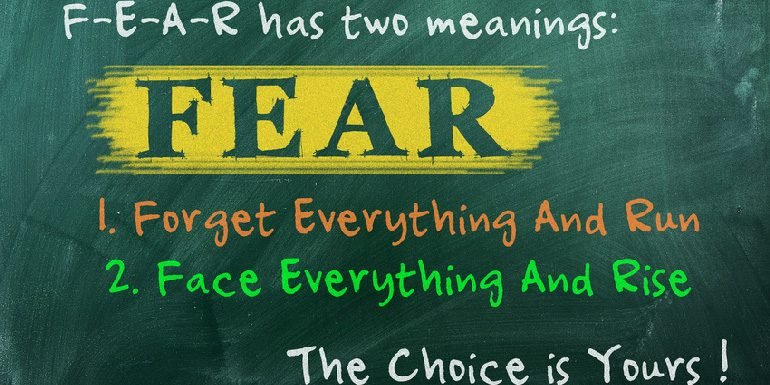 Indian bloggers have different blogging fears. I will not only share the six most common fear among Indian bloggers and freelancers that keeps them away to start a blog but also ways to cover each of those fear as well.
If there aren't butterflies in your stomach, you are in your comfort zone. As a freelancer, if you aren't blogging, I think you are trying to be in your comfort zone for sure. Because I think every freelancer should blog. It can open up many more avenues to making money online. Moreover, the blog can even earn a living and also can be a source of regular clients as well.
The reason most of the freelancers don't blog is that they have some of these common phobias (or fears) of blogging. Often such phobias are in the minds.
This image truly depicts the essence of it. The fears that bloggers take on about blogging are all in mind.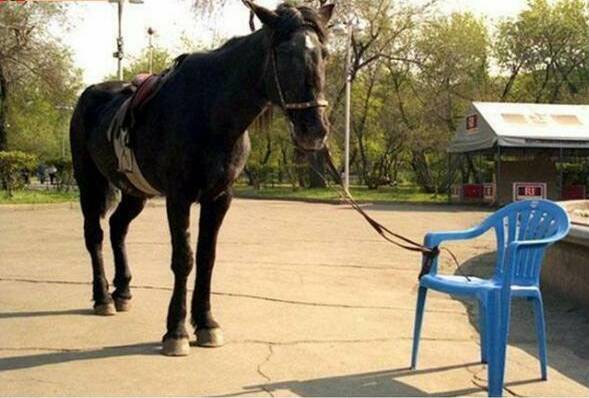 So here are some of the common fears among Indian freelancers and bloggers about blogging and how one can overcome each one of them.
The Fear of English
Believe it or not, but it is one of the most common fears among Indians in general. I will go to an extent and even say we Indians are terrified by the idea of communicating in English.
English isn't our first language, and often it is the sole reason for not blogging.
In Surat, Gujarat people are not as fluent in English as they were in West Bengal. Yet I found the fear of English exists at both places.
The reason for fear isn't lack of knowledge of English, but more is because of a lack of confidence to communicate in English.
How to Overcome the Fear of English?
If you want to learn swimming, you have to dive into the water. Similarly, the best way to overcome English fears to start reading and writing in English.
Books are your best friends and start reading some books in the area of your interest. I didn't mention books about English but books on topics that you prefer reading.
For writing, if you don't want to start a blog directly, there are so many other options to practice writing. Start with answers on Quora or participate in discussions on Reddit in the channels of your interest. One can also start sharing long-form content on Facebook for views or participate in forums in the niche of your interest. Anything that can spark communication in English
The Fear of Writing
The next fear we are fascinated about is the fear of writing. It is a prevalent phobia and termed as Scriptophobia.
We can speak among our friends' circle very fluently, but if the same person needs to communicate with the same group in writing, he or she will think a thousand times.
The thought that we are accounted for written things makes us too vulnerable to write.
How to Overcome the Fear of Writing?
The best way to overcome writing fears to accept it. Once you agree you have a fear of writing, you can work towards conquering it.
The best way to conquer the fear of writing is by writing. One has to write his way out of fear of scriptophobia.
Write as often as you can.
Prefer a written communication over verbal communication whenever possible. Communication skills are an essential skill for any business online, and blogging is no different.
Once you accept the fear of writing, even a written email can help you a lot to conquer the fear of writing.
If you are not up for creating a blog, take a piece of pen and paper and write something on it. Create a habit of writing a diary.
The Fear of Technology
Technology is ever-evolving, and one hears a lot of big jargon that one may not be familiar with like domain name, web hosting, cloud servers, DNS, WordPress, and the list can go on and on.
The fear of technology is more the fear of the unknown than anything else.
How to Overcome the Fear of Technology?
The best part is, you don't need to be a tech geek and understand all the above terminologies even to get started as a blogger and writer.
Here is a simple guide to launching your website like BizTips in less than 30 minutes, even for a non-techy guy. It is as simple as a few clicks and has your blog up and running.
The Fear of New Ideas / Expertise
The questions
What will I write about?
Everything I want to write is already written by somebody somewhere?
Can I find new topics to write about?
We tend to consider ourselves as an average person, and it is entirely reasonable to be one as well. However, we believe blogging is for the experts, but it is one of those fear that is in mind.
How to Overcome the Fear of New Ideas / Expertise?
One should choose a niche where one has some interest. It can help you get started with some topics to write about. Select the right niche to blog.
If the choice of niche is based on interest, and if everything is already written about it, still the blog can be about your views on other people's writing or a journey.
Blogging is a journey and not a destination. It is a process and not the views of the expert.
On my investment blog, I share my ways to earn money from the market. I am not any kind of expert, nor I claim to be one. I only share what I am learning to help others. Some may like it, and others disagree. I follow the same process here on BizTips, where I share my journey of being a freelancer.
What you want to write may have been written, but that doesn't mean that you can't share your way of doing it or your views about it.
When you prefer to share your journey, you won't run out of topics. Take my words.
The Fear of Gathering Readers / Marketing
Quite common to have the fear that
No one will notice
Will be Embarrassing
Nobody will like it
Questions borne by the fear of not able to gather a readership are:
Why would anyone care to read what I am writing?
Do people have so much time to read my journey, my views, or anything that I may share online?
How to Overcome the Fear of Gathering Readers / Marketing?
The digital era has made all of us think everyone is so busy that people don't have the time to read. The fact of the matter is everyone is trying to look busy but aren't.
Check out the top Facebook games, and you will find millions of users online building their virtual world. They are pretending to be busy.
So many people refresh their Facebook timeline for an impressive share or are waiting for a response on WhatsApp. Again they are pretending to be busy.
So people have the time to read interesting stuff, and you are the best example of it. You are reading my such long article amid everything that you usually do.
I am damn sure if you write engaging content, finding a community of readers, and building traffic to a website isn't as hard as it may sound in this era of Google and Facebook.
The Fear of Failure
The last but the most important fear of all is the fear of failure.
Everyone likes to be associated with success and are afraid of a failure and more so to look foolish.
Typical human behavior and there is no denying it.
Even I like to avoid failures, but they are part and parcel of being a freelancer, and an entrepreneur and bloggers are no different. You will have your share of failures as well.
How to Overcome the Fear of Failure?
The best part of blogging is, if you fail, no one realizes you have failed. Your Dad won't take a stick out and scold you for it, either.
You launched a blog and wrote articles for it, but no one cared. So one day, you decide to stop writing and let it fail.
No one will be able to find you had a blog as no one read it. If someone cared to read and share, it isn't a failed blog anyway.
So it is elementary to fail as an online blogger, and this is one of the main reasons why so many bloggers are successful. They have failed in the past and took a leaf out of it and launched successful blogs.
Fear of what others will think about the failure doesn't exist in the world of blogging.