Freelancers have limited time and resource. They have to learn to say no to clients. It is tough but here are 3 ways I use to say no clients.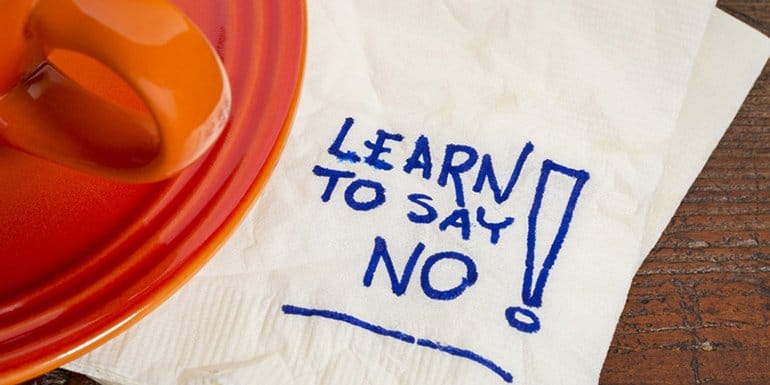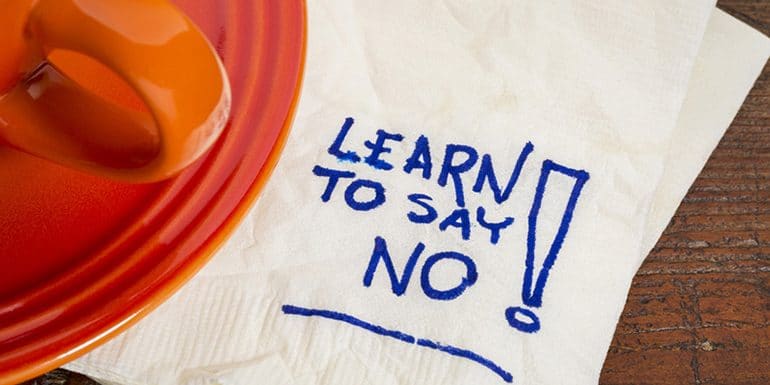 Every Individual has a limited amount of time and resources. Saying no to clients is quite common and can help you focus in the right direction to help you grow as an entrepreneur. More so as an individual.
Every entrepreneur, freelancer, or blogger has to say NO. There is no denying fact about it.
Every individual has long term goals. Along with long-term goals, there are short term needs as well. Typically we try to align short term needs to reach the long-term goals.
In the process, you have to say NO.
The sweet spot in the freelancing career is when you have more work than you can handle. It is when typically we all want to be saying NO to more client work. But at times, you may even have to say NO to more work clients.
Let me share when you know you are dealing in such a situation.
When to Say NO to Client Work?
I Am horrible at saying no and am continually reminding my inner self that I should be saying NO.
I realize I should have declined that proposal.
A friend once asked for my new bike for a day, and though I wanted to say no to him, I couldn't find a reason to say no. I could have told no without any reason. He may have felt bad at the very moment. It would have been much better than what I felt when he returned the bike with scratches on the petrol tank.
I am aware I should be rejecting a lot of opportunities. It's just that I couldn't say NO.
1. Don't Love What You Do
I loved working in vBulletin but after ten years of development experience in vBulletin. I am bored with it. There is nothing significant happening in vBulletin. So I wanted to try something new like Xenforo or iOS App Development.
So I had to say no to my existing vBulletin client.
I had a major client where I was doing PHP and vBulletin development for a few years with almost 40 hours billed each week. We were developing some great functionality, and I was paid very well.
As time went by there was very little new development work. Everything was redesign work. We had more and more processes to follow than the actual development. Though I was being paid for the time to follow the process, I did not love it.
I wanted to move on with this client, but then it was a big client for more than two years with good pay that I was not willing to let go.
On weekends I would tell my wife that I will be reducing work for this client, but on Mondays it was, as usual, working for the same client as nothing happened. The reason could be that I had some immediate requirement of money as I moved from Kolkata to Surat, and so had this inner fear of not getting new clients instantly.
One day I just decided to let the client know I will reduce the number of hours per week I can commit to him. Slowly things started going the way I always wanted to.
We parted ways, and in a couple of days, I had a lot more opportunities in my inbox and have a pretty big client where I am doing a lot more work than I love it.
2. Doing Things That Pays the Bill
You should do what you love, but then it should be a financially viable option as well. You can't pursue your hobby long enough if you cannot find a way to pay the bills for your hobby.
Continuing with the example of my above client, I loved what I was doing. When I moved to Surat, we purchased a new flat, and we decided to get the interior of the apartment done as soon as possible. I had this client, and so I also committed to working for them.
Things changed on the client's end. I wasn't working on things I love.
But I kept working or else I may have ended up in a position where I may have issues paying the bills.
I knew it was a matter of 6 months then, but then I manage to sort things out well within three months.
You can be stuck working for money but then plan your way out of such a scenario.
Move to do what you love and make that option a financially viable option. Once you have worked your way out, it is ok to say NO to more work from the same client. Again, the idea is not to make the client stranded, but over time, reduce the work and move on.
3. No Outlook for Growth
Whatever you do, focus on growth.
If it is something that doesn't help you grow, it may not be the right choice for you. It's always better to say no to such opportunities.
Growth can be financial, knowledge, technical skill, or any other aspect of life, but the critical aspect is growth.
If you aren't growing as an individual, you may be doing what you love, and it may be financially feasible, but soon it will become boring.
I am rejecting vBulletin work because it has not been able to provide me any growth to my learning curve. I am not too focused on financial growth and am more interested in knowledge growth.
Similarly, I am working hard on blogging because I see the potential for growth on both the front – financial as well as knowledge.
4. For The People Around
You should not only be proud of what you are doing but should also benefit the people around you.
I work from home and have kids moving around and can see what I am doing. I had clients who own adult sites, and I cannot take that job no matter what.
If you can not share what you do with your mom, avoid it.
How to Say NO to Clients
It is easy to say no to Facebook or YouTube, but when it comes to a client, saying no is that much more difficult. Here are some three ways I have used to say NO to my clients.
1. Quote a Higher Price
I am still learning to say NO to my clients, but the way I used to say no is by offering them a higher than usual price. It wasn't an effective way of saying no, but it helped me increase my rates.
It may be useful for better pay, but often when the project finishes, I find that there were many time killer incidence in between by the so-called high paying clients that made sense for me to reject them. I am often left with a feeling of why I did what I did.
So it may work for you to raise rates, but it isn't an effective way of saying a NO.
Still, taking it positively, some clients don't prefer to be working at a higher price point. It weeds out clients who are looking for cheaper work.
So, I still follow the same process, but because I am most of the time I am working for existing clients, it is not something that I can use often.
2. Refer Clients to Others
I get many requests from my friends to refer clients to them. I prefer it all the time. Some experience hasn't been as good as they should be, and the feedback is a mixed bag for me.
Let me share with you a unique experience I had in the past referring a client to a freelancer.
A freelancer was working for one of my clients on an outsourcing basis for months. I was merely channeling the emails. So I decided to refer the client directly to the freelancer.
I wasn't sure why but the client had an inferior experience with the freelancer and was furious on me for referring it to him. I told clients, I will get it done for him.  After all the dust settled, the same freelancer completed the project for the client. I was merely channeling emails. Later I found the issue was he wasn't able to understand the client's accent on Skype and was shy to let the client know about it.
There were few other incidents where clients had a poor experience, and I lost the clients because of my referrals.
I still prefer to help new freelancers with a few clients here and there. It not only allows freelancers but helps me take up jobs that I love to be working on.
Moreover, with a bad experience of referrals, I let the client know that I am no way in between and take the freelancer as a new individual. It has helped me refer clients to developers more freely.
3. A Hard NO – The Kids way
We need to learn to say NO like a plain and simple "NO".
And believe me, the best way to learn to say no is from kids.
Have you ever asked a kid for something they aren't willing to do?
I have 2 in my house, and you ask them something that they aren't willing to do, and you will hear plain and simple NO.
I won't do it, or I don't want to do it.
As simple as that.
Ask them to do their homework when they are watching TV. You can always tell them benefits. Still, they won't go a roundabout way to say you a NO. They will plain and simply reply with a NO.
Ask them about playing outside instead of on mobile or tablet, and they won't say a no in a roundabout way so that you feel good about their NO. It is a hard no. They can always add a reason like none of my friends is playing outside or there aren't good games to play, but often the answer will be I don't want to be playing there.
Straight and to the point.
I am learning the art of saying a hard NO from them.
I don't necessarily mean saying no to clients only. There are many other things that we have to say NO to and that too in a harsh and hard way. No to an opportunity that may not align with your long-term goal though it may be very lucrative in the short-term.
Even not considering yet another social media site is also part of saying no. It is as crucial as saying NO to a client.
You need to train your brain to say no like a child.
Don't want to be on that social media site.
Am not looking for more work now.
Don't want to be working on that opportunity.
You don't need to justify the NO for a reason. Its easier said than done and requires a lot of practice to train your brain like a child to be able to say no like him.
Final Thoughts
Once you develop the habit of rejecting things that come your way, you will have a lot more time for your business.
It means you can work more on the business (being more productive, adding values, fewer distractions, delegating) than working for the business (design, development, deliverables, deadlines, meetings) and in the long run make it more profitable.