Common Upwork Proposal Mistakes: competitive niche, applying alongside too many other proposals, not crafting custom proposal and profile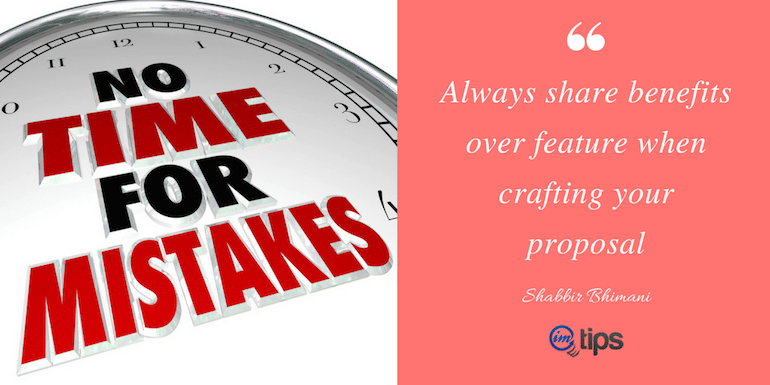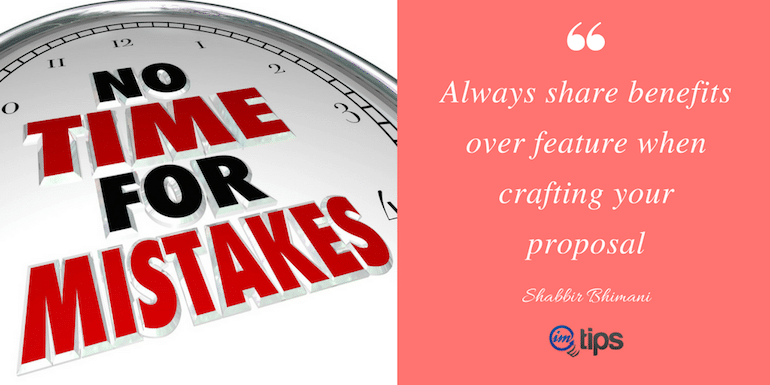 Writing more proposals and being very quick in sending a proposal is not the key to success. In fact, it is the most common of the Upwork proposal mistake. The conversion ratio of the proposals you write and submit is more important than anything else.
The most successful freelancers don't spend too much time writing proposals, and yet their proposals are personalized that clients can seldom reject. They write proposals with a template and make it STAND OUT.
If you aren't very careful and if you keep on sending those low-quality copy paste proposals, your Upwork account can get suspended.
If your proposals don't have a good response ratio, it is highly likely that you are making those common mistakes when crafting your proposals. Mistakes in proposals can mean you are hoping to win clients. The wrong word is hoping.
Mistake 1: The wrong choice of freelancing niche
The most common Upwork proposal mistake I see is the wrong choice of niche where they want to freelance. You will be reading so much about writing custom proposals from every successful blog about freelancing. Yet when you follow the guidelines for writing those custom proposals but see no response.
Every blogger saying the same thing can't be wrong, but something is wrong somewhere.
The issue is the niche.
There are jobs where you will have very little to write a proposal. The most significant example of such a wrong niche is the data entry niche.
There are hundreds of jobs being posted, and within minutes, each of those jobs has hundreds of proposals as well. Among those hundreds of proposals, your proposal, though, maybe custom yet may not even be seen by the clients.
Do you want to be in those leagues of freelancers where you have no unique selling propositions or USP, and it is a poor choice of luck to win a project?
Are you targeting one such niche?
Mistake 2: Applying when there are already too many proposals
Upwork has stats of how many proposals are already submitted for a job. If there are already tons of people who have already applied for it, there is no point in adding one more. Unless you can have an excellent reason for it, which is if you are invited to submit a proposal.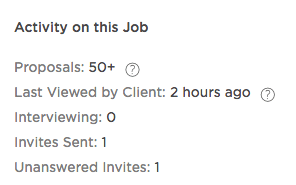 Never apply to a job that has 50+ proposals in Upwork. The reason is, the chance of your proposal seen by the client is less than 2%.
I am not making a general statement only to apply when the proposals are less than five or between 15 and 20. Apply your judgment to see what works best for the kind of projects that you are applying to.
Some projects will have a lot more proposals than others. So opt for those that have fewer proposals to increases your chance of interacting with the client.
Mistake 3: Proposing within the client budget
The other most common of Upwork proposal mistakes I see is proposing a price within the client's budget. If the client would have known what is the cost to get things done, they will also know how to get it done or at least where to get it done.
The budget should not be taken as the maximum client is willing to pay, but it is more of a ballpark figure. The client puts a budget to make sure they aren't ripped off.

See how one of my recent clients paid over his budget.
If you always try to keep things within the client's budget, the project may not become feasible for you with quality standards that you wish to follow. At times in the proposal, you have to convince the client. Moreover, explain how it is not possible to get things done within the budget they have set. Why and how they need to extend their budget.
Mistake 4: Copy paste cover letter
Upwork limits the number of connects an account can have, which means there is a limited number of proposals one can submit.
I see the copy-paste proposal is a side effect of seeing too many proposals are submitted in a very short time on many jobs. So, the new freelancers commit the same mistake what others are making to keep a copy of the proposal that can be used to paste for similar kind of projects.
You can speed up the process of submitting a proposal using RSS but never copy-paste the proposal. Instead of doing a copy-paste of the proposal, move to a better niche where you can take the time to craft a proposal.
Mistake 5: Assuming it is only for the experienced freelancers
New freelancers try to apply on jobs that they find is simple and is the next most common of Upwork proposal mistakes. New freelancers on Upwork wins clients daily. If you assume it works only for seasoned and experienced freelancers who can dominate the freelancing world, you are entirely wrong.
Such myths exist because people who aren't able to make any fortune from such freelancing sites share such horror stories on Quora and Reddit.
Sites like Upwork is neither a price war for everything getting cheaper nor it is only for the established freelancer. It is a marketplace for clients to share their requirements and freelancers to show their talent and expertise.
Follow the right process, avoid common mistakes, and are learn and improve as you move along.
My hourly rate has always been on the rise. Since my move from Elance to Upwork, it has gone up from $25. It confirms it is all about providing value and quality.
Mistake 6: Not Structuring a better profile
People waste so much time building a Facebook profile, but when it comes to Upwork, they rush into it. There are many parts of the profile, and you have to make sure every part of the profile is complete.
Here I have a complete article on how to structure your Upwork profile.
So if I would like to create a profile for an Android Developer, I will opt for the best Android Developer and see what all elements he has in his profile and what has been shared in his profile and use it in my profile.
Mistake 7: Not writing the proposal from a client's point of view
The most crucial aspect of any proposal is to be able to write an Upwork proposal from the client's point of view. How you can achieve his or her goals for a website.
You can offer hundreds of different things, but how those things can impact them in their business is more important than anything else.
What you offer are features, but what the client gets are benefits. As an example, web developers often share in their proposal.
"I make SEO friendly websites."
But the same can be written as
"I make websites that get more traffic from Google because they are SEO friendly."
The first one is a feature of what you offer. The second one is the benefit of what the client gets.