While getting the profile completed is crucial, the quality of profile is more important. So a complete profile does not only mean hitting 100% completion mark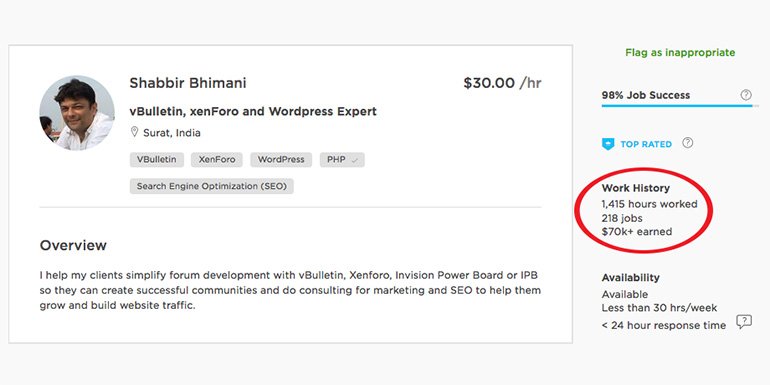 No matter which freelancing site you choose, the first thing you should be doing is to complete the profile. An incomplete profile is one of the primary reasons why most freelancers have a hard time finding clients. So let me share how to structure your profile like a pro with a sample from my Upwork
While getting the profile completed is crucial, the way it is built with samples and portfolios, along with expertise, is more important. So a complete profile does not only mean hitting 100% completion mark only.
In the social media era, we are habituated to complete the profile in bits and pieces. We add details when Facebook or LinkedIn asks for, like education, where we worked, etc. but it doesn't work on sites like Upwork. You have to allocate time to structure and complete your Upwork profile. Consider it as an equivalent of creating a CV.
So here is how I structure my Upwork profile.
1. Use Full Name
Upwork has strict guidelines for using real names, but I always prefer to use my full name Shabbir Bhimani instead of S Bhimani or Shabbir B or S B.
When clients see my name in proposals, they can Google about me, and not using full name means clients cannot search on Google.
2. Current Headshot Photo

Use high-quality headshot photos such that when it reduces in size, still, you can be recognized.
Apart from using the right headshot, it is also essential to use your current photograph and change as you grow older. I usually change my profile picture every couple of years.
3. Appropriate Title
Your title should never be CEO or Owner like we typically set in a LinkedIn, but it should be your expertise.
Keywords in the title help rank better in search of freelancers.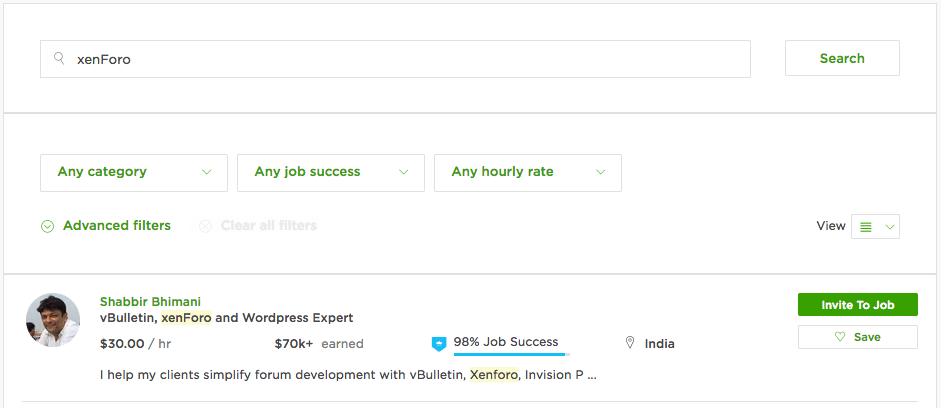 See how xenForo is highlighted in the title and overview when searching as a client for xenForo freelancers.
4. Overview
I prefer a very detail overview, but the first 2 to 3 lines, I add details of what I do and how I can help my clients grow their business.
Make sure you add the keywords in the overview that your potential client may search for. As you complete related projects related, you can be found more prominently in the searches.
5. Skills
You can add a limited number of skills on Upwork and so add only those that can drive more clients.
I prefer more niche skills than broad level skills. As an example, a PHP developer in frameworks should add CakePHP over PHP.
6. Hourly Rates
If you aren't sure what should be your hourly rate, don't set the minimum allowed value. It can look cheap and desperate. Check out How Much Should I Charge for My Freelancing Services.
7. Response Time
You cannot set your response time, and Upwork automatically calculates it for you based on how fast you reply to client messages and invitations.
Less response time can help nail down client requirements faster, which can increase the chance of getting projects awarded to you.
Respond to messages as fast as humanly possible.
8. Sample Portfolio
You should add a few samples to your portfolio because the profile without samples has a little impact.
If you don't have real samples from clients, you can make a few samples. Not fake examples but samples that you haven't actually worked for clients but only for showcase purposes.
9. Availability
Setting availability can help you avoid dealing with many invitations when you aren't looking for new clients.
10. Tests and Certifications
Always take the tests. It allows clients to hire you with confidence. Even after delivering 50k+ worth of work in Elance and then moving over to Upwork, I took the tests. It takes a few minutes to complete if you know the subject well.
Upwork removed tests, but one can always add certifications from Udemy and other online sources.
11. Feedbacks
Clients are happy to share feedback, and it helps future clients to hire you with confidence.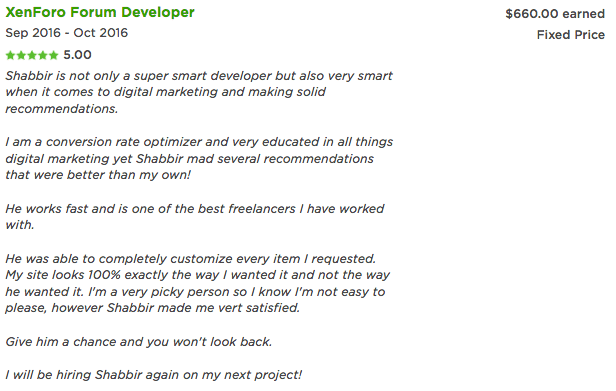 Upwork's job success ratio has a factor where excessive projects without feedback dampen your job success ratio.
If you don't ask for feedback, you may not get it; it is as simple as that. It never hurts to ask for feedback, so I always ask for feedback.
12. Complete Jobs
I had many jobs open (since 2008) from Elance and were shown as working. It was because my client or I never clicked on that complete project button, and this was dampening my job success ratio.
I asked Upwork about why I have so many jobs open and found I need to mark them as complete. When I closed these jobs in Elance, and the job success ratio took a sharp upswing.
I have many clients who like to keep jobs open for anything they want to be done in the future, but getting them completed and asking for feedback helps with job success ratio.
13. Employment History
Add your employment history to your profile. Where you have worked and what was your role in each of your jobs. Add everything that you have worked or are working.
14. Social Media Profiles
Though your social media profiles will not be revealed to clients, it helps Upwork improve your job search results.
15. Education Qualification
Add your education qualifications like a bachelor's or master's.
Conclusion
Make sure every aspect of your profile is correct and complete.
Once complete, evaluate it. Ask a friend to look at the profile and see if it qualifies for the jobs you want to apply for. You can share your Upwork profile in comments, and I will be more than happy to look at it for you.