Ways to make money online doing blogging, freelancing, affiliate marketing, eBooks, niche sites, membership sites, dropshipping and more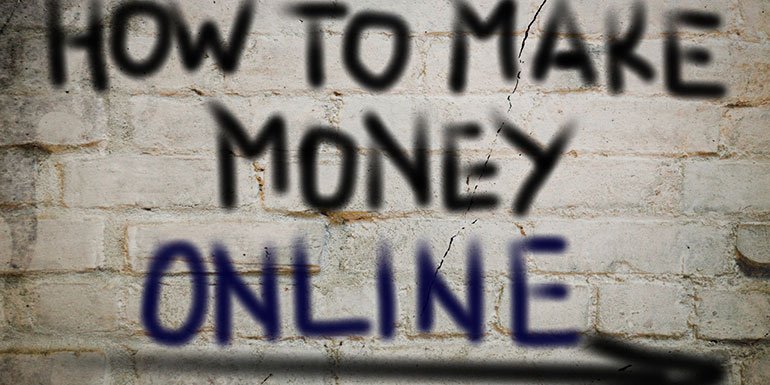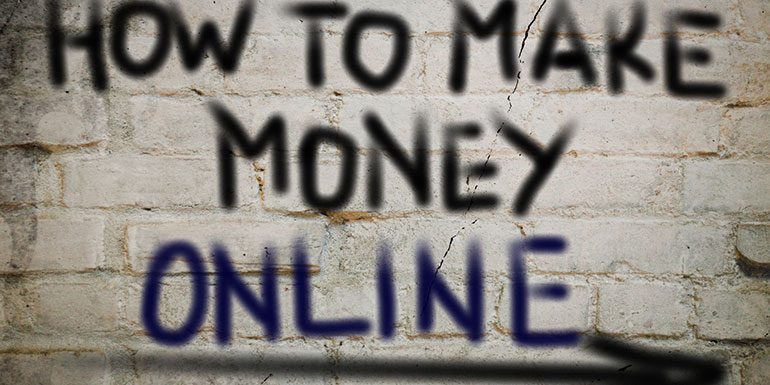 The ways to make money online Guide is not about making quick money online. It is a complete guide to understanding the ways to make money online.
Moreover, this is not a guide where you will find everything in the guide. The way it is written is to choose a few options from these and try to go deep into them. Each method of making money online has links to detailed articles on how you need to go about it.
However, if you are looking for a readymade turnkey solution, you will be disappointed. This guide is not for you. The way I prefer is to set up an online business that customers love and make decent money going forward to remain afloat. Make it a long-term process.
Now without much ado, let's look at all the ways to make money online and start a business.
1. Start a Blog
Blogging is one of the better ways to set up an online business and make money out of it. Moreover, it leads to multiple sources of income. You can use blogging to
Promote your product or services to your readers
Get freelancing clients and consulting opportunities
Recommend other people genuine products to make affiliate commission
And the list continues.
The critical aspect of making money from the blog is on the principle of generating value to your blog reader first. Then the possibility to monetize your blog audience is later on.
Blogging is a long-term money-making option where you provide values to your blog readers and build a community. New bloggers try to monetize the blog very early and, in the process, fail miserably.
Here is my complete guide to earn a living with a blog. In case you want to consider blogging, here is my guide to help you get started with a blog.
2. Become a Freelancer
Freelancing is one of the most effective ways to make money online. It is one of those few ways to making money online where you can start cashing in from day one.
We all have certain skills and expertise. It is about realizing the expertise and then helping people with it and making money out of it.
If you think you don't have those skills that others will be willing to hire and pay, you can work on developing them. It is never too late to learn something new.
I was more of a C++ programmer in my college days. In my job, I was working mainly in MFC, Win32, and C#.  As a freelancer, I started with PHP and vBulletin.  Now I am working in XenForo and WordPress. I am into SEO and marketing for my blogs.
There are a lot of skills that anyone can learn provided he is willing to learn. Then the world of freelancing on sites like Upwork opens up for everyone to explore. If you wish to consider Upwork, I will suggest you first to get the profile approved, then work on the building samples, learn to write great proposals to win your first client from Upwork.
3. Consulting Services
In my wildest dream, also I could not imagine myself being a consultant for finance. As of today, I also think that I should not be the person to consult on equity investing.
I don't have a formal education. As of today, still, I am not aware of many investment options. Yet I see a lot of my blog readers asking for my consultation services. 
Yet another very cost-effective and better way to make money online. However, it is yet another example of developing your skills.
I learned to trade in the market because I wanted to trade and profit in the market. Once I started making profits, I shared it on my blog, transparently. Readers relate their trading losses with mine. Now they want me to be their mentor and teacher.
I never thought I would publish a book on investing in the market.
I am not taking up consulting for equity investing because I am overly occupied with blogging and freelancing. However, if I wish, I can get it done.
Consulting as a service is not only an option via a blog, but one can also do the same via any social media or YouTube Channel. It is all about sharing your views on something to build a personal brand and consulting for the same as well.
There are various niches for doing the same. A few examples can be
As a fitness geek, you can help people on getting fit and become a consultant as well.
With the knowledge of taxation or accounts, you can be a consultant for tax/accounts.
As a foodie, one can be a dietitian or a food decorating consultant.
Options are open for those who are willing to grab them.
4. Start a YouTube Channel
The highest-paid YouTuber is 7-year-old Ryan, who reviews toys on his YouTube channel, which made him $22 million in 2018.
If a 7-year-old can do it, I am sure every Indian can do it as well. The reason many Indians are still not starting a YouTube channel is that they are not sure if it can help them make money online.
There are two ways to look at YouTube.
YouTube as a Business
Building a business with YouTube
There are YouTubers who make significant income directly from YouTube. They earn via Google Ads along with some paid promotions on the channel.
There is one more way to build a business on YouTube. The showcase way is to give away everything for free and generate leads or sales for the products.
YouTube channels should focus on a single niche and build a loyal audience. Some niche ideas are makeup tutorials, streaming video games, product reviews, prank videos, DIY Crafts, subject matter teaching etc.
My experience with YouTube so far has been that your videos should educate and entertain your viewers.
5. Become an Influencer
Did you know that Cristiano Ronaldo makes more money as an influencer on Instagram than he does playing soccer?
I am damn sure you didn't.
I know I have shared an example of the highest followed celebrity on Instagram. However, there is one more way to look at it and it is the power of social media and Instagram where even Christiano Ronaldo can make more money than playing soccer.
Some people may think that stars, singers, and athletes are influencers. The truth is if you have 1000 true fans, you can be an influencer as well. By true fans I mean, they are ready to take action on whatever you want to be sharing.
There are many non-celebrity influencers on Instagram and YouTube who demand a good sum of money from advertisers for sharing a view or review. Influencers can do a sponsored video or post, speak at an event, sell photos/videos, brought to you by a sponsor and more.
6. Affiliate Marketing
Affiliate Marketing is a great way to make money online.
However,  the idea of affiliate marketing is a lot different than what we Indians generally think about affiliate marketing.
Those who know little about affiliate marketing understand it as: Find a product to promote. Copy product review from somewhere and past on free website providers like Wix. Then start posting your link on social media, in the blog comments, and in online forums.
It is not marketing but spamming.
Affiliate marketing is more about reviewing and recommending products that you like to be associated with.
As an example, I recommend a lot of resources here at BizTips. Not because I make commissions from those recommendations but because I use them to create an online business.
Let us take an example of the Genesis theme. I recommend it because I use it and love the fact it is clean and SEO friendly. Moreover, I don't mind being seen as endorsing it to my readers. I will get paid a small fee to recommend it. However, other themes pay even more. But because I don't use them, I don't recommend them. On top of that, I have stopped recommending the Thesis WordPress theme and have moved over to Genesis because I found it isn't what it used to be.
You don't necessarily need to practice unethical marketing to make money from affiliate products. You can make a lot of money doing affiliate marketing, promoting good and genuine products.
Moreover, as you build the trust of your readers and they know, you won't recommend any crap products to them. The recommendation will only come for products you have tested and are of the highest quality.
7. Sell Digital Products
What if a niche does not offer any genuine product that you can endorse?
Don't be discouraged. Instead, take it as an opportunity to come up with an excellent product.
Indian equity investing didn't offer any product that I would prefer endorsing. However, there are thousands of stock tippers that can make people millionaires if someone is willing to pay them a few hundred every months.
None of them works. So instead of promoting those stock tips services, I chose to create my ebook and a members-only paid forum.
India is on a digital transformation. Digital products work a lot better now than they used to be when I started blogging.
A secret way to make a lot more sales and make more money online is by adding more value to your digital product. Bonus to the main product like a personal one on one interaction or offering free access to the private member area or an audio version of the eBook etc.
To sell a product online, you will need a payment option. Check out Instamojo, which is a revolutionary method of accepting payments for digital products in India. I use it on my DIY Technical Analysis forum for membership.
8. Build Online Communities
Online forums are yet another great way of making money online. However, there is a lot of misconceptions about forums.
I see webmasters start a forum, and as soon as it's online, they add Google Adsense. The right approach to making money from Google Adsense is being valuable and drive user engagement.
I have shared a complete guide on How to monetize a Forum site.
As compared to blogs, forums are comparatively difficult to get off the ground. You have to make sure members are around that can start the conversations and drive other people to join the discussion. If you expect new members to get the ball rolling for you, that will never happen. You may even have to fake accounts to generate a lot of conversations before members start interacting.
If you are not willing to build a forum, Facebook groups aren't a bad place to start. Build a community on Facebook and then move them over to your forum. It can give the initial boost of members that a forum needs.
9. Start Dropshipping
Dropshipping is where an online store doesn't manage the product inventory. So, when a sale occurs, the product is shipped after purchasing from the third party (ideally from the wholesaler or even directly from the manufacturer) directly to the customer.
There are quite a few benefits of dropshipping.
Quickly test different products and focus on products where there is a genuine demand for products.
Less capital is needed as one doesn't need to manage the inventory
Very easy to scale. As one starts trickling in sales, one can contact more manufacturers to drop ship for your customers.
The most important aspect of dropshipping businesses is to select the right mix of products for your customers.
For some, selling without an inventory can be tough to grasp. So let us understand with an example of selling bike helmets online.
All you need to be doing is grab the pictures of the bike helmets from the wholesalers around your locality. Then using Shopify, create an online store to start dropshipping. You neither need to manufacture helmets nor keep an inventory of it. The focus will be to make more helmet sales.
Also read:
Everything you need to know about Dropshipping. What are the advantages and disadvantages and how to start your own dropshipping store
10. Build An eCommerce Store
There are some basic disadvantages of dropshipping.
The competition – If you make good sales, the wholesaler or manufacturer may be tempted to get online.
Inventory Issue – What if the product you listed is out of stock.
Branding – The most important of all is, the dropshipping method can't have your branding. You have to sell someone else brand.
The solution to all the above problems is to have a mix of both – the drop ship method along with a full-fledged eCommerce store.
With a Shopify store, one can create his or her brand of products as well as drop-ship other vendor products as well to take advantage of more sales as well as keep the competition away with branding and manage his or her inventory.
11. Selling on Amazon and Flipkart
These marketplaces can help you sell anything online in India. I have written every aspect of making sales in Amazon and Flipkart and will list them here for reference.
Amazon
Flipkart
As well as for others like SnapDeal, ShopClues, etc. My suggestion will be to start with Amazon and then move on to others.
12. Buying a Website
I purchased CodeItWell.com from DigitalPoint in August of 2008.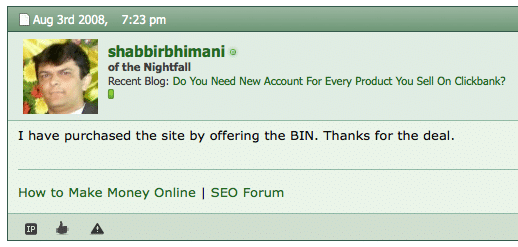 The purchase was to add a blog to my forums site. As I had a related website, I was able to recover what I paid in 3 months.
India is still at a very infancy stage of the digital revolution. There are many Indians who are willing to sell their website for a meagre price. The reason is, most people are not willing to work hard on the website itself.
They tried something, and it didn't work out as good as they hoped it would be. The websites are poorly designed, or they don't have the expertise to fix certain issues. They don't want to spend money on fixing those issues as they are not sure about the future of it.
On Flippa you will find good websites available for sale.
Making a profit is often as simple as a few tweaks here and there to double or triple the earnings. So when people are ready to let go of the website for 12 months earnings and if you can double or triple the earnings with a few tweaks, you can recover the money in 3 to 6 months.
A handful of SEO tweaks along with an improvement in page speed with WP Rocket and Imagify zoomed the site traffic to 5x in 6 months.

Buying a website may not be for everybody. Moreover, you need to understand the potential of a website.
However, in the examples I have shared, you may start to think the sellers are idiots, but that isn't always the case. I have burnt my fingers on many occasions and had to wait for a long-time to get my investment back and then close down the site.

So when considering buying a website, make sure you know what you are doing.
Final Thoughts
Are you willing to make money the right way online? Do you prefer to start a business online now?