Everything you need to know about Dropshipping. What are the advantages and disadvantages and how to start your own dropshipping store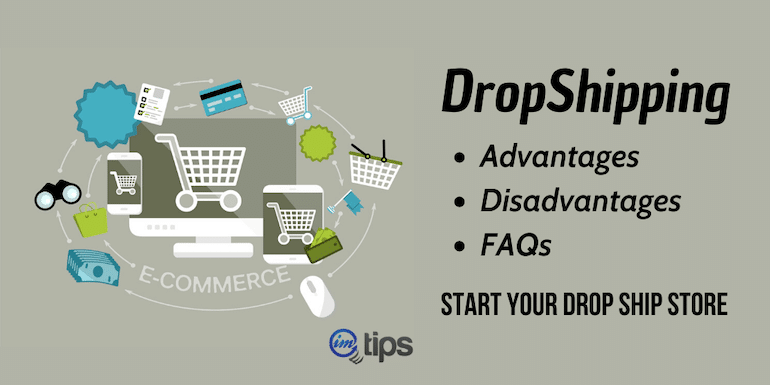 Dropshipping is a process in which the store owner doesn't need to have an inventory or stock. As and when there is an order from a customer, the fulfillment routes to either the manufacturer or wholesaler. Even in some cases, to a different retailer. They ship the products directly to the customer.
In other words, dropshipping is an order fulfillment method.
Here, the retailer has no physical stock of the products. Instead, when there's an order, the retailer passes on order details to the manufacturer or a wholesaler. It is the manufacturer or the wholesaler who further pick-packs and ships the product directly to the customer.
Consider manufacturer, wholesaler, stockist, supplier as a third-party except the one who is selling the product. In the dropshipping business, a total of 3 separate entities are involved.
Vendor – One who ships the products to the customer. He can be a manufacturer or wholesaler, distributor, or even a retailer.
Dropshipper or Retailer – He/she is selling the product to the customer for the shipper.
Customer – The consumer of the product who is buying the product.
In this guide, I will walk you through the benefits and disadvantages of dropshipping. Along with benefits, we will also look at the problems with dropshipping.
Let's get started with drop shipping benefits first.
Benefits of Dropshipping
Dropshipping is a great product selling model for aspiring sellers. With dropshipping, one can test different product ideas with limited risk, which eventually helps choose in-demand products. With this in mind, let's look at a few other benefits of dropshipping.
1. Less Upfront Capital Investment
Huge upfront capital investment is the most significant demotivating factor for any online business. However,  dropshipping is an exception. Anyone can launch an eCommerce store without investing big money. If you wish to start an eCommerce store, it costs only $29 per month. However, if you want to have a store where selling from Facebook, it hardly costs $9 per month.
That's the major advantage of an online business model, especially dropshipping. If I compare dropshipping with orthodox selling, the later requires bulk inventory purchase and rental expenses. Without an inventory, one can't even think about starting a traditional product selling business.
In dropshipping the whole idea of stocking products first and then selling has been scrapped from ground zero. Luckily, it works the other way round.
The customer pays you first; after that, you deliver the product. This way, it is possible to launch a successful eCommerce business without procuring a large amount of money.
2. Easy to Get Started
It becomes much easy to start and run an eCommerce business if there's no stress to pick, pack, deliver, or manage product returns. You can go on and on with such a business model. The same is with dropshipping. Here you don't have to lease, manage, or maintain a warehouse.
Besides, you need not worry about packing and shipping orders. Not only this, but there's not even the slightest headache of tracking inventory. Needless to say, if there are no products, then there will be no stock management activities.
3. Low Running Expenses
When you don't have inventory to stock, manage or maintain, your overhead expenses will be less. The main reason why dropshipping is a successful home-based business model. Not only eCommerce entrepreneurs but also work-from-home females have adapted to dropshipping.
All you need is a computer with an internet connection to get started. There are certain costs involved in the dropshipping business, but they will still be low compared to the traditional cost of operating a business.
Also read:
12 genuine online business ideas for women who aspire to work from home. Stories of other women entrepreneurs to take an inspiration from.
4. No Location Barriers
A dropshipping business is mobile, and you can operate it from anywhere. As discussed above, all you need is an internet connection and a computer or a laptop. There are visibly no location barriers in a dropshipping business. Communicate with suppliers and customers easily from any given location and manage your business.
5. You Can Sell Almost Anything
The beauty of the dropshipping business is its wide selection of products to sell online. Since there is no concept of stocking or purchasing products before selling, an individual can offer a wide variety of products to consumers.
Moreover, a drop shipper can list trending items for sale on a weekly or monthly basis. However, it is not possible if there were pre-purchase conditions.
6. Opportunity to Test New Products
Dropshipping is an order fulfillment method, as quoted above. Since a drop shipper is bared from the product-related hustle, he/she can test new products, variants, and accessories before buying a large quantity of the same. Doing this, one can know whether consumers love a new product or not.
Disadvantages of Dropshipping
Selling someone else's product without having a headache to maintain stock or inventory sounds easy, but it isn't. To build a successful dropshipping business, you need two business virtues – Right approach and proven strategies.
Although drop shipping is a lucrative business model like every business, dropshipping has its setbacks. Dropshipping offers convenience and flexibility to do business, but at the same time, it has certain limitations. Let me tell you about the disadvantages of dropshipping.
1. Low Net Profit Margins
One of the biggest shortcomings of doing a dropshipping business is one has to often operate on low margins. Your earnings will always remain low in a highly competitive dropshipping vertical. The reason being – easy to start a dropshipping business and then to operate it at a low expense.
In that case, everyone will set up their drop ship store and sell products at dirt-low prices to attract customers.
Naturally, these kinds of drop shippers will go up to any extent to pull customers daily.
Even if you succeed in differentiating your business with such drop shippers, you will still lose on product prices. In the end, price does matter for most customers for such product lines.
2. Supplier Inventory Hustle
It is relatively easy to track and manage product inventory is sourced from a single supplier. On the contrary, if multiple suppliers are fulfilling orders of other drop shippers, inventory management can be a real pain.
You may have an order for an already out-of-stock product at your supplier.
Let me tell you it's a big NO-NO if you are thinking about managing multiple suppliers, inventory, orders manually. It's tardy and won't work.
Either you need an app, a tool, or software to sync everything for you in one place. This way, you will be able to pass orders to a supplier and see in real-time how much inventory the supplier has.
3. Stock Shortages
If customers pour in orders in large quantities of a particular product, the supply for the product may instantly get out of stock.
Now that's a common problem suppliers have with drop shippers. To overcome the same drop shippers often opt for ubiquitous product lines that aren't getting out of stock.
Moreover, suppliers may experience sudden stock shortages while working with multiple drop shippers.
4. Higher Fulfillment Costs
The order fulfillment process requires a product to pick, pack, shipping, delivery, and return charges.
However, as a drop-shipper, one may offer products from various vendors. Customers ordering products from different suppliers does mean there is a different shipment for each product within the same order. It can increase the overall cost of fulfillment.
As a result, fulfillment costs rise with an increase in sales.
5. No Control Over Product Customization
Drop shippers normally have no control over product packaging or private labeling.
Private labeling a product requires a minimum order quantity to make it sustainable for the manufacturer. Hence, a drop shipper is left with the same product as every other store offers with nothing new for his/her customers.
Often in such cases, price becomes the deciding factor for the customer to place an order.
Dropshipping FAQs
If you are new to dropshipping and looking for some background info before starting it, then here's a little help for you. Below are some frequently asked questions about the dropshipping business. These questions will help you understand how it all works.
How exactly does Dropshipping work?
Two different people or agencies do drop ship means selling a product and delivering it to a customer. In other words, a supplier delivers the product to a customer based on the sales order given by a third-party who is a drop shipper.
A drop shipper doesn't store products or ship items directly to a customer. Their only job is to focus mostly on marketing, advertising, and managing their online presence.
Is Dropshipping Profitable?
Yes, dropshipping is a profitable eCommerce business model. It is a low-risk product selling business that allows anyone to sell products without incurring huge costs. Moreover, there's no inventory involved. Hence there won't be expenses aligned with maintaining large product inventory.
It is indeed a primary reason to become profitable with drop shipping compared to other business models. Besides, a drop shipper can skillfully price products so that it covers his/her marketing and other expenses.
Do I Need to Purchase Products Before Dropshipping?
No. The beauty of the dropshipping business is that you don't need to stock products before selling. Simply pass on the sales order to your supplier, who will further dispatch the product to your customer. Another critical point is you can procure sample products from your suppliers. This way, you can check whether or not the product of high quality.
Despite so many drawbacks, why is Dropshipping so popular?
One of the main reasons people often find drop shipping so popular is because of its ease of getting started.
Select a niche – All one needs to do is start an online store and start selling from any of the best selling products. Believe in what you are selling, and it starts generating sales.
Secure a supplier – Partnering with the right supplier can boost your dropshipping business, so you mustn't rush this step. Conduct thorough supplier research.
Build an eCommerce website – Instead of exploring website customization options select a fast way to launch a dropshipping site. The best is Shopify, where you can start an eCommerce store without any technical fuss.
Is Dropshipping Legal?
Yes, dropshipping is a legal business. It is a business model where an individual handles sales, and the supplier handles product dispatch. Surprisingly, most companies endorse the dropshipping model to raise additional sales. Hence, it is entirely legal to sell products that you neither manufacture, store, nor label it.
Can I Dropship on Amazon India?
Yes. There are two points to consider.
You can't purchase a product from another online retailer and ship them directly to your customers. However, when you have an order from Amazon, you can request your supplier to send you the product for Amazon to pick up from your location.
Ensure that your business information is on all packaging sold to your customers, not a third party.
Once you honor these two rules dropshipping with Amazon is 100% legal.
Final Thoughts
No online business offers a perfect recipe for success. Every online store has pros and cons, and dropshipping is no exception. Dropshipping has some advantages, but they come with some built-in complexities that can be addressed quickly. So here is the step by step guide to get your dropshipping eCommerce store online now.