How can a new freelancer showcase sample of work? Let me share how designers, developer, or writers can showcase examples to grab new clients.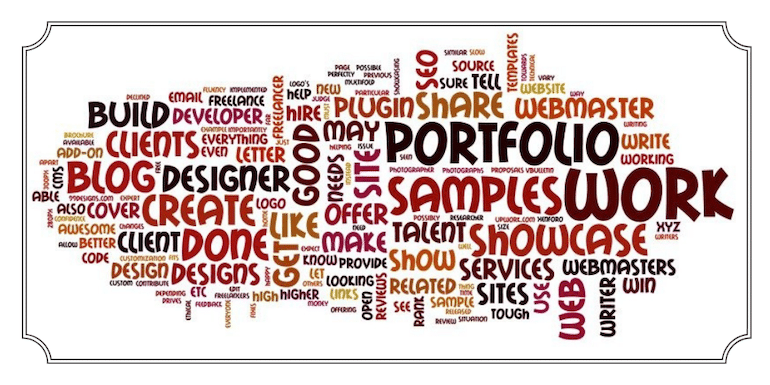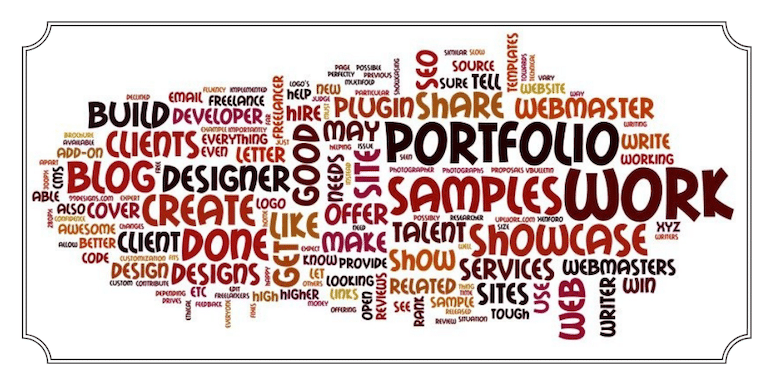 Clients hiring you as a freelancer for the first time knows little about your services. The only thing that drives a client towards what you offer is your cover letter and showcase of past sample work.
Being able to provide good samples can help build confidence for the client in what you have to offer. More importantly, it helps the client judge if you can get the job done or not.
Allow me to share with you some samples that new freelancers can use in showcasing their portfolio.
SEO – Rank Your Site Higher
The best way to showcase your talent and build a portfolio as an SEO expert is to rank your company or personal website high for some of the competitive terms related to SEO.
If you only do link building, make sure your site has high-quality links that you can showcase.
If you can't rank your company or personal site or build links to your website, there are high chances the proposals may get declined, or cover letter won't see much responses.
Designer – Awesome Design of Portfolio
A freelance designer can create and showcase samples far more quickly. Create a few good designs and showcase them as a portfolio. Those designs can be for clients, but if they aren't making sure they showcase your talent as a designer.
Logo Designs – Create great logo's to showcase your talent.
Web Designs – Create useful web pages or templates to showcase your talent.
Brochure design etc.
You can even participate in design contests on sites like Freelancer.com, 99Designs.com, DesignHill.com. If you win a contest, great but if you don't, you build a portfolio — a completely win-win situation for a freelance designer.
Developer – Contribute to Open Source
As a freelance developer, you should be able to showcase development samples. I don't see a better option than releasing your code as open source.
If you work in any particular language or framework or CMS, you can share your code as an add-on or plugin for the CMS.
If I am looking for functionality that I don't see as available, I share it as a plugin on WordPress, vBulletin and recently on Xenforo.
The reason to share such plugins is multifold.
You are helping others who have similar requirements.
Show your plugin as a sample of your expertise.
Free plugin or add-on can fetch you further customization work.
Writer – Start A Blog
As a freelance writer, it can be tough to showcase your sample portfolio of work. You can tell clients what you can write, but if you cannot show them samples, it can be tough to convince them.
If your blog cannot hire you to write, how can you expect someone else will hire you to write.
A blog is a must for a writer, and there can be no excuses to create your blog with samples.
Cover letter or email interaction with clients may also be a sample of your writing or fluency of English by clients.
A blog can fit perfectly for writers, but developer and web researcher can also use a blog to describe what they do.
Work for Review
If you provide web related services, you can help a webmaster with your services just like that.
As an example, if you offer to make a website faster, contact webmasters of slow sites and email them everything one needs to do.
Specific changes like changing the image on the home page from 300px wide to 280px wide for speed/design benefits.
Webmasters may not be technical. So you can tell them like you possibly need to edit xyz file in the templates folder.
Once you have everything that's needed and how to do it as well, offer them to get it done for a review. Most of the webmasters will be more than happy to get it done as well as willing to hire you for more of their future work.
Working for reviews can be implemented by everyone.
Designer – design a good logo for a site and send it over to the webmaster, offering them free to use.
Copywriter – Let the webmaster know what changes he can make in the copy for better results.
Ethical hacker – let the webmaster know of the issue and even tell them what could be the possible fixes.
Apart from web related services, at times, some clients are looking for work on sites like Upwork.com. Bring the client on Upwork and it can even help you get your Upwork profile approved in no time.
Over to you
Samples can vary depending on what you do as a freelancer. If you are a freelance photographer, the photographs become your portfolio.