A complete list of 56 best selling Amazon India products from each category with the best and worst customer experience for each product.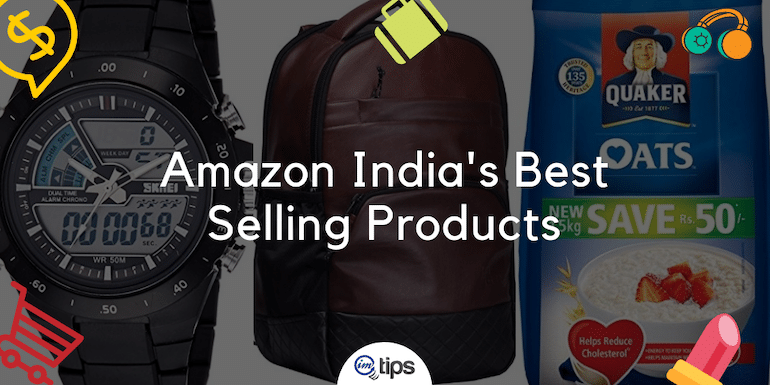 The product list in this article is a compilation of Amazon India's best selling products. They are selected from each category based on reviews and the total number of buyer's interactions.
Although this may be true that products in this list are "top-selling" based on customer review, price, brand, and other factors. Other similar products may replace them sooner or later.
This list can serve as a good start for those who are searching for the right products to sell on Amazon India. Although this would not be the complete list but a good one to start in the first place. So, let's start with the list.
Baby Products
Brand: MamyPoko
Price: Rs. 224
Customer Reviews: 19965
Best Review (5 Star):
My baby now is 1 year old she uses this product when she was 2 month….material quality is superb & durability up to 12 hours and it's easy to use…my baby feel comfortable with Mamy Poko pants extra absorb
Worst Review (1 Star):
Diapers are not of good quality (If you have not got a good quality of Diapers, please contact Amazon Customer Care, you definitely will help.)
Brand: Huggies
Price: Rs. 671
Customer Reviews: 23975
Best Review (5 Star):
Best Diapers. I don't know why some give negative views. I used every kind. Huggies are the best.1 advise using 4-5 diapers a day.. don't skimp. It's your infant's health. Important advice from experience: Change the diapers every 4-5 hours. Even if it's dry and even if the company says that the product can be used up to 10 hours. An infant doesn't know how to tell you to change. Cheers.
Worst Review (1 Star):
Very very pathetic. My son lost 1kg weight due to loss of sleep and continues crying during the nite. The diaper was not of good quality at all. I am a regular customer of Amazon and I have given a good rating for all my products purchased to date. This is the first time I'm giving a negative remark. the product has to b extra durable and of good quality since we r using it for the little ones. Very very disappointed. Amazon cannot do anything. Huggies management has to correct and fulfill their needs. I don't know I selected Huggies on looking at the ratings and reviews but it didn't fulfill my need.
Bags, Wallets, and Luggage
Brand: F Gear
Price: Rs. 1006 (Deal Price: 979)
Customer Reviews: 6332
Best Review (5 Star):
Nice and professional look for office bag purposes. Gifted by my wife and we all liked this rich looking colorful bag. Using it for over a week now.
Worst Review (1 Star):
Very bad product size is not fit for a 15.6-inch laptop.
Brand: AmazonBasics
Price: Rs. 649
Customer Reviews: 31437
Best Review (5 Star):
I ordered it for 384 for my Dell Inspiron 5559 15.6 inch model. Delivery was quick. The packaging was perfect. It comes with proper padding from all around plus it gives a classy look. When I ordered it I was confused about whether my 15.6-inch laptop will fit in 15-inch sleeve. It fits perfectly and provides great protection. As always completely satisfied with the product.
Worst Review (1 Star):
Size is larger than quoted and the product does not fit snugly. I tried to return the product and having a very hard time with the customer care team. Be very careful before ordering this product
Brand: HornBull
Price: Rs. 449
Customer Reviews: 3704
Best Review (5 Star):
Its wonderful design is out of the box, unlike other wallets. Quality-wise it's very good. The stitches in this wallet are very perfect and thus reduces the chances of tearing and all. I genuinely liked this wallet from the core of my heart. I bought 2 pieces of this.
Worst Review (1 Star):
DON'T BUY IT! The material is very thin rubbery, synthetic stuff and not at all genuine leather. The feel of the wallet is extremely cheap and yuck. It's ridiculous to claim that its MRP is over Rs. 1899/=. It resembles those 50 bucks rubbish wallets sold on the pavements. The seller is a cheat indeed. Returned it immediately.
Beauty

Brand: Nivea
Price: Rs. 286 (Deal Price: Rs.262)
Customer Reviews: 6524
Best Review (5 Star):
I have extremely dry skin and this works well for me in the summer months. Other lotions are too light and don't provide enough moisturization. The Pump is also nice since it can be closed off as well. Update – I'm using it during the winter too and it not only moisturizes my skin but softens it too over time. Love it. No scent and gets absorbed fast.
Worst Review (1 Star):
Smells foul (acidic). I earlier also had purchased many times from Amazon. And I generally purchase in advance. After 20 days of receiving it Once I opened and started using, I found it smelling foul and on using it caused rashes. Probably the old or defective or counterfeit one.
Brand: Lakme
Price: Rs. 125
Customer Reviews: 4370
Best Review (5 Star):
Don't worry, this is not a fake product. Lakme has changed its design and also decreased its original price to 180 for deep black and increased to 275 for other colors. You can search that online and personally, I like this product so yeah! 5 stars.
Worst Review (1 Star):
I had ordered brown Kajal and I feel it's a fake Product Is it smudges easily and the product packaging doesn't seem genuine. I tried to return but the policy says not returnable. Very disappointed.
Brand: Indulekha
Price: Rs. 359
Customer Reviews: 5819
Best Review (5 Star):
It was a perfect choice for post-pregnancy hair loss. It not only stopped my hair from falling but also I have new hair sprouting.
Worst Review (1 Star):
The product I received is not original. The oil inside smells and the color of the oil are different from the ones I used before. Please don't buy.
Brand: WOW
Price: Rs. 275
Customer Reviews: 9365
Best Review (5 Star):
My wife was on the lookout for sulfur-free shampoo for a long time. Her hair had always been very curly and difficult to manage. I found this product by chance and after reading through the reviews gave it a try. Now, this product is the regular shampoo of the family. It smells nice and lathers well. Leaves the hair bouncy and looking healthy. We've recommended this shampoo to family and friends and everyone loves it. A buy worth the money and a genuinely satisfying product. Highly recommended.
Worst Review (1 Star):
A bad experience with this. A lot of Hair started falling while shampooing with this. I won't suggest this.
Car & Motorbike
Brand: Probiker
Price: Rs. 344
Customer Reviews: 6843
Best Review (5 Star):
This is a detailed review of the product.
Pros – Has a good grip, comfortable, good pricing of the gloves, great knuckle protection, airflow vent is placed in the protection itself, it's a professional-looking glove. Cons – The gloves are not waterproof, smartphones cannot be operated when the gloves are on. But for the price range, it would be a Great purchase.
Worst Review (1 Star):
The product was a good fit but it was quite uncomfortable for a long ride. I did my first 900 km trip (450 km each). For the first 450 km, I wore the gloves and after the trip, I couldn't straighten my last two fingers, it looked deformed and it lasted for 2 days. The next 450 km I did without wearing the gloves and no such thing happened. I realized that while wearing the glove on the right hand the last two fingers try to straighten itself when you hold the accelerator and you will have to apply force to have a complete grip on the accelerator which caused the deformity. I wish I had those images. Hence, do not buy or wear these gloves, thanks.
Brand: Generic
Price: Rs. 145
Customer Reviews: 4978
Best Review (5 Star):
Everything is great except for one flaw! It's got a hole near the nose. Wtf?! (F for fish) Isn't this supposed to cover your nose from dust? What's the point of all that air filter thing on the cheek?
Worst Review (1 Star):
Please don't waste money buying this product, this is a cheap quality and also smelling badly like a waste of cloth for the first time. The actual product varies from the picture. I suggest Amazon does not entertain selling this kind of cheap quality product.
Clothing & Accessories
Brand: Alan Jones Clothing
Price: Rs. 664 – Rs. 711
Customer Reviews: 3546
Best Review (5 Star):
Great product. Amazing feel and good quality zip. It fits me perfectly and a strong black color.
Worst Review (1 Star):
The zipper is the worst, I have never seen such cheap quality zippers. The stitches near the hood came off, I asked my mom to fix it. The sleeves are sort of disproportionate, i.e. they are somewhat longer and you might have to pull them up a bit. Don't buy it, invest a couple of hundred bucks more and go for a branded hoodie.
Brand: e-VASTRAM
Price: Rs. 450
Customer Reviews: 1757
Best Review (5 Star):
Awesome saree bright and elegant look and at the best price.
Worst Review (1 Star):
Saree looks very cheap. According to price, a saree is a very low standard. Suggest not to buy.
Computers & Accessories
Brand: Seagate
Price: Rs 5499
Customer Reviews: 23230
Best Review (5 Star):
Speechless product. Superb product and excellent quality, Awesome design & handy. I recommended 200% if you have the plan to buy & the main thing is the price is also the lowest from other stores.
Worst Review (1 Star):
Drive Not opening when connected. I received a defective piece from Amazon for the First time. I did not get the option for replacement. The only refund option was given by Amazon. This is very bad.
Brand: SanDisk
Price: Rs. 238
Customer Reviews: 65873
Best Review (5 Star):
16Gb pen drive and I got it for 250 bucks during the Great India Sale. Sandisk is sans any issues so according to me it's the Best Buy if you do not wanna spend a lot and get maximum worth as well. It comes with a security option as well so I don't think it can get any better..handy piece of tech and very very compact as well.
Worst Review (1 Star):
When I placed the order, it displayed that it's a set of 2 pen drives. But once I placed the order, it automatically changed the quantity to a single piece, and delivered me only 1 pen drive, instead of 2.
Electronics
Brand: boAt
Price: Rs. 499
Customer Reviews: 68844
Best Review (5 Star):
A very durable metal bass heads headphones with mic. Good quality distortion/noise-free sound and tested at high volumes. This who complained about not fitting to the ear canal, need to change the provided earbuds with a smaller size. Even I faced a similar issue and changed to the smaller earbuds which give a perfect fitting and don't drop off while walking or jogging.
Worst Review (1 Star):
I should have clicked pictures before I discarded them in the dustbin after using them for 10-15 days. Uncomfortable fit. Music blares in your ear. Not sturdy at all. It was by far one of the most disappointing electronic products I have used. Kindly do not waste your money. There are better products available in this price range.
Brand: JBL
Price: Rs. 1599
Customer Reviews: 40645
Best Review (5 Star):
Didn't expect it to be good sound looking at the size. It sounds awesome. True JBL good quality. The battery lasts long. If u use it only 1 hour a day the battery doesn't die for more than a week. Am very happy. Its become my daily partner & one thing I can't live without.
Worst Review (1 Star):
Used this product for a year. Then the battery stopped getting charged. I went to the JBL service center at Lower Parel, Mumbai and I was told that this particular speaker cannot be repaired. It can only be replaced. Since my warranty period was over I was at the losing end. Simply ridiculous.
Brand: TP-Link
Price: Rs 899
Customer Reviews: 43378
Best Review (5 Star):
The item was packed and forwarded to me in a very secure manner. I appreciate the supplier's concern. The product is hassle-free and it was very easy to install. I recommend this router to any customer who needs a good router.
Worst Review (1 Star):
The Wireless Router has stopped working after some time even after taking all precautions like switching off at every night and whenever there is rain etc. When shown to a mechanic he has told us that "product quality is not good and it has become weak". I do not know whether Amazon ensures the quality check or not. Generally, it comes with a 3-year warranty, but in this case, I don't know that condition. Finally not satisfied with its performance.
Brand: Amazon
Price: Rs. 3999
Customer Reviews: 19875
Best Review (5 Star):
Our son is Hearing Impaired. Before viewing movies on Amazon Prime's Streaming Service our son used to see only the Movies with hardly any knowledge about the dialogues that were going on, with subtitles for the movies he has started enjoying the movies as well. I appreciate this feature the most.
Worst Review (1 Star):
Don't ever buy this remote. The stupid remote works on Wi-Fi and drains all battery in one month. I just brought this in 2017 December and in 2018 February 1st week, the battery of remote is out. Have you ever heard of remote battery getting drained in 1 month? Excellent power management Amazon.
Garden & Outdoors
Brand: Classic Mosquito Net
Price: Rs. 1049
Customer Reviews: 4378
Best Review (5 Star):
Purchased on 5 June. An initial review-Very nice product, no holes or damages, a little big for a double bed, suitable for king size, worth the price, yet to see whether durable. Happy with the product.
Worst Review (1 Star):
Fake Product it was not what was shown on picture stitching was not good threads were loose in some parts the brand is also no classic mosquito net some word was written on the cover "net quality is pathetic" chain is also very poor and the fun part was it was Amazon choice product. Unsatisfied. Wasted Rs.1200.
Brand: HIT
Price: Rs. 152
Customer Reviews: 2732
Best Review (5 Star):
On day 2 of application cockroaches have started dying. Will keep applying for the next few days. I will review again after a few days and give my recommendation. 2nd review after about 2 weeks of use. I have applied the paste at different places in the kitchen and under the dining table a few times. The cockroaches have substantially reduced. Every morning I find a few dead. Although a few are still there. Maybe they are the smarter ones. I plan to continue to use it.
Worst Review (1 Star):
Even after applying it two times and that too as per directions are given on the package (I waited for two weeks to see the effect), it did not kill a single cockroach, This is a pathetic product, not worth buying.
Gift Cards
Brand: Amazon
Price: Rs. 1
Customer Reviews: 23606
Best Review (5 Star):
Hello Friends, Amazon Pay Balance is working great it adds Money, Cashback, Refunds in seconds. I can always pay with Amazon pay on Amazon & Partner Sites. Amazon is Amazing.
Worst Review (1 Star):
I uploaded money into Amazon pay balance last night to get a discount on the book my show movie tickets, by paying through Amazon pay balance, but when I went ahead and booked a ticket at BMS. And proceeded to pay through mobile wallets, there were all other merchandise wallets but Amazon's pay balance..very disappointing.
Grocery & Gourmet Foods
Brand: Lipton
Price: Rs. 376
Customer Reviews: 2254
Best Review (5 Star):
At the starting stage, you won't like the taste of green tea. But when you start drinking continuously it will taste awesome. Lemon and honey are preferable as it is good for health.
Worst Review (1 Star):
Pathetic taste. Has bitter aftertaste. I have tried various green tea but the taste of this one is not good. Neither has a taste of lemon or honey. Even if you want to try, go for a smaller pack.
Brand: Solimo
Price: Rs. 469
Customer Reviews: 1882
Best Review (5 Star):
Received my almonds in perfect package.packed in an airtight package and looks hygienically packed with no sign of insects or bugs. Almonds were in perfect shape and size. Quality was great at this price range. Fresh and crunchy almonds worth buying it.
Worst Review (1 Star):
Very unhappy. I had ordered it for parents. though the top appeared to be sealed, someone had opened it and the content was less than 250grams. Truly unhappy.
Brand: Quaker
Price: Rs. 221
Customer Reviews: 1393
Best Review (5 Star):
Guys like other typical Indians I also used to have those high-calorie snacks. but after having Quaker instant oats, it keeps me full for longer and tastes wise also good and you can make it tastier by adding almonds, raisins, peanuts, and fruits like Apple, banana .i love it and I promise you will.
Worst Review (1 Star):
The oats had flour in it and were very sour. Don't buy this item, it looks exactly how they sell it in the stores but the contents have been changed. The taste is bad and there were pieces of wood and plastic inside it.
Health & Personal Care
Brand: Philips
Price: Rs. 1950
Customer Reviews: 33744
Best Review (5 Star):
A great trimmer for the price of Rs.1489. Nice blades and long-lasting battery. I have been using it since one and a half year works fine and hasn't faced any problem with it so far. Overall great product.
Worst Review (1 Star):
I bought this product on the 23rd of sept where I used it 2 times as per now. the third time when switch on the product, the battery was low. I plug in the charger and it is not even charging I am regretting that I bought this product.
Brand: Health Sense
Price: Rs. 1234
Customer Reviews: 10535
Best Review (5 Star):
This is by far the best weighing scale I came across. Reliable, accurate and hardy. The display is also great in terms of brightness and size making it easy to read. I bought the same scale a couple of months earlier for a friend who is extremely happy with it. So this is my 2nd purchase of this Health Sense scale.
Worst Review (1 Star):
My worst purchase in amazon so far. I bought it on Sep 17 and by Apr 18 it has stopped working. Despite changing the batteries 3 times, no display appears. The warranty policy is pathetic as it is for 1 year from date of purchase "if and only if you register this at some site within 2 weeks of purchase". So paying money to buy this is less important than registering it at some stupid site. Happy fooling customers. Beware of this fraud.
Brand: Omron
Price: Rs. 1649
Customer Reviews: 8363
Best Review (5 Star):
Gives accurate readings when used correctly (verified). Simple to use & long-lasting batteries. My 2nd purchase of this very product.
Worst Review (1 Star):
Compared with the manual machine with the doctor and 2 other places. This machine's results differ by over 20 points. Avoid
Home & Kitchen
Brand: Pigeon
Price: Rs. 269
Customer Reviews: 29511
Best Review (5 Star):
It's an amazing product. Chops very fine. I have chopped onion, tomatoes, cabbage, carrots, beetroot, and capsicum. All were very easily chopped as per the need. Don't know about the life of blade but now it's a magic wand for me in the kitchen. I would recommend one time to try. I got this product at 195₹. Worth the price.
Worst Review (1 Star):
The product was very nice for the first 2 months later the string got pulled out and I m not able to fix it.amazon said it has 6 months warranty but now no one will help us the waste of money
Brand: Bajaj
Price: Rs. 799
Customer Reviews: 9747
Best Review (5 Star):
Amazon delivered it fast and I also got a really good deal. Light Weight, easy to use and the cord is long too. My only problem is that there is a noticeable crack in the plastic near the front of the iron. Although it is functioning properly.
Worst Review (1 Star):
It works well only for the first few weeks. If ordered check its wire upon delivery, probably you will get a low-quality wire (I guess not a Bajaj one)& try to get it replaced
Brand: Milton
Price: Rs. 505
Customer Reviews: 16364
Best Review (5 Star):
Supreme efficient. Keeps water/milk piping hot until the next morning as well! It came very handily while traveling with an infant on a train. Even in everyday use, it keeps things hot. I have not tried for cold stuff yet.
Worst Review (1 Star):
I've bought this 4months ago. Now It got rust outside… and just lost its Thermoflask temperature lock capacity.
The outside is getting very heated now when storing hot water, and the water gets completely cold in 2hours! It is NOT made of 100% original STAINLESS STEEL. Can't be repaired! Just waste of money. Rs500 for 4months!??
Home Improvement
Brand: Esquire
Price: Rs. 539
Customer Reviews: 7082
Best Review (5 Star):
It's a good gift to mom guys. 500 rupees don't matter in front of her busy life and backache too. Guys at first I was very scared after reading the bad reviews about the product but when it arrived I was in a comfort zone at this price I must say this is the best product the quality of bucket's plastic was my real concern & now I am satisfied with that. I hope the review will help you go for it.
Worst Review (1 Star):
Do not buy it. Amazon is selling it as a bestseller and in the lightning deal, but the product is equally worthless. The stick doesn't fit well. The grip is not tight enough to hold the swiping. Don't be fooled to buy in a lightning deal or get driven by bestseller label. Ignore it!
Brand: Black & Decker
Price: Rs. 2119
Customer Reviews: 4125
Best Review (5 Star):
Great Product from Black & Decker, I love the drill. It's very sturdy and heavy too. Awesome power drill. Get yourself ready for a heavily weighted drill and power drilling. You can feel the rotational speed. The trigger can control the speed of drilling. So, it's very good for screwing too.
Worst Review (1 Star):
The product received in the seal tampered condition and re-packed by Amazon. To replace the original drill bits with the duplicate ones, the seal has tampered it seems. However, the machine works well as of now. But the bits supplied are duplicate and useless. Better to purchase branded drill bits.
Industrial & Scientific
Brand: Generic
Price: Rs. 215
Customer Reviews: 6061
Best Review (5 Star):
The price was low so the quality was low. The battery cover was detached from it on inserting the battery. So I had to stick a salute tape on the battery cover. It can be used for weighing grocery, gold, and anything that goes up to 10kg. It doesn't hold much weight. It's very lightweight. Need to handle with care. It is of plastic body and if gone from hand It would break into pieces. So handle with care to last long.
Worst Review (1 Star):
Worked on it maybe thrice. Purchase date less than a month. Today morning onwards it's just not working. Replaced the Batteries. Nothing works. Keeping up the reputation of made in China products. Don't see a replacement policy here either. So what am I suppose to do with this thing? Is there a warranty of any kind on this product?
Brand: Generic
Price: Rs. 189
Customer Reviews: 6008
Best Review (5 Star):
I have checked the meter it shows the TDS fairly accurately. Have tried with tap and RO water, and as expected the readings were within the expected ranges. Do read the manual before using it. It comes with a decent carry case and the battery is also replaceable. The hold feature is good, as the readings are instantaneous.
Worst Review (1 Star):
It is an Amazon choice product. It just worked on the first day and then again I tried it on 18.3.2018 it didn't switch on. What is this? Amazon choice product. Hell. Dead. Refund my money.
Jewelry
Brand: Apara
Price: Rs. 320
Customer Reviews: 1269
Best Review (5 Star):
It's worth buying at this price. Very light and comfortable to wear. Design-wise superb. The packaging was a little disappointing otherwise rest all is good.
Worst Review (1 Star):
It's very bad. Nothing can be worse than this. Very poor quality. Very bad color. Eww!! It arrived almost 3 weeks after placing the order. And it was the worst buy I had in Amazon till now. The product is not at all what seems in the picture given by Amazon.
Brand: YouBella
Price: Rs. 368
Customer Reviews: 693
Best Review (5 Star):
It's utterly gorgeous. With such a reasonable price. Loving it a lot. Please go for it if you are looking for something lightweight gorgeous and elegant.
Worst Review (1 Star):
This is a small size and for a child not for women. Wastage of money no use of it. Scrapped. It is not flexible. The shape is fixed half circle and can not be expanded nor stretched.
Musical Instruments
Brand: JUAREZ
Price: Rs. 1990
Customer Reviews: 3754
Best Review (5 Star):
For 2000 rs its a good purchase. I was a beginner when I bought this as my very first guitar and it supported me as I moved forward.
Worst Review (1 Star):
I have got a damaged item. There is crack on the fretboard and the last string has broken. So please help me. What should I do now?
Brand: Boya
Price: Rs. 999
Customer Reviews: 14134
Best Review (5 Star):
I would say this is the best available Mic in this price range. This mic can be connected to your DSLR, Smartphones, Laptops, etc.
Pros :
Long Wire
Sound Quality is really good and rich
Cons :
It will pick background noise if you are in a noisy environment. But you can use RecForge 2 Audio Recorder App on your smartphone to Remove All The Noises.
Apart from that, it's all gold. Go for it
Worst Review (1 Star):
When recording on the phone or laptop the quality was the same as you get from a regular headphone. I watched a review about this product on y..tube even on the technical guruji channel. it's a marketing strategy I guess. these are useless microphones with no noise cancellation. I don't know if you're using it on DSLR but on fon or pc, it will give no special output. same fan noise and all.RETURNED
Office Products
Brand: HP
Price: Rs. 1146
Customer Reviews: 4606
Best Review (5 Star):
Perfect (using for HP 3545e): Sealed and original, has hp hologram (see pic). Lasts well, as good as the one I bought from hp showroom. Good quality – both black and multicolored. Value for money.
Worst Review (1 Star):
Duplicate product. My HP printer is not recognizing it. Saying fault product inserted.
Brand: Casio
Price: Rs. 992
Customer Reviews: 5316
Best Review (5 Star):
Perfect for all civil engineers, it has a pretty look and I use it near 5-6 months, no other issue I found. Powerful and easy to use. it is better than the 991-ms ordinary calculator. if you are an engineer do not look at prices, this calculator gives higher skills to your work. matrix and all things are very easy to use.
Worst Review (1 Star):
On key is damaged. I am dissatisfied with it. Overall it is working and in good condition. Packing is nice. Manual is also given. But the ON key is damaged.
Pet Supplies
Brand: Nature Forever
Price: Rs. 390
Customer Reviews: 2327
Best Review (5 Star):
Everyone out there should install this kind of bird feeder in their Balcony, Window or Garden… it feels good to see a variety of small birds visiting daily. It didn't take more than 2 hours for the birds to spot the food and from that time I can notice them being healthy enough than before. Amazing innovation.
Worst Review (1 Star):
The quality and finishing of the product are really bad. With its plastic quality, I don't think it will last even one summer season. Local mineral water bottle plastic quality is better than this product. Not worth buying the product.
Brand: Choostix
Price: Rs. 180
Customer Reviews: 1282
Best Review (5 Star):
The stray mom in our lane gave birth to 4 pups and wouldn't leave them alone. To keep her well-fed I bought these. Cost-effective and healthy. She loves them. Now her pups, at chewable age, also love them! What fun to watch them playing around trying to chew these instead of my shoelaces when I go to them! Thank you!
Worst Review (1 Star):
Not good. Don't buy this product. My 8 month Labrador is unable to digest and vomits every time he eats it. It's recently manufactured but something wrong!!
Shoes & Handbags
Brand: Lotto
Price: Rs. 625 to Rs. 1249
Customer Reviews: 5478
Best Review (5 Star):
Shoes are nice at this price, good for running, and the color is the same as shown in the picture, but not good for a full day wearing as it does not have air ventilation but it's not expected at this price.
Worst Review (1 Star):
After a month now, I noticed the defect only after my friend found it. This shoe toe part is uneven. I advise all Please check for any defects first thing when out of the box.
Brand: ASIAN
Price: Rs. 374 to Rs. 499
Customer Reviews: 2291
Best Review (5 Star):
Top value for money shoe. I use it in the gym for running and wear it while going outside. The shoe is pretty light and fits well. Also very comfortable. Durability wise is also good.
Worst Review (1 Star):
Item is Duplicate. It is not the original Asian Shoe. They sent a similar unbranded one of very low quality.
Software
Brand: McAfee
Price: Rs. 190
Customer Reviews: 6484
Best Review (5 Star):
At this price u didn't expect that kind of product and service, firstly I am unable to install it on my PC because of some window update issue but their technical assistant Mr. Ramesh help me a lot to recover this issue and finally it is installed on my PC so guys this is the best product in this price range and seller service is even better.
Worst Review (1 Star):
Does its job-great anti-virus protection. The full system scan does run a bit slower than Norton 360. But at Rs 100 odd-nothing to complain. Highly recommended. It does not slow the system down nor show annoying messages.
Brand: Kaspersky
Price: Rs. 204
Customer Reviews: 6115
Best Review (5 Star):
The best way to purchase an antivirus. If we need that just order it, Open your mail. Download the software. Activate it. No wait for the package, everything is paperless. Love the way that they did.
Worst Review (1 Star):
Installation time takes an hour. After installation scan time is very more than a day. A laptop hangs automatically during a scan. I do not recommend it's my genuine review for this product.
Sports, Fitness & Outdoors
Brand: Yonex
Price: Rs. 429
Customer Reviews: 4968
Best Review (5 Star):
Gutting is good, lightweight, was able to shot for 35 ft + with Yonex 350 and 500 in outdoor court, good for a drop. Smashes are not though that power may be as earlier I was using flexible shaft racquet. Value for money racquet, better than any under 1000 Rs racquet, I can say so as I have 6 racquets including Kawachi, Morex, silver, Jasper, lining. delivery was prompt and the packaging was excellent. It's now clear in my mind that we can order fragile & delicate things also.
Worst Review (1 Star):
The head of the racquet was bent, reordered racquet was also bent. And another fresh order was good. waste of time reordering. The racquet is light-weight and good enough for beginners. Got it a lightning deal of rs.195 off from M.R.P.
Brand: Nivia
Price: Rs. 368
Customer Reviews: 4695
Best Review (5 Star):
This ball has a nice grip and that's why I love it. And also it is the best football I had ever seen. Nice bounce and also it is best for doing many different skills.
Worst Review (1 Star):
Very bad quality, bought it in August, as a backup football, didn't check at the time of purchase, filled it yesterday to realize that it has a puncture, felt cheated as there is no way of replacing it now, lesson learned to check the product at the time of purchase.
Toys & Games
Brand: Negi
Price: Rs. 119
Customer Reviews: 4653
Best Review (5 Star):
I'm writing this review after 3 years of purchasing this cube. This is a superb quality cube. Made of good material. I dropped it from the first floor but it didn't break.
Worst Review (1 Star):
Very bad. It was full of scratches. My kid got disappointed. Felt it was an old one.
Brand: SahiBUY
Price: Rs. 375
Customer Reviews: 3192
Best Review (5 Star):
It's worth for money. Got in a deal. Quality material and varieties of sounds such as animals, karaoke, etc. you never get bored of it. After all, excellent delivery before time from Amazon.
Worst Review (1 Star):
Not up to the expectation. The speaker is at the back. The sound is not that audible when ur kid keeps the keyboard down and play. The sound is not clear as well.
Video Games

Brand: Rockstar Games
Price: Rs. 1670
Customer Reviews: 921
Best Review (5 Star):
Bought from Cloudtail. Received in perfect condition fully sealed, the map inside. Works perfectly. I wish the controls were a little more customizable. Though you won't get the satisfaction of playing on a pc, (because pc has keyboard and mouse thus better control). I wish sony allows adding keyboard and mouse for gaming. NOTE: For faster installation disconnect your internet or WiFi from ps4 until it's fully installed. It will only take less than 30 mins, otherwise, you'll be stuck for hours. Because the game tries to download the updates simultaneously if you're connected to the internet. Hit YES if the review was helpful.
Worst Review (1 Star):
The game is lit AF But the product I received was damaged even then I used the disc but wasn't able to play the full game, I think because of the damaged box would have affected the data.
Brand: Sony
Price: Rs. 700
Customer Reviews: 1120
Best Review (5 Star):
I can define the game in 2 words "Just Amazing!" Truly a wonderful work by Sony. It's a must-have game for those who love adventurous games! Graphics are amazing, the gameplay is great, Voice acting and character modeling is very realistic. I loved the game so much, I finished the campaign in 10 days! Worth every rupee!
Worst Review (1 Star):
There's something wrong with the product. It doesn't seem genuine. The user manual inside is missing while the CD looks like a counterfeit. Packaging outside looks good but once you open it, you can make out that something is wrong. I would like the seller to provide a replacement for this. A customer cannot accept a product like this.
Watches
Brand: Timex
Price: Rs. 3316
Customer Reviews: 4486
Best Review (5 Star):
One of the best watch to own. I had eyes on this right from the time of college. I got it at a very good discount and went for it. Goes well with casual wear but does look small on the wrist. Looks beautiful and elegant due to its color combinations. Ideal for college youth.
Worst Review (1 Star):
This watch is the worst. Timex claims waterproof but in minor rainwater entered the watch and now it is finished. Local repair said the machine is finished. Timex is hell. Will never buy their watch again. Even a local 300-400 Rs. the watch is much good waterproof than this. Never buy this watch.
Brand: SKMEI
Price: Rs. 199
Customer Reviews: 2143
Best Review (5 Star):
Received on time with the well-packed box. Very light in weight and decent size looking on the wrist. Tested by keeping in water for half hr and it did do its job. An alarm sounds also loud enough to wake one up.
Worst Review (1 Star):
Very worst watch. Don't purchase, it's low quality. Appearance is good, but within a month it's strap broken. I changed the strapping unit but again broken. Finally, the one which s near to dial broken. Now it can't be used.
Brand: Sonata
Price: Rs. 449
Customer Reviews: 2563
Best Review (5 Star):
Ordered it for a friend so I will not be able to share a detailed review. But as there aren't any complaints I guess it was worth the price. The service level from Amazon was brilliant as usual.
Worst Review (1 Star):
I guess this is a defective watch that you guys give me instead of a new piece. Don't try to make fool of your customers. We people trust and you guys break that.