List of top Indian e-commerce marketplaces for sellers to list anything to sell online pan India. Choose a few to start selling online.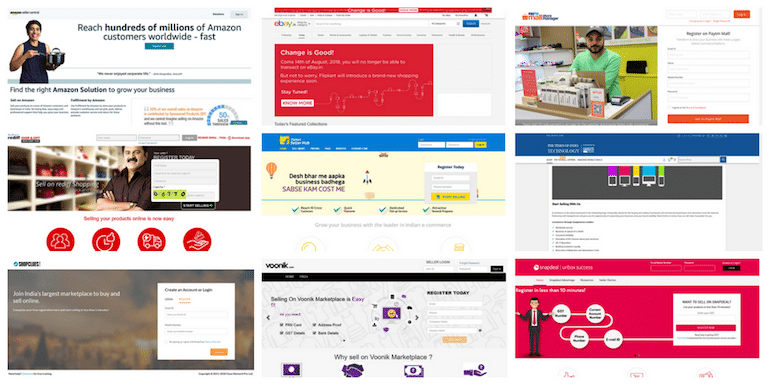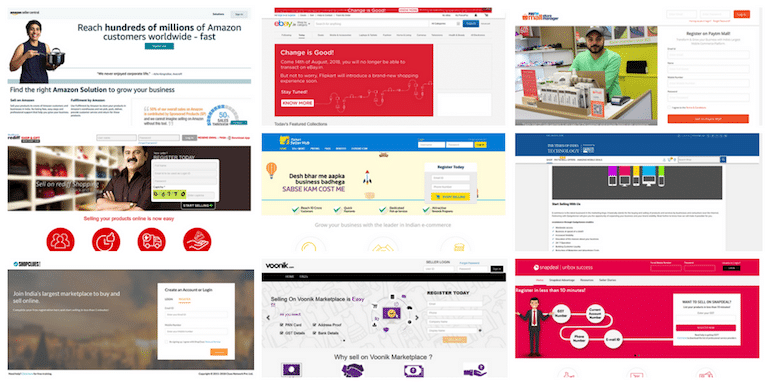 A new e-commerce website comes up every day. Setting up a seller account on each website is easy. It is easy to set up an online store, sell anything online in India, and create a brand in a short time.
Selling online is a way to go because of the following benefits:
Lowest online shop set up and operational cost
Reaching a global customer base.
Online shops are open 24 x 7 and 365 days yearly.
You can receive payments securely & quickly.
Tracking the buyer's purchase interest.
Products/services can be sold with minimum human efforts.
So here is the list of the best e-commerce website for selling anything online but do not underestimate the power of having your own eCommerce Site.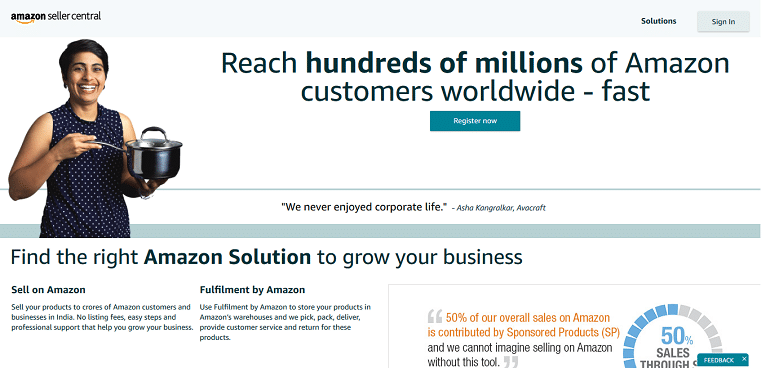 Amazon is the best bet for online sellers looking to sell anything and everything online in India. It is the most preferred online marketplace among global sellers due to its enormous customer database, various products, and fast delivery to reach out to every customer. It has successfully attracted new sellers with Amazon Easy Ship and Fulfilled by Amazon (FBA) programs.
Here are some of the articles to help you start selling on Amazon India:

Alibaba is the leading B2B, B2C, C2C e-commerce marketplace with the biggest supplier and buyer base. With a presence in over 200 countries, Alibaba can be termed as the conglomerate of retail and wholesale e-commerce.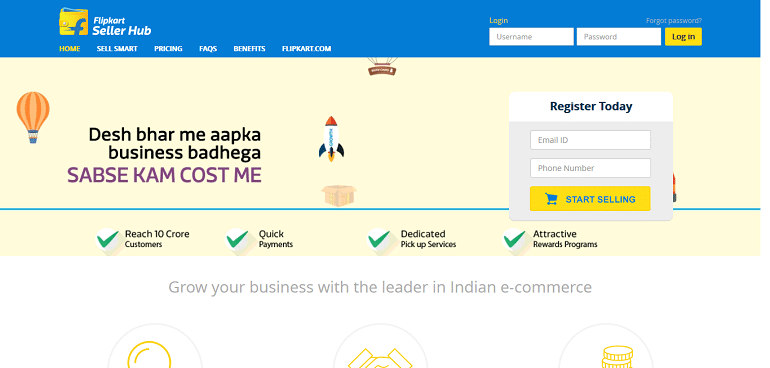 Flipkart is an Indian e-commerce giant that started as an electronic commerce company and expanded into other product categories like fashion, lifestyle products, grocery, etc. It holds 39.5% of India's e-commerce industry share.
Here are some of the articles to help you start selling on Flipkart India: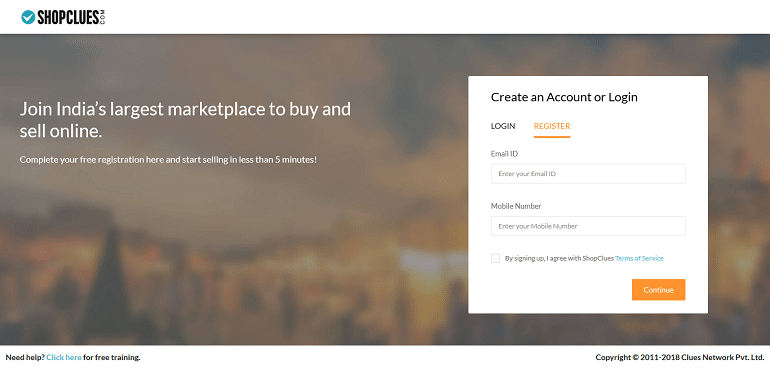 Established in July 2011, Shopclues is an Indian marketplace believed to have more than 6 lac registered sellers and 20M+ products on its platform, delivering products across 32000 pin codes in India. Merchants can sell products in categories like home and kitchen, fashion, daily utility, and others.
Also read:
A DIY guide to ShopClues seller registration process to get ShopClues's seller account and get brand approval to start selling.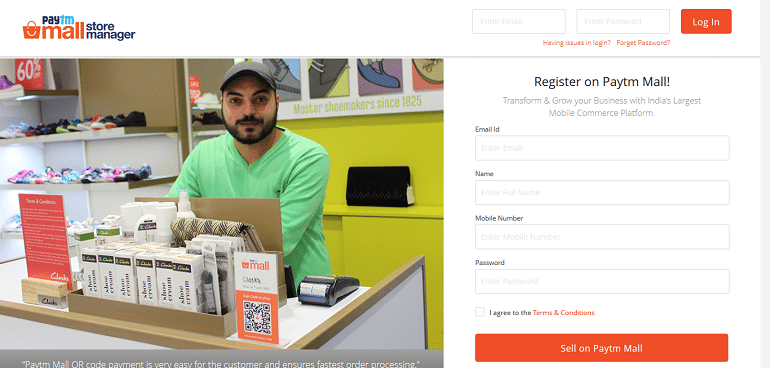 Originally being a digital payment gateway, Paytm evolved as a major Indian marketplace with its Paytm Mall services with excess to 68M products, 140,000 sellers, 17+ fulfillment centers, and 40 courier services to deliver products. Paytm is backed by Alibaba and is one of the better choices of a platform to sell anything online in India. Paytm Mall is engineered to help sellers to create their own brands using a B2C storefront in India.
Also read:
An easy to follow Paytm seller registration step by step guide to help you onboard the Paytm marketplace aka Paytm Mall as a seller.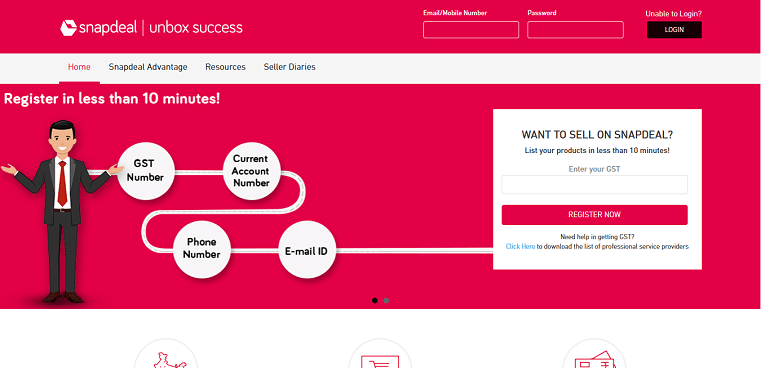 Started in February 2010 as a daily deals website, Snapdeal overtime became an Indian marketplace as a major expansion in September 2011 with 300,000 sellers, 30M+ products, 800+ product categories, 6000+ towns and cities in India. It is believed that the Snapdeal platform sells more than 125,000 domestic and international brands.
Also read:
A DIY guide to the Snapdeal seller registration process and get Snapdeal's seller account and get brand approval to start selling.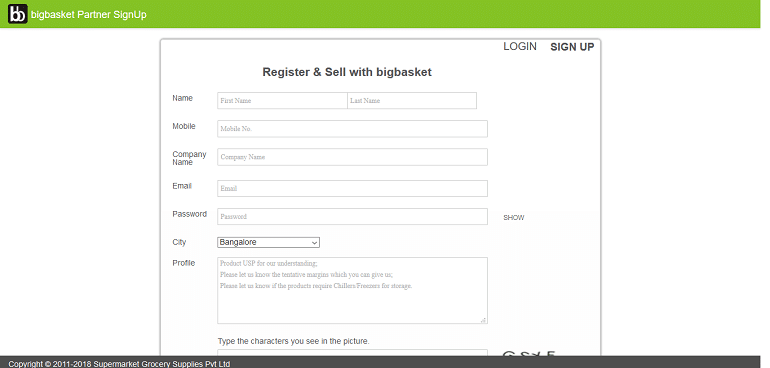 Stylized as "BigBasket," it's an online grocery and food items supplier in India. If you plan to sell fresh fruits and vegetables, meat and dairy products, groceries, personal care, and household items in India, then the Bigbasket is ideal for you. Sellers can list and sell their products on the big basket website and mobile apps.

IndiaMART is India's very own online B2B marketplace that connects buyers and suppliers. The marketplace focuses on small, medium, and large enterprises, along with individuals business entities. Please take a look at the mammoth number IndiaMart has accumulated since its inception. 93 million+ buyers, 5.7 million+ suppliers, 63 million+ products & services on board. Additionally, IndiaMART has a pan India presence with 77 offices across the country.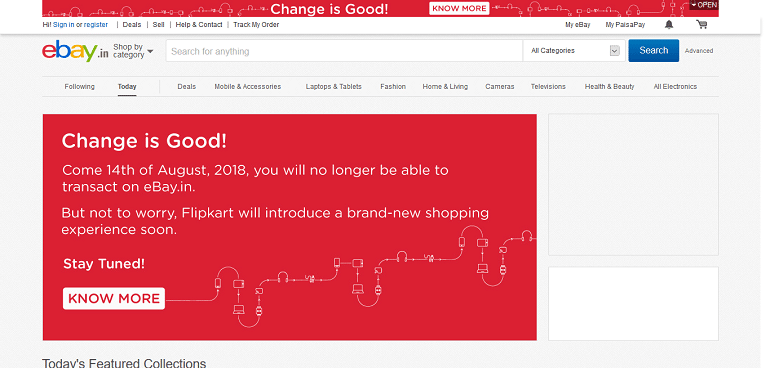 eBay is the early arrival in the Indian e-commerce industry. Originally being an auction site, eBay gradually allowed sellers to list and sell fixed-price products. Selling on eBay India is focused on customer positive feedback. Like Amazon, India eBay promotes the power seller program.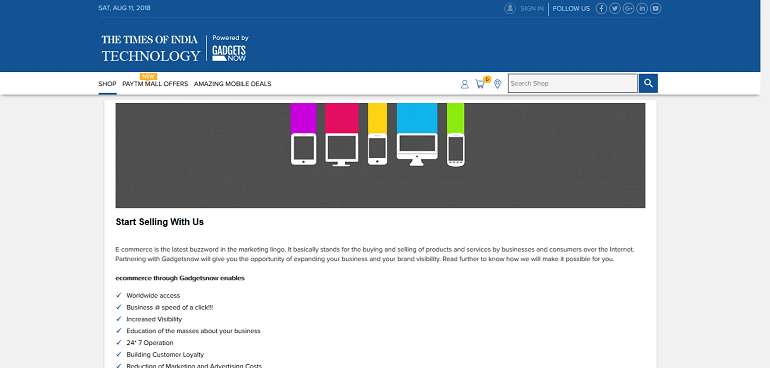 The subsidiary of The Times of India group, GadgetsNow, is the ultimate technology destination for tech-savvy consumers. Sellers can list and sell branded smartphones, cameras, TVs, speakers, laptops, smartwatches, tabs, fitness bands, power banks, and more.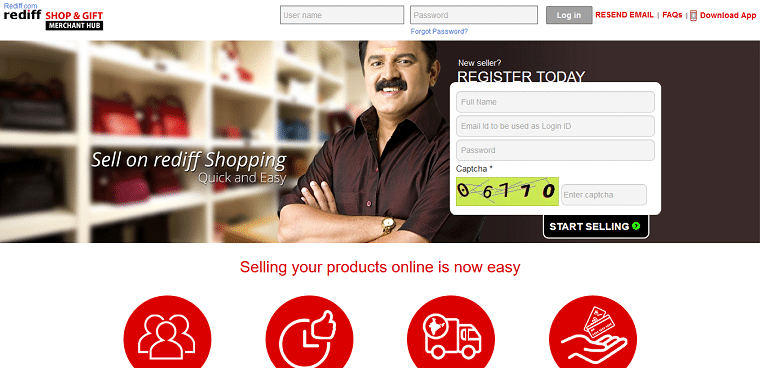 Over 22,00,000 products online Rediff Shopping operates in India. Sellers can list their items in categories like Lifestyle products, Mobiles, Electronics, Watches, Home & Decor, Personal Care, Health & Fitness, Books, and more. Register as a seller and start selling.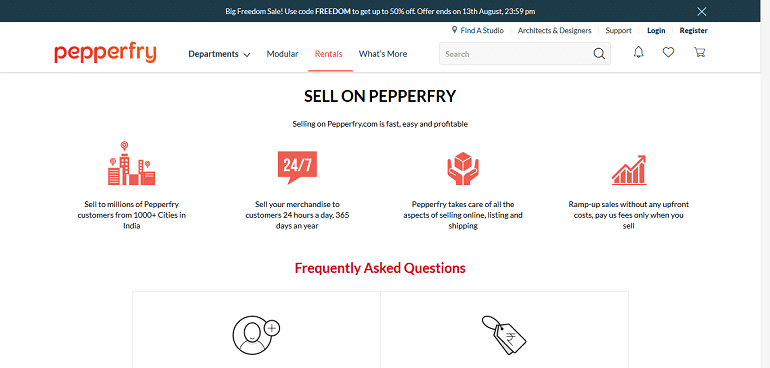 Planning to sell furniture items online? Register with Pepperfry. Sellers get access to 1000+ cities across India, while Pepperfry takes care of all your shipping and listings. You can instantly open an online furniture shop without any upfront cost.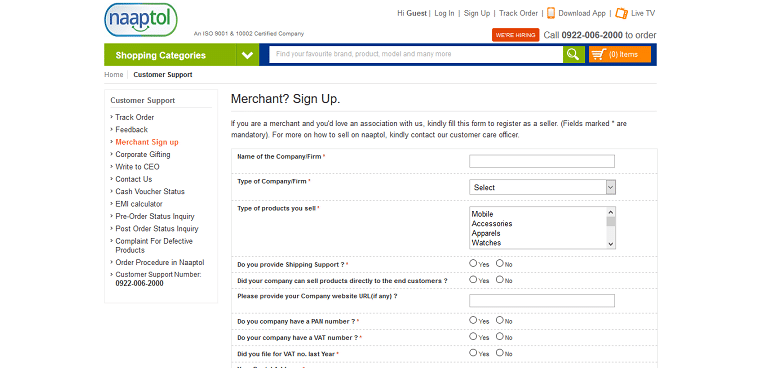 Naaptol is also an Indian leading e-commerce website where you can register and sell anything you would prefer. If you are a merchant, then signup today and start your online selling business.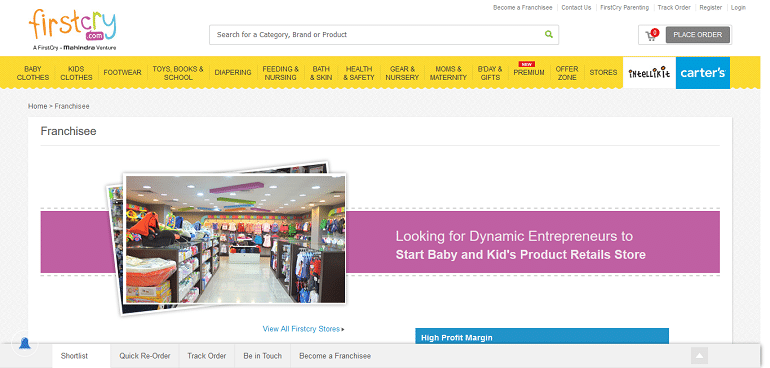 Firstcry is a unique Indian e-commerce portal to sell kids, newborns, and toddlers products online. If you are looking to start a baby and kid's product online store, Firstcry is the right choice. Moreover, Fristcry is a Mahindra venture.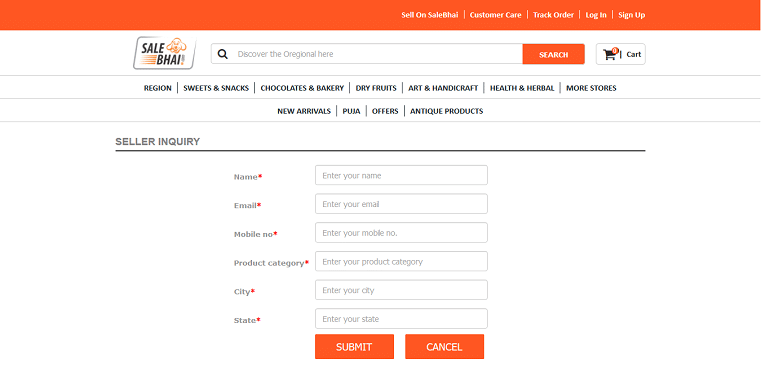 Salebhai has its online presence in almost all major cities of India. Sellers can sell their products in distinct categories like Sweets, Snacks, Chocolates, Bakery, Dry Fruits, Health and Herbal, Art and Handicraft, and Antique products.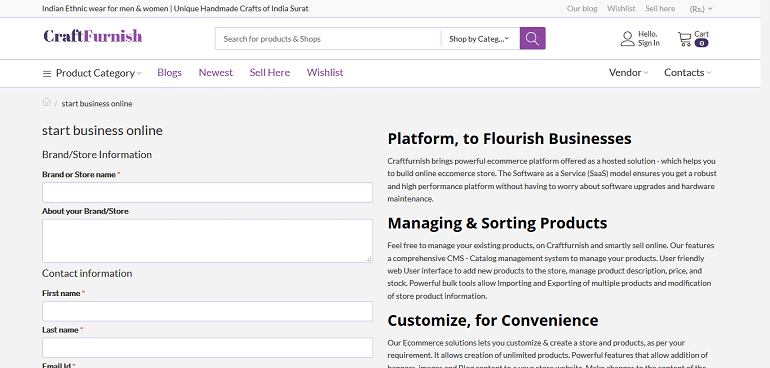 Craftfurnish has come up with a whole new idea of selling products online. Gifts, handmade crafts, women's fashion, kids and baby, men's fashion, jewelry, home, and furniture are prime categories where sellers can list their items for sale.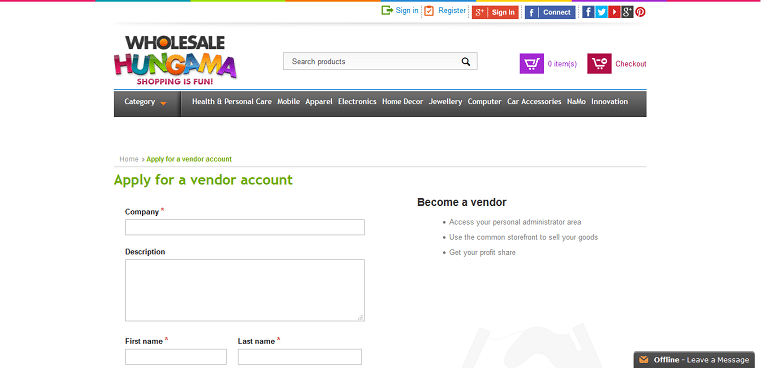 Like the other online selling portals, wholesalehungama also provides a storefront for sellers to sell distinct category items across India. Initially only limited to Mumbai, now they have reached PAN India. Selling is indeed fun with wholesalehungama.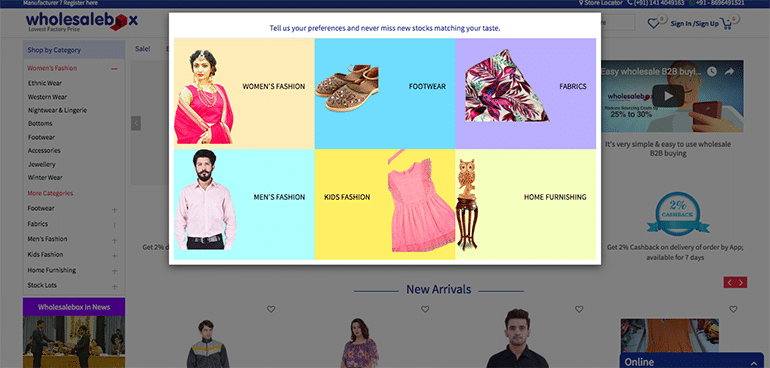 Wholesalebox is onboarding sellers from Jaipur, Surat, Ahmedabad, Mumbai, and Delhi, and they sell goods to more than 25,000 shopkeepers PAN India.
Other eCommerce Websites
Here's a list of other e-commerce portals that don't offer registration options directly. You can contact them to register as a seller.
Myntra is a fashion e-commerce website to sell shoes, clothing, accessories, home living, and lifestyle products online for men, women, and kids. If you are keen on selling garment products, then Myntra is the right place for you.
Tatacliq is the venture of TATA enterprise. Sellers can list and sell almost any branded products in featured categories across lifestyle, fashion, electronics, appliances & more. Moreover, buyers get the benefit of the Tata guarantee, which helps sellers to sell more.
Like Bigbasket, Grofers is an Indian online grocery and food ordering website operating in major Indian cities like Delhi, Gurgaon, Mumbai, Bangalore, Kolkata, Noida, Pune, Ahmedabad, Chennai, Hyderabad, Jaipur, Lucknow, and Kanpur.
Along with fashion clothing for men, women, and kids, Limeroad onboard sellers sell in home decor and kitchen items. Limeroad is ideal for small businesses to operate and grow from home. With 600+ vendors and growing customer traffic, Limeraod has become the most visited fashion e-commerce website.
Being female fashion wear a prime category for selling items on its e-commerce portal, Craftsvilla now allows men's wear. You can sell products like ethnic apparel, footwear, fashion accessories, beauty products, handcrafted home accessories, and other ethnic fashion and lifestyle products.
Sellers can register and sell new as well as used items on Allindiabazar. This website is great for sellers who don't want to invest huge capital in inventory. This kind of sellers can start with used items available at their home and eventually sell fresh products.