Get Brand and Category Approval on Flipkart with easy to follow step-by-step guide. Apply for approval in a restricted category for a new brand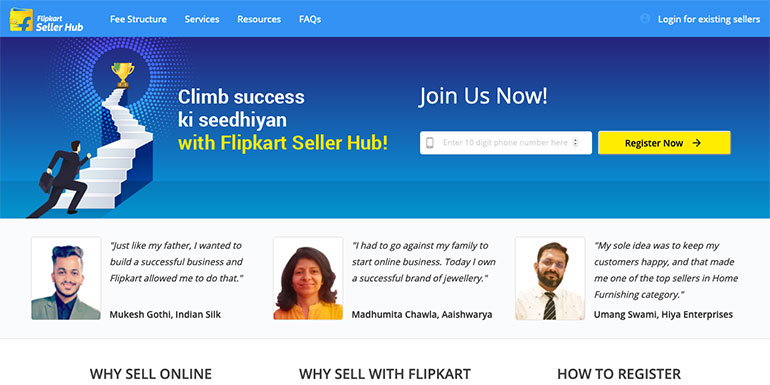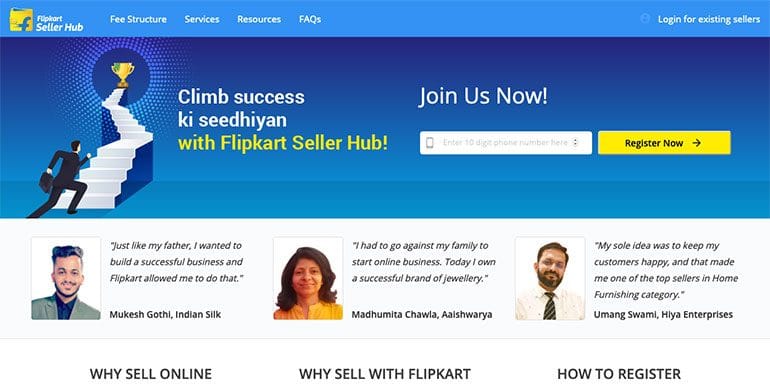 Before one can begin selling on Flipkart, one needs brand and category approval. Without prior approval, the marketplace won't allow a seller to list and sell products.
Approval is a part of the Flipkart seller registration process. I assume you have completed the registration process and have a Flipkart seller account. If you aren't already registered as a seller on Flipkart, please complete the registration process first.
Now, let's start the brand and category approval process for Flipkart.
Documents Required for Brand & Category approval
Flipkart requires specific documents to process an approval request. The following list of documents is standard for every seller. But Flipkart may ask for particular documents depending upon the product category.
Brand name & logo
Product images with MRP
Front, back, side & bottom images of products
Trademark certificate
Brand authorization letter (from the brand owner)
Invoice copy (Purchase bill) (for retailers)
Category-specific govt license copy (E.g., FSSAI)
Raw material purchase bill (for a manufacturer)
Also read:
The complete guide on how to get an approval for any restricted category on Amazon India with an example from grocery and gourmet food category
How Flipkart Perceive Brands?
There are two types of sellers with two different selling concepts on Flipkart.
Sellers using personal brands – Sellers manufacture and deliver unique products under private labels. Usually, new brands and startups sell their products under their new brand. These sellers create a brand, logo, and get it registered under local laws.
Sellers using third party brands (already registered as brands on Flipkart) – These sellers are typically the authorized online sellers of other brands, especially the big brands. As an example, Samsung, Apple, Bata, Tata, etc. They take a brand authorization letter from the owner/company.
So now we have a couple of options for approval:
Select a pre-approved brand, upload docs, get support, and start selling.
Approval in a restricted category. For a new brand, Flipkart treat is a restricted category. Upload docs, get approval and start selling.
Let's see each option in detail. However, both procedures require a different set of documents.
A Pre-approved Brand
Log into your Flipkart seller account. Click my listings under the listings tab. You will see the listing management page. Now click add new listings in the top right corner.

The add new listings page will open up. The page is blank because the account is new and still not fully operational. After all, we aren't uploading a new product. We are applying for brand and category approval, whose initial steps are similar to adding a new product.
Practically if you want to add new products, you will have to first go through the above steps. Anyhow, uploading new products is a different story.
Click add a single listing button in blue. Refer to the image below.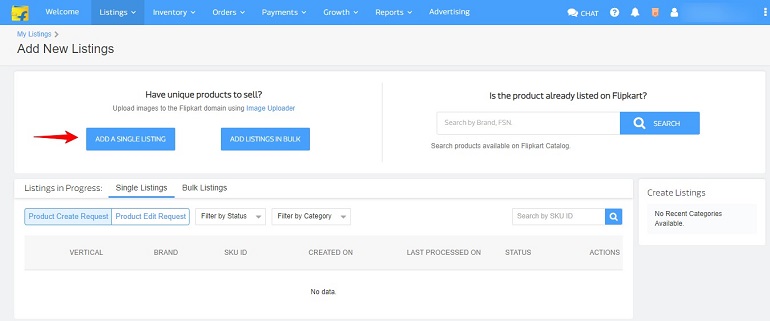 Category selection
Select category (vertical) you wish to sell. Either do it from the category tree or search in the search box. For example, I have selected mobile products.
Moreover, the system will show the product path for reference. In the right end, there's a select brand button. Click and proceed for brand selection.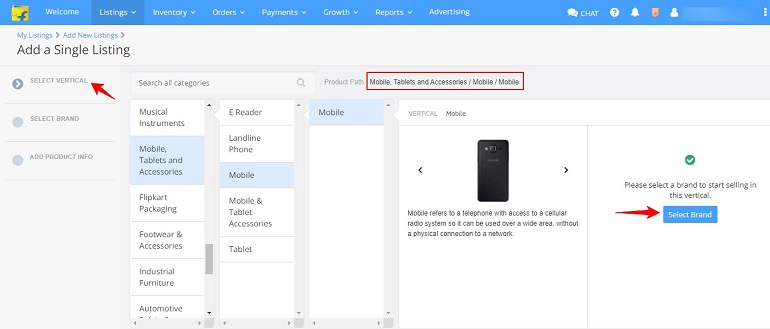 Refer to the example image below. For instance, I have selected the smartphone manufacturing company apple as my brand. When I click the check brand button, the system asks me to apply for brand approval.

When applying for approval, the seller needs to submit a form with the necessary details. Refer to the image below for the sample brand approval form.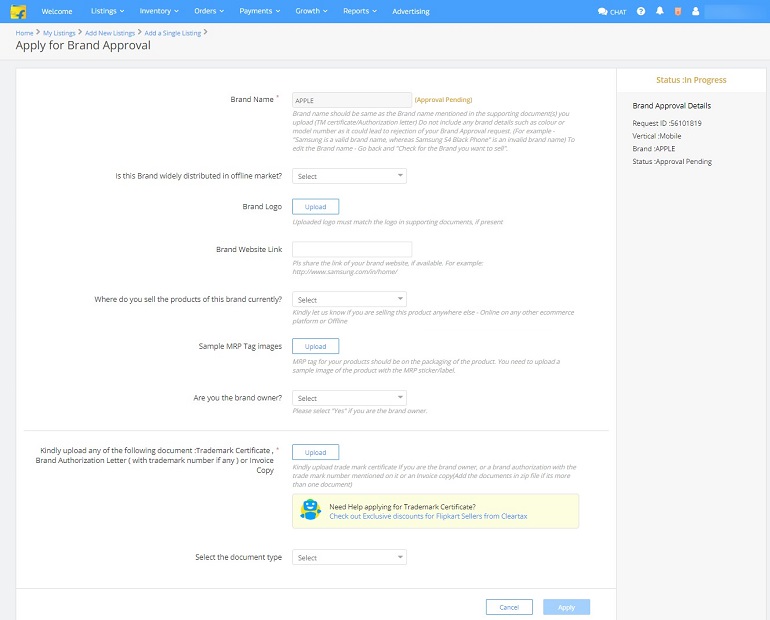 Hence, to sell Apple smartphones, I need an invoice, brand authorization letter, or trademark certificate. Anyone will do. The best idea is to produce a purchase invoice. It must clearly show that you have purchased Apple smartphones from an authorized dealer, distributor, or directly from the company.
After applying for brand approval, wait for the system to process your request. It usually takes 48 hours to process a brand approval request. If your brand is approved, you will get an email notification for support tickets on the dashboard.
Restricted Category Approval for a New Brand
The procedure for approval in a restricted category is similar to that of the above mentioned. The only difference is the type of documents submitted. Let's see what docs are required.
For easy understanding, I have taken Food and nutrition as a category. Refer to the images below.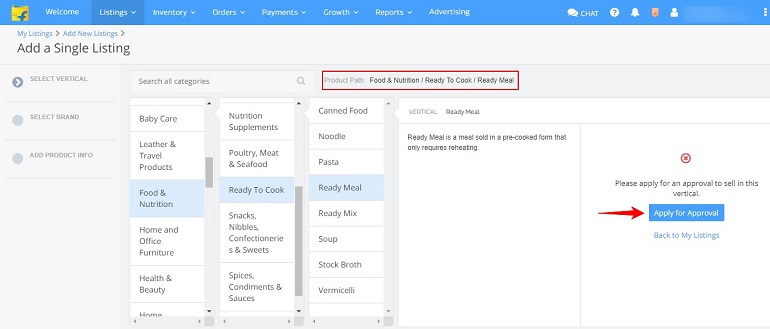 Click apply for approval and proceed. The next step is to submit documents.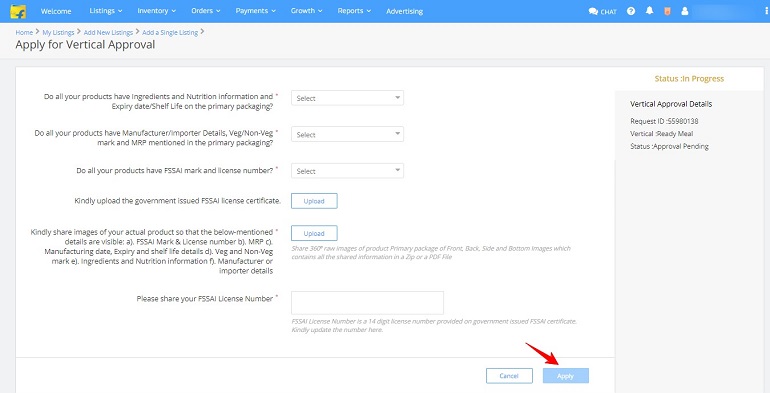 Now that we have taken Food and nutrition as a category, the system will ask documents related to food. For example, ingredients & nutrition information, government-issued FSSAI license certificate, and images of actual products. Finally, click the apply button.

The form submitted successfully notifies that the documents are accepted. But still, the approval is in process. Sellers can track approval requests under the listings tab. Use the request ID for future communication with the seller support.
The above notification is generic and applicable to all brand approval request.
After Requesting Brand & Category Approval
Short answer, Flipkart will send an auditor for inspection.
The brand approval request follows up with a mandatory physical audit by Flipkart. The audit will decide whether or not a seller is permitted to sell in the requested category/brand. Remember that the physical audit may not be for every category.
The decision to physically audit or not depends on Flipkart policies. You can always verify auditable categories with their customer support. As of now, let's take a brief note on Flipkart's audit.
The audit Process
An audit is a verification done by the Flipkart team. The auditor performs a physical check of seller premises. Flipkart ensures that a seller is following all legal and business guidelines to sell in the requested category.
Is audit mandatory?
A physical verification at a seller's site ensures new sellers do not resort to fraudulent activities. For example, government-issued FSSAI license compulsory for food products. This way, Flipkart takes accountability for selling genuine and good quality products to customers.
The audit process
Seller initiates approval for a specific category.
The auditor (aka quality champion) visits your premises.
He/she performs a check as per Flipkart standards and other regulatory requirements
Audit results are published in the My Audit section under the listings tab.
If you pass the audit, you will be able to sell in the requested category/brand. In case if you fail an audit, you can check for reasons in the My Audit section, rectify them and reapply.
If you repeatedly fail the audit, contact Flipkart customer support. They will explain to you the exact reason, along with what needs to be done.
Conclusion
Brand and category approval becomes easy if documents are accurate. Moreover, government-issued licenses have an expiry date. Hence check whether the license is still valid before submitting to Flipkart.
Also, take care of the business name, address, type of business, and other details match with the details submitted in the Flipkart seller registration form.