Where should freelancers focus their efforts in the first year of freelancing? Things I Did then and the lessons I learned as a freelancer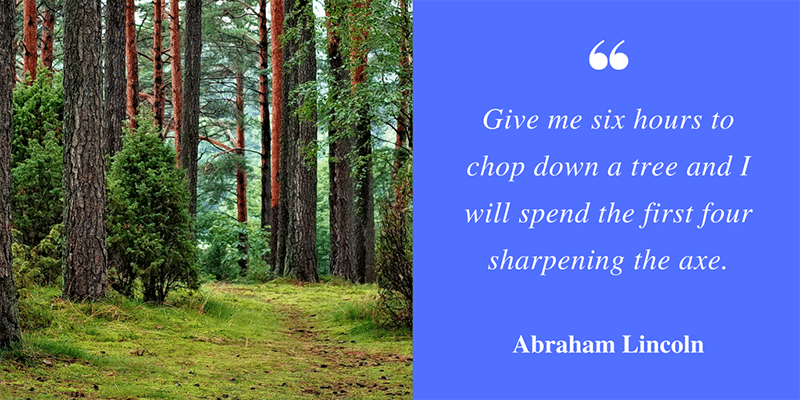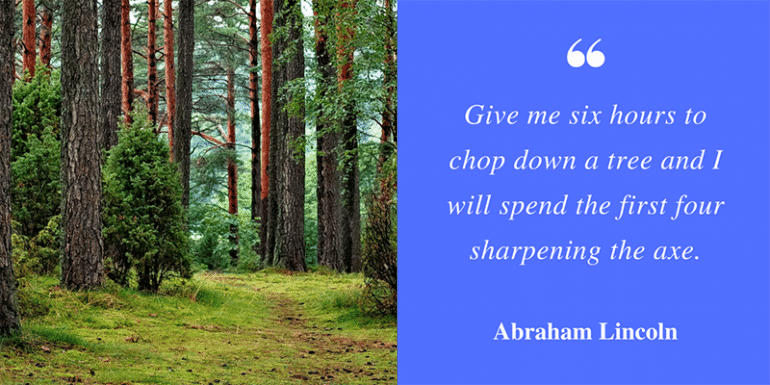 The focus of the freelancer in the first year of freelancing shouldn't be to break even. It should be more to create a level playing field for the next few years.
You don't want to rush. The first year is the survival time with an opportunity to learn and choose the right niche for freelancing.
If you start a blog, you should have a year of effort before you start making a decent income. Similarly, an eCommerce startup may require an upfront investment for inventory and other stuff.
However, freelancing is a lot different. One can start making money right in the first month of working as a freelancer. I know it is possible, and that is how I started in 2008 amid the financial crisis, quitting my high paying job in an MNC.
Still, the focus wasn't on making money in the first year. Remember this quote from Abraham Lincoln.
Give me six hours to chop down a tree and I will spend the first four sharpening the axe. – Abraham Lincoln
In this digital era of online information, the quote is even more valid than ever before.
There are more blogs today than they were yesterday. There is more content online today than when you started reading this article a moment ago, and we will have so much more written only on the topic of freelancing even before you can complete reading this article.
With so much information being published every day online, one can't grasp all of it, and one neither needs to.
One needs the right kind of skill to be able to judge what you should be using as information and what you should be building on as a knowledge that can help you become a better freelancer.
In the First Year of Freelancing
As a new freelancer, there is so much more to read about freelancing today than it was yesterday.
So it is essential to understand what one should be doing in the first year of freelancing.
1. Learn Ways to Find Clients
It isn't about the number of clients one can find in the first year of freelancing, but one must know more ways to find clients.
The first year of freelancing is possibly the best and the only time when you can allocate time and resources to experiment with additional ways to find clients.
The more ways you know to find clients, the better.
If you start dealing only in Upwork with applying to jobs with proposals, you are limiting your ability to finding clients.
Upwork is the best source of clients for me, but it is not the only source of clients for me. The limitation to only using Upwork for clients can mean you may lack the knowledge to find clients outside of Upwork.
There are numerous other ways of finding clients like offline marketing, blog, referrals, forums, and networking, or social media, to name the few. If you don't try them out, you won't know what may work and whatnot.
The best time to experimenting with such methods is in the early stages of your freelancing career when you have very little at stake.
2. Build Client Relationships
You can't get enough new clients all the time with your efforts.
A strong relationship with existing clients can help with a lot of repeat work and referrals. So you don't have to look for new clients all the time.
I am not taking up any new client for the last few months because I have more work than I like to allocate my time for freelancing. Still, a few days ago, an old client asked for some changes in the ads that I worked for him sometime back.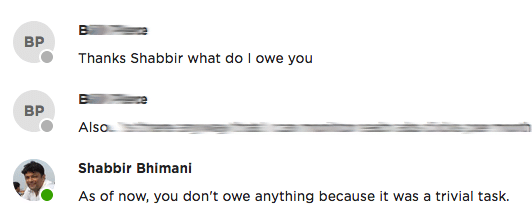 I made the changes, and they didn't take much of my time.
He is a long-term client where we work on extensive work, and so even things aren't part of the support I prefer not to charge them for every minute spend on their tasks.
It will get you more work in the future.
There are times where you work on the relationship. It can be doing some trivial tasks or consulting them or helping them out with something. It isn't the work that you don't charge builds relationships, and even a faster turnaround time can build trust and relationship.
As a new freelancer, one has to focus on building relationships actively.
3. Have an Eagerness to Adapt
I see the hunger to learn goes missing among the new freelancers who somehow has managed to get their first few clients by placing proposals on freelancing websites.
As soon as they get the clients, the race is on to get paid more hours per week. Enhancing their skills or narrowing the niche takes a backseat.
Once the focus is on "more paid hours per week," the eminent restriction on the number of hours per week one can work. Instead, one should allow time to enhance the skills and adapt to new and upcoming technologies.
We know what happened to Groupon, Yahoo, Nokia, or Blackberry, and the list can go on and on, but the point is, all of them had one thing in common, which is they weren't adaptable to the new.
If you make the same mistake, it is only a matter of time when you will be lost in the world of everchanging freelancing landscape.
Things I did in My First Year of Freelancing
I still remember my initial days of freelancing in 2009 with minute details. The reason I remember them is I always do those things that I did back then.
So let me share some of the critical things that I did in my first year of being a freelancer working mainly on Elance (now Upwork).
1. Focus on Small Niche
One of the most critical factors for my success as a freelancer during the 2008 financial crisis was – my focus was in a small niche.
I always believe it is better to be a big fish in a small pond than being a tiny fish in a massive lake.
Forums and online community websites were on the rise back then. Vbulletin was a market leader for a few years. I was into vBulletin for discussions and focused only on building communities for my clients.
As a niche, I only focused on the vBulletin plugin and functionality development. As a PHP developer focusing only on vBulletin and then only the functionality aspect of vBulletin made sure the niche was small enough to reduce competition and large enough for me to flourish as a freelancer.
2. Keep Blogging
I was getting enough clients from freelancing sites, but that didn't stop me from focusing on building my blogs and forums.
Blogging wasn't as fruitful to me back then, but over time as I wrote more content for my blog, it fetched me enough clients to make a smooth transition from Elance to Upwork.
Slowly my clients from blogs picked up, and this is when I could demand even better rates for my services on Upwork as well. When you have enough work, you can up your hourly rates for sure.
3. Select Clients Carefully
I prefer working for clients who are looking for better quality and peace of mind.
I did back then, and I continue to do the same now.
As a new freelancer, you are tempted to work for every client that comes your way. There is nothing wrong with it either. However, once you have better clients, you have to let go of those not-so-good clients.
It is tough to estimate if the clients will be good or bad right away, but after the first project, as a freelancer, one can quickly know if the client is worth continue working or not.
Even after a decade of working for clients, I still make the mistake of selecting clients wrongly, but then I make sure I don't continue working for those clients for an elongated period.
4. Never Miss a Deadline
You can and should never miss a deadline. Period.
The deadline is a deadline. You have to make sure you don't set it for the sake of it but to respect it and fulfill it.
In my whole career of being a freelancer, I haven't missed a single deadline for any of my clients I have worked.
If you can't respect a deadline, you should be well ahead to let the client know about it and then ask for an extension. Typically freelancers ask for an extension either the day things are due or even after they are due. First, you shouldn't be asking for an extension, but if you have to, it should be well ahead of the actual deadline.
5. Ask for Referrals
Referrals are one of my best sources for long-term clients. It is one of the primary reasons why I could survive as a freelancer in the financial crisis of 2008 as well.
Upwork is an excellent source of new clients, but my long-term clients have been from referral clients that my Upwork clients referred me.
If you are not sure how to ask existing clients for referrals, please check out my article here that explains the right time to ask clients for references along with an email that you can send your client asking for referrals.
6. Charge Premium Rates
Freelancers often want to start at a minimum possible hourly rate and move up with experience. It may sound correct, but clients may consider such low hourly rates is by rookie freelancers as well.
If you are not sure what should be your hourly rate, check out my article: How to Calculate Your Hourly Rate as an Indian Freelancer.
Opt to charge premium rates and justify the same as well. Treat the services as an asset for clients and not a liability, and it will help you charge excellent rates to clients.
7. Kept Trying
Finally, you have to keep trying. Don't expect clients and projects will be served on a silver platter for you.
You have to be consistently persistent and keep trying.
Things I Learned in My First Year of Freelancing
Freelancing is an eternal learning experience. We are moving from the age of information towards the age of knowledge.
Knowledge is power. The more we know, the better. Again, it is not the point of debate if you should go broad or deep in knowledge or if one is better than the other. Even going deep instead of wide does mean more knowledge.
More knowledge means you become a pro and an expert. So here are the few things I learned in my first year itself as a freelancer working for clients and blogging.
1. Be ready to Work Smarter and Harder
Often people talk about work smarter and not harder. I do agree that one should work more intelligently.
However, there is a new way to work, which is to work hard the smart way.
Let me explain what I mean.
Let's say you work for 10 hours a day. However, the first 4 hours produce more money than the other 6 hours.
Working less can mean you should work for only 4 hours and reduce the work done in the other 6. However, working smart and hard means, you try to convert the 6 hours work output like you have been working for the 4 hours.
You work hard the smart way.
It can mean the 6 hours of work for clients doesn't pay as good as the 4 hours. So try to reduce those types of clients and work for more clients that pay well.
2. Marketing is Very Important
No matter what you do online, marketing is an important skill every online entrepreneur has to have.
As a freelancer, it is essential to market his or her services and get paid for it.
I learned very early in my freelancing career that Developers often lack marketing skills, but if I want to be a better blogger and freelancer, I have to learn marketing.
Freelancers who are willing to learn marketing have more chance of being successful.
3. Quality will Prevail over Quantity
Quality will always prevail over quantity. However, those who can manage to deliver quantum maintaining the quality will always have the upper hand.
Again, it is quite similar to work harder the smart way.
If you can manage the quality of your work and increase the output, there is nothing like it. However, as an individual freelancer, there is a limited number of hours you can work.
So one has to have the focus of quality over the quantity. As an individual, you can never compete against the agencies and companies where they mainly focus on labor arbitrage.
The only way you can compete with them is on Quality.
4. Relationships are the Backbone of Freelancing
As an individual, you are working for clients' deliverables as well as sending emails and proposals to fetch new clients.
A good relationship with existing clients can mean a lot of repeat work for you. You reduce your work of sending proposals and aren't looking for new clients all the time.
Moreover, satisfied clients mean you can ask for referral work as well.
Always look to build a professional relationship with clients. It will help you build your personal brand.
5. Freelance in a Niche You Love
There are various niches to freelance. There are hardly any online skills that don't pay you.
However, I see new and inspiring freelancers prefer a niche where others are making a lot of money irrespective of the fact that they don't like or love working in it.
As an example, web design and development is one niche where most of the new freelancers like to go for even though they don't have any interest in programming or development. Because of lack of interest in programming, they remain into HTML programming and don't get much of a progress.
If you don't love programming, there are tons of skills like writing, SEO, marketing, animation, arts, graphics, database administration, translation, testing, accounting, etc.
6. The Positioning of Services is Important
Do you consider yourself a newbie, a pro, or an expert?
The freelancers who don't get paid well often blame the competition. However, it is the positioning of freelancing services that make the difference.
In the digital era, every niche will have competition, and freelancing is no different. Someone will be willing to do the same task for a lower price.
7. Be a Problem Solver for Clients
Finally, the most important lesson that I learned in my initial days of freelancing and the whole of my freelancing career is – be a problem solver for clients and money will eventually flow in.
Clients are looking to hire you because they have a problem at hand and can't solve themselves.
It can be a technical problem that they want to get it done via a developer or are running short of time and want to hire a virtual assistant.
Whatever you do as a freelancer, approach freelancing as a solution provider to clients' problems, and the equation changes entirely. Your services aren't mere services now but are solutions to clients' problems.