How freelancers can ask their existing clients for referrals? Tips on when is the right time to ask client for referrals along with an email template.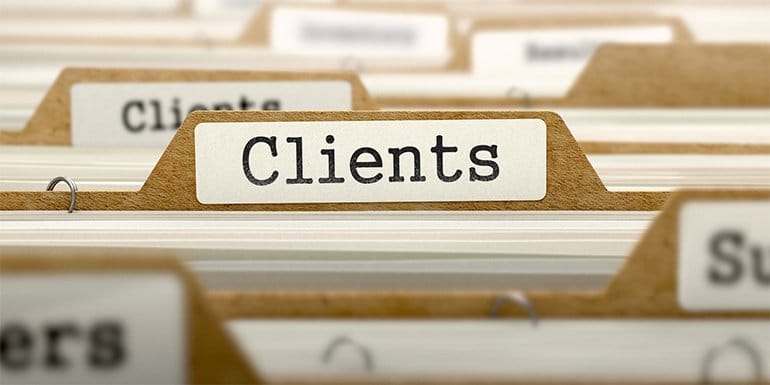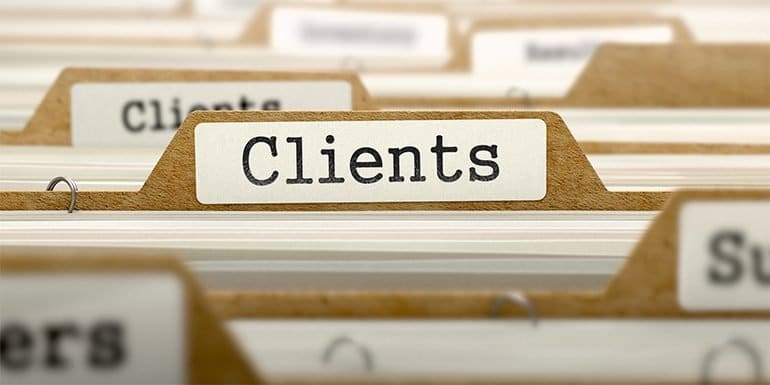 Referrals are my best source for long-term clients over the past decade that I have been freelancing. There is no doubt in my mind that if I could survive as a freelancer, it is because of referral clients.
My total earnings in Upwork have recently crossed the $100k mark, but it doesn't show how many clients are a referral of existing clients.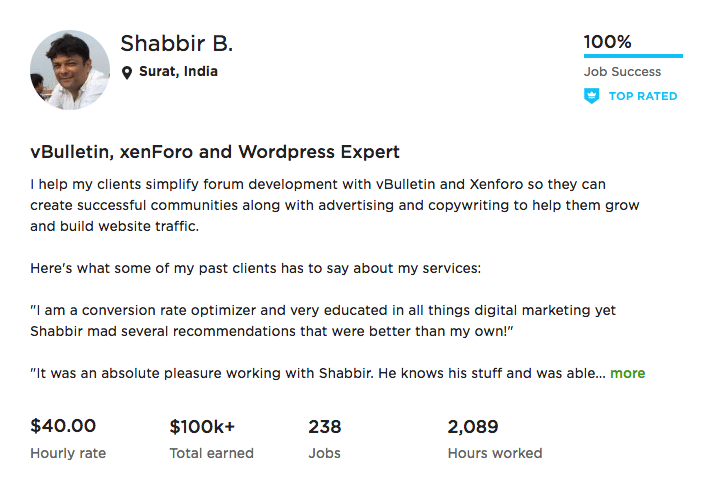 Upwork is no doubt a good source of new clients for me, but most of my long-term clients have been from referral clients.
Why Referral Clients?
Any client who is satisfied with what you offer as a service will be more than happy to let their friends or relatives refer them to you. Because the client has excellent experience working with you, he will talk positively about the quality of your services, and this will make your job very easy to convert them into a client.
So a complete win-win situation for everybody.
The important aspect from a freelancer point of view is, it is a much more stable and reliable source of clients. The number of satisfied existing clients can mean more referral clients over a while.
The other more important aspect to referral clients is, there is the minimal effort needed from a freelancer to grab a new client. I have often seen the referred clients are ready to get started working right away, whereas comparing the same to using freelancing sites where the process begins with crafting a proposal.
How to Ask For Clients Referral?
Developers often are very shy to ask for client referrals, and there is no denying fact about it. They think they are asking for more business from the client.
The reality is, you are helping your client help their friends or relatives. Finding clients is tough for a freelancer, but that looking at only one side of the coin.
As a freelancer, you have sites like Upwork to find clients, but the other side of the coin is, clients want to get a task done. Consider this scenario
So many developers to choose from.
Without much technical knowledge.
And it is based on a few lines of the proposal.
Often clients are ripped off because freelancers are looking to make quick money. Usually, a freelancer who knows they won't be able to deliver still takes up the project with a belief he will be able to get it done by others and grab the difference as profit.
The same story repeats with every client looking to hire freelancers. Clients either get a subpar product or, in many cases, a half-finished project that isn't of any use to the client.
So when you want to have a client refer you, other clients, don't think like you are asking for more business from the client's contacts. It is like helping your client help their friends or relatives to get what they want to be done without wasting their time and money.
If you change the perception, you will see the magic starts happening with client referrals.
Here are some ways you should consider doing to help your client refer their friends to you.
1. Provide an Incentive to Refer
In most cases, clients are not interested in any financial incentive for a referral because they genuinely want to help the other person they are referring to. Still, it shouldn't stop you from offering an incentive to clients.
Don't offer payment but a discount on the next work they will want to be doing with you.
The discount works for more than one way. It is also an incentive for the client to start the next project as well.
If a client has something in mind but doesn't have the budget for it right at this moment, it can help them kick-start it with the help of a discount.
2. Ask for Referrals
If you wait for clients to refer someone to you, I doubt it will ever happen. Ask your clients to know you are looking for more work and clients, and if they can refer their friends to you.
The more you ask for referrals, the more referrals you will get. It is as simple as that.
I had a very active schedule of sending an email of thanks note of each payment from a client with a few lines to ask for a referral. That worked the best for me back then.
In the last few years, I have stopped asking for referrals because I have more work than I can typically handle, but when I was actively looking for more clients, Ideally, I always like to ask for referrals in the payment thanks note. I still send a thanks note for payment, but don't ask for references anymore.
Here is an email from my 2014 archive from a client who was my referral client. She introduced me to one more client.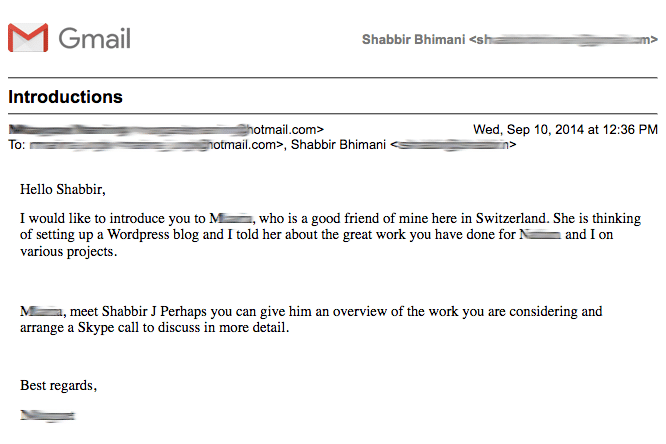 When I was looking for new clients, the referral chain of clients always helped me set a constant source of clients.
Now since I have stopped asking for referrals, I have not been getting any referrals either. So if you ask for referrals, you increase the chance of getting one but not otherwise.
3. Make it Easy For Clients to Refer
Keep the process of referral simple and easy. Email / Skype / iMessage / Facetime / Google hangout or anything that another client is comfortable using or referring to their friends or relatives. Some clients, when referring to their relatives, prefer using iMessage or FaceTime details because they use it for interaction with each other.
So make sure you are available on what they prefer using.
One of my clients couldn't use any of the modes of chat because he was working for a company where all chat communications were blocked. They used WebEx for their chat, and so I used WebEx.
On the flip side, some clients may not be comfortable using Skype or iMessage for that matter. Don't push the client to be using what you prefer using.
In general, email is one of the best ways to let your existing client introduce you to the new client, and then you can take up whatever method of communication is preferred by them.
4. Follow It Up
Your job is not only to send an email once and let the client do the rest. Follow at least once with the client to make sure he has seen your email where you have asked for referrals.
Too many follow-ups are bad, but a following up once and then after a couple of weeks use an alternate method of communication (chat, call, or Message) to ask for the referral. Your actions will decide how well you do as a freelancer.
It is easier to forget when clients should be sent a follow-up message. Don't try to be too tech-savvy here and add a simple note on the calendar in a couple of weeks for a followup reminder with the client name.
I prefer to use a digital calendar, but if you even use a physical diary, it is more than enough.
5. Connect with Clients on Social Media
Follow the client on Facebook and tag them with an update of what you have done or even ask them for an endorsement on LinkedIn.
The client's friend will see those updates with your tag or may view the recommendation for you on LinkedIn. If they need something similar, they may get in touch with you.
It may not be a very active way of marketing for referrals clients, but it is a good strategy that works overtime. Even if it doesn't work for you, there is very little time and effort that you are putting into it and so there is no harm in doing it. In the long run, it will get the results.
When Should One Ask for A Referral?
The question one may have is, when is the right time to ask for a referral from a client?
I have tested many schedules for asking for referrals.
One may think the best time is when the project is completed, but the one that works best is to ask for a referral in an email with a thanks note to a payment.
When a client makes a payment, send a thanks note of the payment, and in that email, ask for referrals. Don't ask for a referral at the first payment from the client for a project kickoff, but send the thanks note.
Using only the last or final payment for your work to ask for referrals isn't always the right choice because after the completion of a project often clients are on a sleep mode or go on vacation or may not be active with the emails. So it is better to ask for referrals after the completion of a first milestone and when clients make a payment.
Can you Afford not to Ask for Referrals?
The critical aspect is to know what you should be asking and how to make it easy for the client to ask for referrals.
The referral as a source of clients will provide the much-needed stability for the client's work, and it is worth putting efforts into it.
It is one of the best sources of clients, and it is one of the easiest ways to get some long-term clients and that too, without too much effort on your part.
Ask clients for an introduction with someone who is looking for a developer in the niche of your choice.
Don't overdo it and try to be as precise as possible.
Research has shown people are more likely to be influenced by a referral whom they know personally over any other form of marketing or advertising. The referred client already know and trust someone who is referring you to them for excellent services you are doing for them.
So the trust factor, which is the most crucial aspect of building the client relationship, is already high, which makes it easy to convert the client.
One of the more natural methods of marketing and has always worked very well for me.
There is no cost involved on your part apart from the fact that you are writing an email and asking for a referral. So it is a very cost-effective method of building clients.
Email Template For Client Referral
I used an email template to my client with a thanks note for payment and asking them for referrals.
Hi CLIENTNAME,

Thank you for the payment. It was pleasure working with you.

If you have any other upcoming work in XenForo or vBulletin or PHP in general, I will be more than happy to be part of it.

Also, if you know someone else who is also looking for a PHP develor especially in vBulletin, XenForo or WordPress, you can refer them to me. I am actively looking for more work from clients.

As a gesture of thanks I will be more than happy to offer you a discount in our next project.

Thanks
Shabbir Bhimani
The above template has worked well for me and has fetched me hundreds of referring clients in my early days of freelancing. Feel free to use the same template and change your expertise as needed.