How new bloggers can build and grow an active list of subscribers in a short time? Here are my 19 tips to help you grow email list.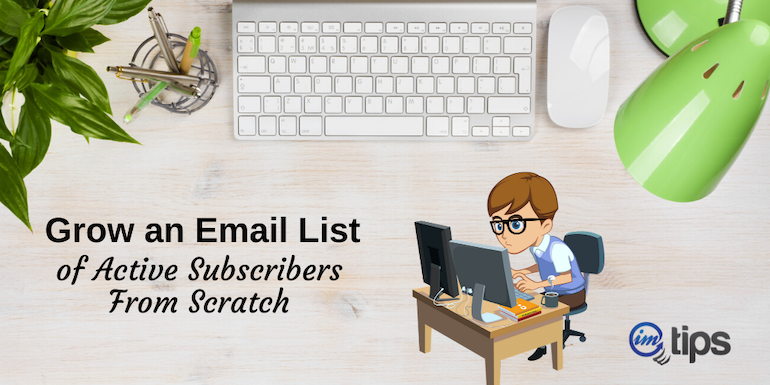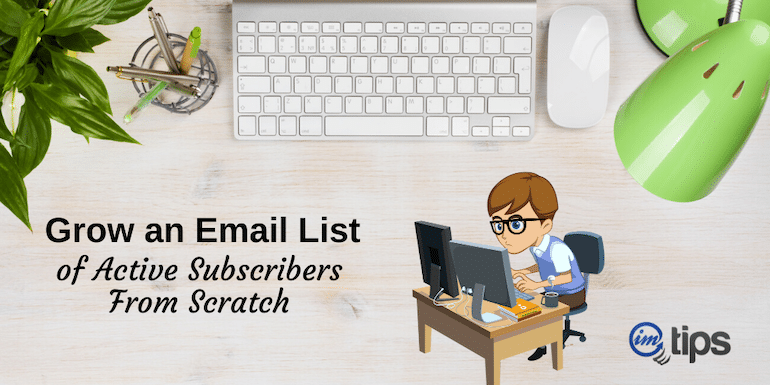 Building and growing an email subscriber list is the difference between a pro-blogger and a newbie blogger. Email list building is ongoing work, but it should also begin from day one.
An email list is an asset, but new bloggers consider it a liability because of the cost associated with the email marketing platforms. Some argue to the fact that it can be a costly option to start with, but Moosend offers it for free for the first thousand subscribers.
So, now there aren't any excuses left for new bloggers to grow an email list and become a pro blogger.
In this article, I am sharing some of my proven techniques to build an email list from scratch. It doesn't matter what niche one is blogging, and it also doesn't matter how new the blog is. One can grow their email list as easily as any other blogger. The only thing needed is the willingness to do it.
Here's a list of ideas to grow email subscribers that worked for me and will work for you too. Let's see what they are:
Don't Annoy Visitors to Subscribe
A user's own willingness to subscribe to an email is more important than anything else. I have subscribed to many newsletters and don't opt-out not because I was forced to, but I wanted to.
Surprisingly, the user's willingness to subscribe depends on various factors.
If you ask people to subscribe using popups, it may increase the stats of form view to submissions, but are users willing to remain on your list for longer as active readers?
As a subscriber, I am never convinced, and it is one of the reasons I don't have such annoying popups on any of my blog.
I like to provide quality content which addresses my readers' problem. Help them all the time. It keeps my email list growing willingly by visitors into readers.
Moreover, I see a lot fewer people unsubscribing as well. So the first option to grow an email list is to limit users to unsubscribe. Providing value in each email and not forcing them to opt-in works well for me.
Also read:
The 25+ Actionable On-Page SEO Checklist that affect the ranking in Google. Every SEO expert should apply for better results
Email List Segmentation
Sending highly curated content with the right targeting will increase open rates, boost click rates, and decrease unsubscription.
Bloggers should use email list segmentation to ridiculously improve the effectiveness of their email marketing campaigns.
There's a lot more to be done with an email list. Bifurcate your subscribers to create targeted content they like to read. Personalized emails guarantee high open rates.
Create multiple lists or define user interest based on the segments. It will increase the number of people who sign up.
Create a Lead Magnet
A lead magnet is an offer from the blogger to the visitor to make them give you their email address. Usually, the lead magnets are digital, downloadable content, such as a free PDF checklist, report, eBook, whitepaper, video, etc.
Even offering the PDF version of the blog article in exchange for email sign-up can work out well.
Otherwise, offering the first 50, 100, 200, etc. subscribers a bonus gift or discount, etc. Such discounts can even work out on social media sites, as well.
There are three main email marketing strategies that work well for bloggers, and eBook is right at the top of the list.
Create a Free Tool
Free tools and resources pull traffic. A user needs to sign up with their email address to use the free tool or get free resource.
The best example that comes to my mind is Canva Design Tool. The basic version is free. You just need an email address to get started. Moreover, there are features in the basic version that is enough for a non-designer to create beautiful images.
Bloggers like me recommend it, and people sign up for Canva as well. I use Canva for all my blog's images. One can imagine the number of users signed up for using the tool alone, who all are potential customers.
Viewability of Signup Forms
My sign up form is always in front of my readers when they are reading my articles.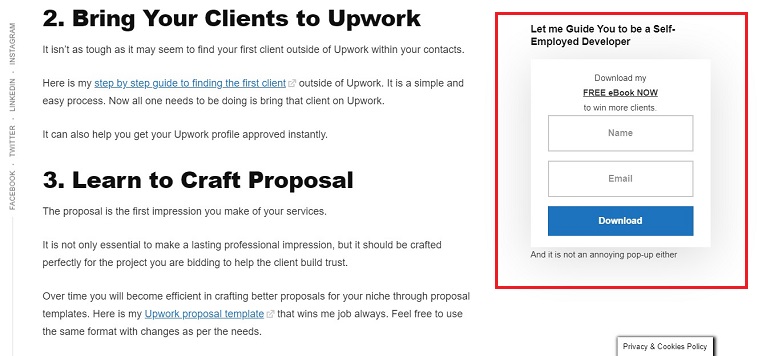 I make it stick in the right sidebar, so it remains in the visitor's view while scrolling the page or post. The response is good but not as great as popups. As I am not a fan of annoying users with signups popping everywhere, it is still good to have it as I want it to be.
If you want to have pop-ups or bottom sliders, do it. But don't overdo it as it can be annoying to readers.
Moreover, I also have signup form prominently placed at the home page but also on my about page, start here page, so on and so forth.
Make Subscription Process Quick & Easy
Allow your visitors to register as quickly and easily digitally possible! Always try to stop spam without using Captcha/ReCaptcha because people seem to avoid signups if they feel it is a long process.
Tempt the visitor to subscribe with a lead magnet and make it as quick and simple as possible!
Exclusive and Engaging Content via Email
Offering content to visitors is good, but reserving "a part of it" exclusively for subscribers is great. Rather, sharing some exclusive content only with subscribers can help grow your email list faster.
One can call it as bonus content too.
The best example is from Mark Manson's blog. He is the NYT bestselling author and a blogger.
If you read his blog, you will see that he publishes epic content free. On the other hand, he has a members-only area where a visitor can sign up for free for exclusive content.
Almost every blogger, freelancer, or entrepreneur should do the same. Offer something extra for visitors to become members (paid or free).
Similarly, better engaging content for readers in emails can mean fewer unsubscribers making you grow the list exponentially.
Encourage Subscribers to Forward Email
Excellent email content must be shared. To spread your email, ask readers to share it with their friends. Some standard call to action examples: Forward it to a Friend, Email to a Friend, Liked It, then Forward It.
It is a way to let your readers help you grow your email list and reach the extended friends, family members, and colleagues of your readers.
A great way to reach new readers to build and grow an email list.
Pro Tip: Add a subscribe button in emails – Once the email is being forwarded, everyone reading the emails isn't a subscriber yet. Hence, to make it easy for extended friends' to subscribe, add an option to subscribe. It will help you gain new email subscribers each time the email is shared.
Upgrade Evergreen and Quality Content
Whether it's a website or a blog, good quality content will drive more traffic. The best way to grow your email list is to get more traffic on a blog or website.
A blog with 100 visitors per day will get fewer subscribers than a blog that gets 1000 visitors per day.
The equation is as simple as that.
The more traffic a blog or website can generate, the faster it will grow its email list. The best way to generate more traffic is, of course, writing epic and great content, but what is more important is to upgrade existing content that is ranking well in Google.
As an example, check out my review of AWeber; it was one of the traffic drivers for BizTips earlier. Over time the review lost the freshness. I upgraded the content recently, and it is once again is driving traffic from Google. Similarly, I have upgrade content for my Payoneer review, list of online selling sites in India or freelancing sites. Each such upgraded article is getting more and more traffic, allowing me to grow my email list.
Host a Free Webinar
A webinar is a Web-based seminar where users can interact with the blogger.  Typically a webinar has a presentation or a workshop on a topic, and anyone can join over the web using video conferencing software like Google Duo/hangout.
Requiring people to sign-up to be part of the webinar can help grow the email list.
For those who miss out on the webinar, offer the recording as an opt-in incentive to subscribe.
Webinars are great for growing email subscribers. Moreover, it is a win-win for both the subscriber and the blogger. Subscribers get knowledgeable insights on a topic and bloggers to find readers and subscribers interested in the topic.
Advertising about the webinar on social media helps boost its effectiveness in a big way.
Contests and Giveaways
Contest and free giveaways work best for growing a subscriber list even when you have minimal followers count.
We did it for our new Recipe YouTube channel. All we did was let all our personal friends know about the contest on social media. It worked well to bring our Instagram followers to subscribe to our YouTube channel along with some of our friends. Moreover, as we had a requirement to tag friends on Insta, the contest help us to reach a lot of friends of friends as well.
Free giveaways always work, but one has to be creative in making it work. It is one of the better ways to easily start growing subscribers.
Pro Tip: Cross-Promote – Cross-promote contest or partner with a complementary business for cross-promotion. As a blogger, one can partner with other bloggers where they promote your blog in their newsletter for you promoting their blog for both to gain subscribers.
Set Right Expectation of Email Frequency
How often should you be sending emails to your subscribers?
An email list is an invaluable resource, and the email sending frequency matters a lot. Sending too many emails will easily offend the subscriber. Moreover, the email and the sender both gradually loses credibility.
The send frequency can impact both the open rate as well as unsubscription.
In short, one can't keep sending a lot of emails. The bottom line is to let the subscribers know your email frequency. Will you be sending daily once or weekly one. It will increase the open rates for emails without burning your subscriber list.
I prefer Weekly One Email for all my blogs. I let my readers know Every Monday morning India time, expect an email from me.
Engage Subscribers with a Thank-You page
Engage with the subscriber on the thank you page. The user has already shared his email address with you. It is the best time to connect with him. I share many details on my thank you page to onboard the user.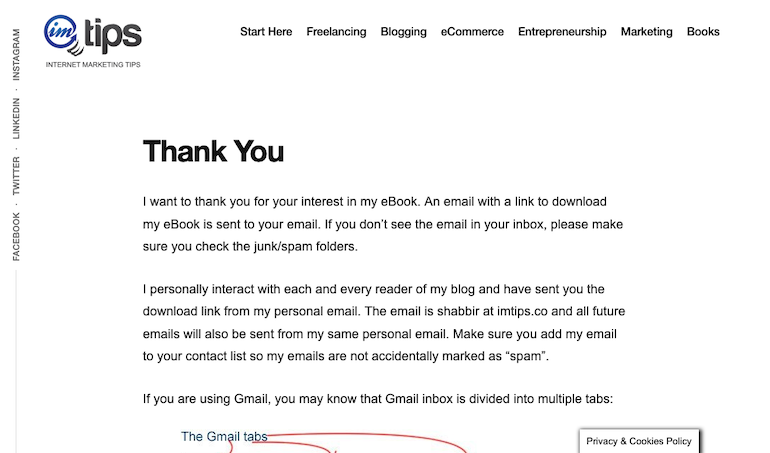 It helps me interact with the user on a personal one on one basis.
Let the subscriber feel a real person is interacting with them. It will help build trust and increase the likelihood they'll remain an active subscriber for longer.
Advertise on Facebook for Leads
Social media can be a good source of traffic and subscribers for sure, but organic reach on social media is on a decline everywhere. Still, asking your social media followers to join never hurts.
Moreover, provide social proof for people to gain the confidence to subscribe: "# of Subscribers."
The best way to get subscribers from Facebook is by using the leads ads.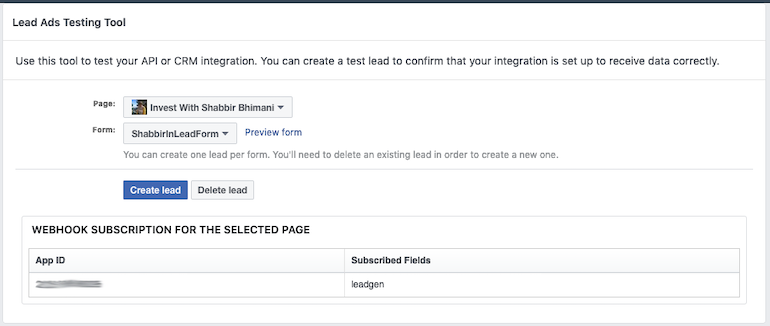 Each email marketing tool has an option to connect itself to a Facebook leads form.
Spending $1 per day can help you gain subscribers. The only caveat can be, if you have too generic targeting, your leads may not be very actively interested in the topic.
Landing Pages
The home page as a landing page to build subscribers is incredible.
Why not have other pages as a landing page as well that can help grow an email subscriber.
Advertise with Google or even Facebook to let people come to such landing pages.
As an example, each of my blog pages has an option for visitors to subscribe. I also have a subscribe option on my about pages or start here page, but things don't stop here. The landing pages like an Upwork 101 page, I ask visitors to subscribe as well.  It is one of the most effective ways to get more subscribers and ultimately grow your email list.
Collect Emails Offline
In the digital world, we are too obsessed with doing things online that we tend to forget the real way to network with people.
As and when you interact with others, exchange emails, or subscribe to your blog's update for them. Sharing a way to subscribe is good, but getting them on board is even better.
Guest Post
The meaning of the word "guest post" has changed in the SEO world. It means backlinks now.
I don't accept guest posts for the sake of backlinks. To grow email subscribers, one needs traffic. So guest post not for links but for traffic can always help.
Identify blogs where your ideal audience is and try to collaborate with the blogger to help them with content in return for some traffic.
Even a no-follow link should be fine as long as it can generate traffic. The whole point is never a link, but the traffic to grow the email list with real people.
Scrub Your Email List
Remove inactive subscribers from the email list.
I know we want to grow the email subscribers, but the whole point of growth isn't to improve the counter but an active subscribers list.
An inactive email list can result in wasting time, effort, and money. Inactive subscribers will unnecessarily increase the cost and reduce the probability of potential engagement with a new one.
Cleaning an email list has its benefits. For example, it gives better open & clicks rates, fewer spam complaints, lower bounce rates, reduced cost, and better activity reports.
The Lasting First Impression With Welcome Email
The first impression of the thank you page and the welcome email will have a lasting effect on the subscriber.
An engaging welcome email will always help set the right tone for the subscriber what he or she can expect as a subscriber or how to whitelist your emails.
The welcome email is the first impression of your emails. Make it a lasting impression with readers. Make sure your copy is written in such a way that you make them an active subscriber for a very long time.