If you want to create an effective email campaign to perform and get results for your business, use an email marketing automation tool.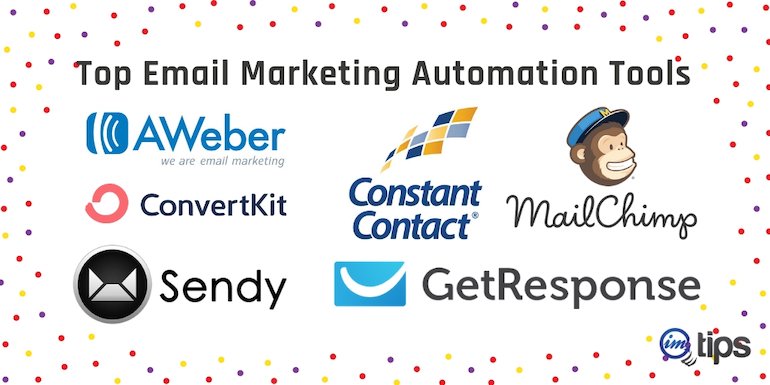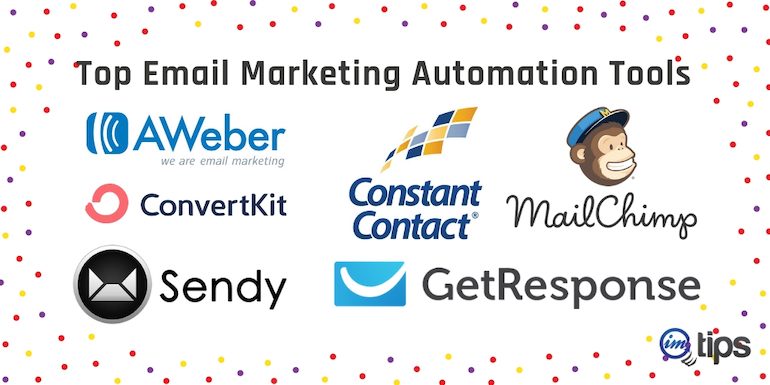 Why Email Marketing Automation?
Email marketing is one of the most effective forms of marketing. No matter how big a brand becomes, it needs a way to communicate one on one with its potential customers. Email is the best source of communication between any business and its customers.
Be it Apple, Amazon, or any other brand, they communicate with their customers and potential customers about the new product launches or upcoming offers and sales.
Any marketer will use a sizable chunk of his or her time crafting emails. So email marketing is a must for any online business.
But there are types of emails that one can schedule on automation as well. Like for example, if someone opens and clicks a particular link in emails, one can send offers related to those products, so on and so forth. It not only makes email marketing effective but saves time.
Email Marketing Automation Tools
Here's the list of email marketing automation tools in the decreasing order of my preference.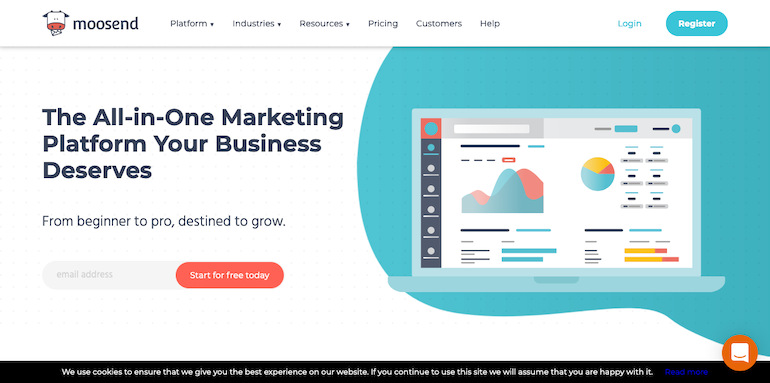 Moosend is my favorite for Email Marketing Automation Tool. In the midst of buzz about the pricing of Mailchimp, Moosend offering everything for free till the first 1,000 subscribers have made it to the top of the list of email marketing tools.
For a free account, they offer everything, unlike Mailchimp which has limited functionality.
I really like it now and am recommending it to all my clients. You can read my detail views about Moosend in the review here. Great for the new bloggers who want to limit the initial cost as a blogger.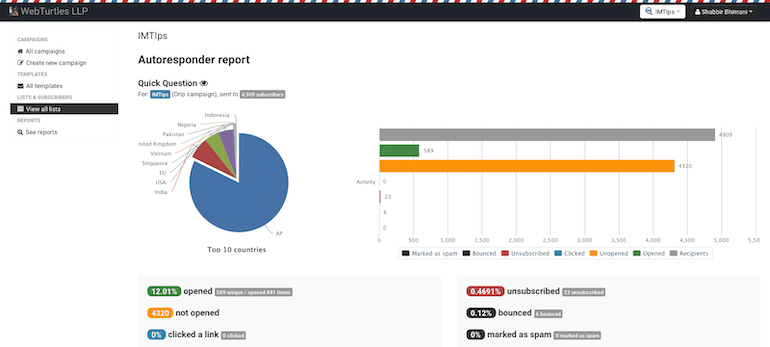 Being a developer, I prefer to use a "self-hosted email automation tool" that allows me to send emails and create campaigns because the cost of sending 10,000 emails via Sendy will be the only 1USD. In contrast, the price of the same in other email automation tools is close to $200. It is cheap because the code resides on your servers and sending emails via Amazon's SES.
Each email that you get as a subscriber at BizTips is via Sendy, and it allows you to manage unlimited email lists, create reports, and much more. It is one of my most preferred alternative to AWeber.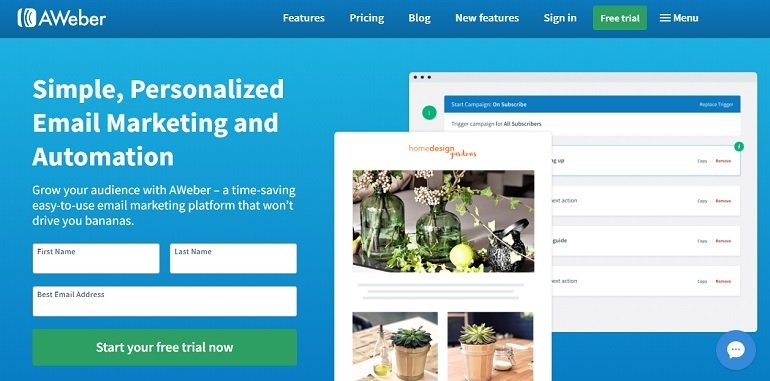 AWeber is one of my preferred Email Marketing Automation Tool. It helps marketers with an easy to use drag and drop email editor with more than 700 mobile-responsive email templates. Moreover, it enables the user to initiate automated email sequences, create professional newsletters, and auto-create emails for new blog posts.
I have started using Sendy, but before that, I always preferred AWeber, and if for any website, if I am not using Sendy and if I have outgrown free MailChimp level, I prefer AWeber.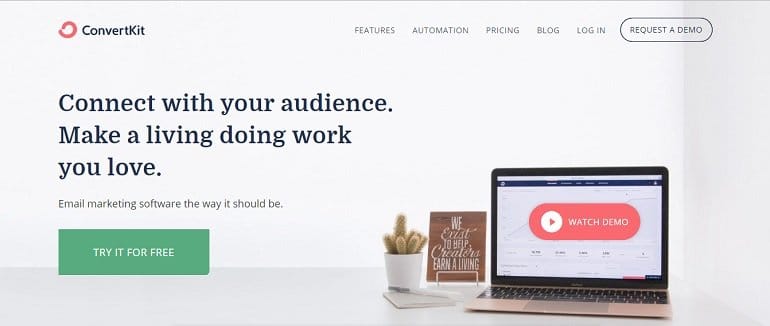 ConvertKit is easy to use with an option to import all your data from other email automation providers like AWeber or MailChimp. It has a tag-based subscriber system, dynamic emails with merge tags, an effective visual automation builder, and a user can create various form types too. Additionally, it helps the user to create easy reports for analysis.
MailChimp is one of my first choice of email marketing tools for any new website or blog I launch because it offers a free option for the first 2000 subscribers. So you can get the feel of email marketing automation without paying anything. One can also create email campaigns, landing pages, connect MailChimp to generate leads with Google or Facebook ads. Has integrations with many CMSes especially can connect your WooCommerce customers and send them emails based on the kind of products they purchased.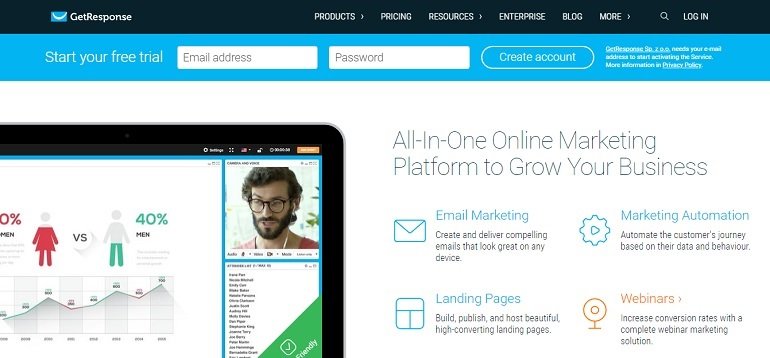 Getresponse allows you to import and host a mailing list, automate emails using autoresponders, view and analyze statistics for your email marketing campaigns, have a wide range of templates, split testing, in-depth reporting. It has three types of plans – Email, Pro, Max, and Enterprise, which again integrates other tailor-made plans & features.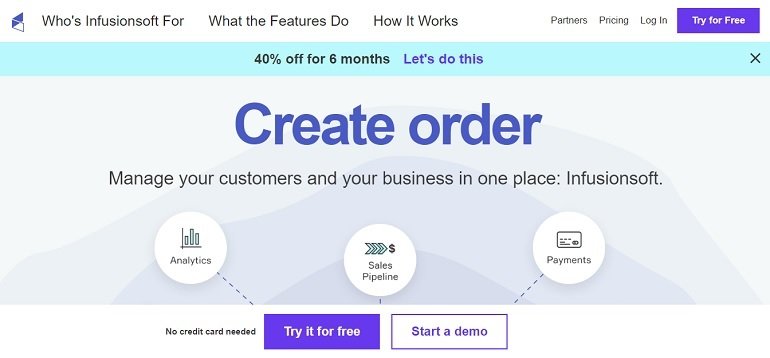 Infusionsoft has an awesome campaign builder. In comparison with other email automation providers, Infusionsoft has good email deliverability. The CRM is great, has good customer service, and provides users with a fast and stable platform. The USP of Infusionsoft is the integration between the CRM, eCommerce system, and marketing automation.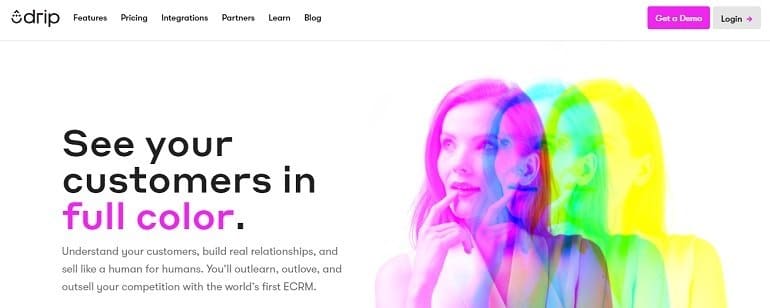 Drip has some powerful email automation feature that comes at a budgeted price. It delivers a streamlined marketing experience designed for B2B users who want to utilize powerful campaigns to cultivate and convert leads.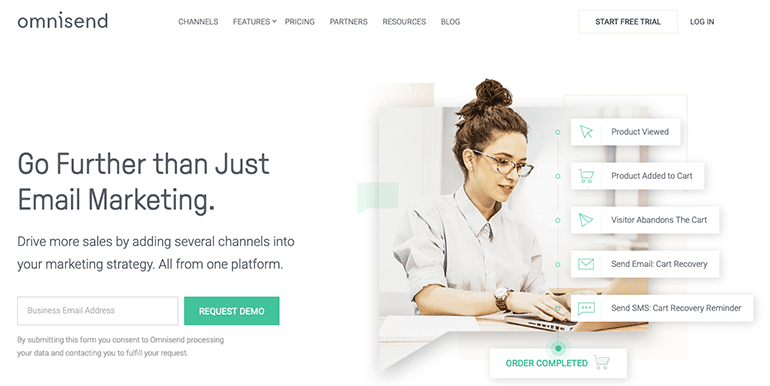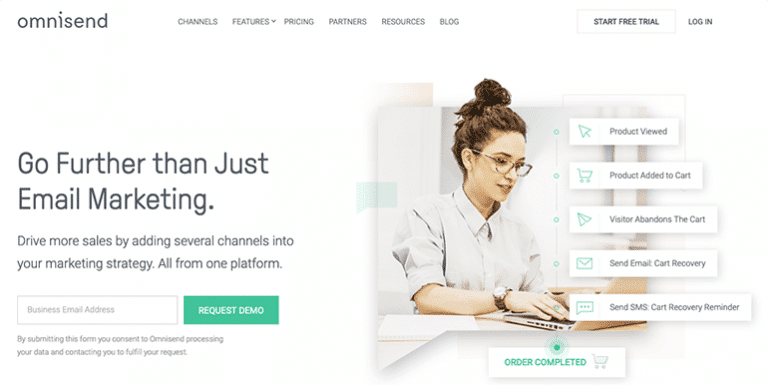 Omnisend is an up-and-comer in the industry, and for good reason. You can find thousands of reviews on the Shopify app store, G2Crowd, and Capterra praising this user-friendly platform.
However, easy-to-use doesn't mean you sacrifice sophistication. Omnisend does something no other email marketing tool does: you can add several channels into the same email marketing workflow. For example, you can create one workflow and add email, SMS, push notifications, Facebook Messenger, WhatsApp, and more.
What I like about Omnisend is that it's quite inexpensive for such a well-rounded tool: they offer a free plan for basic email marketing and their Standard plan for automation starts at $16 per month. It's definitely worth a look, especially if you're looking to get more out of email.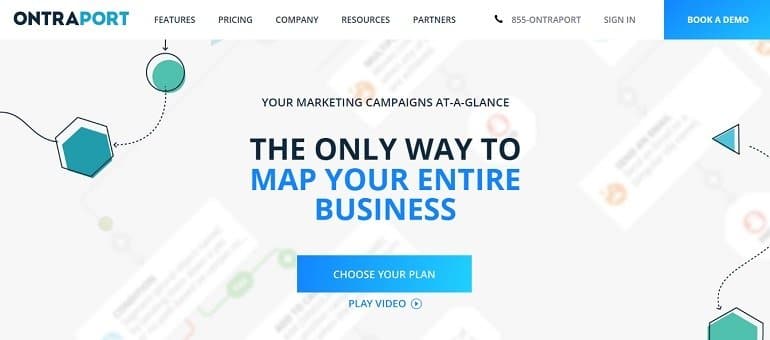 Ontrport gives you easy email tracking options so that you can identify your bounce rate to remove inactive email addresses. The user also gets an insight about when the receiver opened an email or clicked a given link so that you can send follow up emails to get more engagement from the client.
Intercom offers an easy and simple tool to connect with your customers in many more ways than just email. As with any email automation tool, It has an intelligent reporting, analytics, subscribe, unsubscribe, email template management, easy email editor, and lot more.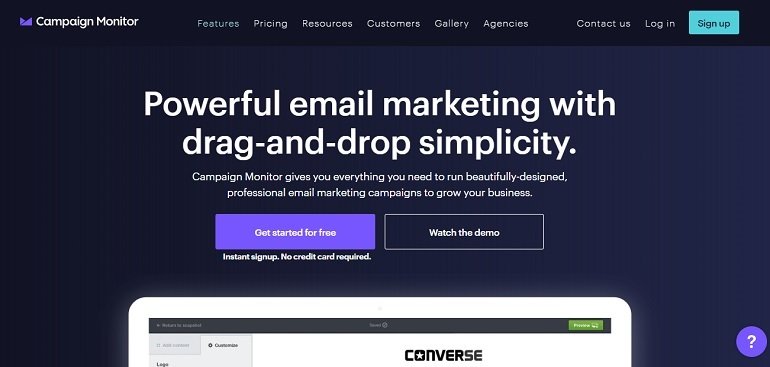 Easily create result-oriented email campaigns with Campaign Monitor's drag-and-drop email building automation tool using hundreds of professionally-designed templates. It allows integrating with hundreds of pre-built apps so that you can seamlessly connect your e-commerce platform, CRM, or website with the interface.

Sendloop is easy to customize and use without any IT knowledge. It has some unmatched email automation features like A/B testing, auto-responders, CAN-SPAM compliance, customer surveys, drip campaigns, dynamic content, event-triggered email, image library, and lot more.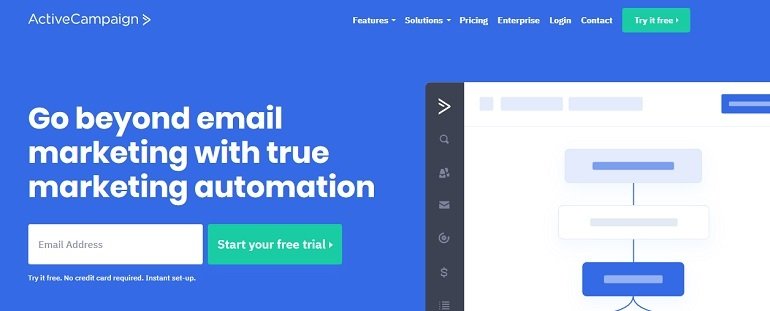 ActiveCampaign makes email marketing fun. A user can set up a welcome email series using ActiveCampaign automation, segment your contacts, or use simple workflows to automate the marketing. Some popular features are email marketing, subscription forms, dynamic content, split testing, site tracking, event tracking, contact & lead scoring, Gmail extension, and more.
Send personalized emails to every subscriber using Emma. The user can run a series of tests on different kinds of emails using a small percentage of an audience. Users can also use HTML template builder & email inbox previews to design, test, and send custom emails that look great in any inbox.

E-goi delivers the best results at a low cost. If you have a long list of email subscribers and a little to spend, then expensive email automation tools may not be for you. On the other hand, E-goi offers very similar functions and features at a better price compared to other tools with data protection. Try it now.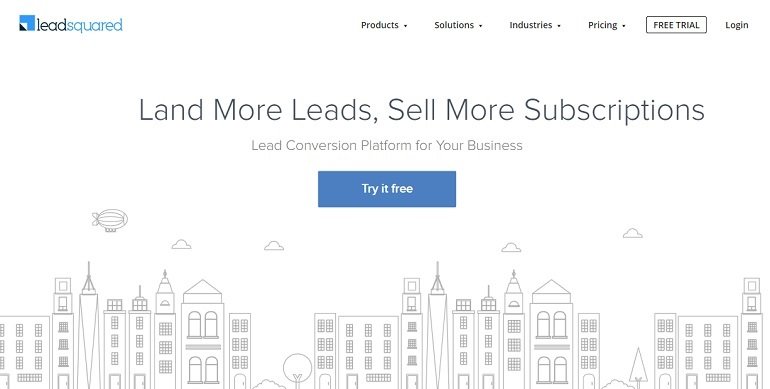 LeadSquared is specifically for small and medium-sized businesses. It accelerates the lead capture process with features like responsive landing pages, drip marketing, segmentation, marketing and sales analytics, lead engagement index, marketing, and sales insights.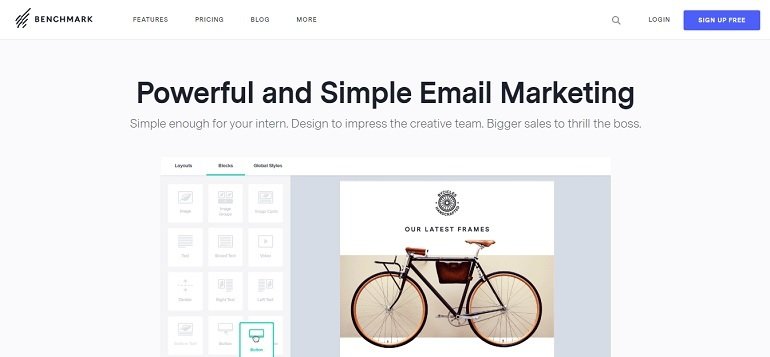 Benchmark is an all-in-all quick and easy email automation platform. For those who don't know photoshop editing can even decorate their emails using the image editor. One can enhance their emails by adding images, effects, stickers, or even by adding a message with beautiful fonts over your photo.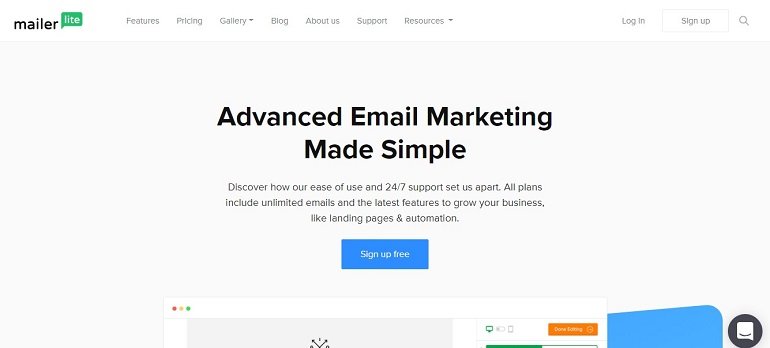 Mailer Lite is free up to 1000 subscribers allowing users to use free newsletter templates, access to features like landing pages too. MailChimp free account is limited, but MailerLite offers all the features up to 1,000 subscribers even for the free account.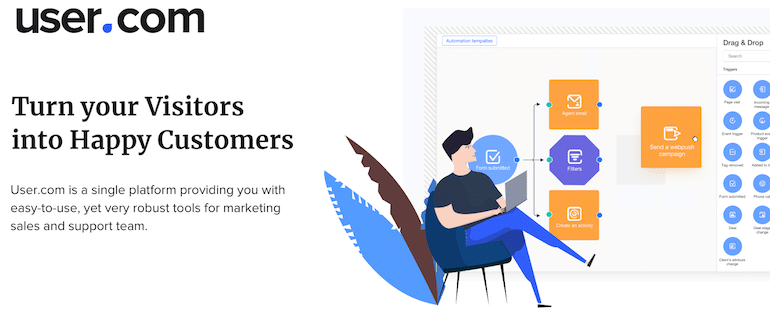 User.com is a full-stack marketing automation software for turning your visitors into happy customers. It allows you to gather information about your prospects, communicate with them via live chat, chatbots, gather contact information by using popups, send automated emails and SMS and much more.
The tool makes it easy to create automated paths where you can pinpoint the moments your leads receive messages. It will save you time and make sure your communication is consistent.
Right now available in Freemium Starter Pack – 100% free, includes modules like Chat, CRM, Knowledge Base, and Calendar.