Review of Payoneer by an Indian freelancer who recommends it to everyone over PayPal for better forex rate and lower transaction fees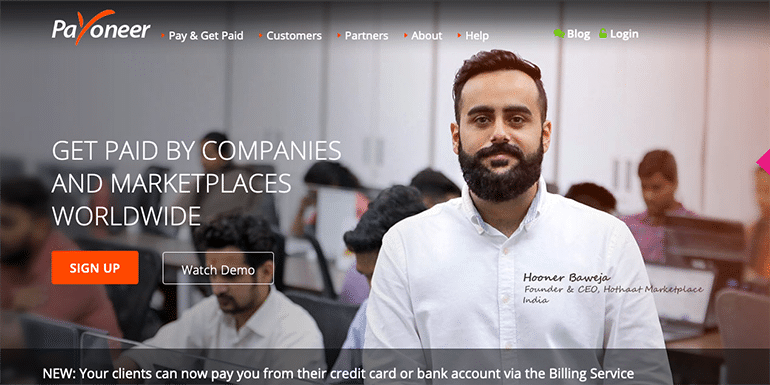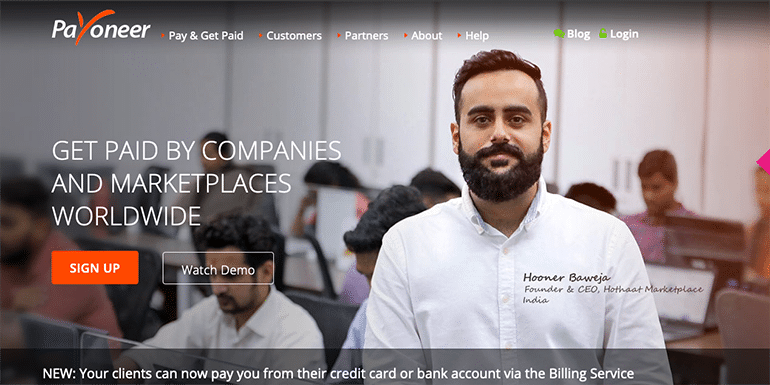 Payoneer is a must use payment gateway for individuals as well as companies working for foreign clients in India. Let me share a review of how Indian freelancers can and must use Payoneer.
Before we begin reviewing Payoneer, let me share my association with Payoneer.
The Payoneer of 2010
I am a Payoneer user for as long as I can remember. It has to be more than a decade. I got my first payment in Payoneer back in 2010.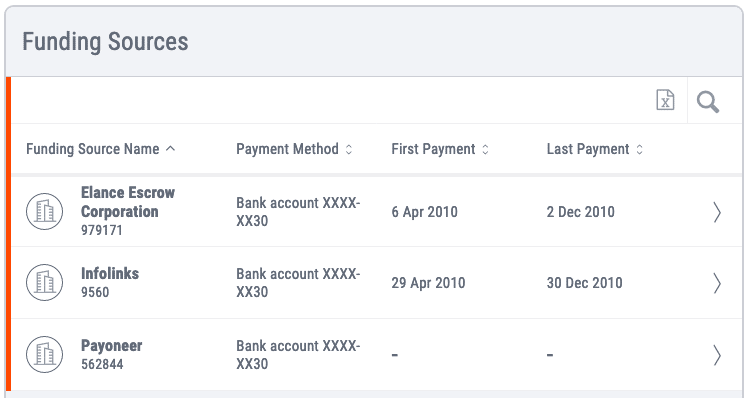 The Payoneer of then and now is entirely different.
Back then, it was based on prepaid cards. When a payment comes to your Payoneer account, it used to load in the associated Payoneer prepaid card. All one has to do is visit any ATM in India and withdraw the money.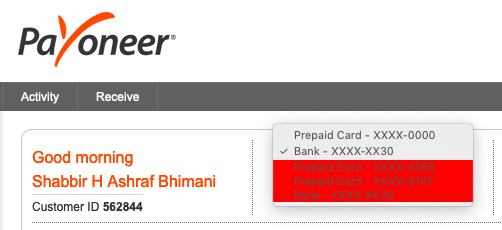 From an Indian ATM, we can withdraw INR, but the cards were loaded with USD, so there was an instant conversion. However, you have to make sure you aren't withdrawing more than the conversion value in USD.
Moreover, they also offered a virtual USD bank account.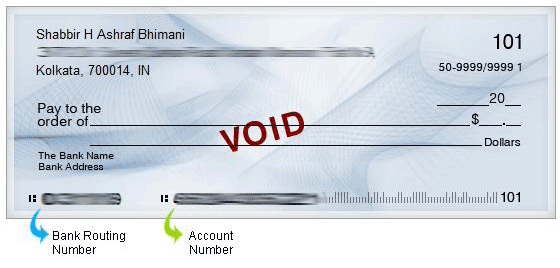 So I can associate a US bank account and withdraw funds directly without paying wire fees.
With time, the regulations changed, and then Payoneer had to transfer the money into an Indian bank account.
Payoneer Issues in Jan 2011
In Jan 2011, Payoneer had issues with the Indian banking regulations system. The email I got from Payoneer India.
Dear Valued Customer,

Due to instructions from the Indian local banking authorities, Payoneer Prepaid MasterCard cards will be blocked for local purchases (POS Purchase) made in India within the next few hours, and ATM transactions will probably be blocked soon after.

Your Payoneer card continues to be functional anywhere other than India (including transactions made online on global websites), and all funds in your account are secure.

Other payment companies have experienced similar restrictions in the past, and most have been temporary and have taken a few weeks to resolve the situation. Payoneer and MasterCard are working with local banking regulators to address the situation. Payoneer is also preparing alternative ways for you to continue to receive payouts and expects you will be able to continue to receive your payments in the future. We apologize for the inconvenience and will keep you informed.

We have opened a special mailbox for you to communicate with our Customer Support. Please feel free to contact us at IndiaSupport@payoneer.com.

Sincerely,

Payoneer Customer Support
I got this email at 2 AM. I had almost 1000 USD in my debit card. So I did try a withdrawal just to try my luck. I tried using my card at an ICICI Bank ATM. All ATM transactions were blocked for Indians.
Update Jan 20, 2011: Got this email from Payoneer for my recent Loading of Payoneer card.
Following our recent communication regarding service changes in India, your new payout cannot be loaded to the card at this time. Within a few days a local bank transfer service will be available to you. Your money is fully secure. Once the service is up we will contact you via e-mail to collect your bank information and we'll then transfer the funds to your bank account.
The New Payoneer
The Payoneer of today and the Payoneer back then are different.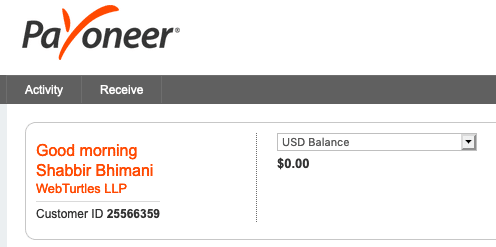 As you can see from the screenshot above, there are no prepaid cards, at least for an Indian account.
Now they allow an account that is KYC complaint as per Indian rules and regulations. You have to add your bank account to withdraw money.
The Payoneer of Now in Review: The Pros
I have been using Payoneer for all my client payments. I can even say I have moved over all my clients' amount to Payoneer only.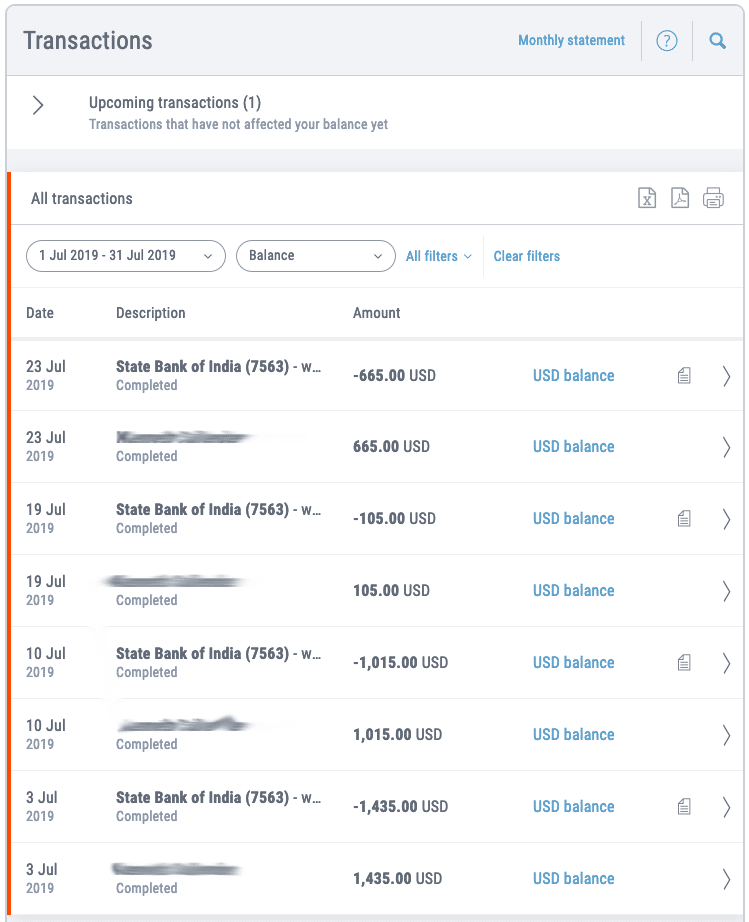 As you can see in the above screenshot, each week, I send an invoice using Payoneer, and my clients make payments via Payoneer.
So let me now share a review with the core reasons why I think every freelancer and web development company should consider Payoneer as the payment option from overseas clients.
1. Great Forex Rates
Better forex rates mean more payment. Payoneer offers one of the best forex rates.
Here is a comparison with PayPal to help you understand how much more you can make using Payoneer over PayPal.
On 8th July 2019, I received an affiliate payment from AWeber. Check out what is AWeber here.

On the 9th, it was automatically transferred to my bank account. I have circled the exchange rate.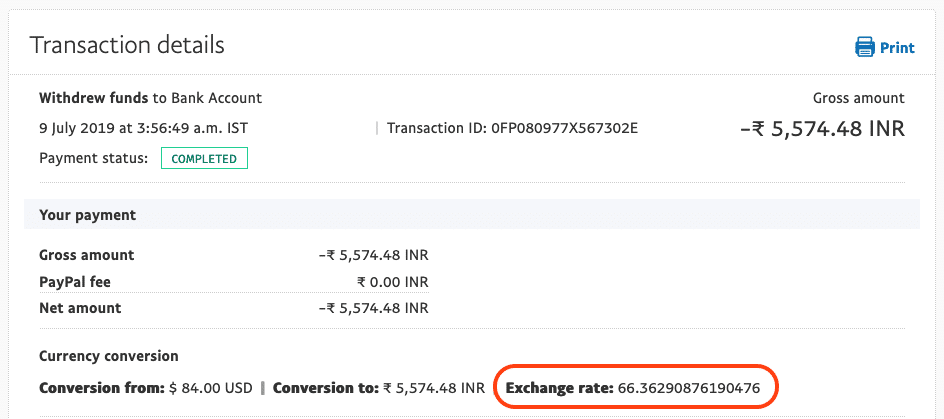 Now consider the payment I requested for my client on the 10th of July.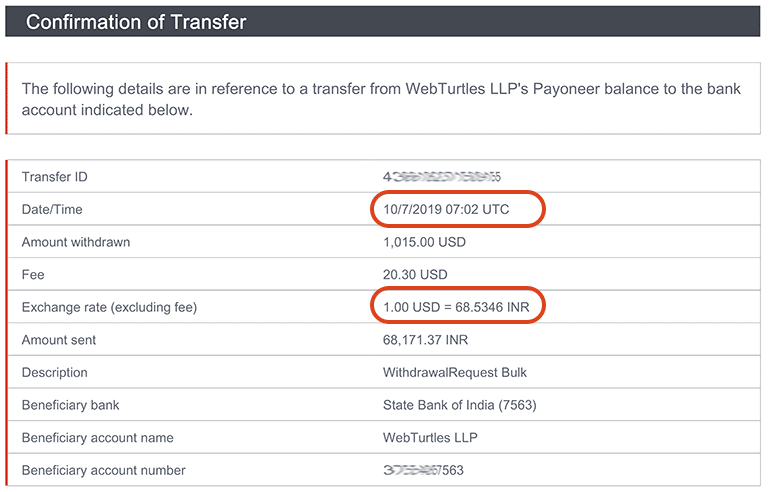 I have always seen when I get Payment in Payoneer, and I always tend to make a lot more money than in PayPal. PayPal has the lowest forex rates. As and when I can, I always try to avoid payment in PayPal.
2. Lower Transaction Fees
Payoneer fees are on the lower side when comparing to any other option to receive payment in India. PayPal charges are 4.4% + $0.30, where for Payoneer, it is only 2% of the total amount.
As you can see in the confirmation of the transfer screenshot above, for a payment of $1015, I was charged $20.30, which is precisely 2% of the total amount.
3. Fast Payment
When I request payment on Monday, the amount hits my bank account at the latest by Friday now.
A few months back, it used to take a couple of weeks to receive the amount.
Now, as they have managed to speed up the process to get the payment in the bank much faster, I don't see a reason to opt for any other payment method.
Again, when you compare Payoneer to PayPal, in terms of amount hitting the bank account, PayPal is still faster. In most cases, PayPal gets the amount reflecting in your bank account the next day as well. However, the cost of receiving money outweighs the speed of PayPal.
4.Request Payment To Individual Clients
There is a misconception about Payoneer, where you can only accept payments from freelance marketplaces like Upwork.
It is a myth.
It was the case back in the 2010 version of Payoneer but not anymore. You can send invoices to individuals who even don't have a Payoneer account.
As you can see in the screenshot above, the payment I have received is from my clients. You can request payment to any email. Even if they don't have a bank account, they can directly pay via their bank or e-check.
5. Custom Invoices
With PayPal, you can only send an invoice using their build in invoicing feature.
With Payoneer, you can send your invoice.
Payoneer doesn't offer an option to create invoices. We have to create an Invoice using our Invoicing software, Excel, or use the online Invoicing option to create a PDF and send it over to clients.
It may sound like a disadvantage to create your Invoice, but it is only a matter of downloading an Excel Template file for Invoicing. If you are not creating your invoices, you don't have a copy of the invoice sent to clients, which can be needed for taxation.
6. Great Support Team
Unlike PayPal, Payoneer offers excellent support.
The support staff is personal and ready to listen.
I referred a friend to Payoneer, but his payment got stuck, and he was asked for additional documents. He was anxious. I told him it is quite normal. All you have to do is upload a scanned copy of your conversation with the client. Once he did that, his payment was on its way.
From personal experience, I know a similar process in PayPal can take weeks to even months.
7. Support Major Freelance Portals for Withdrawals
Payoneer supports withdrawals from PeoplePerHour as well as other freelancing marketplaces. Upwork has stopped supporting Payoneer.
On top of that, Payoneer has started payments from Amazon Store, and they are adding more and more third-party payment marketplaces.
The Payoneer of Now in Review: The Cons
There are certain things which can always be improving. I will highlight some of them in the review, as well. It will help you make an informed decision about using Payoneer.
1. Per Transaction Limit of $15k
They have an upper limit of $15k per transaction.
I am okay with that limit, but for some companies that charge clients monthly, it can be a limitation for sure.
2. Extra Documentation Even After KYC
I was asked for many proofs of my client work before one of my payment was released.
It happened only once with my account and that too for only a single client. The same also happened to my friend I referred to above.
For some payments, the Payoneer requests additional documents before they release the amount.
In my case, I not only had to submit KYC documents but also proof of my work contract with the client. I didn't need any paper from clients. Only email conversation about the client sending me the request to work on and my reply of accepting the offer was enough.
3. No Option for Payment from Website
You can't use Payoneer for receiving payment on your website or blog.
Payoneer is mainly for the freelancing community to accept payment for an invoice. It isn't for webmasters who are willing to sell digital or physical goods.
Final Thoughts
The most crucial aspect of recommending Payoneer to Indian freelancers is, they are listening and addressing our pain points.
Transaction fees and forex rates were some of the top priorities of the Indian outsourcing industry, and they manage to address both. I am damn sure they have grabbed a good chunk of market share from PayPal India.
Payment hitting the bank account fast was another, and they manage to solve it as well.