Moosend Review – an excellent email autoresponder service along with tons of other features enabled even for the free account up to 1k subscribers.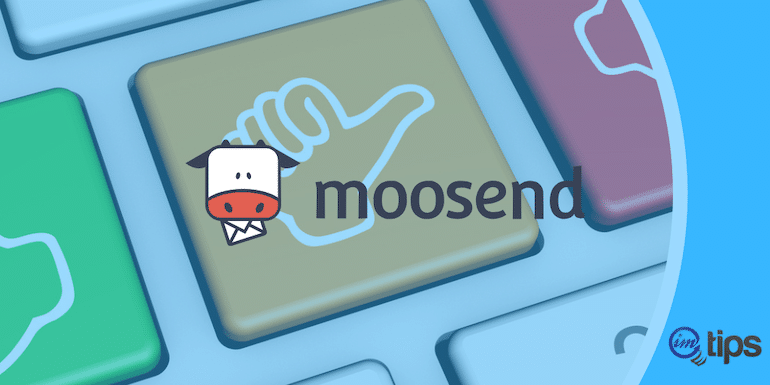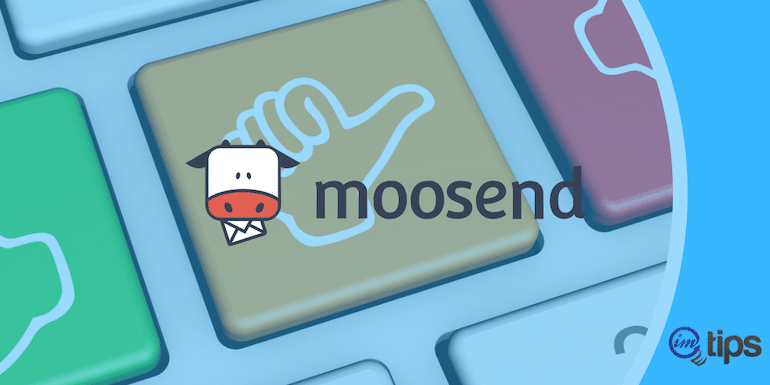 Moosend is a complete end-to-end email marketing automation software. Today I am sharing a review for Moosend.
But before we begin, let me share why I am reviewing Moosend.
Why Review Moosend?
I have used AWeber in the past and has reviewed it and was recommending it to my readers. Then had a few hiccups with AWeber which forced me to move to Sendy as an AWeber alternative.
MailChimp, which is one of the alternatives to AWeber as free for first 2k subscribers, has minimal functionality. Moreover, the interface was always overwhelming for me.
Now I found Moosend. It has some fascinating features which I will share with you along with an easy to use interface. I can create, manage, and monitor all my email marketing needs inside Moosend.
It integrates with the best shopping cart solutions, including Shopify. It helps send laser focus emails to potential customers and convert them into paying customers and elevate the ROI.
As a blogger and webmaster, Mossend solves my problem. One of the main reason for me to move away from AWeber and use Moosend and ultimately like it so much is the reason to share a review.
Who Should use Moosend?
Any online business (blog, eCommerce Site, Membership Sites) that wants to connect with the audience via email in the form of newsletter or autoresponder should use Moosend. An email marketing solution is a must for any online business. If you don't have any other in-house reliable solution for sending email to your subscribers, Moosend is a must.
The best part of Moosend is, it offers every feature for free for 1k subscribers, unlike MailChimp, which provides a limited set of features for free accounts.
I will suggest you give Moosend a try. However, if you aren't sure if Moosend is right for you or your business, let me share the pros and cons of Moosend to help you decide.
Moosend Review: The Pros
Let's start the review with the pros of Moosend first.
1. Overloaded Automation Features
Moosend email automation offers way more than any other email marketing program offers currently. It has everything one needs to launch a super-effective email automation campaigns.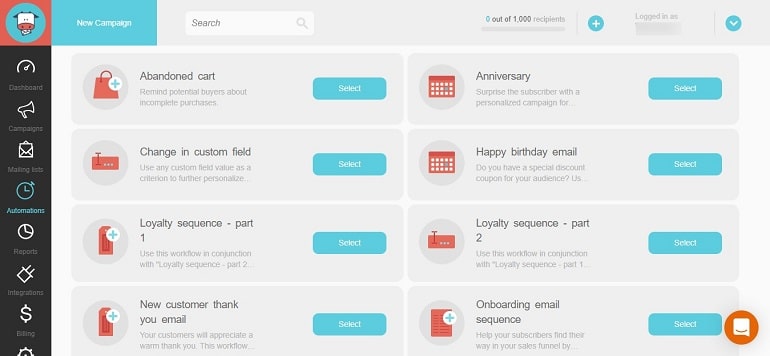 The level of automation an email marketer will achieve using Moosend is impeccable. One can automate the email marketing workflows for efficient user interaction and engagement.
As an example, you can send birthday emails, anniversary emails. Moreover, connect with shopping carts like Shopify and send email to users who have added products to the cart but hasn't completed the purchase.
The autoresponder of Moosend is amazing. Other offers what Moosend terms it onboarding email sequence.
2. Repeatable HTML Campaign
Every email marketing solutions offer regular email sending campaigns along with A/B Split tests as well as RSS based email campaigns. However, what I like the most about Moosend are Repeatable HTML campaigns.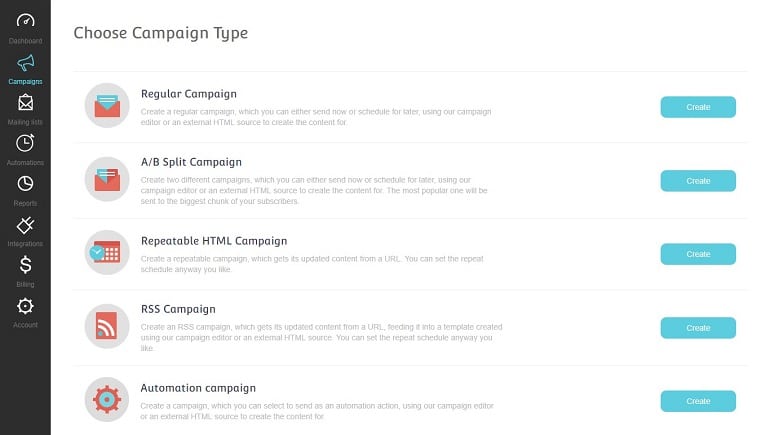 It impresses me the most. One of my vBulletin clients wanted to customize his newsletter and add hot threads discussions into his newsletter. It isn't possible without repeatable HTML campaigns.
Many other options open up when everything is controlled in PHP and HTML code using a repeatable HTML campaign.
3. Exceptional Analytics
Moosend too offers the traditional email analytics like open rate, click rates, etc. However, Moosend offers a lot than that. It provides the click map activity of the subscribers.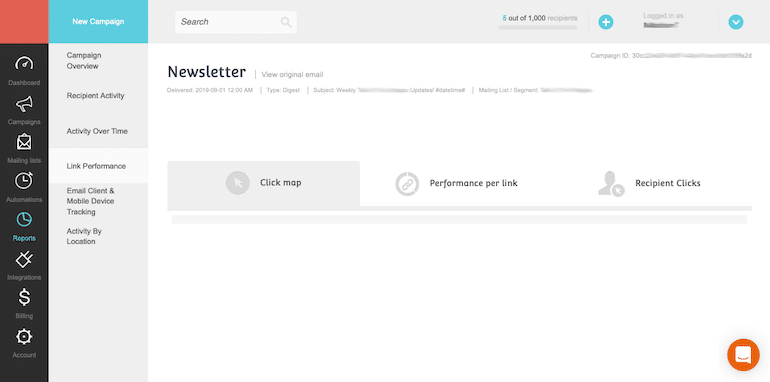 I liked it. It helps to track the performance of an email design effectively.
There are more analytics reports like the performance of each link, location of the link click, user devices, etc. In short, they offer powerful data-driven insights to track the performance of a campaign.
4. Moosend Direct SMTP Emails
Moosend it truly a complete email marketing solution. They offer Direct SMTP to send emails. Which means you can even use WordPress or any other CMS to send emails using Moosend.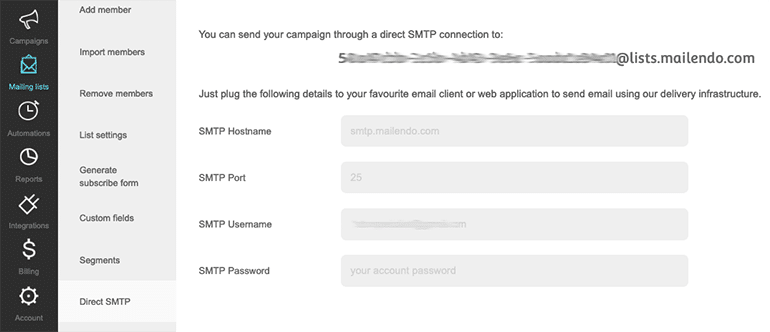 It means, your CMS email delivery can improve by sending emails via Moosend's direct SMTP. Moreover, the bounce report of emails can help Moosend in the performance of its campaign as well.
Moreover, Moosend also integrates with popular third-party tools like Zapier or Salesforce.
5. Multiple Email Import Options
Moosend offers various ways to import subscribers. One can upload contacts even from Google.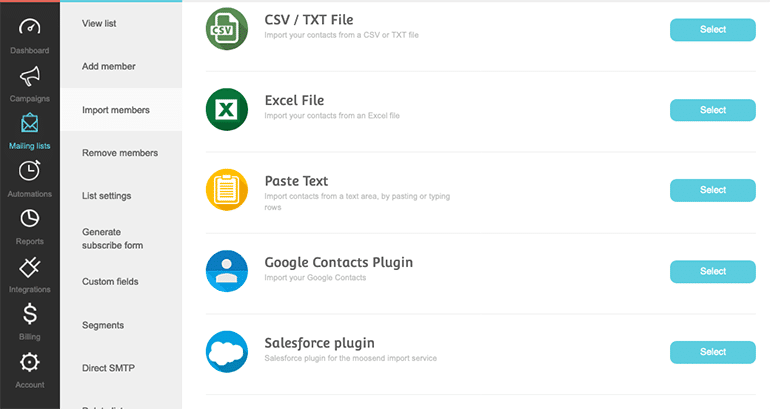 Moreover, one can also import contacts directly from a CRM like Salesforce.
6. List Segmentation
Email list segmentation helps organize subscribers as needed. For example, one can segment the email list into groups based on age, sex, profession, income, interest, and lot more.
Wit segmented list, one can send highly relevant emails and engage with the subscribers more effectively.
When your email engages with the audience, it will increase the click-through rates. All in all, the email makes more impact.
7. Professional and Responsive Newsletter Templates
Fetch a readymade email template from Moosend's template library and customize it as needed.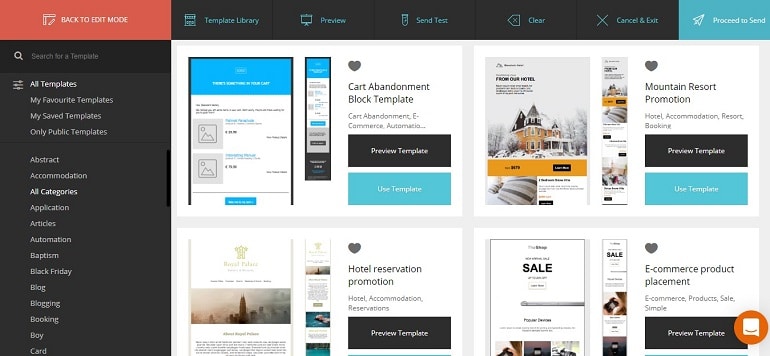 If you don't wish to use a built-in template, one can create it from scratch using the campaign designer. With this tool, one can craft professional and responsive newsletters in no time. The best part is one doesn't need to be a pro-level designer to do so.
Above all, one can run a preview to see how the email will look on distinct email clients like Outlook or Thunderbird as well as on different screen sizes.
8. Spam Content and Delivery Test
Moosend offers a very comprehensive spam content and detection test for various email service providers.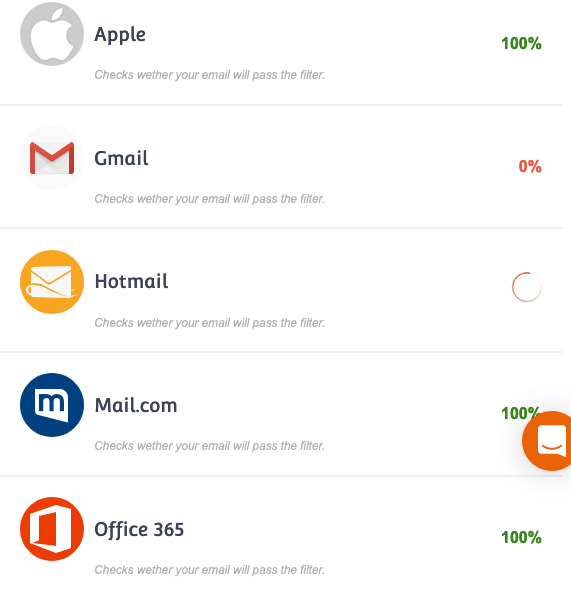 I found the report very accurate. In Gmail, the email was landing in my spam folder. Saw the report and the issue was a misconfigured SPF record.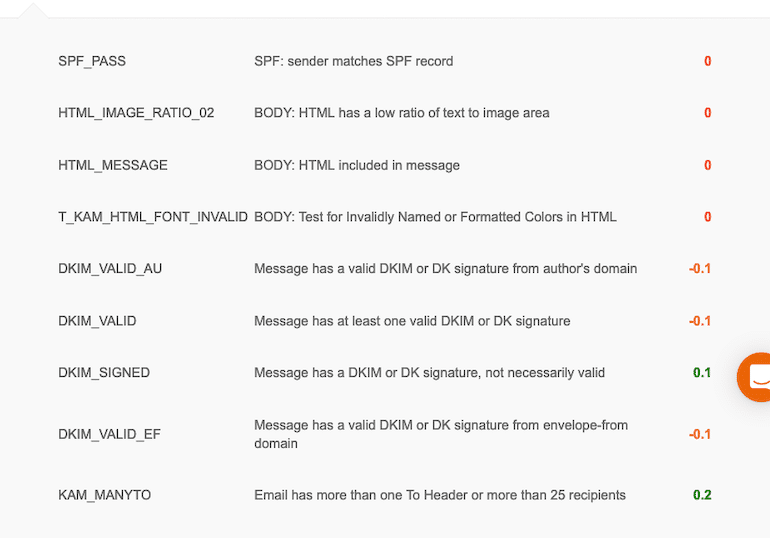 Fixed it and now Gmail works fine.
9. Third-party Integration
Here's a list of popular Moosend's third-party integrations.
Segment
WordPress
Zapier
MailChimp
Google Contacts
Salesforce
Optinmonk
Drupal
NeverBounce
And more.
Moreover, they provide an API for integration. I am in the process of integrating Moosend with vBulletin for one of my clients. Soon I will integrate it with XenForo as well.
10. Shopping Integration and Reminder for Cart Abandonment
The cart abandonment is when a potential customer adds something to the cart but doesn't order and complete the purchase.
Moosend not only integrates with the popular shopping cart solutions but can also be used to email potential customers about their cart abandonment.
A gentle reminder can help the customer purchase. Moreover, one can offer a discount, or ask for any technical glitches in the process. More often than not, it will result in more sales.
The cart abandonment is not limited only to eCommerce. Recurring Membership sites can remind customers for payment renewals as well.
Moosend Pricing
Moosend offer all premium features completely free up to 1000 subscribers. Period.
One can send unlimited emails with the free plan without Moosend branding. However, there are two paid plans modules.
Monthly Plan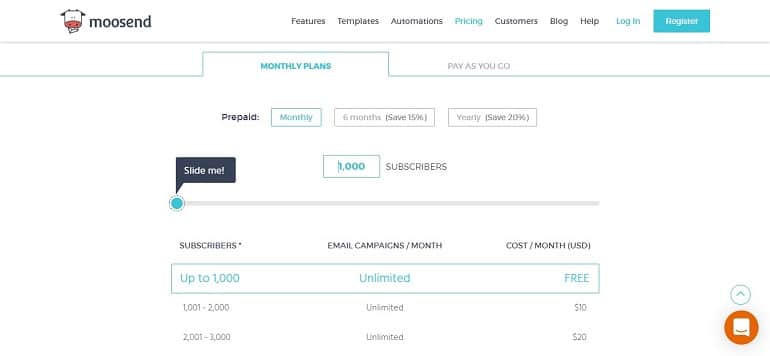 The first is a monthly plan based on the number of subscribers.
For example, 1000 to 2000 subscribers will cost a monthly $10. Whereas, 2K to 3K subscribers will require a monthly $20.
In short, the monthly plans, every 1K subscriber the increase is by $10. Quite lower than the competition.
Pay-As-You-Go Plan
Meanwhile, the second plan pays as you go. This billing model needs a user to buy mail credits. In short, a user pays only for the number of emails sent. Each email recipient will cost one credit.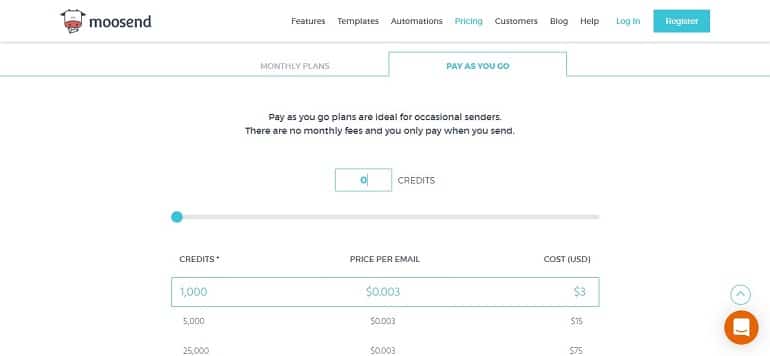 For example, 1000 credits will cost $3. It means you can send emails to 1000 recipients. The costing per email will be $0.003 per recipient.
If you don't plan to send emails to subscribers, frequently use the pay as you go plan.
Moosend Review: The Cons
Let me highlight the cons of Moosend as well.
1. Limited Opt-in Forms
Moosend doesn't offer popup based opt-in forms. Only plain HTML form.

So one has to use a third-party tool like OptinMonster to create some cool opt-in forms.
2. You can't send emails from noreply@yourdomain
Moosend doesn't allow sending emails from a sender that doesn't exist. It means, for a domain, you can only send emails from real email addresses. My client sends emails from a no-reply email. As the email doesn't exist, Moosend won't allow it as sender even after verifying the ownership of the domain.
The workaround for it is to create a no-reply email for the domain, confirm it in Moosend and then delete the email.
3. RSS campaigns can't use RSS Title as Subject
The subject of the email for an RSS campaign isn't dynamic. It means each email will have to use the common subject.
So if I am sending an email of my latest posts via Moosend, I can't opt the title of the article as the subject of the email. It has to be a constant like
"Weekly BizTips Blog Updates"
It is an issue for RSS based campaign or for that matter the Repeatable HTML campaigns. Each email has the same subject line means we can't make it enticing for the subscriber to open.
4. RSS campaigns test email Doesn't Send Content from the Feed
Moosend needs some work done on the RSS campaigns for sure. The test email doesn't pick up the actual content. It sends all dummy content in the test email instead of real content from the feed.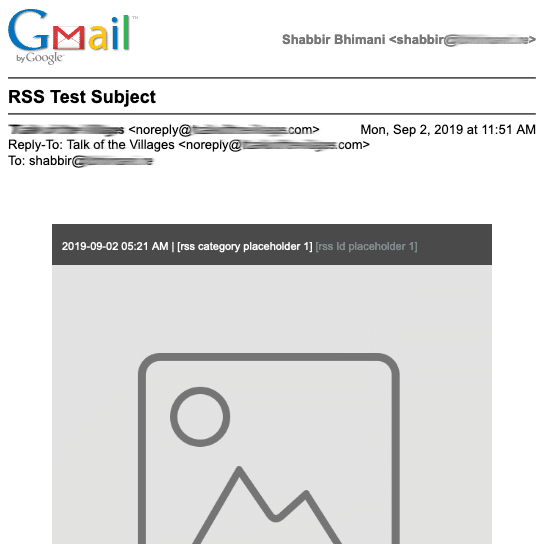 Conclusion
I will give Moosend a thumbs-up. It is one of the better email marketing automation software I have come across with loads of great features.
Moreover, it is free for the first 1k subscribers. So for a new blogger who wants to keep a check on the cost, should try Moosend.