Having issues building traffic to blogs? These 25 traffic building tips are all you need. I use them to generate millions of page views on my websites.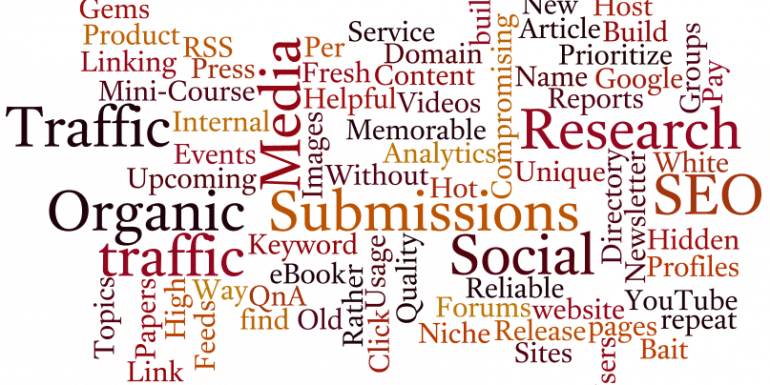 Many webmasters have issues building a decent amount of traffic to their websites or blog. So let me share with you 25 ultimate traffic building tips I use for years to generate millions of page views each month for all my forums and blogs.
Before I get started with my traffic building tips a note to my readers, this is one of those long articles with more than 4000+ words (Sorry I couldn't help but have broken down into points for you to skip them if you want). If you are too busy reading this entirely now, you can bookmark it for future reference.
So without much ado, let us get started.
Memorable Domain Name
Everything online starts with a domain name. A catchy, memorable, and easy to remember domain name can do wonders to site's traffic and brand building. Many webmasters prefer to have keywords in the domain names, but I prefer domain names that are easy to remember. I don't concentrate much on keywords because many times, keywords change. If they don't improve, they broaden with time. So minimal niche-specific keyword domain may not sound right as the site grows.
Some of you may know BizTips.co was CodeItWell.com. Soon I couldn't justify the domain with the content. So finally decided to get a domain that is related, memorable as well as user-friendly in the Internet Marketing niche aka BizTips.co.
I lost so many readers of my blog because not all will take the pain of re-subscribing to BizTips. My Feedburner readers didn't convert. Nor I could manage to move my Facebook followers for the old Page. So if you don't start well, you may end up getting those hiccups.
A Reliable Host
Once you have your best name for the site, the next thing to focus on is to opt for a host that is not too costly to get started but fast and reliable. The speed of the site is what makes users stay else they bounce off. Many experiments of user response to slow and fast pages have been conducted. Reports of tests by Google, Amazon, and Bing are here, and I quote.
Google found that moving from a 10-result page loading in 0.4 seconds to a 30-result page loading in 0.9 seconds decreased traffic and ad revenues by 20% (Linden 2006). When the home page of Google Maps was reduced from 100KB to 70-80KB, traffic went up 10% in the first week, and an additional 25% in the following three weeks (Farber 2006). Tests at Amazon revealed similar results: every 100 ms increase in load time of Amazon.com decreased sales by 1% (Kohavi and Longbotham 2007)
So your job is not only to get reliable hosting but also make sure your site is not very slow for visitors. I use SiteGround and recommend the same to everyone who is looking to start a website.
High Quality, Fresh & Unique Content
Any website needs updates. So you have to cater to your website in a manner that contains fresh and unique content for visitors each time they visit the website. It makes users stick to the site. Apart from that, it will also build deep natural links to internal content pages, i.e., link to your content.
Whenever a fresh and unique content idea floats, people think about blogs, but that is wrong. Even site like Facebook needs new and fresh content pumped by users or else imagine how boring it will be to share the same old images and quotes over and over again to friends.
Content is the king and the base of a website. It makes visitors stick. Be it a blog, forum, social media platform, or even a search engine.
Social Media
I have seen in many forums where social media experts claim making money with social media traffic is easy. All you need to be doing is get your website online. Add Adsense to it. Submit sites like Facebook, and you will generate tons of traffic and cash.
It never works I am yet to see it working for anybody either. Don't consider it as a traffic building tip but a disaster building tip.
Social Media marketing works if you can get viral marketing going. Else it does not make much sense. The vital aspect of social media marketing is not about getting the person to your site and making the conversion. Making sure he also brings his network of friends to the site. The process should start with you, i.e., you should be able to get your friends to your site first, test things, and work on improvement based on their feedback.
A prevalent social media marketing mistake that the majority of us make is – they promote their social media profiles from their website. Still, the idea is always to get traffic to the site from social networks — not the other way round of promoting social media profiles on the website. So make sure you use your social media icons on the site are somewhere. But not at the most prominent place that gets your user out of your website to social media profiles. Instead, make use of those prominent positions to get visitors to become a member or at least get them to share.
If you want to build traffic to your site with social media should focus on relationships, not on the traffic numbers. Update social profiles with views that are uniquely different. Just copying your site content on social media is not social media marketing.
Social Media Profiles
You don't have to start creating profiles in every social media site possible. Just have a REAL profile on sites you prefer using them. And then actually use them. It will make your profile popular over time as you continue to grow on the platform.
This way, you can get good quality incoming links as well as traffic to your site. Some links may be nofollow, but it hardly matters because you will anyway be making those real profiles and drive traffic.
Article Submissions
Submit articles to other sites. I used to write for EzineArticles or Medium occasionally. Though it didn't build a lot of traffic to my sites still the visitors from those sites are sticky as they have gone through the content and had an eagerness to know more about the author or the topic — something where traffic numbers don't look handsome, but it is still worth considering.
I don't submitting well-researched articles on ezine, as I prefer them to be on my blogs. If you also don't prefer doing the same, you can opt for article writers at Fiverr for $5. I have found good ezine writers.
Being Helpful in Forums and QnA Sites
Participating in related forums or on QnA sites like Quora or discussion lists has multiple benefits. Apart from SEO benefits for links generated from those sites, you may build a reputation and traffic. On top of that, it also helps create a lot of topic ideas that you and your team can write. Those are the hot topics users are searching for and posting them on forums or as questions.
Being a forum owner, I will add – we are here talking about being helpful to other members and not spam forums or QnA site with links. Forums and especially Reddit can be a good source of traffic provided you are useful to the community. It can be a good source of traffic and can even help to build a constant source of traffic as well.
Niche Directory Submissions
Yes, I know that directory submission doesn't work anymore. So it better to be avoided. But niche directory submission is something still worth considering. You don't submit your site to all directories. But only to those directories that are related to the site.
Don't submit your site yourself. Get a cheap directory submission service on Fiverr for $5 and get this done once. You won't regret spending $5.
Internal Linking & Organic SEO
Many webmasters rely on search engines for traffic and rightly so. But then once they have those best content ranking in Google, they try to work on things to rank more content in Google.
Instead should be on making those visitors landing on the content pages to become regular visitors of the site. As an example, the article How to Get Adsense Blue Dart Tracking Number in Advance was ranking very well in Google and driving a lot of traffic. I immediately saw the stats, and most of the visitors to those pages were supposed to be Indians. So I linked to my related article to Indian Adsense user like:
If you have queries related to Adsense Payment Schedule in India Check out Adsense Payment Schedule and Check Arrival Time in India.
It made users reading more of my content. Thus it increases the chances of getting more subscribers to my blog because I have been useful. The internal linking has also started getting as a ranking factor in SEO.
Update: The Adsense Bluedart article is still ranking well, but it isn't searched anymore because Google now doesn't send a check. It has moved over to direct bank transfer in India.
Organic SEO with Images
If you deal with images on your website, make sure your image files have relevant names. Relevancy doesn't mean all your images should be named with your site's main keyword. What I mean is, their name should be according to the content of the image. As and when you include those images into internal pages, add the alt and the title tags with keywords related to the image. It will help build a better quantity of traffic from Google image search.
What I just mentioned is pretty standard for any SEO based traffic-building tips.
Let me share with you a rarer traffic building tips where one can SEO with images. Your site logo is an image that can be uploaded to image-based sites like Flickr or Picassa and tag them with keywords related to your site. If possible, you may be able to link back to your site as well. Just make sure you do it as per the norms of the website and not overdo it that looks spammy. If you think linking would make it spamming, avoid linking to your site.
Keyword Research
Keyword research is one of the most critical aspects of search engine optimization. The problem happens when webmasters believe keyword research is a one-time process. Select a good set of keywords for the website and done.
That is entirely false and yet another way to disaster and not a genuine way to build traffic.
Every page that you have on your site should have targeted keywords, and this is true even for the new pages and posts that you add to your site.
See How keyword research for 100 articles for go4expert helps me almost double the traffic – Keyword Research For SEO – A Complete Guide.
Pay Per Click
As soon as we see the term Pay Per Click or PPC, we tend to think that PPC Marketing is for an eCommerce site and not for a blog or forum. It is a myth. You don't need to be selling anything for running a PPC campaign.
One can start a PPC campaign for as low as USD 0.01 per click, spending only 50 cents per day. At 0.01 per click would mean you have to find keywords that are very high in search but don't have too much PPC competition. General and broad terms like blogging or blog, as I explained here, have less competition in PPC. Find such terms for a site and use a general keyword to find some readers for the blog.
I apply the same method for my Indian Recipe Blog, where I am spending $1 to $2 per day to bring a new Indian audience to the site and YouTube channel. Anyone interested in recipes can read, like, and share the content. It gets the ball rolling for the site.
Remember, you have to be doing the PPC Marketing to get your site off the ground initially. Still, if you can find the right mix of keywords that drive users (not just traffic numbers) to your site with as low as $0.01, you can run those campaigns for an elongated period as well. You don't always have to be paying top dollars to Google for traffic. At least Facebook Didn't do when they started.
As you aren't selling anything online, so you are avoiding the competitive terms and focusing on more general information keywords. So you aren't going to pay very high per click cost to Google. So one can have a considerable amount of traffic with a meager daily budget.
Newsletter
People focus mainly on Search Engines and Social Media Marketing to build traffic. I prefer email over search engines because emails boost user engagement and traffic to new highs.
Answer this question as an Internet user and not as Webmaster.
How many websites you remember by name that you visited today.
Maybe 2 or 3 or 5 or if you are fantastic in memory, maybe 10. What if there is a website that you really liked and just subscribed to it.
You may forget what site it was in a day or two, but if you see an email from them, you will recall. It was one of those sites where I found some useful content. So, let me know what they have for me in an email today.
It not only builds traffic numbers but genuine readers who like to read what you have written. It is priceless.
Google Analytics to find Hidden Traffic Gems
You have done all the hard work, and some of the content is driving traffic. But then those articles are not in the top 3 positions in Google.
What you can do is write more content that is related to the content that is driving traffic but is more tailored to the keyword that users are searching for.
Upwork Proposal Template article is driving traffic to BizTips. So I wrote more articles on Upwork proposals like
And most of them are at the top 3 positions for related terms in Google. Moreover, apart from Google analytics, use other traffic analysis tools to find such hidden traffic gems.
Videos: YouTube to build traffic to a website
There is no doubt that Google is the most used search engine, but the second most used search engine is not Bing or Yahoo, but it is YouTube. Yes, you heard it right; it is YouTube.
A new experiment to add some videos for my Technical Analysis Blog to YouTube, and the results are extraordinary. I managed to rank on top for one of the terms on YouTube without me doing anything fancy about it.
It builds views to videos as well as it drives traffic to my site (though tiny as of now). I see it has the potential to scale up, and I will be working on it very actively very soon for sure.
You don't need anything fancy gadgets. I used a screen recorder, and even a webcam or phone is good enough to create videos. It's just that we tend to overthink when we can see our self on screen. Creating a video on the technical ground is a lot easier then you can think of. It is just a mental barrier.
YouTube videos have many other advantages as well. YouTube videos can rank easily in Google for competitive terms, and you can add links to your sites in a description of YouTube videos. Somebody searching in Google for competitive terms can watch your YouTube video and end up on your website using the description.
Mini-Course
Mini-course works perfectly well with blogs. A visitor lands on one of your articles like, for example, you have landed on this article. I have made all efforts to link related articles wherever I can. But then there is a limitation to how many articles I can link and make you read today only.
What if I can overcome the limitations and make visitors read some of the best content of my blog?
Mini-course is the solution. Over time, as blogs gather more meaningful content, it can be shared in an autoresponder as a mini-course.
RSS Feeds to Build Traffic
RSS notifies subscribers every time there is an update on a website with new content.
For blogs, this works perfectly fine where a user can subscribe to blog feed, and as and when new content is published, subscribers can be notified of the new content. They can read the published content in their favorite RSS readers.
Feeds can be a good source of traffic for a site on the day new content is published. Moreover, one can convert the RSS feeds into an email newsletter to be sent out. I send every Monday a newsletter that is composed of the week's posts I have shared on my blog.
eBook, Research Reports
Offer users an incentive like a free eBook or White papers or research reports to subscribe to your site.
Apart from a subscription incentive, you can also offer your users such reports or research papers from time to time to compel them to come back to the site. Not only it helps build traffic, but it also helps establish the authority on the subject.
A free ebook to subscribe a user to blogs and then updating them with the content of the blog by converting RSS feed to an email newsletter is widespread among bloggers.
About Us Pages
Check your traffic stats for most viewed content.
You will be amazed to see the about page quite high on the list of "most viewed" content of the site. More often, the referrer to about page is never from Search Engine or Social Media or any other referring site. The best traffic sources aren't the referrers of the about page. It is one of the most viewed pages of the website or blog. The traffic to that page is mainly from users landing on your site and willing to know more about you or your company. So you must have the right kind of content on your about pages.
Your about page should build credibility and trust among visitors. What you do and why you do what you do? You can check out my blog's about page for a sample as well my article on What to Write in Your About Pages
Press Release
Luckily, I in the Indian National Newspaper a couple of times – Once in Times Of India and then in LiveMint. Though there is no direct benefit with traffic to my sites for being in the newspaper, I got calls from investors willing to invest with me. So indirectly, it helps build contacts. If I am looking for any investors in the future, I have options to get started.
Never underestimate the offline advertising but remember it often doesn't work if you need to pay for it. Moreover, if you have been in the news, you can add that information in your homepage or about page to help build credibility and trust.
Have Your Product or Service
You may not always find the right quality of an affiliate product that fits into your target audience. So instead of promoting crappy products to your audience, it is better to create one. Having your product or service has other benefits.
A list of customers is a gold mine, and if you have a product, you can create a list of your customers who purchase your product. If you come up with something related in the future, they will be more than happy to buy more from you.
You can list your products in affiliates directory or can even hire affiliates to sell your product.
Never underestimate the power of building your products.
Hot Topics or Upcoming Events
If you know your niche well enough, focus on what is hot and upcoming events and topics. Write about them well in advance. It will give your site a time frame to rank well in Google as well as build links to such well-written content. When the event is around, your articles will rank well to drive traffic. You can get a huge traffic boost.
Some niche where it works correctly is when there is some upcoming product release like cars or bikes or phones or new mutual funds or even IPOs.
Link Bait – Topics Worth Linking
As per Wiki
Link bait is any content or feature, within a website, designed specifically to gain attention or encourage others to link to the website.
Link baiting is considered a natural process to link building, which means you create something that naturally attracts links by making people talk about it. It can be anything like
Well researched, informative content or infographics
Contests where users get free things, and people always like to talk about free competition.
News. Cracking any news would mean authority blogs may link to your content like TechCrunch Linked to my blog here
Supporting controversial. It can lead to a lot of people linking to your content, saying something negative about your support.
A free application or tool that you can distribute for others to use for free. It can generate links to your tool as well as your site.
Many of us knowingly or unknowingly do link baiting, and from now on, we can do it consciously.
Prioritize New Without Compromising Old
Priorities keep changing, but they should not change to the extent that you tend to ignore your all-time favorite pages. New products, ideas, blogs, and websites excite everybody, but that doesn't mean one can ignore the older ones.
Ignorance may be on many fronts. Most of the time, it is like not having a marketing budget for the old site or reducing the marketing budget on the former site for trying new or personal time dedicated to the new site is so much more than the old site starts suffering the quality.
It is the case with lots of bloggers who focus more on new projects so much that they leave their old blogs in the hands of guest authors and slowly but surely lose the readership.
So remember it's good to prioritize the new but not at the cost of old ones.
Usage Rather Than Users
We have come to the last point of my traffic building tips. If you have read this far, it does mean you are serious about building traffic to your site. The real traffic building secret I have kept for the last, which works for me.
You should not have a product or website which can get an impressive number of users to the site but focus on things that users want to be using on the site.
As an example, you may have excellent traffic coming from Google. Users land on a page, get what they want. So such pages have a very high bounce rate. They got what they were looking for, which is information. But you may not have a very handsome set of initial traffic numbers for referrals from a small site where the bounce rate is low. You are gaining visitors who are viewing many pages. So you should not only focus more on getting impressive numbers from Google but those other traffic sources as well where the bounce rate is low.
You can also have an option for user feedback and features that they want to see on your site. You will be amazed to see how many people request things that you may not have imagined. Getting those features added will make your site more likable by readers to generate more traffic over time.
Identify what works – no matter in what quantity and Do it Again… and Again… Improving each time with feedback from members.