Review of AWeber – an excellent email autoresponder service that cuts the crap to help marketers focus on sending great email campaigns that convert.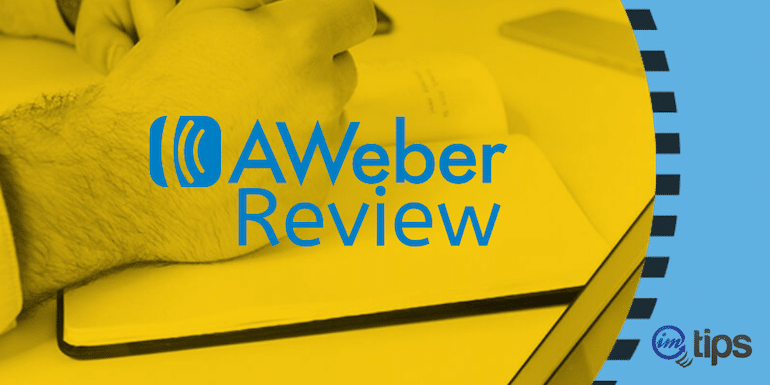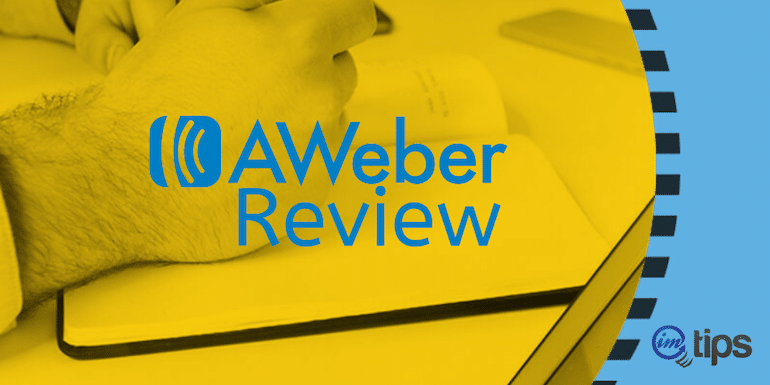 I will like to share reviews of the tools I use for my blogs and forums. AWeber is one such excellent tool I use and recommend to anyone looking for emails to connect with its audience.
When you read other AWeber reviews, they speak all good and positive things about AWeber. I do agree on most of them and will share them here as well. However, I will review AWeber as an email marketing tool, honestly sharing positives as well as negatives.
So here I am to share with you things which most AWeber reviews won't tell you and things you should know before going with AWeber for your email marketing requirements.
What is (and isn't) AWeber?
AWeber is a complete end to end email marketing solution.
It means if you are a webmaster who wants to remain connected with your audience via email, AWeber can help you achieve the same very effectively and conveniently. On top of that, without requiring to do any heavy lifting to configuring mail servers, DMARC, handling of invalid emails or user reporting spam, so on and so forth.
Moreover, AWeber also has an Autoresponder feature. It means you can set a series of emails to send to each subscriber based on pre-defined scheduling criteria.
So for example, if you want to be sending a welcome email to the subscribers and then one more email after 24 hours or a few days, all one has to do is schedule it inside the legacy AWeber autoresponder.
Remember, AWeber isn't an email blasting tool. It is an email marketing tool where you send emails to people who have shown willingness to receive emails from you.
You can't just import a bulk email list and blast using AWeber. Though AWeber allows importing, it is limited to 2,000 emails per day.
If you want to import more, you can ask for the support to do it for you, but the support team often verifies the list before one can send emails to them.
Who Should use AWeber?
Any online business that wants to remain connected with the audience via email in the form of newsletter or autoresponder should use AWeber. AWeber is a must if you don't have any other in-house reliable solution for sending email to your subscribers.
But if you aren't sure if AWeber is right for your blog or business, let me share some of the pros and cons of using AWeber first to help you decide.
AWeber Pros
In this AWeber Review, let us begin with the positive note first.
Awesome Customer Support
AWeber customer support is top class. I wanted to develop a plugin for AWeber in vBulletin. Their customer support team was so helpful that I went ahead and developed many more plugins.
It shows the kind of satisfaction I had when interacting with customer service people.
Best Email Delivery Rates
The critical aspect to consider an email marketing solution provider has to be the reliability and deliverability of the emails to subscribers in their inbox. If emails aren't delivering or if they end up in the spam/junk folder, there is no point to consider such email marketing services.
AWeber has a remarkable delivery rate for emails. They report as the highest in the industry because they have no tolerance for spamming.
When I was a customer, none of my users complain about non-delivery of emails. So I safely assume they have sent quite a few thousands of emails for me to my subscribers' inbox.
Simple Pricing Structure
AWeber has a straightforward pricing structure. It is independent of the number of lists you have in the account or number of emails sent to those lists.
The pricing structure at AWeber is for the total number of subscribers in each list. Send an unlimited number of emails to them. Moreover, there is no limit on the number of different lists you can have.
The pricing is
0-500 Subscribers – $19/mo
501-2,500 Subscribers – $29/mo
2,501-5,000 Subscribers – $49/mo
5,001-10,000 Subscribers – $69/mo
10,001-25,000 Subscribers – $149 /mo
Each additional 1,000 Subscribers – $8/mo
Other email marketing platforms have a complex pricing structure. As an example, per email sent will allow only certain features or per new campaign setup along with monthly charges.
Modern Signup Forms
One can design unlimited signup forms, including the popover form.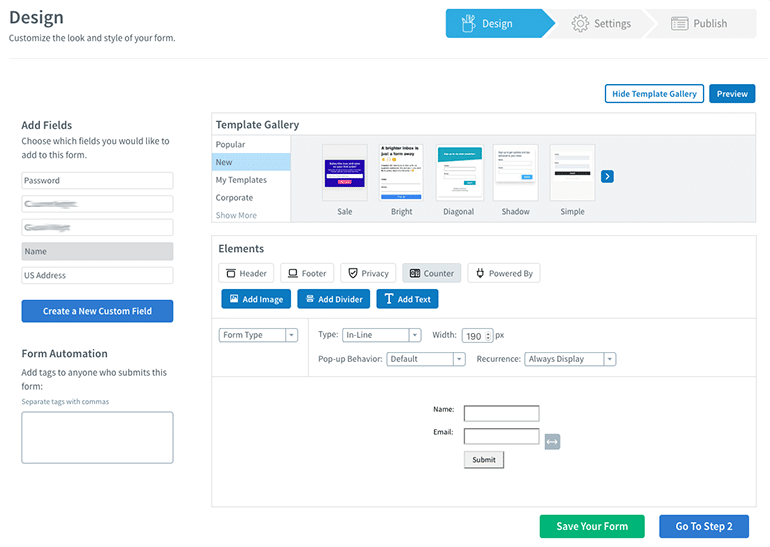 It also provides an option to split test the sign-up forms.



And has option to directly sign-up using other websites and payment processor including social media sites.



On top of that, Optinmonster has it as an integrated option giving even more opportunities for signup forms.
The best part is when a user visits an e-commerce website, he may not be ready to become a member right away but can subscribe to remain connected.
Spam and Bounce Handling
Certain words in an email can trigger spam score to be high for it. AWeber Analyzes Spam Score for all your emails you compose. So one can have a decent idea about the words to avoid in an email.
On top of that, AWeber also handles when any subscriber reporting email as Spam. They unsubscribe the user from the list who reports email as spam multiple times.
Similarly, if an email bounces, AWeber does the needful not to keep emailing to the invalid emails.
Both help to keep the email delivery rates higher at AWeber.
Automatic Segmentation
One of the best features I like about AWeber is the ability to segment the list without the need for the user to enter a lot of data.
So if you want to send emails to people from India, you only need to create a segment based on the country. Similarly, if you wish to send emails to anyone who has opened a particular email, it is possible in AWeber. If you want to send emails to people who have subscribed from a specific url on your site, it is possible.
Great reporting
AWeber provides excellent reports about subscribers, and email opens, each user's each link click, readers reporting email as spam, etc.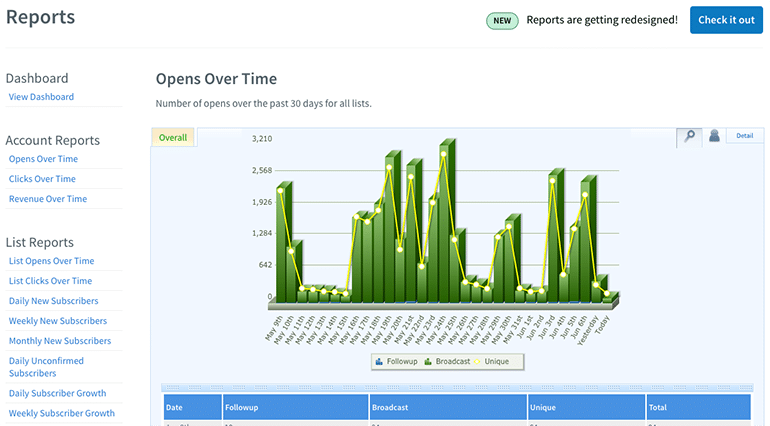 Using the reports, I found when subscribers prefer to open my emails. As I send them just before their preferred time, my email readership also increases.
So for example, now I send emails Monday 9 AM for my blog shabbir.in just before the Indian equity market opens for the week. It is for the fact I experimented, and now I know it is the best time for my subscribers to get emails.
Automation Rules
You can have automation rules to unsubscribe a user from one list when the user subscribes to other lists.
Useful when you have a list for leads and want them to move out of leads when they become customers. So on and so forth.
Third Party Integrations
AWeber has hundreds of third-party integrations. Which means all you have to do is connect your site's CMS to AWeber and as and when any user becomes a member of your website, they become a subscriber to AWeber as well.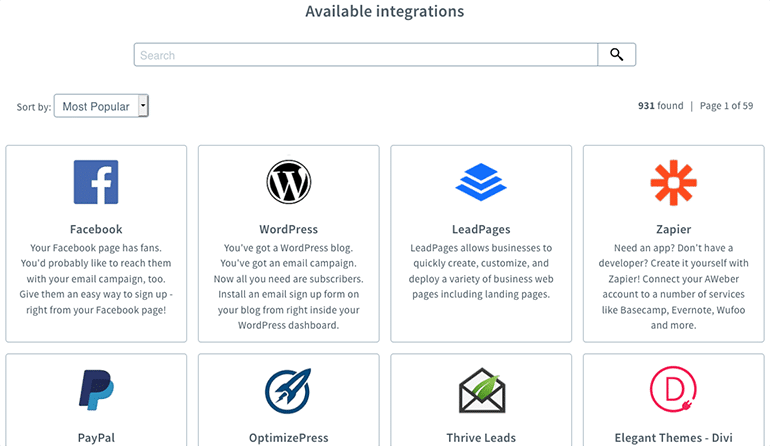 Moreover, AWeber offers an exciting feature, which is If an email sent to "listname@aweber.com" or "listid@aweber.com," it can be used to subscribe to a user.
It means even if your site isn't part of the third-party integration, all one needs to do is send an email as and when each user registers and create a parser to add the user to my list.
It may sound technical, but it is much easier than writing code to integrate using an API. My vBulletin AWeber integration is using email parser only.
Blog Broadcast – RSS to Email
The best part of AWeber is the ease and simplicity of using AWeber to send emails based on the blog's RSS feed.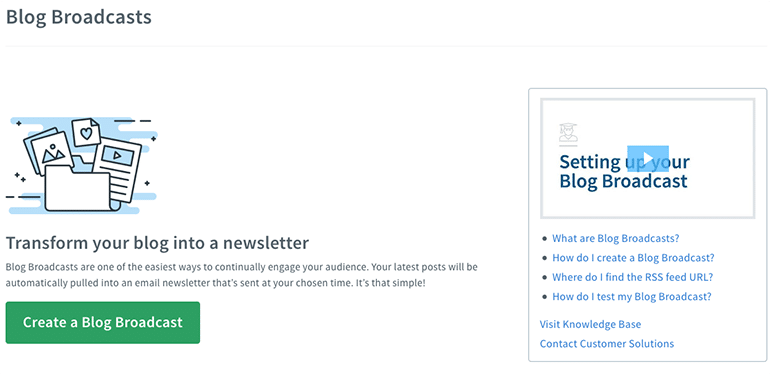 Believe me; I have used MailChimp as well as GetResponse. They do have an option for creating an email campaign from RSS, but none has the system as intuitive as AWeber.
Other Key Features
There are many other essential features like:
Responsive emails – Users read Emails more on mobile devices than on a computer. So as a webmaster, one has to make sure your email looks as good as it should be on every possible device.
Confirmed and Direct Opt-ins – Some lists may require to allow opt-ins to go through without requiring to confirm. The classic example is when a user purchases an item from you, he doesn't need an extra email to confirm and become a subscriber.
A/B Testing – Knowing what doesn't work with subscribers can be crucial to effective email marketing. AB testing can help you know what is working and what isn't.
AWeber Cons
The idea of this AWeber review is not to sell you into using AWeber. It is one of the reason I still haven't linked to AWeber yet.
There are a few negatives, and I think I should highlight them as well. It will help you decide if AWeber is right for you at this moment or not.
The Cost
AWeber is not cheap at all. It is a good value for money. The cost can add up pretty fast as site visitors keep subscribing to your list.
It is one of the main factors to consider when opting for AWeber. The idea of my review is, to be honest, and I found it quite expensive. It is one of the reason now I use a cheaper AWeber Alternative.
Other Email Autoresponder's charges based on how many emails you send per month but AWeber charges based on the number of subscribers.
So if you are still no determined to send updates more frequently to your subscribers and start interacting with them, it can be a costly affair.
Merge Lists or Move List from one Account to Other
Over time we create multiples lists, but then there is no way to merge them.
For my investment blog, I initially had a subscribers list. Then as I started writing an ebook, I had the list of users willing to buy as leads. Over time I had a few similar lists but no option to merge them.
Similarly, there is no option to move lists to another account. For Go4Expert, I had a separate AWeber account. When I wanted to merge, I realized it doesn't allow moving a list between accounts.
In either case, the only option is to export subscribers and emails manually. Then import in another account. It means you lose the history of the user like which email they open so on and so forth.
Charges For Unsubscribed Emails
The only thing I don't like about AWeber is, you not only paid for the subscribers but also for the people who have unsubscribed.
So if you wish to save on the cost, from time to time delete the unsubscribed emails from the list or else the price can be unnecessarily high.
Pay for the same email on Multiple List
If you have multiple lists and want a user to be a member of more than one list, you will pay for his occurrence in each list.
What it means is, they charge based on the total of all the subscribers + unsubscribed emails in each list. The calculation is not for the unique number of emails within the account.
Automated bots and Human Spammers Issue
There is no option for Captcha/reCaptch. So it means, as the blog or site grows and finds a lot of spammers, they can be part of your list, and you can do very little about it.
Though AWeber has some check and they don't become a subscriber, but it also means you are to pay for the spammer as well.
It was the main reason I had to move away from AWeber. As my site grew, I had a lot of spammers. So I now use ipqualityscore.com to make sure I block TOR or spam IP users to subscribe to my list.
Final Thoughts
If you are looking for a complete end to end email marketing solution, AWeber is the right tool for you. And I am sure you may have got that idea reading my review for AWeber.  It can increase your site's returning users and build a strong relationship with readers.
Email marketing will drive sales, and with higher deliverability of emails, AWeber can help.