Let me share 3 email marketing strategies that has worked for me along with pros and cons of each so you can choose the best for your niche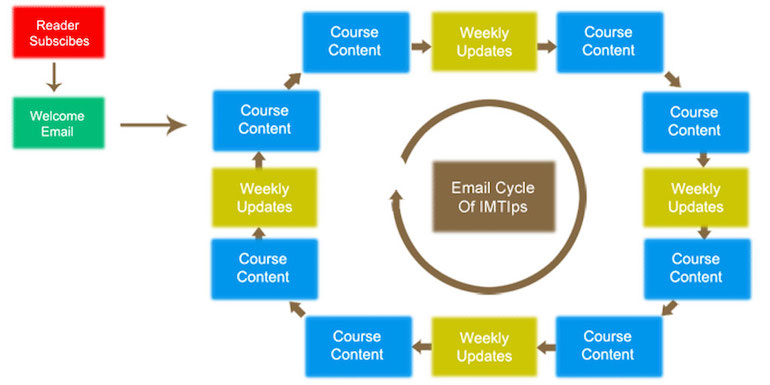 There is a thin line between Email Marketing and Spamming. If not done rightly, you can make your readers feel that they are being spammed even though you have confirmed opt-ins. So it is essential to understand the right strategies to email marketing that work and apply the same.
Let me share with you few email marketing strategies that work for me and the pros and cons of each of them so you can choose the one that is right for your kind of audience and build (or improve) on it.
These strategies generally work for all audiences, but it is essential to understand that it is not a fit for all kinds of things. One may need to sharpen it according to the readers' needs.
1. Free eBook Strategy
The First and the most often used strategy by bloggers are to provide users with free eBook for getting users to opt-in to the list.  This strategy is time tested, and it works well.
Pros
There will be many readers who will be willing to subscribe to your blog only for the eBook, and it works well. I use the strategy in the early days on my Investment Blog, and it worked well.
Cons
People may only subscribe to get the eBook. As soon as they get the eBook, they unsubscribe.
Free eBook giveaway on your blog should be related to your target audience. It works well for a very niche blog but not for a blog that is expanding the niche.
2. Free Course Strategy
The second strategy that works well is to provide a course over a series of emails. One can craft it from the blog's best content or have some extra email-only content.
Usually, the time frame for such a series of emails in a week or two, and emails are being sent automatically using an autoresponder like AWeber. At BizTips, I am using an AWeber alternative called sendy, a self-hosted email autoresponder solution.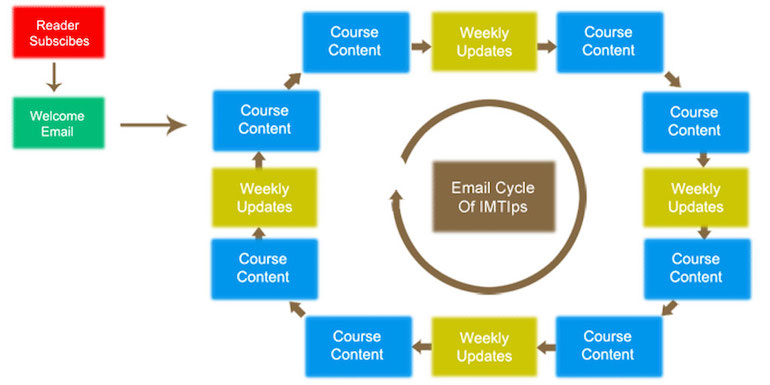 Pros
Every email in the series sent in an autoresponder acts as a reminder for the reader. A call to action not necessarily to purchase something but can be a way for the reader to bring them back to the blog's best content.
If you send top-quality emails, it can help build trust and a personal relationship with the readers.
Cons
Users' interest can fizzle out over time. If you take too long (a month or so) to deliver your course, it can work against you.
Too many emails that don't add too much value to the reader and look more like self-promotion can make readers unsubscribe.
2b. EBook + Free Course Strategy
To provide excellent value to readers, you can have both, i.e., an eBook along with a free course.
For BizTips, I have both a free ebook as well as a series of emails. However, there can be many permutations and combinations of combining the free course and eBook.
One of them is to have an eBook for each email in the free course; Another can be to have a single ebook and valuable insights in a series of emails.
The options are limitless. Be innovative to see what works best for your readers by making the above email marketing strategies.
Also read:
What is Email Marketing and how to use Email Marketing to Grow any online business exponentially in a very short time.
3. Waiting list / Invite-Only Strategy
Last but by no means the least is a waitlist strategy or invite-only email capturing and marketing strategy.
The waiting list strategy is where you have a paid product, but not everyone can be a member by paying. Or it is still not open for all. One needs an invite to become a member. Users can sign up to request an invite or be on the waiting list to be invited.
Pros
Works well when you can provide a valid reason for not accepting new members.
Cons
Not allowing readers to become customers may not always work unless you have an excellent reason to do so.
Before sending invites to join, you have to provide excellent value to readers, so they lust for an invite to become a member.
Common Email Marketing Mistakes
Let me help you with some of the common email marketing mistakes that new bloggers may unknowingly commit when building their email marketing strategy.
Spamming – Sending messages to users who have not opted in to receive messages from you.
Selling your subscribers' list – Instead of selling your product to your subscribers, you sell the subscribers' contact information for some quick bucks.
Broken HTML emails in email clients – If you do not user autoresponders like Aweber or Moosend, you need to test your HTML emails and see if they work perfectly fine in all email service providers.
Making it hard to subscribe or to unsubscribe – You should keep your registration and email subscription and un-subscription very simple. Subscription to be as simple as entering an email address and unsubscription to be a matter of one click.
Overpacking your emails – At times, this becomes a problem regarding what you should have in your email and what you shouldn't. Having too many good things in one email can have a lukewarm response from your user for each of them.
Final Thoughts
What email marketing strategy or strategies do you use for your website or plan to use?