Can Freelancing Be a Possible Choice of Career in India? The short answer is YES but let me share how to make it a choice of career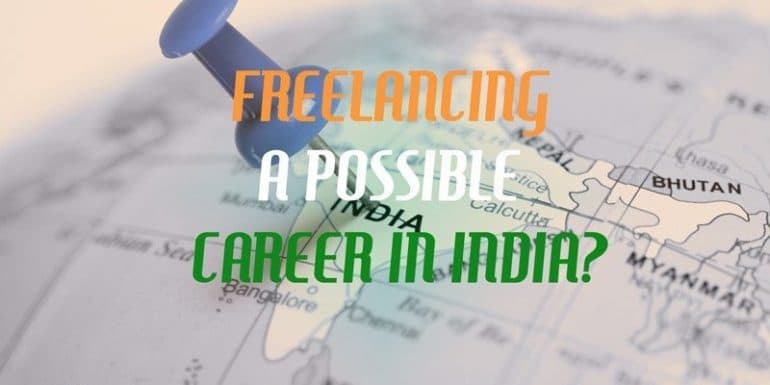 The short answer is yes, freelancing is a possible choice of career in India. Though I am a blogger and an online marketing consultant, more than 40% of my total income comes from web development clients who are enough for me to be a full-time freelancer as well.
So freelancing is a possible career option in India, but please do consider the following aspect to freelancing.
1. Getting Freelance Work
The first and the most critical thing to kickstart as a freelancer is to be able to get your first client. The first client will decide if you can build a career in freelancing in India or not.
Freelancing sites are a good place to find your first client. However, a better approach will be to use your contact list to get a few clients right away.
Once you have your first few clients, the next big challenge is getting a constant source of clients for freelancing. I have also shared How To Get Regular Clients.
2. Hot Freelancing Skills
All skills don't get the same pay. Here are some of the high paying skills of the freelancing world:
Writing – Writers are the highest paid among freelancers. There are various sources to confirm the same.
Translations – Next to writers are translators. The particular skill set is needed where knowing more than one language is a must to be a translator.
Mobile Development – Mobile (iOS and Android) development is quite on the rise, and if you can develop apps for mobile, you can grab a lot of freelance clients.
Web Development – Web development is one of those evergreen skills for freelancing.
Search Engine Optimization – Last but by no means, the least is SEO. Hiring an SEO freelancer is always a challenge, but the top-class SEO experts claim $1000+ hourly rates for consultation.
Note: The above data is from various sources like Quora, Elance, Upwork, and Google Trends.
If you consider freelancing for data entry jobs, you can have a tough time ahead, or even if you are considering freelancing to be a web designer, you can have a lot of price competition when starting.
Freelancing is all about learning the skills that are in demand. When I was doing my job, I was more of a C++ developer. With time moved over to C#. However, when I left the job to be a blogger and freelancer, I chose PHP as I needed to learn PHP for my sites.
Also read:
All freelancing skills aren't paid equally. Some pay more than others. So here is a list of highest paying freelancing skills from various online sources.
3. Non Technical Skills
If you are willing to have a career in freelancing in India, you need to possess many skills outside of what you work on. Here are a few skills that are an absolute must for a freelancer.
Communication Skills: Freelancing is less about being better technically and more about being clear in your communications. You should not only be able to understand client requirements but should also be able to ask the right questions and communicate about your understanding of the scope of the project to let them know why you are the best for them.
Estimation Skills: You may be a gem of a freelancer, but if you can't estimate how much time it will take for you to complete the job, you can have a tough time putting a price to your clients.
Negotiation Skills: The client may always want to be doing things for as little as possible. If you don't have the right negotiating skills, you can be working for too little most of the time.
Marketing Skills: Any business needs marketing and individual freelancers are no different. You need to have a basic understanding of marketing. So, you can either do some preliminary marketing or can at least interview and hire marketers.
Problem-solving skills: This is one of the most important skills for an individual freelancer. When working in a team, you can always refer to an experienced member for problems that may come up. However, when you are an individual freelancer, you need to possess the skills to be able to solve those problems.
Time management skills: Taking too much work can mean it will have delays and taking too little can mean you will have an issue to pay the bills. Having the right kind of time management skill to be able to understand when it is too much work for you or when it is too little is a must to be able to opt for a full-time choice of career in freelancing in India.
Delegating Skills: Your growth trajectory as a freelancer will be exponential if you can form a team. As a team member, you may need to delegate work to others and manage them efficiently to make profits.
Also read:
Here are 9 key non-programming skills an individual developer freelancer must-have. If you don't have them, you can't be a freelancer
4. Approach to Projects
What would be the right approach to applying for projects as a newbie freelancer? Put yourself in the employer's shoes for a minute. If you look at some of the applications as an employer, you will just feel pity for those freelancers.
Let us take an example of bids for a new website that a client wants to develop. You will always have applications like
Hi, I'm XYZ and I'm an expert in:

Web site design
Logo design
PHP
ASP.NET
Javascript/Ajax

Here are some of my sample work:

http://example1.com


http://example3.com

Looking forward to hearing from you!

Thanks
XYZ
Do you expect this to be read when it clearly indicates that you have not read what the client wants?
I have seen clients put in some keywords that they want to start the application by indicating that you have read what he has written till the end. So they can easily avoid such applications which actually mean freelancers blindly apply with a copy-paste application template without reading the requirement.
Instead of spamming every client with the same proposal, get the edge over other freelancers by asking the right question. It will help you interact with clients and have a much better conversion ratio of your applications and boost your chances as a freelancer trying to build a career in freelancing in India
Also read:
How to start freelancing right now - The steps I followed amid the 2008 financial crisis to quit my high paying MNC job as a developer
5. Deadlines
Recently I rejected a proposal on upwork with a reason that I will not be able to meet the deadline that they have mentioned for the project. Once a developer rejects a proposal, a client can't follow it up. So he found me on Google and followed it up in the contact form on my blog. He wanted to work with me because my rejection note had details of his delivery requirements that other freelancers who applied for the job missed.
This is what I wrote in the proposal decline notes:
Thanks for inviting me to your requirements and I will be more than happy to work with you but you have indicated a delivery within 2 weeks and though I can start on your project immediately, it will be tough for me to get things completed within the required deadline because of my other commitments.
Guess what?
The client was ready to wait for an extra week, and I completed the task well within three weeks.
There are requirements that you can't get it done within the client's timeline expectation. It is better to communicate it well ahead of time and not create a hope that you can make it within the deadline.
If you can provide a daily or weekly update, it always helps the client manage his expectation and be flexible with his timetable.
6. Temperament
As soon as you have a deliverable, make it available for clients to test. Small prototypes will help the client understand the working aspect of the project and you can have a much clearer picture of what are his expectations and if you are in line with what is needed.
At times, it becomes difficult for the client to understand that some part of the system is still under development, and you don't need feedback on those under development sections. Yet, the input can be ignored instead of losing temper.
As an example, you can have a couple of sections of the site being developed. You completed one section and asked for client feedback, and the feedback from the client is nothing works.
As a developer, you can lose temper where you have done 50% of the task, and the client says nothing works. Understand that client is technically not very sound, and that is why hired you. So, it is a matter of letting the client know what should be tested. It could be that you may have missed the section to check, or the client may have overlooked it. In either case, it is not something that should be dealt with a bad temper.
7. Repeat Business
As a freelancer, there is very little I take up from new clients because I have a lot of repeat business that keeps coming my way from my existing clients.
Focus on quality of work, and you will always have repeat business coming your way to help make a better career as a freelancer.