Shopify and WooCommerce are popular eCommerce platforms with their pros and cons. So which one (Shopify or WooCommerce) is the better choice for your store?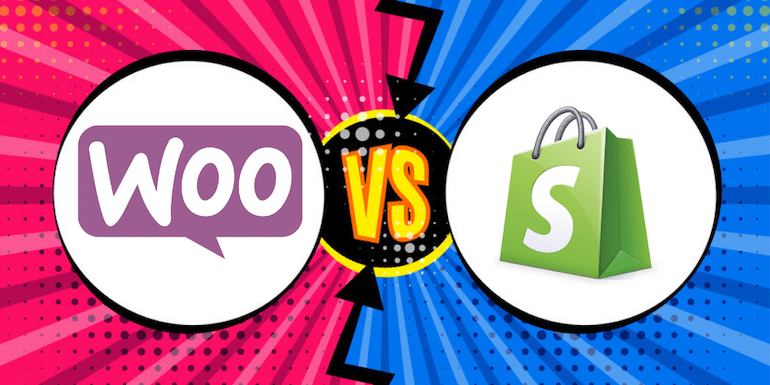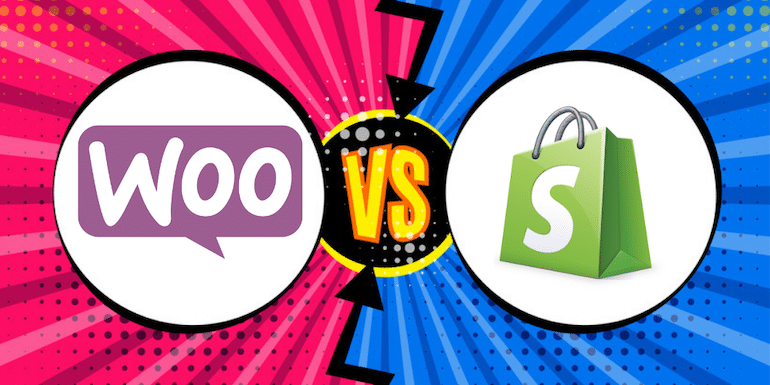 Starting an online store but unable to decide which one is the right choice for you – Shopify or WooCommerce?
Let me help.
I don't believe either one of them is the best over the other. I recommend both, but the recommendation depends on the need of the business and the individual managing it. Both are the best in their own way. We will focus on which one is right for you and your business in this comparison of Shopify Vs. WooCommerce.
Comparison Checklist: Shopify or WooCommerce
The right eCommerce platform is pivotal to selling online. Moreover, the platform must satisfy the overall business needs in the first place. Hence, it is essential what an eCommerce platform offers but more importantly, how it helps you and your business grow.
Both Shopify and WooCommerce are popular eCommerce platforms. Each one has a unique selling proposition with positioning for a different audience in the market.
I won't be comparing the pros and cons of Shopify and WooCommerce but more from a business and growth point of view based on:
Introduction: Shopify vs. WooCommerce
How to Select the Best eCommerce Platform?
The Initial Cost of Starting Online Store
User-friendly Interface
Payment Methods
Third-party Tools & Services
Help & Support Options
Final Verdict
Introduction: Shopify and WooCommerce
Let's start the comparison with a brief introduction of both: Shopify and WooCommerce.
What is Shopify?
Shopify offers a complete eCommerce solution. It is a SaaS (or Software as a Service) tool to create an eCommerce store easily. One doesn't need to be a technical expert to work with Shopify.
Here is my step by step guide to Setup a Store in Shopify India. Within the Shopify India store, one can manage product inventory, shipping, returns, and accept payments easily.
The best part is, Shopify bypasses the nitty-gritty of web hosting, security, and other technicalities of managing a website and an online store.
What is WooCommerce?
WooCommerce is an eCommerce plugin for WordPress. So one can either add a store in WordPress or convert the whole of WordPress into an eCommerce site. The plugin is free, like WordPress. WooCommerce with WordPress is a powerful combination to set up and run an online eCommerce store.
WooCommerce is by WordPress. It is an open-source plugin with the option to customize much like WordPress. To get started with WooCommerce, one should set up WordPress and then use WooCommerce like any other WordPress plugin.
To use WooCommerce, one needs hosting, which can terrify someone with no technical background. LiquidWeb offers Managed WooCommerce hosting, which takes out even the nitty-gritty of managing a WordPress/WooCommerce or a host.
How to Select the Best eCommerce Platform?
Selecting the best eCommerce platform depends on the type of products one wants to sell online along with the business requirements.
Below I have outlined an essential checklist I have used to choose between Shopify and WooCommerce.
The Cost – What will be the initial cost of starting an online eCommerce business? The price can be a deciding factor when one is beginning.
Seller-Friendly Interface – Very easy for a non-techy to start online selling. So, an eCommerce platform should be easy to get started. Moreover, how attractive one can make the buyer's experience without being too technical about it.
Payment Methods – The platform must provide multiple payment methods — for example, PayPal, PayU Money, CC Avenue, and more. Moreover, in India, offering cash on delivery option or COD builds trust with the new customers buying from a relatively new website.
Shipping and Third-Party Integrations – The platform must allow easy shipping options along with integration to third-party tools and services.
Scalability – The scalability of an eCommerce platform plays a vital role.
Help and Support – How good is the help and support system of the platform one is willing to opt for?
Now we have the requirements.  Let's see how Shopify and WooCommerce individually qualify on these metrics.
Start-Up Cost: Shopify vs. WooCommerce
Cost is an inevitable variable for eCommerce sellers. One needs to calculate the overall cost of starting an online eCommerce store along with other expenses.
Shopify
A seller must subscribe to a monthly plan to start a Shopify store. There are three monthly plans.
A basic Shopify plan starts with $29/month. Then there's a $79/month plan with additional features. The third tier plan is Advanced Shopify which will cost $295/month.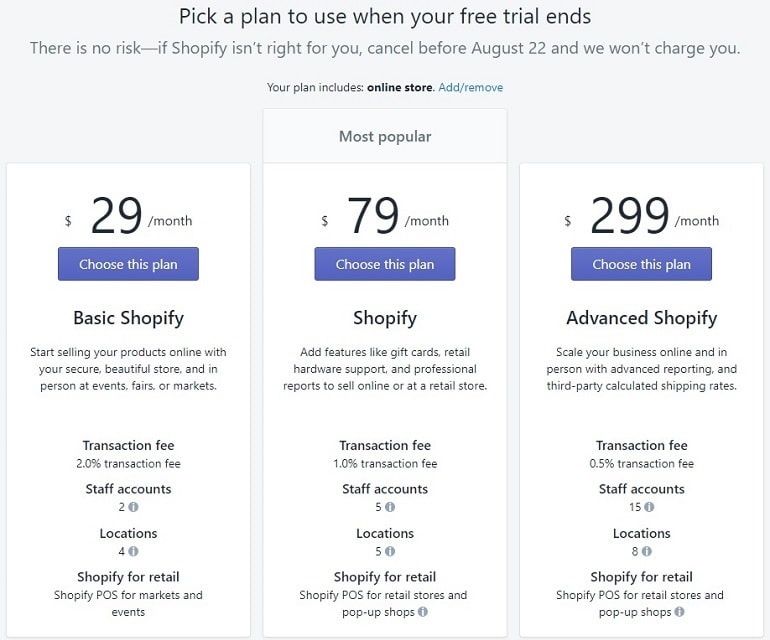 Each plan includes basic features needed to set up a Shopify store. The platform offers domain name, SSL certificate, and web hosting in all plans. So, if you ask me how much does it cost to start a Shopify store? I will say, $29/month.
Besides, third-party payment gateway transaction fees will increase the cost. Shopify will charge 0.5% to 2% flat fee on every single transaction. Refer to the above monthly pricing plan.
WooCommerece
WooCommerce is an open-source eCommerce plugin. One can download it as a WordPress plugin for free. However, there's a little tweak in starting a WooCommerce store.
Unlike Shopify, a WooCommerce store set up requires WordPress setup, and we need a domain name, SSL Certificate, and hosting account.
So, the total cost of starting a WooCommerce store depends primarily on the hosting expense. With managed WooCommerce hosts, it can be as high as $39 per month. However, opting to shared hosting and seller managing everything can mean the cost can be as low as $5 per month.
Moreover, to process payments with WooCommerce or enable shipping can be a costly task. Everything depends on the third party cost.
Conclusion
The initial cost of setting up an online store in WooCommerce can be low compared to Shopify.
However, store owners need to purchase paid tools and plugins depending on their requirements for shipping and payment options. The cost will add up.
Still, WooCommerce sellers can control cost.
Winner: WooCommerce
Seller-Friendly Interface: Shopify vs. WooCommerce
Every online seller is not an expert web designer or developer. Even experienced designers and developers use eCommerce platforms that are easy to use and less clumsy. Let's see how much Shopify and WooCommerce score in seller-friendliness.
Shopify
Shopify is a self-hosted eCommerce marketplace. There is no complicated installation of software. Additionally, there are no security, performance, backups, and compatibility issues. A seller can start creating online store immediately after registration.
The process is ridiculously easy. Register, select a store design, do some customization, add products, and start selling.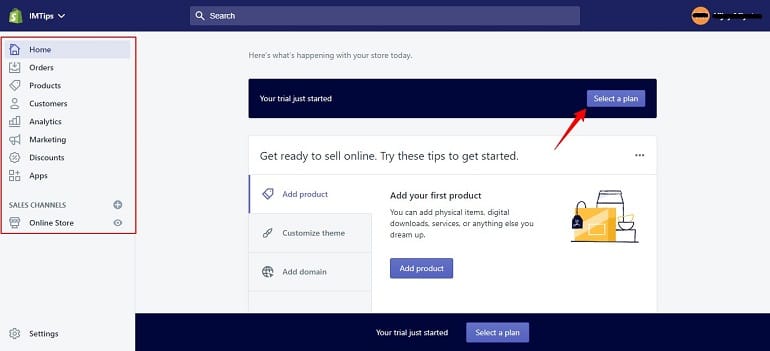 Shopify provides an intuitive drag and drop interface. Whether it is inventory management, processing an order or selling, everything is super easy with Shopify.
All in all, Shopify acts as a guided tour for sellers to complete day to day task. But there's a downside of this highly optimized marketplace. Shopify sellers have limited access to design and development tools.
Sellers can only use tools (free/paid) that are endorsed by Shopify. Although, it doesn't hurt a seller because whatever Shopify offers is more than enough. Shopify has an insane collection of premium themes, plugins, extensions, and third-party tools.
In short, there's everything for all kind of sellers, products, and business niches.
WooCommerce
WooCommerce is a WordPress plugin. It means a seller has more control, but it also means they are responsible for managing and updating them.
Above all, the seller will have to make sure the store is secured and runs smoothly. Yet, many tasks can be automated using other WordPress plugins.
The best thing about WooCommerce is its super flexibility. A seller is in full control of his/her store. One can do an insane amount of customization and automation using plugins and extensions.
Creating and managing a WooCommerce store has a learning curve. Moreover, a seller needs to stitch together his payment methods and the shipping methods using other plugins before one can go live with a store.
Then, continuously monitor the technical aspects in the back end. In short, a seller has to do countless configuration before and after starting an eCommerce store.
Conclusion
Setting up an eCommerce store using WooCommerce isn't feasible for everybody.
Hence, the overall onboarding process in WooCommerce is overwhelming for newbies. On the contrary, Shopify onboarding is super fast and super comfortable.
Winner: Shopify
Payment Methods: Shopify Vs. WooCommerce
Multiple payment options especially cash on delivery is in demand in India. So, an eCommerce platform must allow sellers with multiple payment systems. 
Shopify
Shopify offers multiple payment options for sellers to make the buying process for the customer a breeze.
The Shopify payment gateway has flat credit card fees. It sounds legit because there's no concept of extra transaction fees. The credit card rates start from 2.9% + 30¢ for the basic plan. The credit card fees are low for other plans.
Apart from PayPal, Shopify offers other payment option. Moreover, there is also an option to have a custom payment option. If a seller opts for custom payment gateways, Shopify charges 2% extra per transaction but custom payment option is available only for advance plans at $299 per month.
WooCommerce
WooCommerce supports 100+ payment gateways globally. Besides, PayPal and Stripe payments are default integration in WooCommerce.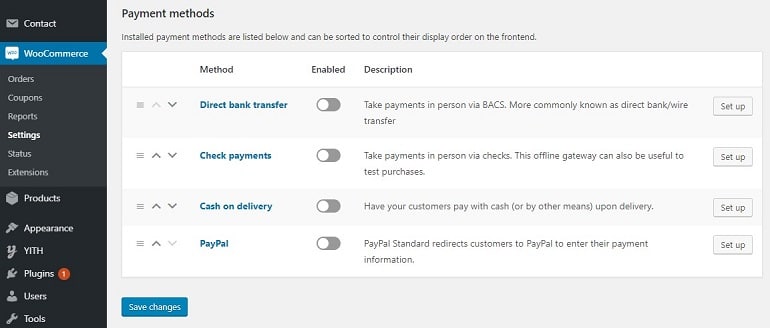 Not only most popular but WooCommerce also supports less popular payment services. The best part about WooCommerce is its flexibility to welcome payment companies across the globe. It means even regional payment service providers can create add-ons for WooCommerce.
Highly beneficial for customers willing to purchase from remote locations.
Above all, WooCommerce doesn't charge extra on store transaction. Seller will have to pay transaction fees only to the payment gateway.
Conclusion
If a seller wishes to integrate third-party payment gateways, then WooCommerce is the best idea. Doing this a seller can significantly save a lot of money in the name of transaction fees.
Since transaction fees are recurring, Shopify could be a significant turn off for high volume sellers. On this metric, WooCommerce is a clear winner.
Winner: WooCommerce
Shipping: Shopify Vs. WooCommerce
Shipping but more importantly, integrated shipping can help build trust with customers. Moreover, in India, with any new eCommerce site, it is vital to offer cash on delivery as the payment method. Let's see who wins.
Shopify
Shopify not only offers integrated shipping options but also provides the cash on delivery as the payment method. Because they handle every aspect of the product, it is well integrated from receiving payment to shipping products, notifying the customers, and ultimately delivering the product and managing the returns.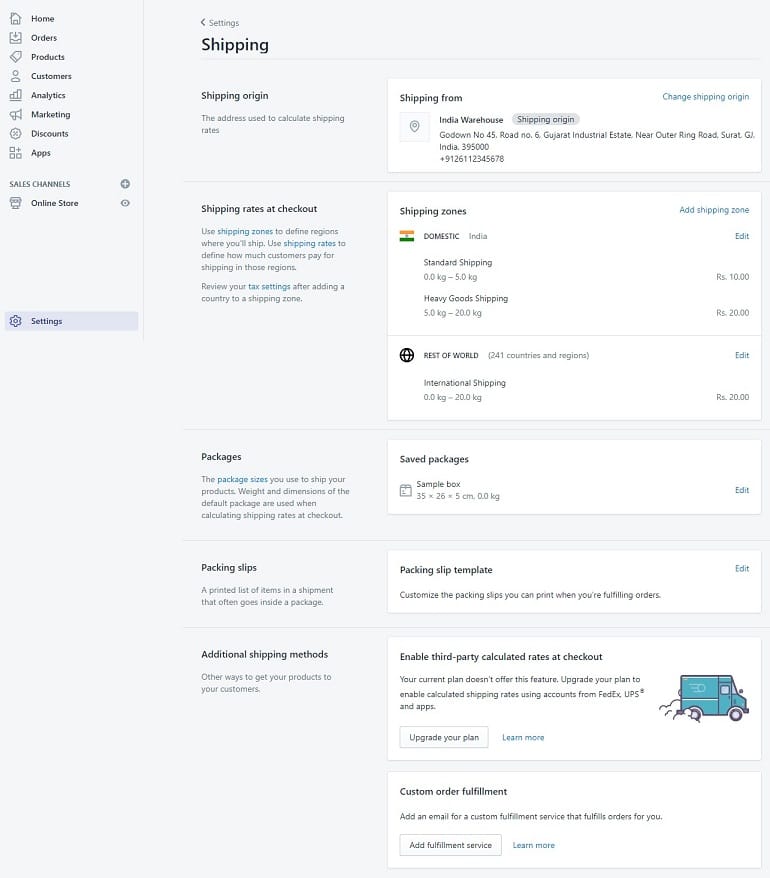 WooCommerce
With WooCommerce in India, there is very little out of the box for shipping. The seller has to use a third-party service for shipping.
One of my clients used Aramex in India, and the cost to handle the cash on delivery wasn't a very viable choice. The cash on delivery along with returns cost of shipping took all the profits from the business. They had to close the online store and sell only on Amazon and Flipkart.
Conclusion
Shopify has an edge with shipping along with cash on delivery as an option in India.
Winner: Shopify
Third-party Tools & Services
Third-party tools and services are essential to online store growth. Tools for email marketing, newsletters, social sharing, etc. are a must. As long as tools are concerned, both platforms have an extensive collection.
Shopify
Shopify has a dedicated eCommerce app marketplace. It stores thousands of app to do a variety of digital task. Here sellers can buy much needed third-party add-ons for their Shopify store.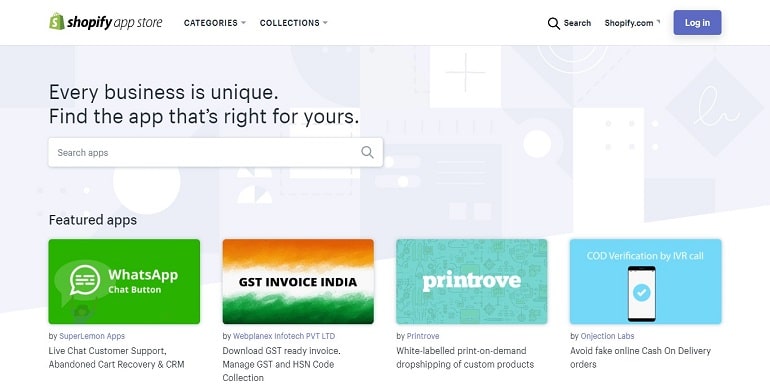 For example, email marketing sub-category alone has more than 100 apps. The seller can install apps relevant to products, order, shipping, marketing, SEO, and a lot more.
Shopify offers both free and paid apps. It's pretty much easy to use the apps just like we do in WordPress.
Moreover, Shopify doesn't charge anything extra to use an app. A seller is free to use any app provided; it is compatible with the store.
WooCommerce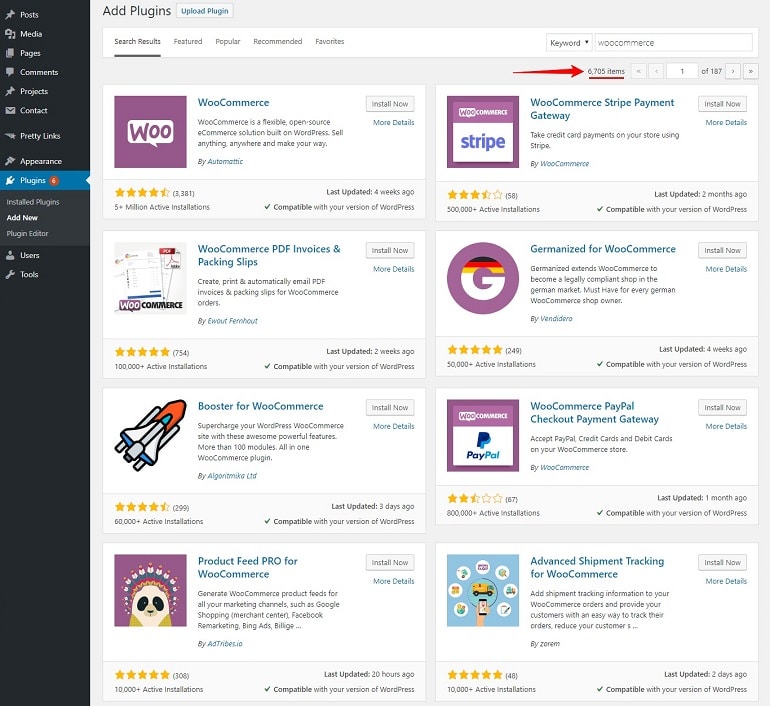 WooCommerce is on WordPress, and it has a gigantic library of free and paid plugins. A seller can add payment gateways, generate a lead, do WooCommerce SEO, or optimize store using plugins.
As an example, Yoast SEO, Moosend, Akismet, etc. These freemium plugins save a lot of money but moreover provide a lot of customization.
A seller can easily find a plugin for almost any popular third-party tool. These plugins are highly compatible with WooCommerce.
Conclusion
WooCommerce offers vast integrations and add-ons compared to Shopify. Further, a seller can install a custom plugin specially developed for WooCommerce store.
Hence, it becomes a lot easier to customize a WooCommerce store.
Winner: WooCommerce
Help & Support Options
Technology has revolutionized tech support beyond phone calls & emails. Although both platforms are easy to use a seller might still need help. It could be related to customizing the store or learning advance features.
Let's talk about WooCommerce and Shopify support options.
Shopify
Shopify sellers can get in touch with Shopify experts 24×7. It provides multiple options like live chat, phone, email, and Twitter. Along with it Shopify also offers exclusive self-help options too. For example, documentation, DIY guides, video tutorials, and forums.

Moreover, a seller can hire experts at Shopify to get things done. It is important to note that Shopify offers no support for third-party apps or themes.
WooCommerce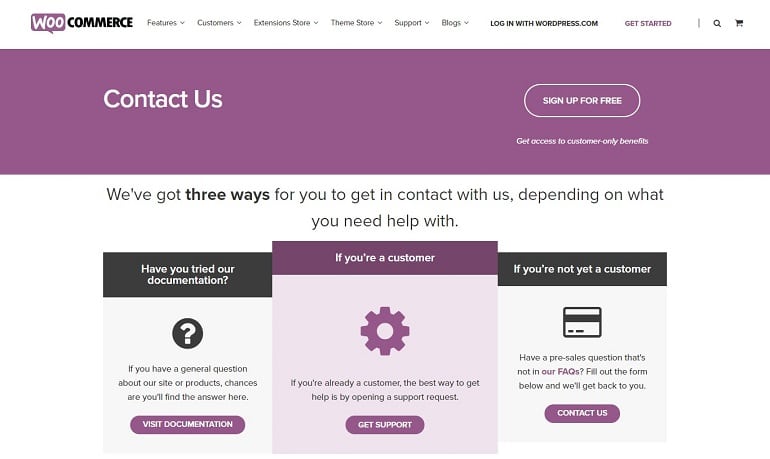 Just like Shopify, a seller can find tons of support options in WooCommerce too. However, WooCommerce offers self-help documents, guides, tutorials, and videos.
The platform has a massive support forum. Here a seller can find answers to his/her queries. On the other hand, WooCommerce support goes next level. Let me explain to you how.
We all know how popular WooCommerce is. Due to this, a seller can easily find developers online to fix specific issues. One can discover WooCommerce experts on freelancing sites like Upwork or Fiverr at dirt cheap rates.
Conclusion
Shopify is a clear winner in terms of support. A seller need not go elsewhere to fix issues with Shopify store. Whereas the story is different on the other side.
The support is decentralized in WooCommerce. The reason being WooCommerce integrates third-party vendors. For example, domain, hosting, CMS, plugins, themes, other tools & services.
Hence, if there are any issues, a seller will have to contact relevant service providers to fix it. In short, WooCommerce support is limited to its plugin only. So, for a beginner, it will be a real pain to contact multiple support desk.
Winner: Shopify
Final Verdict
Shopify and WooCommerce are both powerful & highly optimized eCommerce platforms. Selecting any one depends on the specific needs and skill levels of a seller.
Shopify
Shopify is straightforward to set up and manage a store using Shopify. A seller can create a fantastic eCommerce store, add products, and start selling in minutes. A seller doesn't need expert-level store designing and coding knowledge.
Shopify's customer support is a breeze. Overall it provides an easy to use selling environment to a seller.
Besides all good, there are certain downsides of Shopify. The platform charges extra transaction fees. Due to this, the cost can go high. Moreover, add-ons and integrations are limited in Shopify.
To access additional features in Shopify, a seller will have to upgrade the monthly plan. Can dramatically increase the cost. Additionally, a seller can't do advance level customization & integration due to limited control.
WooCommerce
The start-up cost of an eCommerce store is meager with WooCommerce. Hosting companies offering WooCommerce package makes it even more dirt cheap.
The best part is sellers are in complete control of their store. Unlimited store optimization opportunities are using WooCommerce with WordPress.
The downside of WooCommerce is a regular upgrade and constant monitoring. At a certain point in time, store security can be at risk.
Also, WooCommerce setup is a bit lengthy. It requires learning the basics of hosting, domain, themes, and lot more.
If cost is the primary concern, then WooCommerce is the best solution. Whereas, Shopify is best for them who wants a hassle-free store setup.
Conclusion
Finally, the verdict is, Shopify is best suited if eCommerce is the primary aim of the website. WooCommerce is best when the blog is the primary aim of the site, along with a store.