Let's do a feature by feature comparison of two of the best WordPress SEO plugins – Yoast SEO and All-in-One SEO Pack to find a clear winner.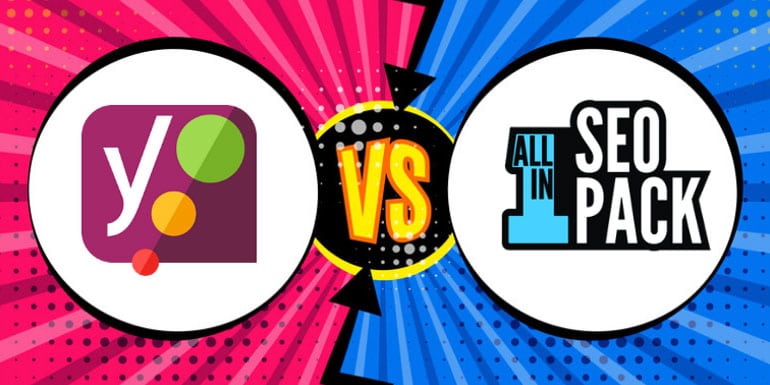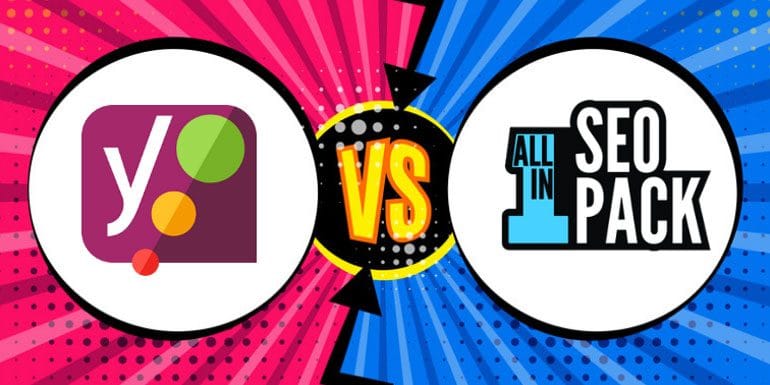 Let's compare two of the best SEO plugin for WordPress Yoast SEO and All-in-One SEO Pack.
I have come across the question often – Which is the best WordPress SEO plugin? So, let me write a comparative study between Yoast SEO and All-in-One SEO Pack.
Brief History of Yoast SEO and All-in-One SEO Pack
Undoubtedly, both All-in-One SEO Pack and Yoast SEO have dedicated customer base. The All in One SEO Pack has 2+ million downloads, whereas, Yoast SEO has 5+ millions of active installations.
This way, both of them are not only the most popular but also most used WordPress SEO plugins. The All in One SEO Pack made its debut in 2007.
On the other hand, Yoast SEO started its WordPress SEO journey in 2010. Within three years, users started looking at Yoast SEO as the primary rival of the former one.
Both Yoast SEO and All in One SEO Pack are incredibly brilliant. Period. They offer all the SEO functions one requires to optimize their WordPress blog or website.
However, before you jump on any conclusion, let me do a feature by feature comparison to help you decide which one is the right SEO plugin for WordPress.
So, let's start.
Comparison: Setup and Installation
The whole of an SEO plugin is to make the life of a blogger easy. That's what a WordPress SEO plugin must follow. So let's see how both the plugins make it easy onboarding.
Yoast SEO
The first step is to install and activate the Yoast SEO plugin. To do this follow the steps below:
Log in to the WordPress admin.
Click Plugins in the left panel.
Click Add New plugin button on the top.
Type Yoast SEO in the search plugins bar.
Now click Install Now and then Activate button.
Doing this will successfully install and activate the Yoast SEO plugin. The second step is configuration. Click Yoast SEO on the left panel in WordPress to launch a quick configuration wizard.
Refer to the image below: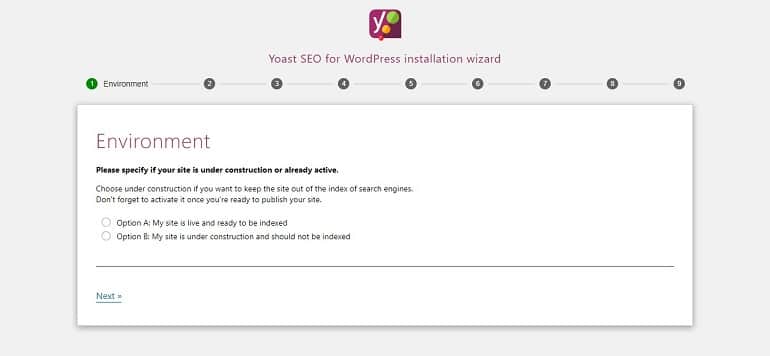 The installation wizard is neat and clean. There are no complex options to configure. Everything is self-explanatory and insanely easy for beginners.
Yoast SEO is a powerful plugin, and every segment has a dedicated page.
For example, Search Appearance in Yoast allows users to decide how a post or site will appear in the search results. Besides, a user can control what content types appear in search results.
Along with search appearance, a user can configure media, taxonomies, archives, breadcrumbs, and RSS settings. Refer to the image below.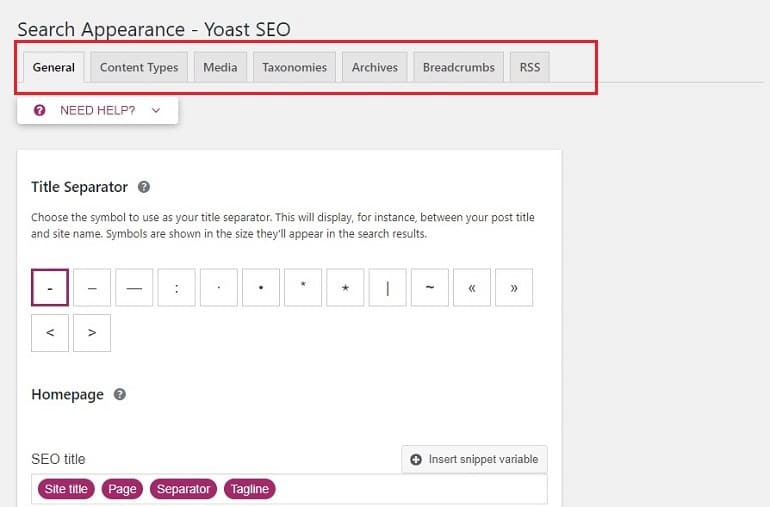 The Need Help feature by Yoast is omnipresent in almost all pages. Users can walkthrough video tutorials and knowledgebase articles to solve their queries.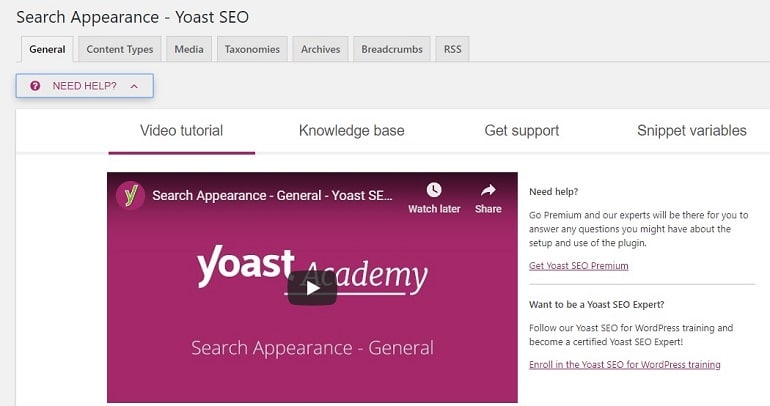 Yoast SEO has simple and easy settings for new users. One can go from nomad to a WordPress SEO ninja using this plugin.
All in One SEO Pack
The first step is similar to what we did for Yoast SEO. Install and activate the All-in-One SEO Pack plugin. To do this follow the steps above.
The plugin has three main settings viz General, Performance, and Feature Manager. Unlike Yoast SEO, the General Settings page is not in a tab format.
All setting options are present on one single page. I am fine with both of them. See below.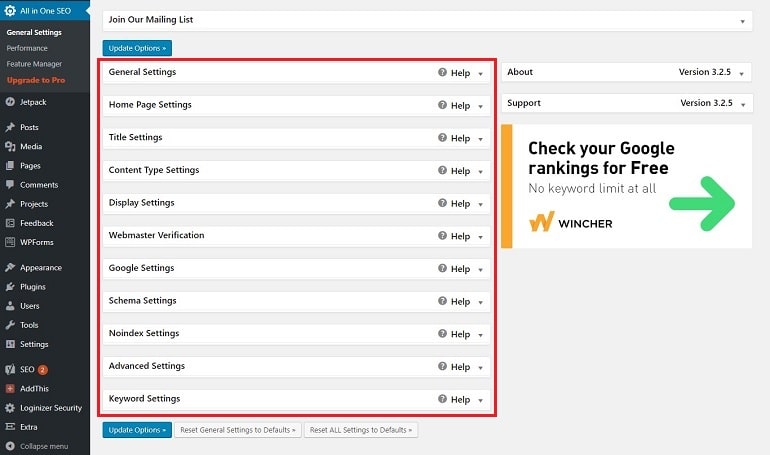 However, nothing is overwhelming about it. I feel this approach is easy and fast. After all, multi-page or single page setting isn't a rating factor for me.
Further, the All-in-One SEO Pack settings page has various sections. Each section allows for different settings as per user requirements. For example, users can modify the homepage, title, content type, display settings, etc.
Additionally, there is a help link in every section. The help links will redirect users to the official documentation pages. A beginner can learn about WordPress SEO settings.
After all the general settings are done, the All-in-One SEO Pack is ready.
Conclusion
Both the plugins have tried their best to ease the setup process. Yoast SEO and All in One SEO has a lot of settings. However, these settings are permanent unless there's a significant change.
I feel the settings are not overwhelming at all. User will quickly adjust to the multi-page and single page ecosystem.
Winner: Yoast
Comparison: Content Analysis
SEO is an ongoing process. Every single piece of content will carry a unique SEO footprint. Let's see how Yoast SEO and All-in-One SEO pack do the content analysis.
Yoast SEO
The Yoast SEO plugin gives rock-solid content analysis. It takes an in-depth investigation to optimize every single post or page.
Below the WordPress editor, there's a Yoast SEO toolbox. The toolbox features three vital tabs viz – SEO, Readability, and Social Sharing. See the below image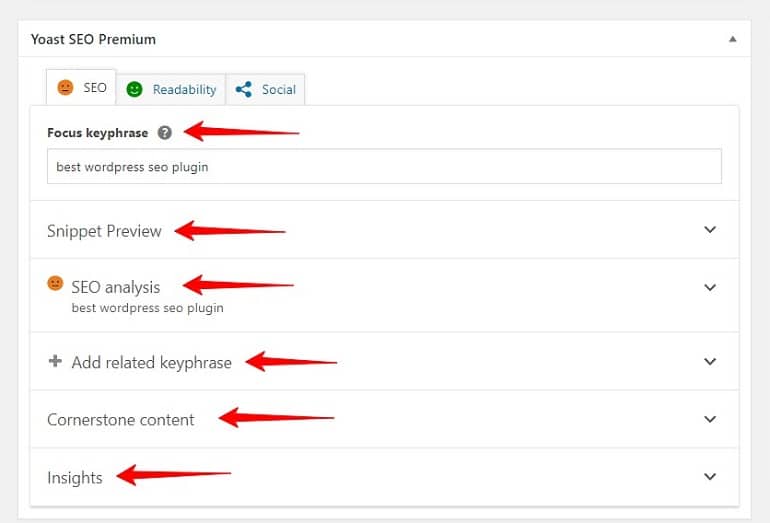 SEO
The SEO section contains six major sub-sections. Focus keyphrase, Snippet preview, SEO analysis, Add related keyphrase, Cornerstone content, and Insights.
Focus Keyphrase
The focus keyword, or keyphrase, is the main keyword. It is the leading search term for which a post, page, or website will rank in the SERPs.
Yoast SEO offers a custom input field to insert a keyword. The plugin evaluates the page content. It provides feedback on how to improve the content for that focus keyphrase.
Snippet Preview
The snippet preview visually imitates how title and description will look in SERPs. The plugin will automatically take title and description from the content if there's none. Additionally, the orange and green color will display the progress bar.
SEO Analysis
By far the best feature of Yoast SEO. The plugin takes reference to the focus keyword and keyphrase synonyms to make suggestions. The suggestions are categorized as Problems, Improvements, and Good Results.
Exactly next to a suggestion, there's an eye icon. It highlights specific results in the content — for example, keyword density and distribution.
Add Related Keyphrase
A place where user can insert other variations of keywords. Click the plus sign to keep adding different keywords.
Cornerstone Content
Users can mark the most critical and extensive post as cornerstone content. These content are high value and serve as important content on a website.
Insights
It is a next-level SEO function from Yoast. It tells about the words and words combination that occurs the most in content. This way, the user can make out where his/her content is heading.
Readability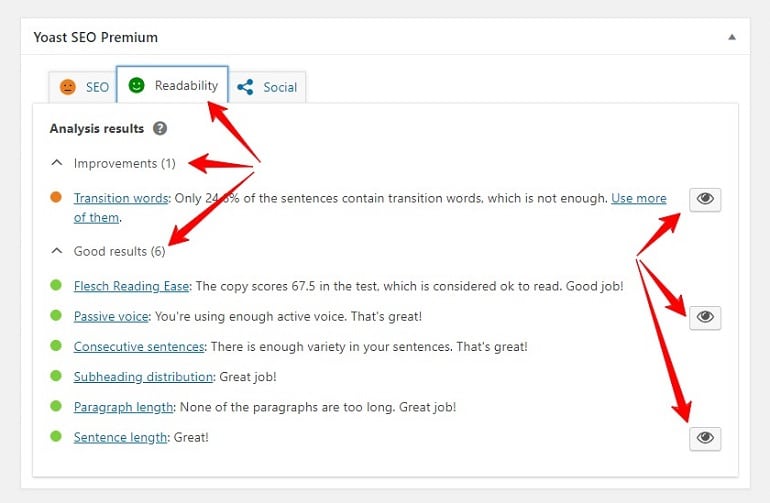 The readability analysis results show problems and its improvements. The Yoast SEO reads the content and tells what one needs to do. Moreover, it also appreciates good work.
This way, users can follow the intelligent auto-suggestions of the plugin and scale their SEO game.
As shown above, the readability section has eye icons too. Users can highlight potential errors and fix them instantly.
Social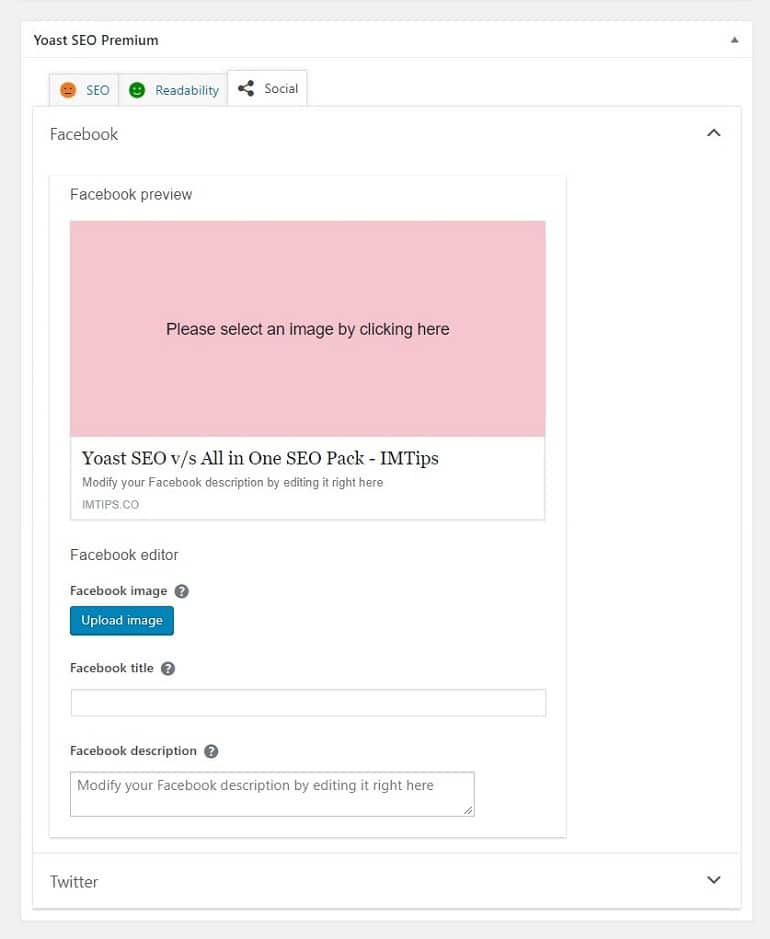 Yoast SEO plugin offers Facebook and Twitter integration. It means one can share content directly on Facebook and Twitter using a custom title, description, and image. With this feature, the user doesn't need to worry about their initial social media post sharing.
All-in-One SEO Pack
There are two tabs viz – main and social settings in the All in One SEO Pack plugin. I am unable to see anything more than this in the first place.
The social setting tab is active once we activate the social sharing functions from the feature manager. I will talk about the feature manager in a while.
In the meantime, let's see review the meta descriptions options in All in One SEO Pack.
Main Settings
The meta tag toolbox of All in One SEO Pack is plain and simplistic. Enter the title and description, and the job is done. It doesn't provide any kind of content analysis like Yoast SEO.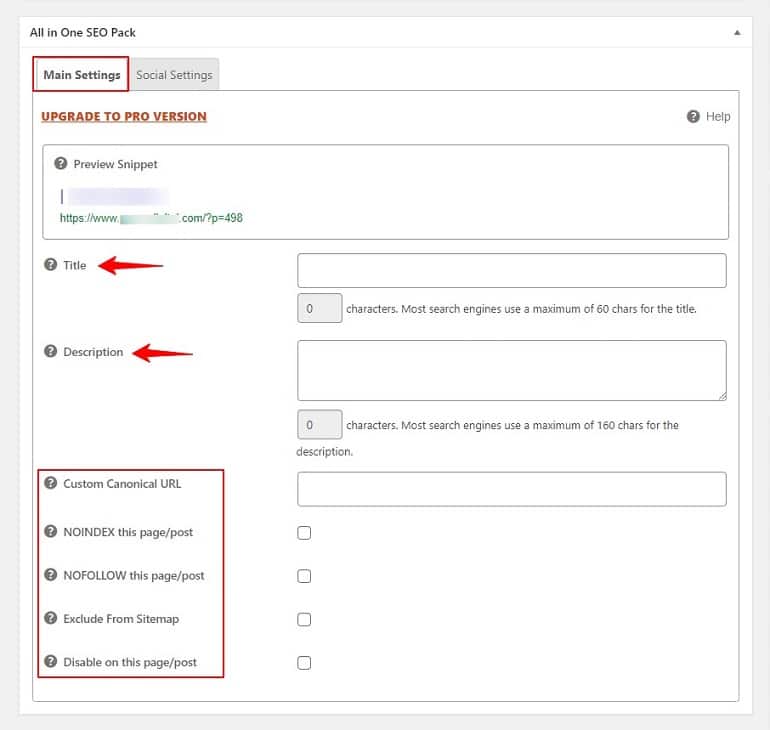 Users can insert custom canonical URL and set NOFOLLOW and NOINDEX options at the page or post level.
Doing this one can control indexing and search engine following on page/post level itself. A step further, user can altogether disable SEO for that page or post with a single click.
In short, All in One SEO Pack doesn't offer real-time analysis or SEO scoring like Yoast SEO plugin.
Social Settings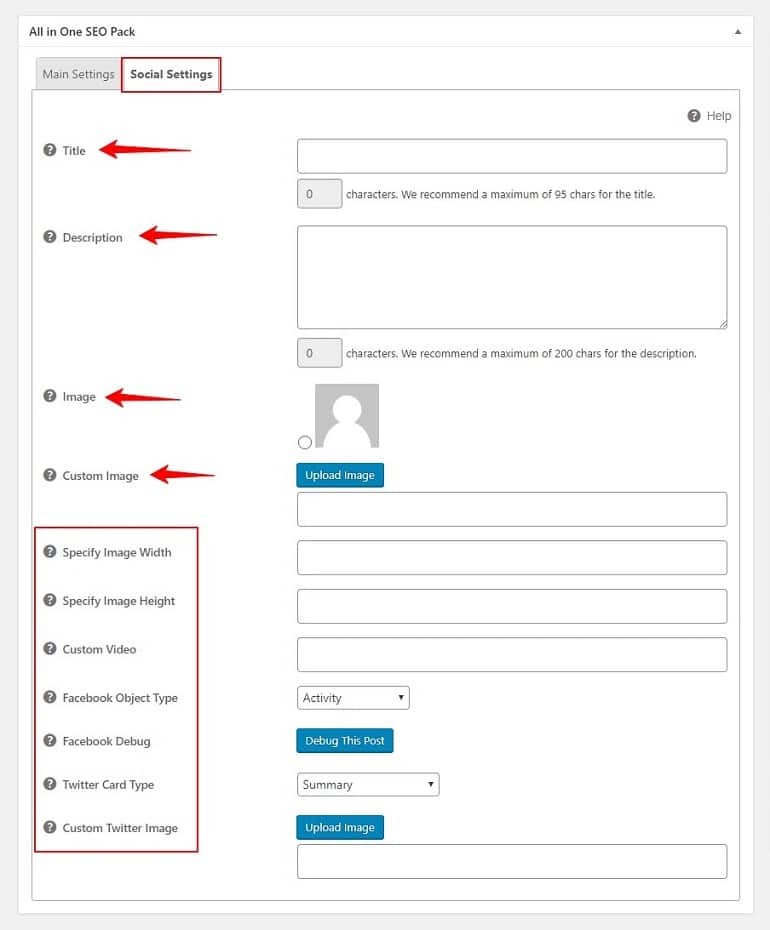 I mentioned in the beginning about activating the social settings using the feature manager. The social settings aren't enabled by default. New users may find it a bit awful.
Users will have to enable the social sharing add-on in the feature manager. The add-on will provide social sharing on page or post level quickly. It's just a matter of allowing provided a user doesn't forget it.
Conclusion
Both plugins offer post or page level SEO settings. The All in One SEO plugin keeps it clean. Besides, users are free to enable or disable features as per their requirements.
On the other hand, Yoast SEO is pretty much straight forward. The plugin has upfront provided all features necessary for page or post level SEO settings. Hence, Yoast easily outruns All in One SEO pack in content analysis, focus keyword, and SEO scoring.
Winner: Yoast SEO
Additional Tools and Features
Search engine optimization is beyond keywords and meta tags. An individual needs other tools and features to accomplish various SEO activities. In short, a full-fledge SEO tool serves all the needs and purpose.
With this in mind, let's see how Yoast SEO and All in One SEO plugin has in store for us.
Yoast SEO
Yoast plugin offers some compelling built-in tools. It makes the whole on-page optimization process a lot easy. Refer the list of tools below:
Meta Tags
XML Sitemaps
Google Search Console
Breadcrumb navigation
Social media integration
Import & export SEO data
Title & description bulk editor
Robots.txt and .htaccess file editor
All in One SEO Pack
Similar to Yoast, the All in One SEO plugin also offers tons of features. Some of them are a default, whereas others need to be activated. Navigate to the feature manager to activate them.
General settings
Performance manager
XML sitemap
Social meta
Robots.txt
File Editor
Importer & exporter
Bad Bot Blocker
Feature manager
Both Yoast and All in One SEO offers similar tools and features. An important point to note about All in One SEO is it doesn't provide breadcrumbs navigation and Google Search Console features.
Conclusion
Yoast SEO approaches a user with "essential feature as default" approach. Meanwhile, All in One SEO provides options to a user. The All in One SEO plugin pretty much allows a user to enable & disable functions according to the requirements.
I guess both of them performs fair enough in the additional tools and features foray.
Winner: It's a Tie
Internal Link Analysis
Internal links are an integral part of search engine optimization. Even the search engine's page rank algorithm gives importance to internal and external links. Apart from all these, interlinking related content serves a great purpose.
Yoast SEO
The Yoast SEO plugin provides an intelligent internal linking tool. The tool offers a list of related articles. Moreover, the list is divided into two sections – a list of cornerstone articles & other articles.
The tool finds related posts for the user. This way, it becomes much easier for a user to generate internal links in a post. Above all, the internal linking tool systematically improves the website structure.
Refer to the image below. The example shows how the internal linking tool works.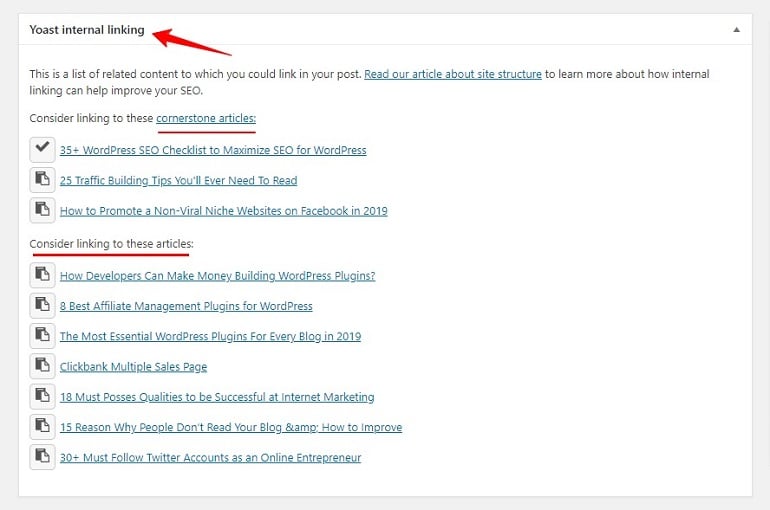 Additionally, the tool is straightforward to use. Click and copy the link. Paste it wherever needed in the post. That's it.
On top of that, Yoast SEO also analysis each article for the number of incoming internal links and the number of outgoing internal links.

All in One SEO Pack
Unfortunately, All in One SEO pack has no internal linking tool. There's no facility wherein a user can refer to a list of links relevant to a topic. As a result, the user will have to make a separate list of links. It will make the internal linking look like a mammoth task.
Conclusion
Yoast wins the internal linking tool section. The quality of the list is although not so accurate. But the tool eliminates the manual work of making a list in the first place.
I believe there's a lot more scope to make this tool work more efficiently. For the time being, I will recommend Yoast internal linking tool.
Winner: Yoast SEO
Price and Premium Support
Pricing is an essential factor while subscribing monthly or annual plans. Besides, it matters the most when it comes to digital tools. Since we know both the WordPress SEO plugin offers near to close features, let's review their price.
Yoast SEO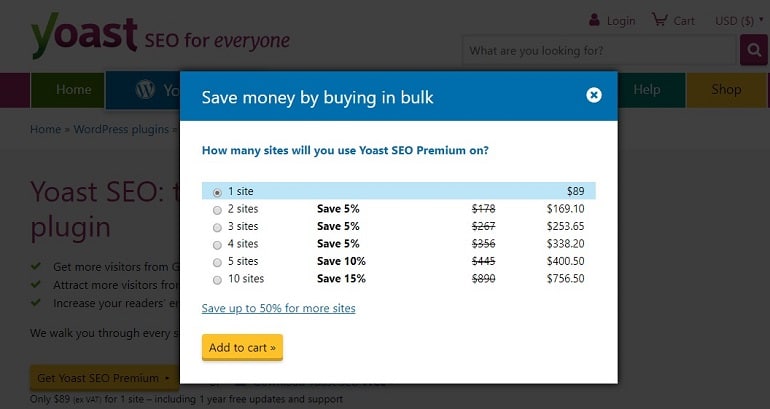 The basic version of Yoast SEO is free forever. However, there's no tech support from the official Yoast team. User will have to deal with the basic version on its own. Further, the functionalities are also limited.
To access all features, one has to opt for Yoast SEO Pro version. For a single website, it will cost $89 (excl VAT). The price goes up for multi-website licenses. For example, ten sites license would cost around $756.50.
Yoast SEO also offers paid ad-on plugins for niche requirements. For example, Video SEO, Local SEO, and News SEO.
All in One SEO Pack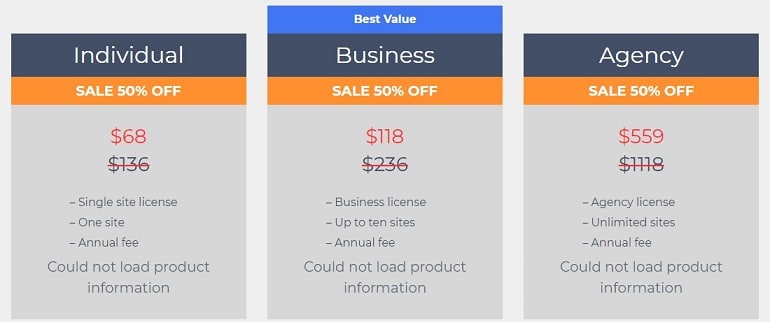 Similar to Yoast, All in One SEO also offers a free version but without tech support. The All in One SEO Pack Pro version is available at $68. It's an annual fee with a single site license. Up to 10 websites, the user will have to pay $118.
An unlimited user pack would cost $559, which is still cheaper than Yoast. Additionally, the Pro version offers one year of professional support.
The All in One SEO Pack Pro Features and Benefits:
Video SEO module
Access to video screencasts
Advanced Support for WooCommerce SEO.
SEO for categories, tags and custom taxonomies
Access to premium support forums and knowledge center
Conclusion
Yoast SEO is expensive when compared to All in One SEO. Single site license of All in One SEO ($68) is cheaper. Furthermore, the unlimited license pack of All in One SEO is also less expensive.
Yoast charges $756.50 for ten site user license whereas All in One SEO offers unlimited usage for only $559. Hence, All in One SEO easily defeats Yoast in terms of price.
Winner: All in One SEO Pack
Final Verdict
Yoast SEO and All in One SEO are both result-oriented. There's no doubt that both are a great SEO plugin in their capacity. Hence, their comparison is very close.
I use Yoast SEO premium for all my blog, email, and other content work. Believe me, if I say – Yoast is the best WordPress SEO plugin. There are plugins cheaper in price, and then there are plugins rich in features. Yoast SEO falls under the later one.
What I love about Yoast is the level of content analysis and SEO scoring. It helps me understand how shall I write my titles, description, content more effectively. Besides, the in-depth keyword analysis of Yoast is spellbound.
Yoast makes SEO look fun and easy. If you are new to SEO, install Yoast, and keep following its auto instruction. You will eventually become a Pro in search engine optimization expert.
The final verdict for me is Yoast SEO is the best WordPress SEO plugin.