12 genuine online business ideas for women who aspire to work from home. Stories of other women entrepreneurs to take an inspiration from.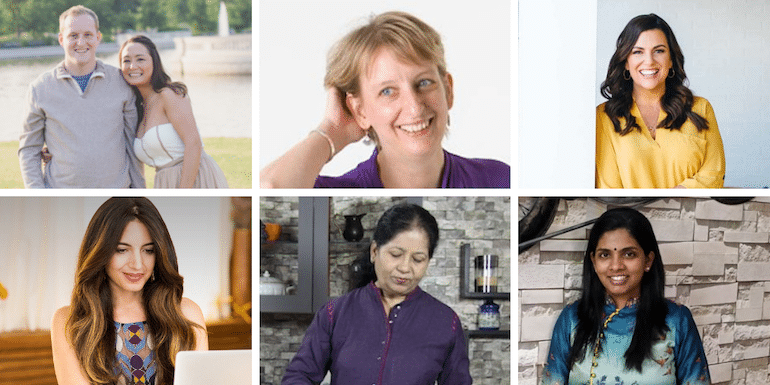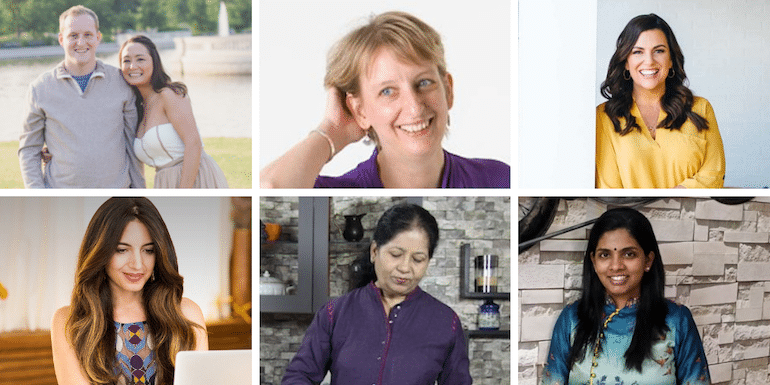 Online business ideas are enticing. More so for a woman who is a home-maker, want to be with kids as a parent or is looking for a part-time opportunity online.
Whatever be the reason; online business gives the freedom and the flexibility one needs.
Is there any catch when it has so much of freedom and flexibility?
The answer is NO.
But, what is essential is finding a profitable home based online business idea that matches the skills, strengths, and schedule. Trying to mimic others may not help. Take inspiration but don't copy.
I come across lots of examples daily where people give up on blogging, selling, or consulting business.
Don't rush to start it, but once you start, have an attitude of whatever it takes rather than just doing it for the sake of doing it.
So here is the list of Online Business Ideas for Women
1. Blogging
I know it is quite dull and boring, but every list of business ideas online has to start with blogging for sure. More so for women, because they are more social than men for sure. So with the minimum effort, they can find readers which in turn can mean a sustainable stream of passive income.
One doesn't need to be a WordPress guru to set up a website.
With a few hours dedicated to blogging on the topic of her choice can be enough.
Hence, blogging will help you gain expertise on a topic. The key to successful blogging is consistency.
Example
Michelle Schroeder-Gardner of blog Making Sense of Cents is the best example of a successful online female blogger. A blog that was started to pay away her student loan is now making millions every year for her.
2. Online Coaching
Select a niche closely related to your skill level and expertize and start coaching online.
Some common niches for online coaching are business, career, fitness, life coaching, parenting, sports, etc. Choose the one that aligns with your interest. Here is the step by step process to find the right niche.
One can start personal coaching sessions over the phone, email, video call, or skype. Additionally, conduct group sessions, webinars, podcast, eCourses, youtube video tutorials, and seminars using favorite social media channels.
Example
There can't be a better example than Marie Forleo. She is an excellent blogger.  I am an avid viewer of her videos and has seen some users who share how Marie has made an impact in their life.
3. Content Writing
If you are hesitant to start a blog, and if writing is your passion or at the very least enjoy it, there is no harm in writing for others.
Content writing may include a wide range of area proof-reading content, home and about page content, newsletters, e-books, video transcripts, white papers, case studies, advertising copy, resume writing, brochures, website content, and training manuals, etc.
Content writing is among the most outsourcing job.
Example
Henneke – She is a remarkable storyteller who can engage readers just with her images. There are very few bloggers as good as her when it comes to engaging readers with words.
4. Digital Marketing Consultant
Offering digital marketing services is an option for work from home women.
Marketing services can include managing social media accounts, interacting on social media platforms, managing advertisements on Google, Facebook, or any other social media platforms, etc.
Marketing isn't only about managing social media account or creating ads. It can include a wide range of services, including a complete marketing strategy for an online business.
Example
Amy Porterfield is a pro-Facebook and social media marketing expert. Instead of a broad digital spectrum, Amy focuses mainly on Facebook, along with building an email list with webinars.
5. YouTube Videos
People watch youtube videos for entertainment, knowledge, learning new stuff, gain information, academics, and much more.
Women can start cooking channel, dance videos, makeup tutorials, beauty tips, fashion design, or DIY videos.
All one needs is a phone to record and some knowledge of the topic along with a keen interest in the subject.
Example
Nisha Madhulika, a famous YouTube chef with millions of subscribers, has about 18M views per month on her cooking and recipe channel can be a good inspiration.
6. eCommerce Seller
There is a market for everything. Moreover, it is very straightforward to start selling anything online.
Here is my step by step guide to register as a seller on Amazon India.
The easiest way to kick start online selling business from home is via eCommerce platforms. These platforms provide an ecosystem to help sellers reach potential buyers without any hassle.
Example
Shanmuga Priya, a Chennai-based woman, earns million by selling sarees on Whatsapp. In three years Priya has managed to sell sarees worth Rs. 2.5 crore. It is not only a great achievement but an inspiration.
7. Virtual Assistant
A virtual assistance job is a mixed bag of various task. It is the best thing in the gourmet of winning extra bucks from home. Excellent communication skills and professional hands-on internet can qualify anyone for a virtual assistant job.
On the other hand, it depends on what kind of task an individual or a company is planning to outsource. The number of services a VA can offer is endless!
For instance, tasks like answering phone calls, email correspondence, making appointments, editing, writing, bookkeeping, and social media management, to name a few.
Example
The freelancing sites will provide you with an option to be a virtual assistant. Upwork will be my preferred choice. Get an Upwork Profile Approved and start sending professional proposals.
7a. Affiliate Marketing
I have not considered affiliate marketing as a completely independent option. It is more a part of any of the above business idea to help make more money.
Affiliate marketing is selling products of others for a commission, but one needs a medium like a blog, YouTube Channel, Social media followers, etc. to make sales.
The best part of Affiliate marketing is, it takes out the pain of creating and managing your products.
To get started with Affiliate marketing, try Amazon India Associate Program. The registration is simple, and you will be up and running in no time.
Specialized Services
All the above ideas we discuss to starting an online business for women are more general. What I mean is, the expertise can help select the niche and implement those ideas.
Some specialized ideas require specific types of skills. So let me also share those online business ideas that women can consider when working from home.
8. Accounting & Bookkeeping Services
If you know accounting and bookkeeping, consider providing it as a part-time service to small businesses, co-operative societies, and charitable trusts in your locality.
All one need is necessary math skills, knowledge about the accounting software, and little understanding of income and expenses.
However, the caveat is to provide accounting services from home; the software has to have an online interface.
9. Selling Images & Video Clips
Ladies have a passion for selfies and clicking images. At least that is the case at my house.
If you are one of those who have a passion for clicking images, consider uploading them to marketplaces to sell photos online.
Moreover, one can create stock images by making animation videos, vector graphics, and illustrations.
10. Graphic Designer
Every website needs good graphics. So creative graphic designers will always be in demand.
Graphics for websites and promotional materials are always in demand.
Moreover, social media platforms require high-quality images to post or promote even textual content.
So if you are creative with design work and know graphics designing or even are willing to learn, it is a great business idea for work from home women.
There are online graphic design tools like Canva to get you started as well.
11. Web or App Development
Programming is a high pay skill for anyone who wants to consider working from home. And there are many specific specializations under the web development basket.
One can be a PHP programmer or can nail down further and consider only WordPress or any PHP Frameworks.
Similar is the case with App development. One can specialize in Android only or iOS only specific type of apps.
The options are endless.
12. Service Provider at UrbanClap
UrbanClap is a marketplace for service provider outside of the technical and computer-centric work from home services.
Some of the services offered by UrbanClap include
Yoga / Fitness Trainer
Salon at home for women
Massages and Spa treatment at home
So all one needs to be doing is register as a service provider to provide services in a given time-slot you are comfortable working.
The best part is, there are zero ongoing costs like rent, utilities, and maintenance to start such businesses.
Conclusion
We have discussed almost every possible home based online business ideas for women to begin a successful business without any significant capital investment.
These ideas will not only help her earn good money but also provide a flexible schedule.