Affiliate marketing is an easier method to make money online by earning a commission for referring a product or services to others.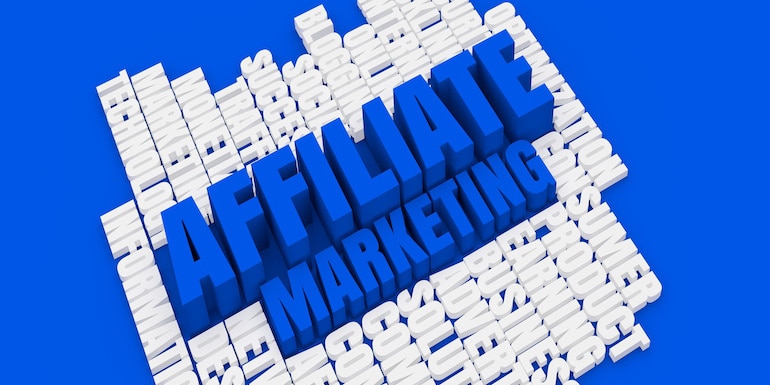 Affiliate Marketing is one of the easiest ways to make money provided done in the right direction. The reason I term it as most comfortable because of multiple reasons.
One of the significant reasons is – it allows you to focus on making sales and generating profit instead of focusing on building products from scratch and testing what works and whatnot.
What is Affiliate Marketing?
Affiliate marketing is a business model based on commission. The one who does is called an affiliate. An affiliate earns a percentage of the total sale as a commission by marketing an individual or company's products.
While selling online, a seller has to have customer support, but as an affiliate, you do not need to hire people for help and support for the product you are promoting.
On the contrary, an affiliate is immune to every single process related to products like manufacturing, storage, warehousing, packaging, delivery, or even product returns. There's no such concept in affiliate marketing.
It makes affiliate marketing one of the few ways to make money where you get the benefit of passive income i.e., income without much of an ongoing effort from your end.
Understand Affiliate Marketing with an Example
Assume there's a Watch Manufacturer. We call him W. He has an established offline business where he produces world-class watches.
To sell those watches, he has employed a chain of retail outlets and service centers. Now W decides to expand his business and decides to go online.
As expected, W now consults an outsourcing company for his online presence. It is where a second character comes into the scenario. Let us call this company as O.
Company O offers affordable design solutions to sell watches by creating an online store to which W happily agrees.
Now W has an online presence as per his requirement. However, to his surprise, he does not see any sale coming from his online store. Hence, W decides to get started with online marketing efforts for his store.
W again visits some outsourcing company for his online marketing needs to kick start some sales.  For simplicity, we will use the same outsourcing company, O.
Online Marketing Strategy
To start with W's store marketing to generate sales, O uses CPC and CPM models. It is where we have a new player in the scenario with companies like Google Adwords and other CPM networks. Let's call it G.
With time W realizes that online is no different from his traditional brick and mortar store. So he thinks, why not we allow people to resale our watches. Hence, he devises a new channel to sell his watches online.
W Appoints Affiliates to Resell
W starts a profit-sharing system where he shares a percentage of profit with his resellers, and this way, affiliate marketers like me and you come into the scenario.
Now W starts selling his watches using an online reselling model by appointing affiliate platforms like CJ and ShareASale. Let us call them A.
This way, W's products reach millions of affiliate marketers. W's idea is plain and straightforward – Sell more to Earn More.
As a result, these affiliates start reselling W's watches putting in their efforts to earn a huge commission. This way W's sale starts rolling and gets more significant with time.
What Affiliate Marketers do?
As seen above, W's profit-sharing model got his sales figure rolling. All thanks to the affiliates, but the point is – How did affiliates manage to do this?
What's the method? Where did they start? And What techniques did they execute? Let's understand the process in 4 simple steps.
Step 1: Keyword Research
The first step in marketing any type of online business should always be solid research, and affiliate marketing is no different. There's a small twist here.
The research that is to be done is not about the product being sold. It's actually about understanding the potential customer, the audience whom one has to resell the products.
Some affiliate marketers go one step further. They research what kind of offers, discounts, or new products can be bundled up with the main product. This way, they develop different ideas to push the sale of the main product.
Step 2: Register Keyword Rich Domain (or URL)
After the initial research, affiliates get to know the behavior of a buyer. They get to know what people may look for when buying W's products.
Hence, the next step is to register a killer domain name with a targetted keyword in it for an affiliate website or blog. This domain name will form the base of all online efforts.
One can start building an affiliate website/blog in no time. It doesn't require a lot of technical knowledge. Just follow the step-by-step process and see your affiliate website taking shape in front of your eyes. Click the above link to get started.
Moreover, better research means more ideas for a keyword-rich domain. The reason being, keywords are search terms used by buyers to find desired products.
Additionally, a domain name with a rich keyword makes the affiliate website or blog memorable. Buyers can quickly memorize and identify when they come across such affiliate sites or blogs.
Why Use Short Domain Names?
As a general rule of thumb, a domain name must be no longer than 16 characters. Take biztips.co as an example. It's short, easy to remember, looks professional, and I can spell it over a phone call to someone.
Step 3: Write a Killer Review (or a sales pitch)
After completing the tech stuff of getting a domain and hosting, the next step is to write reliable product reviews. So, what do I mean when I say authentic product reviews?
How I Did It?
On November 14, 2018, I posted an article wherein I wrote a detailed review of a popular lead generation tool called OptinMonster.
It helps to deploy different types of forms on a website or blog to grow email subscribers fast. It's a multiuser digital product, a software allowing users to create, edit & manage different forms on their websites/blogs.
The title of the article is OptinMonster – Why It's The Best Lead Generation Tool Ever?
What I did was, compiled a list of features & benefits this tool offers. Wrote a detailed might be more than 2000 words content, including images.
This way, I reviewed a popular lead generation tool in my own words integrating all those experiences I had with it.
As I have OptinMonster's affiliate account, hence I provided my affiliate links in the article. I can say that I have included everything that a trustworthy product review article aspires to have in it.
The same goes for writing consumer goods review sold on Amazon, Flipkart, or any other marketplaces.
What's the Motive in Writing Killer Review?
The motive is to earn an affiliate commission. The crux of the whole story is receiving huge payouts from the vendors whose products you are trying to resell.
It must be an in-depth, resourceful, and honest one. I do not write about every XYZ things I come across. I only write & recommend products I use.
The real motive of a trustworthy review suffices when a buyer is intending to buy a product but hasn't bought yet. He/she triggers a product review search and lands on your affiliate product page.
Here the buyer gets to know all the pros and cons of the product in detail. Your review helps him/her to make a wise decision – to buy or not to buy!
Final Step: Marketing
Now that everything is in place right from a domain name to killer reviews, the final step is marketing. An affiliate makes people visit the site and drive sales using various marketing tools & resources.
The expertise of an affiliate decides what he does next. If he is comfortable with organic SEO, he may work on building links to the site and rank well in Google organic search results for the keywords.
If he/she is more into PPC, then he/she may throw in some bucks to G and work on creating an arbitrage. Some Affiliates may do both.
The good news is the ongoing marketing efforts reduce drastically over time, and passive income starts trickling in.
Now let us analyze the complete example as to who makes what and how much.
The Watchmaker – W
W holds the entire business of making the watches/distributing, selling, providing support and service. He makes tons of money, but the money also comes at the price of setting up the business.
He has a million-dollar investment for not only manufacturing but also stores in an offline format. W makes a profit, depending on the quality of products.
Outsourcing Company – O
The outsourcing company does an excellent job of creating an online presence for W. They make money doing web design & development.
Along with it, they may also get a continuous flow of money in the form of monthly maintenance jobs. The better outsourcing company works, the lesser chances are of getting a maintenance job. However, companies like O can capitalize on repeat and/or referral work.
PPC Provider – G
G being a PPC provider yet again like W, manages an extensive system. Users come, advertise their products and service, generates a bill, and make payment.
Moreover, G provides a system to monitor click fraud and mechanisms to prevent scams from keeping advertisers happy. This way, G makes a lot of money but needs an extensive system to keep it operational and functional.
Affiliate Network – A
Here A represents an affiliate network. It has a system for affiliates and advertisers to work in a friendly environment similar to G.
Furthermore, A being an affiliate network handles all the hassles of moving the money from the advertisers to the affiliates.
Apart from a robust tracking mechanism to track affiliate link clicks, they also need a constant support system to help publishers and advertisers with their queries and questions.
We the Affiliate Marketers – M
M represents me, you, and every affiliate marketers altogether. We research about what could work for W's product. For that, we set up a system where W's product is sold via our reseller account and get paid for it.
To help us further, we have impressive stats and tracking systems upfront, which can help us build the arbitrage model.
The Bottom Line
When you look closely at the above scenario, you will see the easiest money is made by M, who does the right research to drive sales.
M doesn't manufacture nor does anything related to the product. Still, M earns a handsome amount, merely pushing the product to the right buyer.
Not only we conclude but also prove that if affiliate marketing is done in the right way, it is a more comfortable choice to make money online.