How to grow your Upwork account to $100k earnings. No special tricks but a mindset shift needed to make it to that mark.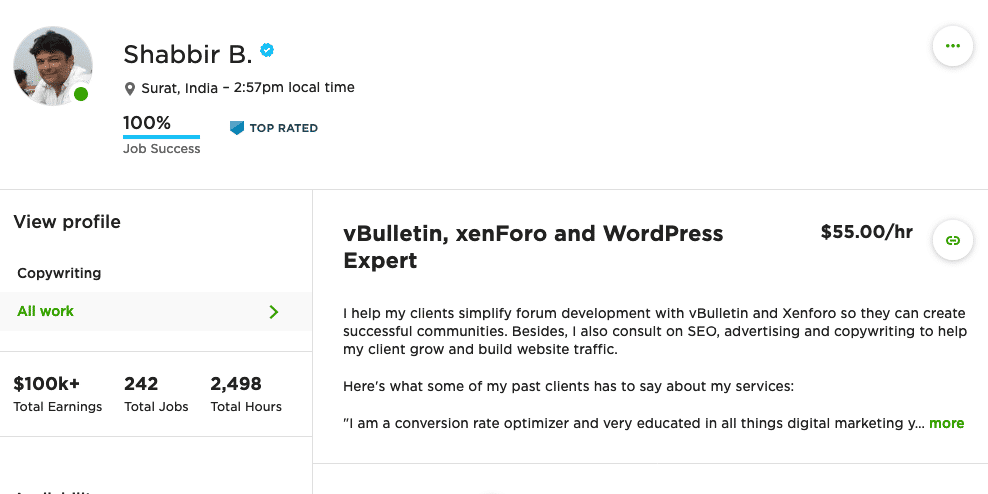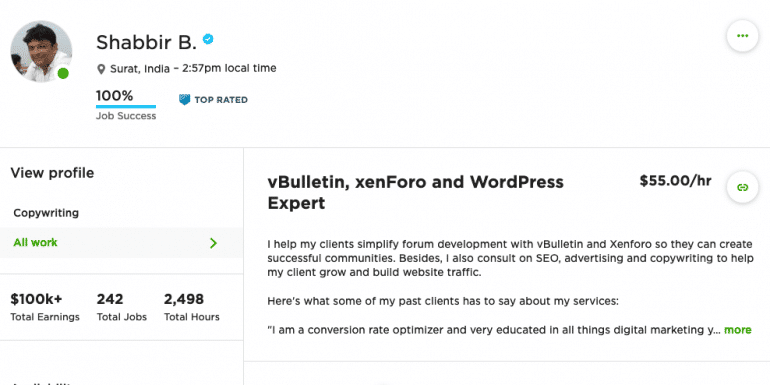 As a freelancer, I am sure you want to grow your Upwork account to more than $100k in earnings? Let me share with you how I manage to grow my upwork account.
And I know there will be bloggers who would say it doesn't matter.
I'm afraid I have to disagree with them, and I will say it does matter.
The reason I say it matters is that people who are working for $5 and $10 per hour will need to put in a hell of a lot of more effort to make it to the $100k mark than those who are working at $50 and $100 per hour rate.
So if you want to grow your Upwork account to $100k in earnings, you need the vision to get to the niche of work that can help you get better rates than to work like a machine.
I believe it matters to have the vision to grow your Upwork account and work like a boss than to work for peanuts. So if you believe what I believe in, let's embark on developing your Upwork account.
Willing to Adapt and Learn
The first and the most crucial aspect of a freelancer who wants to grow his or her Upwork account exponentially should be willing to adapt and learn as they grow.
It is a bare minimum that anyone should be willing to do.
Often we assume we are willing to adapt and learn, but you aren't getting the opportunity.
Life doesn't give you an opportunity; you have to grab them.
Similarly, freelancing will not give you an opportunity. You will have to grab them actively.
Let me give you an example to help you understand what I mean when I say you have to grab them.
As a PHP developer doing freelancing for clients, do you think I was presented with an opportunity to work in vBulletin or XenForo?
The answer is NO.
I was willing to work on different things. I tried phpBB before vBulletin or discourse and Xenforo.
Over time, I have settled on a few choices that worked for me.
The same applies to freelancing sites like Upwork. I did work on so many sites before Elance, and they don't even exist now.
On the Internet and more so in the field of technology, you should be willing to adapt to the new normal often.
I can share examples like starting a forum or starting this BizTips blog or starting TastedRecipes, a recipe blog or starting a YouTube food and recipe channel, writing a book on investment, and the list can go and on and on.
What Got You Here Won't Get You There
Yes, it is the book's title by Marshall Goldsmith, and I recommend you read the book, but more importantly, you should understand the title.
You have reached a particular stage in life and career. If you keep doing the same thing, you will continue to get the same results.
So if you want to leap forward, you have to do either do different things or do things differently.
If you have grown your Upwork account from $0 to $1000, that is a great start, and you should continue doing the same, and it will surely get you to $10k. However, at the same speed, it can take a very long time to reach a point of $100k.
So if you wish to get to the $100k faster, you have to do something different.
The path from 10k to 100k will vary from person to person. Some may have to get premium clients; others may have to build a team.
Whatever it is, the path will be different.
You have a limited time of 24 hours in a day, and you can't work for 16 hours a day in and day out to reach the 100k mark as you did for 10k.
The path will be different, and you don't need to stop the first path and move over to the other. However, you should know that you will have to take a different approach in the back of your mind. So when the opportunity comes, you are up for it.
Don't be Penny Wise and Pound Foolish.
I have seen many new freelancers are too worried about the fees that Upwork charges. They are horrified that Upwork fees are 20% for the first $500 payment from the client to a service provider.
I agree it is a touch on the higher side, but after the initial $500, from $501 to $10k, it is 10%.
Now considering PayPal has a fee of close to 5%, it may sound very high, but then forex rates in PayPal are meager, making the actual fees paid to be very close to 10% itself.
So when you are paying the same fees as Upwork in PayPal, why do you want to make your earnings private?
I don't see a reason. Still, many freelancers only see the fees part of the earnings and not the bigger picture of growing the PayPal account.
To date, I don't remember telling any of my Upwork clients to pay me in PayPal. On Skype chat, if a client asks me for PayPal, I do accept payment from them. However, I don't insist them to pay me via PayPal or Payoneer for that matter.
I have been getting more money in my Payoneer account than in Upwork, but my client prefers paying in Payoneer.
If you want to grow your Upwork account, you have to look at the bigger picture of asking clients to pay in Upwork and not worry too much about the fees.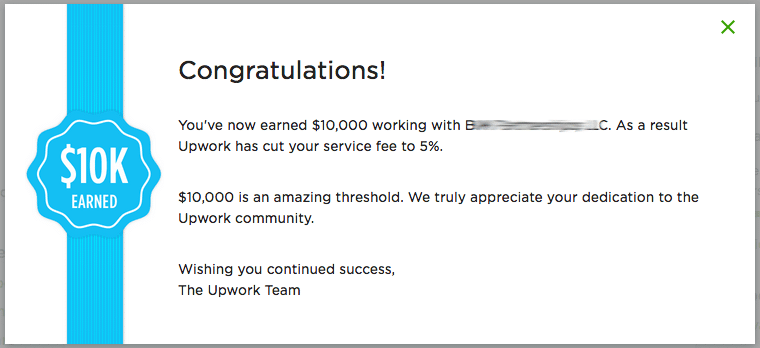 As the payment from a single client will increase, the Upwork fees will equal the PayPal fees, and then you will make more money than PayPal due to better forex rates of Upwork.
The Right Way to Build Your Profile
Upwork profile is not only a way to start your freelancing career but a gateway to building a sustainable income from freelancing.
So you have to follow a process to structure your profile like a pro.
Every element in the Upwork profile has to be crafted. Here are some of the articles that you should go through first.
However, when it comes to building your Upwork profile, please find the best guy in the niche you want to be working like and try to mimic their profile.
Don't get me wrong; I am not saying copy and paste.
What I am saying is to build a profile like them.
If you want to be a writer, you should be building a profile like the best writer on Upwork how he has written the profile overview. What all information he has included in the profile. How he has crafted his summary or tagline.
Build your profile from the person who has an hourly rate of $500 Per Hour. Not from the person who has been working for peanuts.
I know it may sound too basic to read, but the fact is no one does it that way.
I will share with you a simple example. Search for profiles on Upwork, and you will find multiple expertise in the tagline. Now see the tagline of the pro. It will be one expertise.
For example, you will find a "WordPress Plugin Development expert" like a pro's tagline. However, the newbie will write "WordPress theme and Plugin Developer". The clients who are willing to pay more and want a good quality plugin will hire the specific niche expert.
Write Proposals like a Pro
Your first impression should have a lasting impression on the client's memory.
The profile isn't the first impression on clients. It is the proposal that can make the client visit your profile and check out more about you.
So if you aren't writing a proposal as it should be, chances are your proposal is a way to waste Upwork connects and nothing more.
Let me share with you an example.
Suppose you email Google or Apple or Amazon's customer care and get an automated reply. Do you open the email and read it thoroughly?
I doubt.
Similarly, if clients share a specific requirement and only reply with a general proposal, the proposal's fate will be the same as the automated email you got.
So if you want your proposal to be read by clients and hire you, you should be able to write proposals that address the client-specific problem in a way that gives the client the confidence you can do the job. There is no rocket-science in it, and one can do it with minimal efforts when using a proposal template.
Finally
If you wish to get your Upwork account growing, you have to change the way you approach Upwork.
There is a clear difference between those who are super successful on Upwork and those who are barely able to make ends meet. The choice is yours. Who you want to follow.