The most common of the Upwork Profile Mistakes but more importantly How To Fix each of them so you can craft an awesome Upwork profile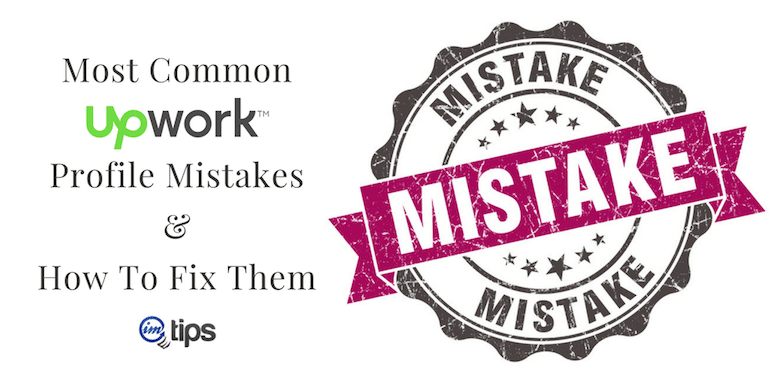 An incomplete Upwork profile is a crime but then having your Upwork profile just reach that 100% complete mark isn't the point either. So, let's discuss what are some of the most common mistakes new freelancers make when creating their profile on Upwork.
Social media has habituated us to complete the profile in bits and pieces. We add education details as for when Facebook or LinkedIn asks for but the same approach will not work on sites like Upwork.
You have to Upwork profile as equivalent to writing your resume. So take the time out to complete your Upwork profile. If you don't give them time and love your Upwork profile deserves, there are high chances that you may not see much success on Upwork.
Here are some of the common mistakes among new freelancers when crafting their Upwork profile and surely they leak clients big time.
1. Showing Too Many Expertise
The most common of the mistake in an Upwork profile is too fit in all expertise under the same general profile.
Less is more. If you tend to show too many experts, you often end up showing none. This small article by Seth Godin says it all – say one thing at a time.

In the above example, SQL is no way related to the testing but just because there is an option to select 10, freelancer adds it. As you grow your expertise, 10 may be too few but if you are just starting, there is no harm in having less than 10.
Moreover, you have an option to create specialized profiles with niche expertise. So why put everything into the general profile and overcrowd it.
2. Filling Up the Title Textbox
The title option isn't given to fill it up with anything. It is the next common of the Upwork profile mistakes new freelancers make.
In the above profile, you can see that the title has been filled with everything that he can do rather than what he is good at.
If you aren't sure of what expertise you should be writing, search for a profile who wins jobs that you want to be doing. See what his or her title is. Copy it or if it isn't your expertise, rewrite it to your expertise keeping his title in the back of your mind.
3. Wrongly Written Overview
An overview is the most important part of your Upwork profile and I see most of the new freelancer gets this completely wrong. The overview should be written from a client's point of view where one should share benefits that the client gets when they hire you and not what you offer.
What you offer are features but what client gets are benefits. Let me show this with a very common example:
I have more than 7 years of web development experience.
If you turn the table and put this from the point of view of the client, it should be
Rest assured your website is with good developer who has 7 years of web development experience.
The first one speaks about what you offer as a freelancer but the second one focuses on what the client may get the benefit.
The overview should be short but it should be a niche focus with relevant keywords.

In my overview, you will see I have XenForo and vBulletin the CMS I work for my clients and focus on my niche of forum development instead of writing more generic as web development or PHP development.
Also read:
How to craft a perfect Upwork profile overview. What are the 5 key elements one should include in the overview section of Upwork profile?
4. Individual Freelancer Writing as "We"
The right grammar is very important and you should always have Grammarly Installed in your browser so you can do a quick fix of the grammar errors. Moreover, it will also help you weed out any grammatical errors you may have when crafting a proposal.
Grammarly can't correct the semantic error in your writing though.
If you have an individual profile on Upwork, you should never write as we. It breaches the trust of potential clients and may create a wrong first impression about you. A difficult person to trust will have a hard time getting clients.
Even if you are getting the job done by a team or if you are working as a team behind the scene, you should address clients with an I and not we.
If you want to be doing as we, convert your profile into an agency profile.
5. Missing Keywords
Clients do look for freelancers to invite them to their projects. So, if you don't use the keywords in your Skills or in profile overview, clients will not be able to find you.
Try to be more niche in your keywords because remember it is better to rank higher for one keyword than to rank lower for many keywords.
Final Thoughts
When you are new, the profile should focus on your ability to get the project done and when you are an experienced freelancer, it should show your awesomeness at what you are doing.
Also read:
While getting the profile completed is crucial, the quality of profile is more important. So a complete profile does not only mean hitting 100% completion mark