I can stop freelancing and focus on blogging, equity investment, or consultation. Here are 7 reasons why I don't want to quit freelancing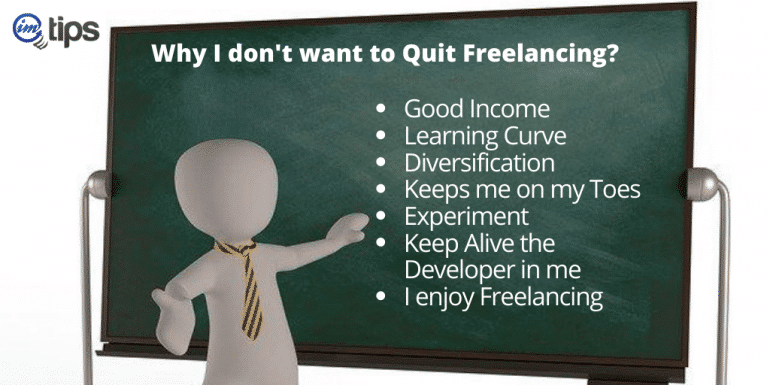 I can focus on my many other alternative sources of income, like income from blogging, income from rent, sales from the self-published book, dividends for investment in markets, or even consultation. Still, I don't like to nor want to quit freelancing.
And I will share with you why I want to continue to focus on being an individual freelancing, but before I share my views, please understand that depending on whom you are reading, you can be influenced as to you should quit freelancing or shouldn't.
As an example, if you read James Bedford on why he gave up on freelancing to become an employee or Tiffiny Costello as to why she quit her dream of freelancing and return to a 9-6 job or even on Quora threads like this one by Maulee Desai on why she accepted the offer of an employer.
And the list is endless.
On the contrary, there are bloggers like me who prefer to continue freelancing and don't want to move on to anything else from freelancing.
I am not commenting on if either one is right or wrong. What I want to share is, there are two aspects of every coin, and both are a viable choice of option.
I think people like James Bedford, Tiffiny Costello, Maulee Desai, or any other individual if they try freelancing is the whole point of my blog as well. If you try freelancing for a couple of years doesn't mean you lose your degree or ability to crack an interview. You can always get back to a job and that too, without hampering your resume.
Freelancing is not for everybody because it has a lot of disadvantages – for some evolving technologies may not work, and for others, it may be team-work.
The point is, start a freelancing journey, and you have the choice to be an employee again.
Why don't I Want to Quit freelancing?
So now, when I have other sources of income that I can live by, still, let me share why I don't like to nor want to quit freelancing.
1. Good Income
At my current hourly rate working for 15 to 20 hour's a week means $2000 a month. It is far better than what many Indian CEOs of monthly take-home salary.
So it helps me earn a little extra with very some of my time engagement. So freelancing for me is a very lucrative source of income.
When I take up only a few projects and clients every month, I can always quote better rates, and clients are more than willing to pay me for my experience and expertise as well.
Now when you start as a freelancer, it is not that easy, and I never say freelancing is easy. However, what I always insist on is it is worth the pain initially.
2. Learning Curve
As a developer, I charge a decent hourly rate. It not only helps me make good money, but the more important aspect is I work with serious businesses and clients.
So it helps me interact with successful site owners to learn many aspects to build and grow an online business.
Things they are doing and how it is working for them or even what works for them.
As an example, when interacting with a client who has a very active bodybuilding community.
So  I learned a lot about closed communities and how to make them active and interactive. What happens when members fight and how to deal with such a scenario.
On top of that, many clients have websites in many technologies. Often clients want me to take up their other sites as well. It helps me learn new technology. One such new technology I learned is the Phalcon PHP framework.
3. Diversification
Having more than one source of income always helps. In the digital world, you never know when you can be hit by a technology disruptor or as a blogger when you will be on the wrong side of a significant Google algorithm update.
Forums were a significant source of income for me, but traffic went down considerably in the Penguin and Panda update era. Freelancing then became my primary source of income and, to an extent, blogging.
Similarly, Elance merged with Upwork. Many fellow freelancers had issues getting new clients from Upwork.
Such overnight changes are part and parcel of the online world. You should have more than one revenue stream to deal with such uncertain times.
Freelancing is one such alternative revenue stream for me.
4. Keeps me on my Toes
As a blogger working only for my blog can make things very unidimensional.
Working for clients, you have deliverables and deadlines to meet, which creates a sense of urgency and rush of adrenal to meet deadlines.
Some client's work is tedious as well. However,  I can outsource an annoying part of any project, which is often the design part for me.
Freelancing for a decade, I am in touch with many designers who are more than willing to work for me.
So, I can focus on things I like doing and get the unseen challenges to meet deadlines keep my adrenal pumping.
5. Experiment
Clients pay to experiment on tools and CMSes that otherwise would have cost me money.
Again, clients don't hire you to learn. However, for experienced freelancers, it happens.
Let me share a couple of examples.
When I was looking for an alternative to vBulletin, I had Invision Power Board as an option. I was working for one of the clients who also had an IPB community. I found that it is not up to the mark of what I am looking for.
So, if I had to experiment with IPB, it needs my time and can cost license fees as well. At the same time, the client paid me for my time to work for him. I even could work on the software as well as took the client's feedback on the software he is using for quite some time.
Similarly, I did an experiment for a client on shopping cart solutions like Magento, Opencart, WooCommerce for Indian payment processors. I found that Shopify is much better alternatives than Magento or Opencart.
6. Keep Alive the Developer in me
Once a developer, always a developer.
Moreover, I also don't want to avoid programming and coding altogether.
I like it to be that way, at least for the time being when I have been getting paid well, learning new things, experimenting technologies, etc.
However, as a writer, I find things to be as good as being a programmer. So you never know when I make a move from being a development freelancer to being a freelance writer.
7. I enjoy Freelancing
Last but the most important aspect as to why I don't want to quit freelancing is I love to be a freelancer.
There are many advantages of being a freelancer. However, for me, the freedom to work from anywhere with my choice of technology at my pace keeps me to continue freelancing.
I enjoy freelancing, and I love programming.
So when I am doing something I love and enjoy the process, there is very little that one needs to change about it.
Final Thoughts
These are my way of looking at freelancing. Some points may or may not apply to you for various reasons.
What I will recommend is to give your career two to three years to try freelancing.