Are you overwhelmed with choices for creating an online store? Let me share the pros and cons of WooCommerce to help make the right decision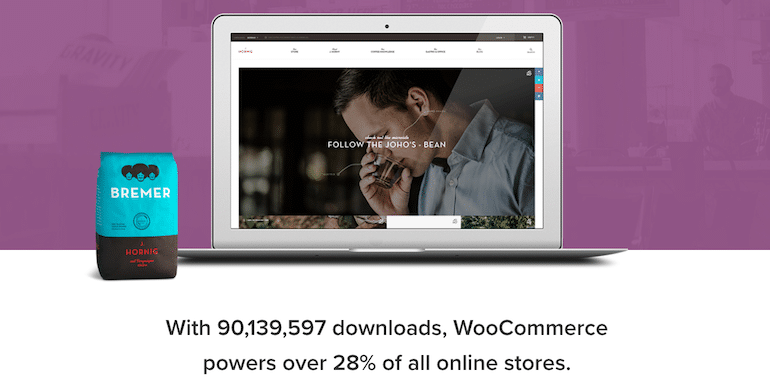 WooCommerce has its Pros and Cons and lets me share them so the webmaster can make informed decisions if WooCommerce is the correct choice of platform for the store or not.
WooCommerce is a highly customizable eCommerce platform to built an online store. More than 90 million downloads WooCommerce powers as much as 28% of the total online stores.
However, WooCommerce is a plugin for WordPress. So, if you have a WordPress website, then WooCommerce is for you. The inception of WooCommerce was to sell products and services, correctly using a WordPress website.
Why WooCommerce?
There are many reasons to rely on WooCommerce entirely. Ease of use, user-friendly functions, SEO Friendly premium integrations are certain features helping the online sellers.
Moreover, operating WooCommerce is not difficult; their exclusive documentation makes it a pure breeze to install and run. Plus, you have a ton of blogs and video materials online to help set up an eCommerce store.
Above all, the WooCommerce interface being mobile responsive can satisfy their mobile audience too. This way, sellers have complete control over giving an excellent browsing and shopping experience to buyers.
You have a great tool at your disposal. However, it accompanies a bunch of advantages and disadvantages along with it. In this article, I will enlist the pros and cons of using WooCommerce. Let's see what they are:
Pros of WooCommerce
WordPress WooCommerce plugin is popular amongst online store owners as well as eCommerce developers. An important key point here is that WooCommerece is a WordPress extension.
Being an open-source platform, WooCommerce is accessible and completely free. There is no doubt that WooCommerce is a boon to online businesses due to its cost-effective features.
Let's take a look at other features Of WooCommerce plugin:
1. Free to Get Started
WooCommerce is a free WordPress plugin. One of the biggest reasons why it is a preferred choice for an online store. However, the core software is free, but one needs to pay if they want to use premium features.
Similar to other WordPress plugins, WooCommerce also offers a paid subscription. Needless to you may have to pay for some of the new additions or features.
If you are planning to start an online business, then go for the WordPress WooCommerce plugin for hassle-free store management. WooCommerce is even more doable for those who are budget savvy.
The plugin offers almost zero investment. It means anyone aspiring to kickstart an online business can do it with less capital. All you have to do is just select an affordable web hosting plan, install and setup WooCommerce, and start selling online.
2. Flexible
WooCommerce is hell lot flexible. One can make infinite product categories and list unlimited products using WooCommerce. Moreover, there are plenty of themes compatible with WooCommerce.
These themes can personalize or customize online stores making them the utmost buyer-friendly. Additionally, one can use custom templates and designs to beautify products, categories, checkout, and cart pages with a WooCommerce plugin.
Not only physical products but using WooCommerce, you can sell virtual and even downloadable products too. The ability to integrate and accept almost all sorts of payment methods is par excellence. Sellers can define multiple currencies and languages to attract international buyers.
3. Professional
WooCommerce is highly organized and professional. The features and tools make your online store or website look authentic and premium. Whether it is the order tracking or checking delivery status, WooCommerce makes every single task easy for buyers.
On the other hand, when you offer an easy interface to buyers, they repeatedly visit your store. This way, you create a loyal buyer base for your online business.
4. Easy Customization
WooCoomerce allows ample customization facilities. Besides, what you want to customize highly depends on your online store and business requirements. The plugin offers free and paid features, which could help tailor your online store or website according to the latest market trends.
Unique store designs and easy to use features for buyers can make your store stand ahead of the competition. The modern web development environment offers WooCommerce customization with few clicks, not code. Here's a list of things one can customize:
Standard product layout
Design individual products
WooCommerce live search
Responsive store (portrait & landscape)
Product quick view
Distraction-free checkout
5. Secured
Security with WooCommerce is out of the box. When you start an online business, you unknowingly step into collecting sensitive customer data. On the other hand, eCommerce websites maintaining confidential buyer data are always on hackers' radar.
The dedicated team of developers as well as volunteers around the world (because WooCommerce is open source plugin) keep it tightly secured and safe.
Nonetheless, here's a list of things one can do to secure a WooCommerce site or store. Take a look:
Use security plugins
Use strong login
Subscribe a secured hosting
Add SSL certificates
Keep multiple backups
employ premium theme
Limit login attempts
6. SEO Friendly
As a WordPress plugin, SEO is a built-in feature in WooCommerce. These plugins are WooCommerce compatible, plus, but they offer exclusive extensions, all this together helps a seller elevates the whole SEO game. One can even enhance the SEO in WooCommerce with more plugins.
They take care of the SEO needs of the seller's eCommerce store. Along with this, excellent customer and community support from the plugins primarily benefit the seller overall.
Cons of WooCommerce
Along with apt features, the WooCommerce plugin has some significant drawbacks as well. First thing first, WooCommerce is an eCommerce plugin. It is not an eCommerce content management system (CMS) like else.
Now that we have discussed the advantages of WooCommerce let's have hands on the disadvantages too. Here's a list of the same.
1. Overwhelming for New Webmasters
WooCommerce is to make a seller's life easy. However, it can become overwhelming for a new store owner. Additionally, the plugin eco-system is perfectly suitable for any web developer as well as online sellers.
But for totally new and fresh sellers, it can be a tough nut to crack, especially for users with zero to little technical knowledge.
First, they will have to know about WordPress then WooCommerce.
2. Steep Learning Curve
A seller is here to set up an online business. Hence, instead of focusing on core business elements, he/she unknowingly enters the realm of learning WordPress and then WooCommerce. It might take up a considerable amount of time and energy.
Also, the learning capacity of an individual here is essential. This way, first learning and then it's application is an unprecedented journey. It might happen that the focus of a seller gradually shifts from online business to learning WordPress and WooCommerce.
3. Site Performance Can be Hampered
It is a fantastic fact that WooCommerce requires a wide variety of plugins, tools, and extensions for a complete online store. On the contrary, installing, setting up, and regularly updating all of them can be overwhelming for anyone who is just starting as a webmaster.
Plugins not optimized for performance can slow down the site speed and severely impact the overall performance of the website.
4. Hidden Cost
WooCommerce is free, but most of the features are paid. They may come in a monthly subscription model or lifetime saver pack. It depends on what additional resources one is using to keep his/her store up and running. As a result, the hidden cost of maintaining and running an online store can be significant.
As an example, if you wish to have a custom thank you page for each of your products, you have to opt for this plugin, which costs $49 per year. Similarly, if you wish to create subscription-based products, it can cost $199 per year. Considering the hidden cost for each such feature, Shopify may be a better alternative to WooCommerce.
Final Thoughts
Devising an online business integrates a series of tasks, and a buyer-friendly store is one of them. Secondly, if you think there's no cost involved in doing an eCommerce business, then you are ill-informed. Every business, whether offline or online, incurs cost.
Analyze if WooCommerce is a better choice for your line of products or you want to opt for Shopify that works very well out of the box but costs money from day one. The cost altogether depends on the product, services, delivery, and the overall business model.