Wise review from an Indian freelancers point of view to receive payments in India. How Wise is better than PayPal and Payoneer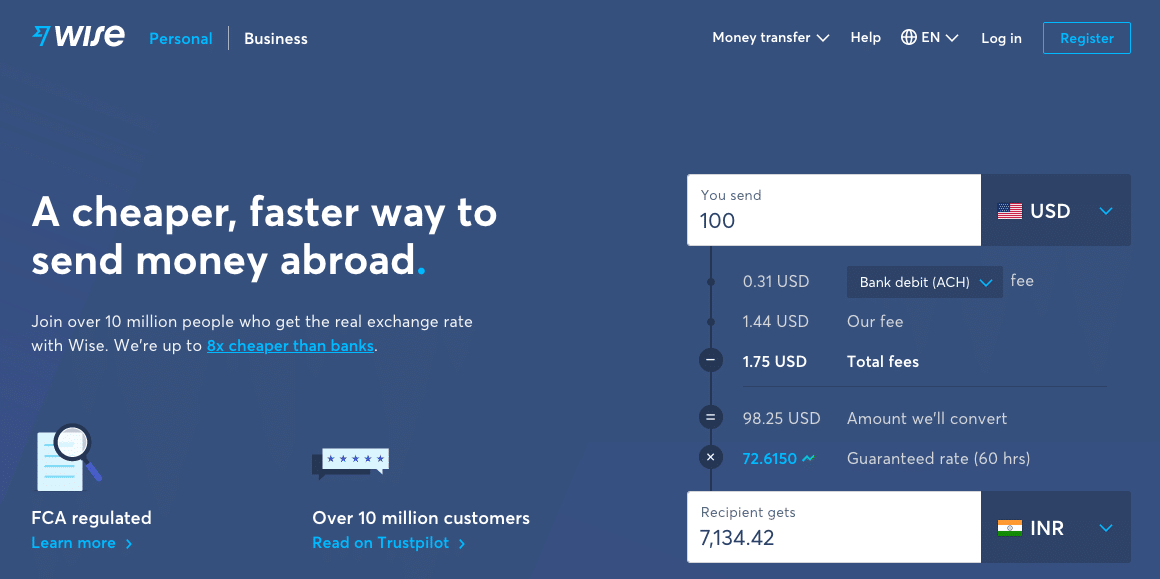 Wise (formerly known as TransferWise) offers the best forex rates, and I will share the details in the review of how they do it. Moreover, they also process the payments so fast that I get the money in my bank account in a matter of hours.
As an Indian freelancer, I am always looking for payment options that offer better forex rates. More INR for each dollar means more money for me for the same amount of work.
So let me help the Indian freelancers with a revolutionised payment method Wise (Formerly known as Transferwise)
What is Wise?
If I can define Wise in one line, it has to be – It is the cheapest and the fastest way to send money across borders.
The cheapest is that it offers one of the lowest possible fees and offers the best possible forex rates. No hidden fees. No bad exchange rates.
I say it as the fastest because I typically get the payment into my bank account in a matter of hours. One of my client in London used to pay me using Wise at around 2 PM Indian time when they start working. Often I saw the funds hitting my bank account at 5 PM Indian time the same day.
As an Indian Freelancer, we want to receive payments from clients and PayPal, and Payoneer is the option available. However, Wise an excellent choice than both and let me share how it is better than both based on fees, exchange rate and speed.
How Wise is Better Than PayPal?
PayPal is one of the most accepted payment methods with US clients because it revolutionised making payments by email.
However, the biggest problem with PayPal is its fees and exchange rates. In this article here, I have re-iterated the same issue of bad exchange rates by PayPal.
Wise comes to our rescue with minimal fees and the best exchange rates.
Suppose we take the example of fees for $100 payment in PayPal, which is typically the payment size for Indian freelancers. PayPal fees are upward of >5% for receiving payments.

Further, the exchange rates are lower by 2 to 4% of the market rates. So roughly, you are paying 6 to 8% as processing fees for receiving payments in PayPal.
As a freelancer, I calculate the amount as ~₹6500 for each $100 I received in PayPal.

However, you get the money in your bank account typically on the following day, which is good.
Now compare that to Wise fees, and they only charge ~1.5% as processing fees. Further, they are paying better forex rates, and so you get more than ₹7100 in your bank account.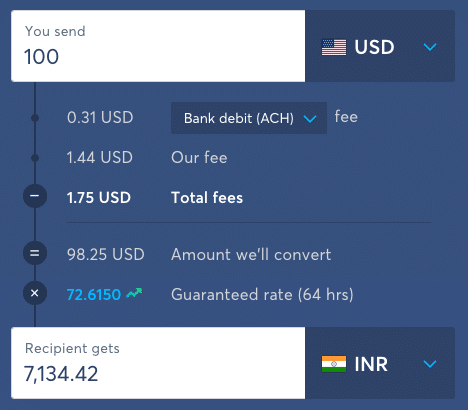 So if you are one of those freelancers who can recommend your client to make a move from PayPal to Wise, you should consider it.
Also read:
Best PayPal Alternatives For Freelancers. Payoneer, Wise, Instamojo, Stripe, Authorize.net, Xoom, Skrill, 2Checkout, Google Pay, UPI
How Wise is Better Than Payoneer?
In a review for Wise payments, you expect me to say everything great about the product but remember this is not a paid review. Furthermore, as an affiliate, I am only paid a commission from Wise for recommending clients and not freelancers.
So whatever I mention is based on the facts and help fellow Indian freelancers.
With Payoneer, you are paying much lower fees, but one of the issues I face with Payoneer is the speed. Often it takes 5 to 7 days for the payment to hit my bank account if we consider the bank holidays.

For example, I sent a Payment request to a client on 2nd March, and the client made the payment on the same day. However, the funds hit my bank account on March 6th.
However, the fees and exchange rate of Payoneer is much lower than PayPal and is quite close to Wise. Still, Wise does slightly better than Payoneer on the exchange rate front.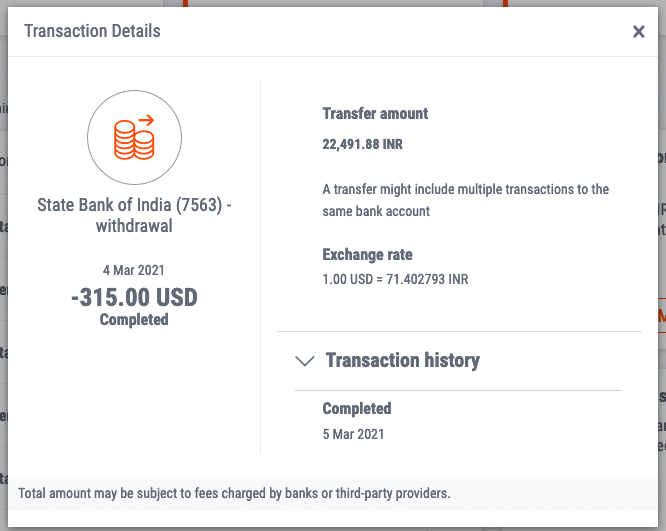 Often for weekly payments, if you send the invoice on Monday or Tuesday, the funds become available on the following Monday. It is after they have speed up the process of payment review. Earlier, the payments from the client used to remain "Under review" for days.
With Wise, the funds are available almost instantly. I see the amount in my bank accounts hours after the payment from the client.
For my London clients, the amount used to become available on the same day, but even for the US clients, the amount hits the bank account the following day.
Also read:
Best Payoneer Alternatives For Freelancers in India. PingPongX, Wise, PayPal, Authorize.net, Xoom, Skrill, 2Checkout
Wise – A Revolution of Cross Border Payments
The way Wise does is they don't move the money across borders. They process the payment within the country.
If a person is trying to send money from the US to India and another person is trying to send money from India to the US, they move the money within India and the US to save the processing fees and offer better forex rates to the participants.
Every payment process is now moving to the same approach, and you can see the above screenshot of Payoneer it mentions –
A transfer might include multiple transactions to the same bank account.
It suggests a similar approach.
PayPal soon has to offer better rates, or it is more likely to be disrupted by Payoneer and Wise. I use PayPal only for payments under $100. For more significant amounts, it is always Payoneer or Wise.
Get A Bank Account in the UK
One more vital point to consider for Wise is getting a bank account in the UK. PayPal doesn't offer a bank account, though. And we saw with Payoneer that we can use the bank account to connect Upwork with Payoneer and PingPongX.
So bank account can be beneficial so you can use it to transfer money from many marketplaces like Upwork or even from an Amazon.com affiliate account.
Wise Review – Final Thoughts
Wise has revolutionised the payments across the border by slashing the fees and offering the best foreign exchange rates. So it is one of my favourite payment methods for sure. Furthermore, it processes the payments so fast that you can count on them.
Wise has many other points to discuss, like supporting multiple currencies or offering a debit card.  However, I don't think they are critical from an Indian freelancers point of view.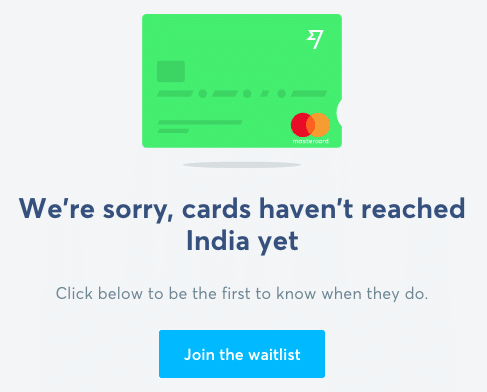 PayPal offers multiple currencies, and the debit card by Wise is not for Indians as yet.
What is more important from an Indian freelancers point of view is exchange rates and the speed at which they can get the money.
Finally, I will like to conclude my Wise review from a freelancer viewpoint – with charges low and a better forex conversion rate. You can offer a discount to clients as well – a completely win-win situation for both. So head over to Wise and open your account now.