The 7 Key points that make a difference between an average Amazon India Affiliate and a Super successful Amazon India affiliate.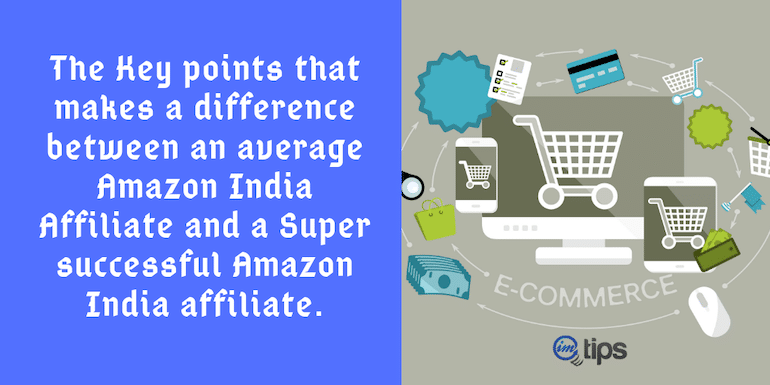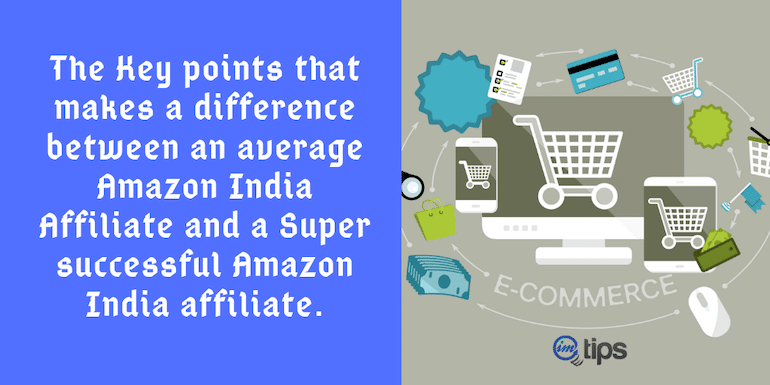 The Amazon affiliate program, aka Amazon Associates, is an easier option to generate an affiliate income online. However, it is equally important to know how one can choose the right products and promote them efficiently to create more revenue to become a better Amazon India affiliate.
In case, if you still aren't into Amazon India associate program, sign up now using this link. Once approved, you can create affiliate links to each product or use banners for promotions. When a customer (new or returning) purchases via your affiliate link from Amazon India, you get a commission.
So here are some tips to become a better affiliate promoting Amazon India products.
1. Start With the Best Selling Products
Amazon India has a long list of best-selling products in every category updated hourly.
So, if you are keen about taking a look at the list then click here.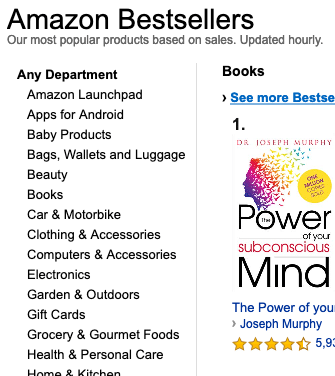 As an affiliate, start with Amazon's best selling products. These products are labeled best selling because they are have gained popularity over time. Due to demand, they bag more orders from customers frequently.
There are three major advantages
Easy for an affiliate to generate sales.
Affiliate isn't recommending subpar products to its readers.
Much higher conversion rate.

Sending traffic to highly popular product listing increases the chances of conversion.
So the first step to becoming a better Amazon India affiliate is to choose the products that are already generating most sales for Amazon.
2. Riches are in Niches
Everyone wants to be a better Amazon India affiliate, but very few approaches it correctly.
Often you will find people tend to recommend anything and everything.
The secret lies in the fact that you should consider being in a small niche. It is easier to become an expert in such a micro niche. Over time, one can expand the niche.
Once you are focusing on a small niche, you can experiment with products, write much detail reviews, provide more value to the readers. In the process also generate a considerable amount of income as an affiliate.
Read Niche for Blogging and Niche Freelancing.
3. Identify Customers Pre-Buying Needs
Every niche's customer has a different pre-buying state of mind.
Let me explain what I mean with an example.
So last time you decided to buy a mobile phone online, what did you do?
More likely, you compared the features among phones within your budget.
Did you do the same when buying a belt or sunglasses?
The more likely answer is NO.
Instead, the preference was on the looks and durability.
So as an Amazon affiliate, selecting the niche is essential, but what is also important is to understand the pre-buying needs of the customer in the niche.
What is the state of mind of the customer when he is looking for products.
Is he or she looking for the review of products or are looking for the best products features comparison within a specific price range?
Do women make the purchase? In India, the products may be primarily for women, and they do the research as well, but men make the final purchase.
Understanding customers pre-buying need can make the complete difference between an awesome and an ordinary affiliate marketer.
4. Write Evergreen Content (Buyer's Guide / Product Review)
Once you are thorough as to what customers are looking for before making the final purchase, it is essential to help them embark the journey of making the purchases.
A buyer's guide provides all the necessary information to help the customer make a purchasing decision.
Product reviews highlight the product with pros as well as cons to help buyers make the decision
The intention of writing a buyer's guide or a product review is to highlight the product and its feature but more so how it can impact the life of the customer. It should educate the customer to make an informed decision about the product.
Here are a few tips on writing a useful buyer's guide or product reviews:
Educational Content
Informative and educational content along with your hands on experience on the product, can help the buyer make an informed decision.
I prefer to share all the pros as well as the cons of an affiliate product. Provide all the facts and highlight features with product benefits along with any negatives.
A buyer wants to be sure that the product is a perfect fit for them.
Make it SEO Friendly
Google has to be a significant source of site traffic to content with affiliate links.
So it is essential to create the content which provides value to the user at the same time is SEO friendly.
As you are already aware of the buyer intent and his or her state of mind, it is essential to include the search terms they will use in Google.
Use the exact keywords in the title and then distribute the search terms and its synonyms in the article headings, sub-headings, images alt attributes as well as in the content.
Use Your Product Images
Every Amazon product has images. To stand out as an affiliate, use your pictures for the products.
Everyone likes to see others using the product. Images can help achieve the same. It helps them judge what they will be receiving in the future.
5. Include a Call-to-Action
A Call-to-Action (CTA) takes the guesswork out of the equation and instructs the reader what do to next.
As a general rule, the best position to place a call to action item is thrice in a page. Once at the top just after first few lines of content. Once in the middle. And last but not least, in the end.
However, there's no hard and fast rule and work out the positions that work best for your kind of buyers. Testing is the key. As an example, if you are comparing product features, it is vital to place the buy now button after the details of each item.
6. Unboxing Images & Videos
Let the customer experience how it will feel when they will get the product in hand.
Order the product. Unbox the same and click images or create a video. Buyers tend to connect more with real photos as compared to the pictures on Amazon.
A product demo video can take things to a whole new level. The buyer will get a 360-degree overview of the product.
7. Be Honest
Last but the most critical aspect of being a better affiliate is not to trick your user into buying something that isn't value for money.
Keep the buying guide unbiased and neutral.
The content must be professional, and your affiliate site or blog must emerge as a trusted source of information over time.
Avoid favoring high paying products over low ones.