As a blogger, should you only focus on SEO or SEM? Let me share some key insights to show how SEM can help feed data into SEO for better ROI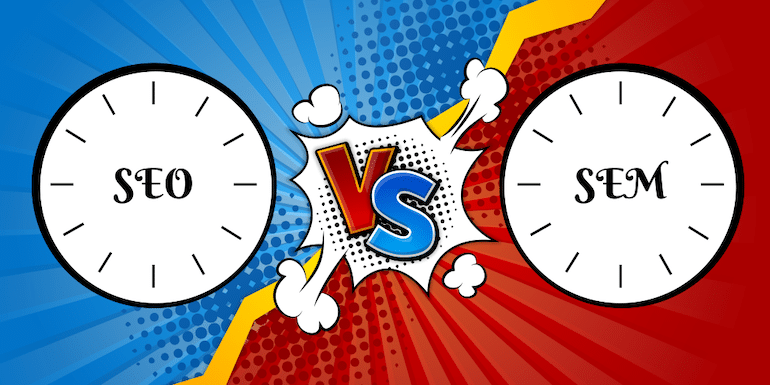 Do you have confusion about whether SEO (Search Engine Optimization and organic ranking) is right for your business or SEM (Overal Search Engine Marketing including SEO and PPC aka Pay Per Click)?
Let me break down everything in detail for you to help you with the right decision for your business.
Difference Between SEO and SEM
This is not a basic article but will deep dive into the strategies related to SEO and SEM. If you are looking for some basic information, please check out  What is Search Engine Optimization or SEO, What is Search Engine Marketing or SEM and Beginner's Guide to Keyword Research.
However, let me explain the key difference between SEO and SEM.
The difference between SEO and SEM is Search Engine Optimization or SEO is a subset of Search Engine Marketing or SEM or Search Marketing.
SEO is about optimizing your website to get higher rankings in the organic search results.
SEM includes SEO but also includes PPC advertising. The goal of SEM is to increase visibility in search engines either by getting organic traffic through SEO or paid traffic through PPC advertising.
SEO or SEM
The confusion starts when you think about SEO without considering the wholistic approach to SEM.
We know SEO is all about ranking a site higher in the organic search results using the guidelines by the search engines. It includes everything from on-page SEO best practices to getting through the nitty-gritty of site speed, along with link building techniques.
Search Engine Marketing or SEM includes PPC or Pay Per Click Marketing along with the SEO.  Clearly, SEM is much bigger than SEO. What we miss is a very important aspect of PPC marketing that can help better ROI for SEO is data analysis.
I will share the details of it in a bit but before that let me share this important example about Facebook.
Facebook Example of SEM
Sadik Bhimani – My Brother
Lubna Shabbir – My Wife
When I Google their name, this is what I found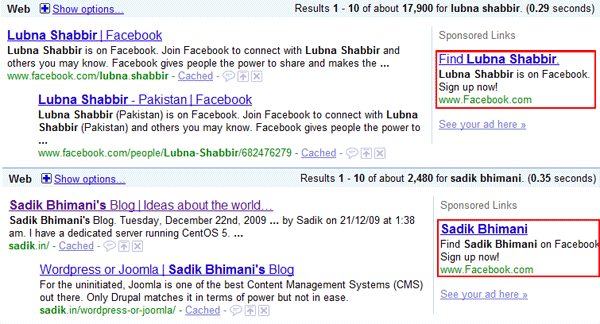 A site as big as Facebook even Advertises for less competitive keywords which are names of the users in their account.
Why does Facebook need to advertise for those keywords when it can rank for those keywords anyway? Here are some commons reasons that I can think of.
No competition for those keywords. So it will not cost a fortune to advertise for those keywords.
Highly targeted as the ad says the user is on FB. One needs to sign-up to view their complete profile.
Facebook doesn't want to allow Google to crawl Its complete profile of users.
Facebook in organic SEO isn't above Twitter / LinkedIn because it only shows very little information to users who aren't logged in.
Feed PPC Search Terms to SEO
As a blogger, the aim shouldn't be to jump into the competition bandwagon. However, I like to use the PPC to feed the effort on SEO as well as make better returns on investment or ROI for SEO.
Let me help you share an example to help you understand it better.
Look at one of the landing pages on BizTips which has everything for anyone to start a blog. The page is optimized to rank for starting a blog. However, the term is really competitive but then there are many other terms that one can target for the same landing page.
The term I initially wanted to rank well was "build a blog" instead of "start a blog". In fact, I had all the terms in my mind apart from starting a blog.
So within a few days of my experiment with PPC, I realized the focus keyphrase should be starting and not building. The ROI for start is much better than build.
However, if I had to rank in SEO for both the terms and then find out, it may have been almost impossible because of the kind of competition these terms have.
So, my view is, one shouldn't always go with SEO all alone. PPC can always help in understanding the right keywords that your potential customers key in Google. So you can focus your efforts to rank well only for those keywords and make the most return on your investment.
SEM and SEO
Don't look at PPC and SEM only for those who focus on low competitive keywords like Facebook in our example above. If you can do that there is no stopping for your business. However, there is a lot more to PPC and SEM than just finding the low hanging fruit.
PPC Is Not A Cost But An SEO Investment
There are people who consider PPC as an expense. However, the right way to look at PPC is an investment for data gathering for SEO.
PPC is like taking a test drive before actually buying the car. The investment in SEO when done on the right keywords can mean you have stupendous returns. PPC is a way to get it right more often.
You know which keywords you want to get potential traffic with SEO. However, what search terms the users actually type in Google is only available when you have a PPC campaign for those keywords. When you know the search terms, one can optimize for those exact search terms to rank better for keywords with right search intent.
All in all, SEM and PPC can actually boost SEO ROI if one does it the right way.
SEO is Cost-Effective PPC is Time Effective
No one can deny the fact that SEO is a very cost-effective method of driving traffic to the website.
The cost to SEO remains the same whether you have one visitor or one hundred. The cost doesn't increase based on the number of visitors you may get for a particular keyword.
The right SEO strategy can attract hundreds of thousands of visitors to a website. However, building such traffic-levels can take a long-time.
One may need to write the content, build links (Internal as well as external). So on and so forth.
PPC is a lot more time-effective strategy when compared to SEO. One can instantly get traffic and do data analysis and track conversions. One can get started in a matter of hours.
PPC Offers a lot More than Just Keywords for SEO
When you have ads running in Google, you not only find out the search terms but also can optimize the Ad Copy for the perfect headline as well as the description.
Many independent studies have shown that CTR or Click Through Rate of organic listings plays a role in ranking better in Google.
One can use the same title and description that has the highest CTR for the search term on the landing page and get better CTR for organic listing in Google as well.
Irrespective of the studies, if you drive more traffic from Google because of higher CTR for headline and description can boost your ROI for SEO efforts.
Finally, SEM Can Add More to SEO
The ROI of SEO will beat the PPC every time for sure because the cost for SEO isn't in direct relationship to the amount of traffic one gets. However, consider PPC as a tool to kickstart your SEO. Let the PPC drive sales at first and then SEO can augment them for you.
Finally, should can you only focus on SEO? The answer is definitely NO. If you aren't doing SEM and PPC, you may not even realize what you are missing.