Ways to make money as a food blogger. Google AdSense, Buying Guides, YouTube, Sponsored Restaurant Reviews, Cookbooks Coaching, Catering, etc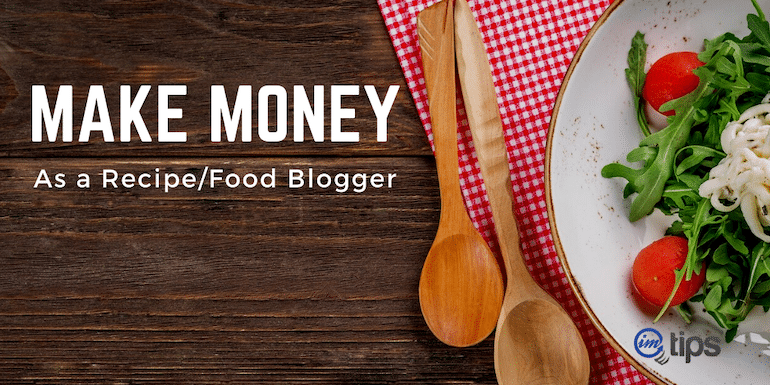 There are plenty of ways to make money as your food blogger. The best part about blogging is, you can make money doing what you love.
If you are a food lover who likes to be in the kitchen dealing with the items people like eating, you can keep doing what you love, blog about it, and make a decent living. Yes, you read it right. You can do what you love and make a fair amount of money as a food blogger.
So if you are starting a food blog, here are a few ways to monetize it.
1. Google AdSense for Ads
The cost of a self-hosted WordPress blog isn't very high. So, Google AdSense can easily pay off the cost of the food blog. It helps you generate revenue that can help you break even as a food blogger in a short span.
Google helps you monetize your website by displaying ads of others on your site. When you get some traffic to the food blog, people click on the ads, the one they find helpful or attractive to them. And this is how you earn.
My new Indian Recipe Blog in 3 to 4 months started to generate income that was enough to sustain the cost of the blog. Recipe blog can get a lot of traffic when you share them over on personal Facebook and WhatsApp. So it is an added advantage. Moreover, as we share recipes, the traffic of the site is steadily growing week on week, and revenue from Google Adsense is increasing along as well.

As you can see, there is a decent growth in traffic on TastedRecipes. Likewise, my income from Google Adsense is growing as well. With Adsense, it is as simple as place Adsense ad code on your food blog and starts earning.
2. Buying Guides
Buying guides are to help buyers with the purchase. As a food blogger, we decided to write reviews of kitchen appliances (aka Air Fryer buying guide) as well as food products (aka Buyer's Guide To Buy Best Rolled Oats) to help our readers choose the best product for daily use.
The buying guides, we link to Amazon India's affiliate links. Still, our site is entirely new, but we make some sales for a commission as well as help our blog readers in the process of making better buying decisions.

The earning is not very high, but still, they all add up well. As the traffic increases on the site, we are sure to make help more readers make better buying decisions and in the process, generate some income as well.
Remember to write an honest view of the products and aim to help readers.
3. YouTube Videos
The recipe website started growing, so we decided to start a YouTube channel as well. It meant we had to invest in a high-quality camera along with the equipment. I was up for it.
Our YouTube channel tasted recipes in the first year, crossed 7k subscribers, and has over 80 recipes. I have shared as well how to increase your YouTube subscribers.
As you cross 1k subscribers and 4k watch hours, you become eligible for Adsense. However, if you have a decent count of subscribers, you will also have an opportunity to collaborate and review products on your YouTube channel to drive up the revenue.
Moreover, YouTube videos are a great way to earn passive income. Your videos when starting to rank in YouTube searches, you generate a lot more views over time and make money out of it.
Still, TastedRecipes as a YouTube channel hasn't been making enough money to cover the cost, but again, we are a very new food and recipe channel on YouTube. The subscriber growth does suggest we will need some more time before we break-even on YouTube.
4. Affiliate Marketing
You can promote and sell products on your food blog and earn a commission for sales. There are a few ways to make a decent amount of money from your food blog through affiliate marketing.
We promote the gears we use for shooting our recipe videos.
Recommend the right lightings to get the perfect shot of the food.
Depending on what your audience wants, you can earn a decent amount of money promoting such products, including cookbooks.
5. Sponsored Restaurant Reviews
As a foodie, I am damn sure you know the best places to eat. Write helpful restaurant reviews on your blog or your YouTube channel and make money as a food blogger.
In the beginning, you may need to write unsponsored restaurant reviews, but slowly, once you have a few reviews, you can approach restaurants for sponsoring the reviews.
You get paid for enjoying their food. What more does a foodie want?
Slowly, when you have covered all the restaurants in the city, expand the region.
As a food lover, when I like the presentation of the food in a hotel, I click pictures and share it. Become an influencer on Instagram and let the restaurant owner know about your food channel to get a better price for the review.
6. Build Your Products
As a food blogger, build your products. I am not talking about the kitchen appliances as products but recipes ingredients.
Pack the ingredients of the recipe into a packet and let your readers order the pack. One can list those products on Amazon or Flipkart.
Here is my step by step guide for anyone willing to start selling on Amazon and Flipkart.
Moreover, one can also add a WooCommerce store to the food blog as well. So with a food blog, you are into eCommerce as well.
Consider social media to generate sales or use your YouTube channel.
7. Publish Cookbooks
Cookbooks are an all-time favorite. Once you have a good collection of recipes, combine them into a cookbook with some exclusive content, and your cookbook is ready to publish.
Create cookbooks and either sell it on Amazon also or sell them directly from your blog. If you are selling directly, offer other bloggers a commission for the sale. Use affiliate marketplaces
If you do not wish to sell a cookbook, create a cookbook and offer it for free. Use it as a lead magnet for readers to subscribe to your blog.
8. Be a Cooking Coach
Become a cooking coach either offline or start an online culinary cooking series. Upload your cooking courses on various online course sites like Udemy to generate some cash as an online food blogger.
You can inspire thousands of people to cook like you and give them fantastic cooking tips and hacks. Promote your courses on your blog as well as on social media.
As a cooking coach, it is vital that one focus on a niche like:
Vegetarian food
Cakes and Baking
Healthy Cooking
Sugar-free / Gluten-Free Food
Unique Recipe Cuisines
Restaurant Style Cooking
So on and so forth. Try to have a specialization as a cooking coach.
9. Participate in Contests
Participate in some contest related to recipe submissions, best food pictures, best food memes, etc. If you win, you can make money, but if you don't, it will make you better at foods and recipes.
BetterButter.in has many contests that chefs can participate in. Moreover, as a food blogger, one should also aim to take part in Masterchef, which is an ultimate competition for a foodie.
On the flip side, organize some contest on your blog or YouTube channel to get readers and subscribers. You get dual benefits: increase the reader's engagement for the price and enhance your website content too. Not a bad deal.
10. Catering for Party/Events
Finally, as a food blogger, one can provide unique food items to some local events. Find nearby local events happening in your city, and participate as a caterer and sell your items.
As an example, in my locality, some people specialize in creating custom design cakes, and they take party/events order.