There are 7 cost elements to consider to start a self-hosted WordPress blog. Let's break down each to estimate the overall cost.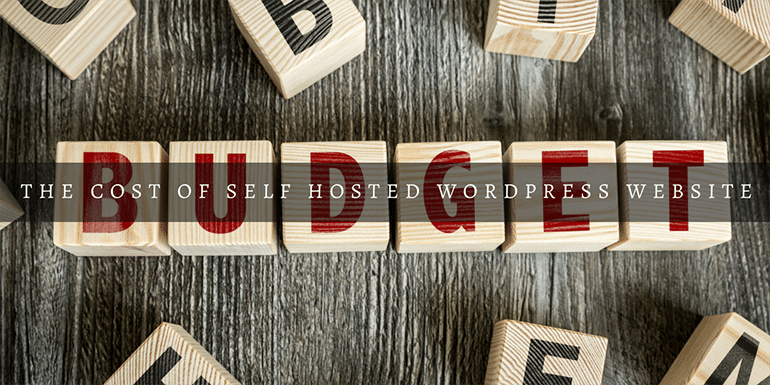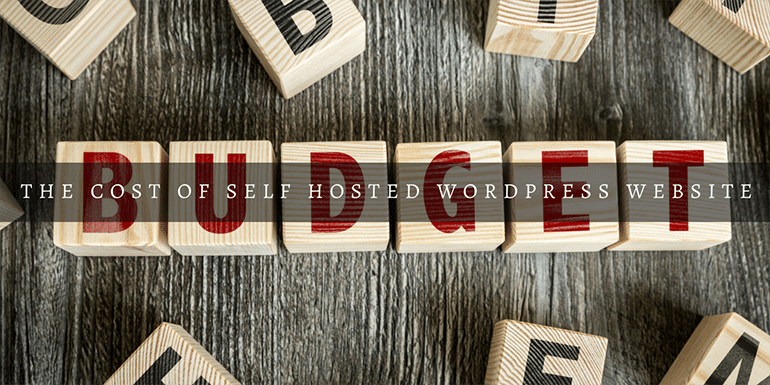 Every startup needs to analyze the cost of doing business, and starting a self-hosted WordPress blog should be no different. The price of hosting a website has reduced considerably, and it has reached a point where it can't cost any less than what it costs now.
There are seven cost elements to consider to have a self-hosted WordPress website, and I will break down the cost of each component to estimate the overall cost.
Once we have the starting cost, we will analyze what it may cost to keep it up and to run.
1. WordPress Software: Free
Every website needs software, and there is no better software than WordPress to power your website.
It is free to use, and there is no cost whatsoever to using it. So WordPress is the ideal solution for any website and not because it is free but because it is the best possible solution as well.
There are few drag-drop website builders, but WordPress is way better than the rest.
2. Hosting: $60 – $100 per year
Hosting is one of the major expense components for a website, and it is the biggest investment that you will make for starting a website.
Though it is a significant component, it hardly costs $5 to $8 per month for shared hosting.
Even when you consider the expense on the higher side, in Indian rupee terms, it costs roughly ₹10 to ₹15 per day.
I am damn sure; it can't get any cheaper than this unless we have JIO like an offer from some for rent giant to offer free hosting in the future. As of now, we have to settle with this small cost.
3. Domain: $11 per year
The second most expensive part of setting up a website is the domain name. A .com typically costs around $10.99 per year at NameCheap.
If you opt for some other top-level domain name like a .in, it may even cost less, but if you choose for a .co domain like BizTips.co, it can cost slightly more.
Note: Before purchasing the domain, make sure you check with your hosts as some hosts offer a free domain with their hosting package.
4. Setup Cost: Free
Now you need to use the domain and hosting to set up your first WordPress website.
You may be thinking you need to hire a technical geek to get your first website up and running and but you don't.
Anybody with very little to no technical knowledge can set up a website, and here is my step by step guide that can set up a WordPress blog or website and run in a few minutes.
5. WordPress Theme: Free
You want to give your blog that perfect look; it doesn't mean it has to cost you a fortune, or you need to hire someone to get this done.
There are hundreds of free WordPress themes available that you can use to set up your first website.
Again setting up a WordPress theme needs no technical knowledge, and you can do it with a few clicks inside your WordPress admin dashboard.
6. WordPress Plugins: Free
You may need some functionality that is not part of the core of WordPress but doesn't worry. Those plugins are free as well.
With the addition of Jetpack, many features have become part of self-hosted WordPress.
As you gain experience in using WordPress, you may want to experiment with premium plugins, but as a startup, you can do away with those plugins and use the free plugins.
7. Moosend: Free
You want to convert your blog visitors into readers and subscribers, and so you will need an email marketing software where the user can subscribe to your blog.
Moosend offers a free version for the first 1000 subscribers, and you can read my view of Moosend here.
As your blog readership grows, you may want to consider the paid version of Moosend.
The Total Cost to Start a Self-Hosted WordPress Blog
If we add up all the cost of starting a blog, on the lower end, it is $71, and on the higher end, it is $111.
It should not cost you anything more than $111 to set up your first blog in WordPress.
Even if you prefer to go premium with a theme, the price can vary based on the theme of your choice, but the cost should be under $100.
I use the Genesis framework bundled with a child theme, which costs $89. If you use ThemeForest, it usually costs $59 for a premium theme.
With a premium theme, the cost to start a website in WordPress will still be under $200.
If you prefer to use some premium plugins, the cost can increase further, but I still think premium plugins are something any new blogger can keep on hold until he starts seeing some traffic and readership to his blog.
The Yearly Cost of a Self-Hosted WordPress Blog
Now coming back to the recurring charges, I don't see any increase in charges apart from domain and hosting.
Once your website starts getting a lot of traffic, you may need to upgrade host, but that is when your blog traffic hits more than 5k to 10k page views per day, and anything less than that and your shared hosting should be able to take care of it.
Even when your traffic starts to pick up, you can use many other free services like Cloudflare to keep the hosting cost under control.
With the help of Cloudflare, the shared hosting can handle a lot more traffic, and as the traffic to your site grows, you can start to monetize your blog to keep up with the cost of having a blog.
If you are looking for more traffic building options for your blog, you can refer to my article traffic building tips.
If you want to create a more feature-rich website or an eCommerce site in WordPress, Syed Balkhi and his editorial team at WPBeginner has a more detailed cost estimator.
Understanding The Actual Cost of Blogging
Let us understand with an example of how risky an online blogging business actually is?
Let us say you are passionate about a niche, and you can write high-quality articles in this niche (How to Find the Right Niche for Blogging). if you are doing a job, you can only dedicate 10 hours per week only to your blog.
So, for the next three years, your outflow will be $200 on the lower end.  Financially you can lose a maximum of $200 only or rather, if you break down in Indian rupees, it will be roughly ₹15,000 3 years, which is less than ₹20 per day.
Yes, if you are dedicated to your work for 5 to 10 hours per week, you may even lose the hard work you put in for 3 years.
I am saying you lose hours of hard work, but actually, you are not losing hours of hard work but gaining tons of experience per week that you put on your blog.
I know many college students in India are more than happy to pay ₹35k to ₹40k for industry exposure but they don't prefer setting up a blog with the same money.
Strange, isn't it?
You ask anybody here in India – join the XYZ course, which will teach you blah blah blah and pay $200, and they will think about it. The strange part is, you tell them to set up an online business for the same amount, and the answer would be NO, I don't have time for it.
I know people personally who have preferred coaching classes over a blog.
Now coming back to the blog, we set up with an investment of $200.
You are working 10 hours per week. It means you can easily write 3-4 articles per week. Let's assume 2 articles per week because when starting out you may not be able to write more articles.
If you start with 2 articles per week, on average, you can add 10-25 readers per day to your blog. It means 10,000 blog readers in 2 years of your blogging experimentation.
Now, this blog can actually generate a lot of money because you have added value to your readers for 2 long years and, in the process, learned the art of blogging the practical way.
So let me ask you a question. Can you now afford to experiment with a blog online?
Final Thoughts
Till a website get's substantial traffic, the yearly cost of hosting a website will be pretty much the same and is equal to the domain + shared hosting cost.
As the website grows, you may want to opt for premium plugins like Vaultpress to backup your WordPress site daily or experiment with Facebook advertising.