8 best and most active affiliate marketplaces for Indian bloggers to sign up and start promoting affiliate programs in 2022.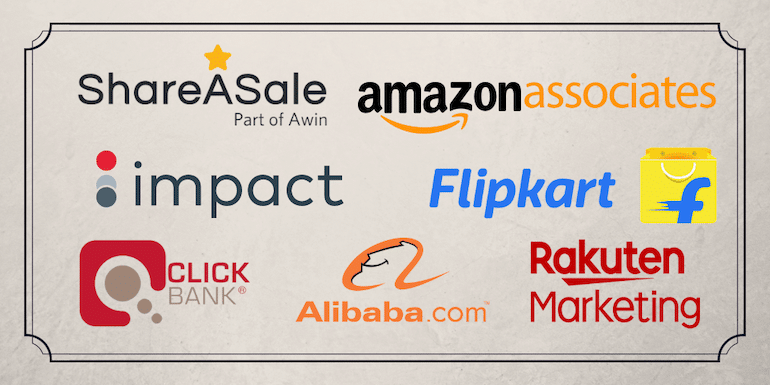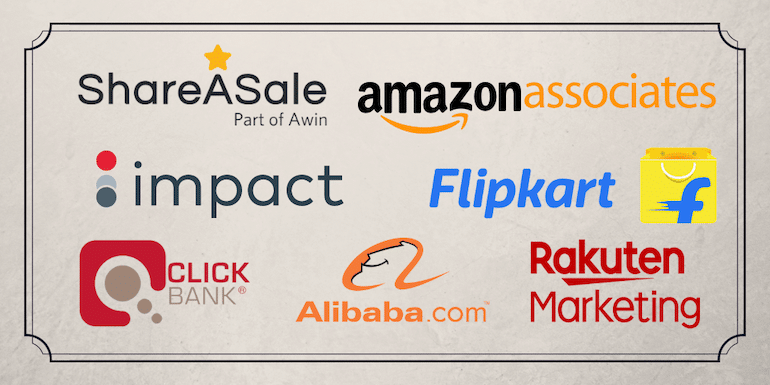 Affiliate income is the primary source of income for thousands of bloggers. These bloggers drive most of their revenue from affiliate marketplaces.
What is an Affiliate Marketplace?
An affiliate marketplace helps merchants to facilitate and onboard affiliates.
What it means is if I own an eCommerce site and want others to promote my products for a commission, I can be a member of an affiliate marketplace. Each affiliate marketplace or affiliate network has a simple and easy to integrate feature to allow any website to be part of their affiliate network. Once the site becomes part of the network, the affiliate can promote my products.
So, an affiliate marketplace acts as an intermediary between a merchant and publishers known as affiliates. They allow website publishers to find and participate in affiliate programs suitable for their audience more quickly. On the other hand, a merchant can reach a larger audience with affiliates participating in the marketplace.
A win-win for all.
Because of the enormous potential, the pace at which affiliate marketplaces are expanding is significant.
Affiliate Marketplace & Affiliate Programs
Affiliate marketplace doesn't directly have any product of their own to sell. Instead, they provide a common platform for merchants offering affiliate programs to publishers.
The affiliate program is a term to define the offer to the publisher for every action the merchant wants from the customer. The offer can be a sale/lead, and the commission can be one time or recurring.
The affiliate programs can be offered directly by the merchant via their website or the marketplaces.
If the affiliate program is by a merchant, the sales tracking, commission reports, and traffic details to affiliates must be provided. Whereas if one uses the marketplace, the traffic details that the marketplaces handle affiliates' needs.
The other significant benefit of using a marketplace for a merchant is that it instantly connects with affiliates who are already part of the network and are willing to promote products.
Affiliate Marketplaces of 2022
Let me share the best affiliate marketplaces of 2022. I have listed the ones at the top that help me drive the most revenue for BizTips.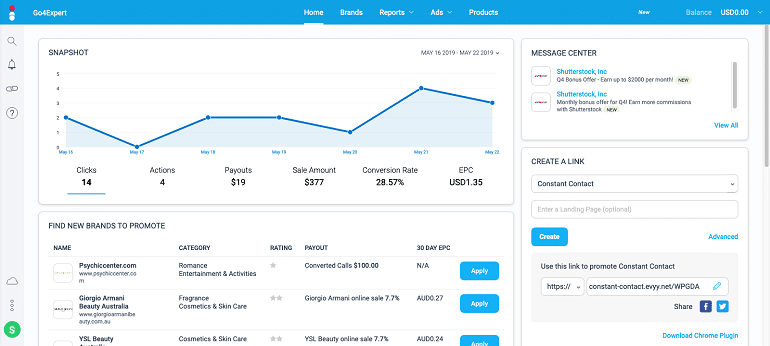 Impact.com was formerly known as Impact Radius. I have been one of the affiliates of Impact for a very long time. I promote LiquidWeb and Shutterstock.
The best thing I like about Impact is –
The robustness of tracking sales for affiliates.
They offer PayPal as the payment option.
They offer multiple accounts for partners, and my account is a media partner account. Once a member, join each affiliate program you wish to promote. The process for approval to each program is relatively quick, but it often varies from merchant to merchant.

Rakuten Marketing is a product of the Rakuten Group and is one of the best marketplaces for affiliates. It has an excellent set of merchants related to the entertainment industry, but they have huge merchants across all niches. I promote Udemy from Rakuten on BizTips.
The best thing I like about Rakuten Marketing is –
Robustness of tracking sales for affiliates.
The number of merchants participating.
They offer PayPal as the payment option.
Once a member, one can join each affiliate program, but you, by default approved for every Rakuten program.
The process for approval to each program is relatively quick, but it often varies from merchant to merchant.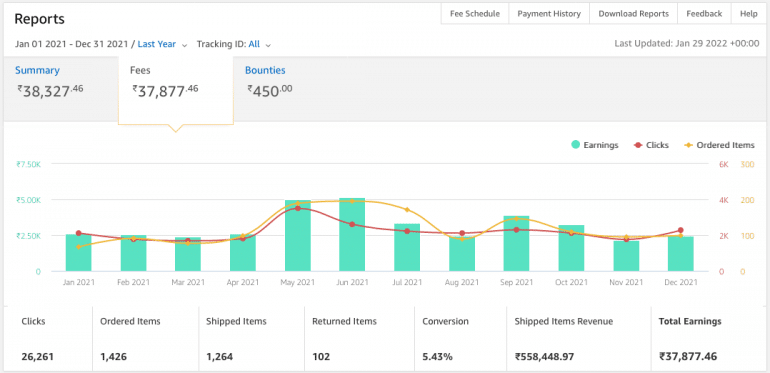 The biggest reason one should join the Amazon affiliate program is that you will be able to promote almost all the products on Amazon. I mainly recommend books on BizTips from Amazon.
Because Amazon is an established brand, the conversion ratio of click to sales is much higher. On top of that, if you send a buyer to Amazon with an affiliate link and the buyer ends up buying other products, you still get the commission on those sales as well. The commission percentage varies from one category of product to another.
I have been an Amazon affiliate of Amazon.com and have shared the commission cheque here.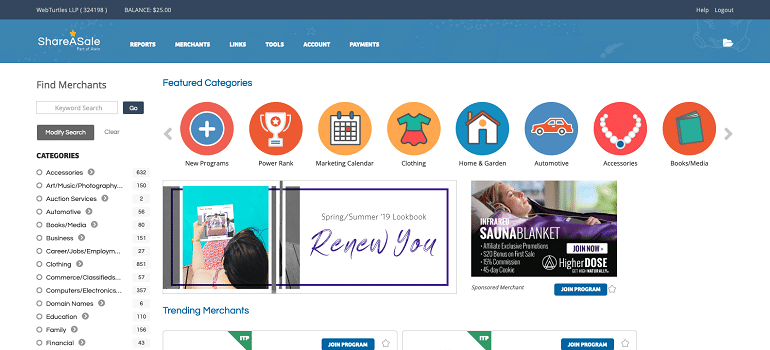 ShareASale is massive. With more than 4800 merchant programs and an intuitive search, any publisher can find an affiliate program for the offering. For example, I promote Grammarly and WP Engine via Shareasale on BizTips.
ShareASale also offers PowerRank for merchants, an option for merchants to be featured.
The best part of ShareASale is they offer direct deposit payment to the Indian bank account.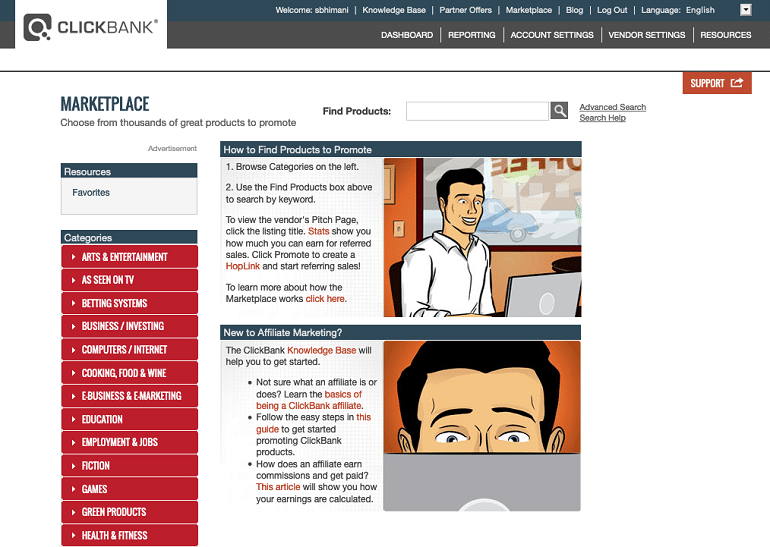 Unlike traditional affiliate networks, ClickBank is the marketplace for digital products. It means merchants can offer digital products. For example, my Finance eBook is on ClickBank.
As an affiliate, the best part of ClickBank is that you are approved to promote all the products in the marketplace. You don't need approval for each product differently. Moreover, ClickBank directly handled the payment, unlike other affiliate networks, which make the tracking for affiliates very reliable.
For a merchant, all one needs to do is add the product to the ClickBank marketplace. Then ClickBank takes care of the checkout, payments, and delivery of the product to the customer.
Hence, ClickBank is a full-fledged eCommerce payment processing payment platform.
Because the products are all digital, merchant often offers a commission as high as 75%. Even on recurring payments, the affiliate will earn recurring revenue.
ClickBank supports direct payment to the Indian bank account, but they do so after sending a couple of payments in cheque form.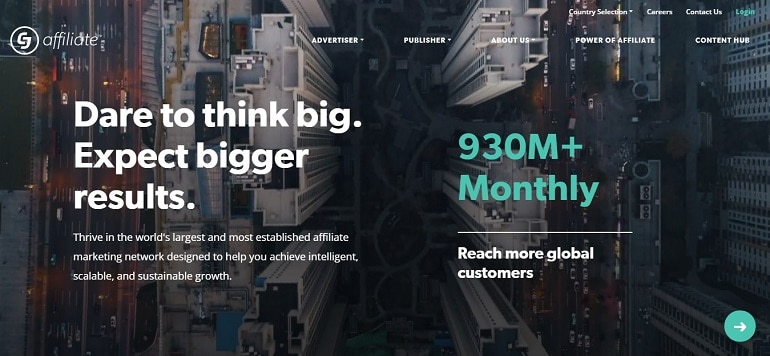 Commission Junction, aka CJ Affiliate, is one of the oldest affiliate networks. It has a vast range of merchants, but they started deactivating affiliates who don't make sales for an elongated period.
Still, it is worth considering CJ. They provide users with tools like product widgets and in-depth link automation for faster revenue generation. These tools help them leverage sites, monetize, save time, and offer opportunities to scale up fast.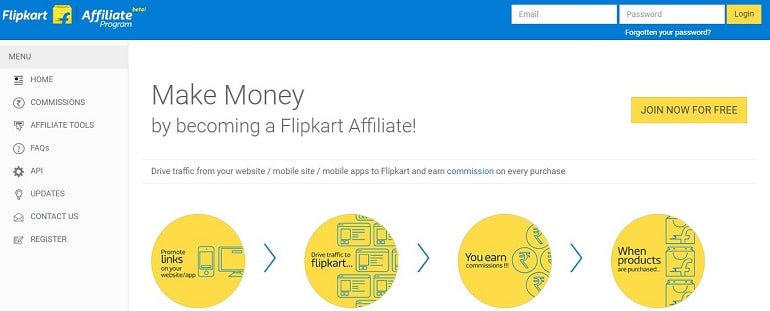 Flipkart (Now acquired by Walmart) is India's second-largest eCommerce marketplace after Amazon India.
Like Amazon, Flipkart's commission rates also differ category wise. For example, Flipkart pays 8% on books and 4% on consumer electronics.
Pre-Amazon India, I did share the Flipkart affiliate link. But because now I use Amazon more than Flipkart, I have stopped sharing Flipkart's links on BizTips.
Flipkart offers a commission even if the sale takes place through their mobile app.
The payment terms are comfortable and offer direct payment to Indian bank account using NEFT.  The only condition is, there is a minimum payout of Rs. One thousand or more in affiliate earnings. If for any month, the payable amount is less than Rs. 1000, the amount rollovers.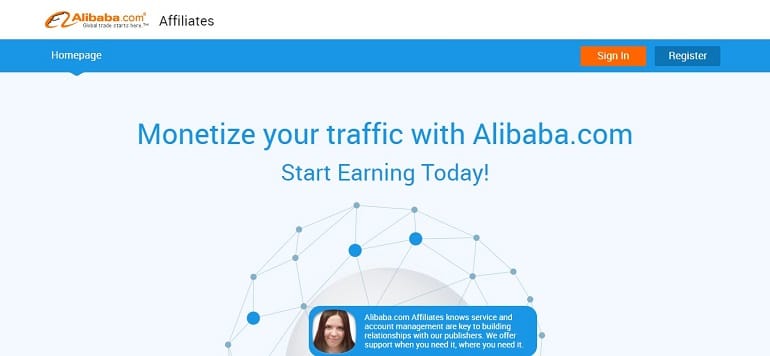 Alibaba is the World's biggest eCommerce marketplace selling a variety of products at wholesale & retail prices. After initial registration, where bank details are mandatory, one can promote the Alibaba affiliate products to their audiences.
An excellent advantage of Alibaba affiliates is their higher commission rates and relatively higher ticket size sale.