The cost to start a freelancing business is a lot different than doing freelancing on the side. Understand these costs and prepare yourself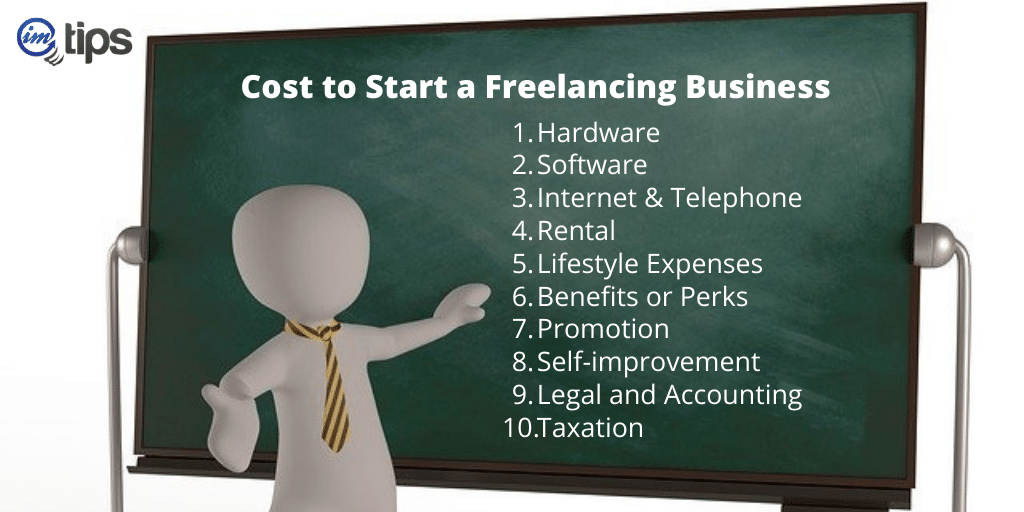 There is a common misconception about the cost when you want to start a freelancing business and so let me help you understand what costs one should consider when you want to start a freelancing business?
Often freelance assumes that starting a freelancing business is all free, and there is no cost involved. From the outset, it may seem so, but the reality is, when you want to be doing it as a choice of career, one has to consider those cost aspects for it.
As an example, if you own a computer, you can start freelancing with it. We do not consider the computer's price to start freelancing, but it is the cost that freelancing has to bear in reality. Even if you don't consider it initially when your computer breaks down or wants to have a second one, one has to consider its cost.
So yes, we may assume that there is no cost to start freelancing, but the reality is there are many costs involved in freelancing that one should not neglect and include them in the price they quote when working for clients.
So without much ado, let's find the real cost to start a freelancing business.
Hardware Cost
The first and the most neglected of all cost to start a freelancing business is the hardware cost.
You will need a good quality, high-speed computer. Even if you have one, you will need to replace it at some point. So when you have to buy a new one, it will be a high cost that you have to incur.
Similarly, you will have to buy a printer, a router for the Internet, hard disks for backup, mobile or tablet, a USB connector, etc.
The list is long, but we often tend to ignore the cost of them when starting a  freelancing business because the majority of the cost is often when one needs to buy a computer, and if anyone has one, it often becomes ignored.
Even if you have ignored it till now, you should start considering it from now on for sure.
Software Cost
The software that you need to work will vary depending on your field of freelancing.
However, you will still need Microsoft Office or Google Workspaces. Similarly, you will need some software that will make you more productive.
Moreover, you will also need specialised software in your fields; for my Recipe website and YouTube channel, we use FinalCutProx, which costs ₹25,000.
Furthermore, As a freelancer, you will require to set up a website or a blog as a contact point for clients and showcase for profile and samples. So you will have to bear the cost of a domain and hosting as well.
In many freelancing niches, you may need to subscribe to online resources like – a photograph site, a CRM, Amazon Web Services, Google Cloud, etc.
Internet and Telephone Cost
As a freelancer who wants to work for foreign clients means you will need a high-speed internet connection for sure.
You will have a lot of skype voice and video call, and so your Internet connection has to be top-notch.
Moreover, the better your Internet connection means you can download and upload stuff faster.
I keep a dual Internet connection from two Internet service providers because if one of the links is down, I don't want to miss my clients' opportunity.
In short, your monthly Internet cost will be significant when you are serious about starting freelancing as a business.
Rental Cost
Freelancing is a synonym for work from home, but that doesn't mean you should neglect the rental cost.
So if you want to be working from home, you will need extra space to call it a workspace. If you already own the house, you may wish to purchase a bigger one.
However, at the starting point of your freelancing career, you can adjust to be working from your couch, but can you keep working from your couch for the rest of your life?
The answer is more likely a NO.
You will need some tablespace that you want to use as a working space.
I started working from my couch, and you can see it in the image below.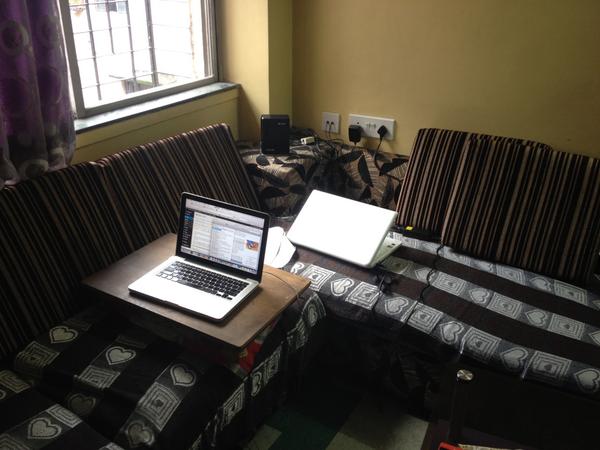 But now I have a dedicated tablespace in my house as well as have a rented office space. I work from my home for clients and use the office for my website TastedRecipes for content and video.
Self-Employment Cost (Living Expenses)
The next cost that I want you to consider when starting a freelancing business is a living expense or lifestyle expense.
Either you have a family to support, or you will have it sooner in a few years for sure. Often freelancers consider the low end of the range as the living expense. There is nothing wrong with it when you are just starting, but what I want you to focus on is to upgrade your lifestyle and way of life.
What I mean is you should have both the scenario in mind. The first is the minimum monthly expense that you will need to survive as a freelancer and the second one is the lifestyle you want to give to your family and kids.
If my monthly expense is ₹25k per month for survival, it doesn't mean my target to earn should be only that amount. I can start to reach that amount first, but it should also mean that my long-term target should be to give my family a lifestyle worth all the effort I put into my work.
It can mean a better living space in a good locality, better gadgets for kids, good cars, so on and so forth. You have to start a freelancing business with both short-term income and long-term income goals.
Benefits or Perks
As an employee, you are entitled to many bonus and benefits from the employee. As a freelancer, you will get no benefits or other perks from clients. You must earn them yourself.
Some of the benefits that an employee can avail but aren't for freelancers include:
Insurance (medical and life) – While employers provide medical cover or life insurance, you must find and pay for your insurance as a freelancer.
Retirement – Employers often provide PPF or a pension scheme though the amount is deducted from its CTC. Still, there is an option for the employed individual. However, as a freelancer, you have to plan your retirement. I am doing it by investing in the equity market and building wealth as well as retirement corpus.
Paid Holidays – Employers allow paid leaves for their employees. So employers will still pay you for a set number of off days. As a freelancer, there is no such thing as a paid vacation. The time you are working is paid, and the moment you aren't working, you stop earning. You will need vacations or need off time for sickness or rest. So it is important to save enough to be able to spend on good vacations or to be able to take some days off.
As a freelancer who is willing to consider freelancing as a career choice or a business, consider these cost aspects for sure.
Advertising and Promotion Cost
You are responsible for advertising and promoting your services.
When you start as an individual freelancer, freelancing sites like Upwork can help you grab enough clients. However, at some point, you have to scale it up as a business, and so you have to incur many costs like:
Online advertising (Facebook or Google Ads)
Flyer and Banner Printing.
Promotional gifts and giveaways to local and international clients.
Fees associated with networking (you may need to visit local events)
As you can see, freelancing as an individual freelancer is a lot different from freelancing as a business.
Training and Self-improvement Cost
As a freelancer, you have to self improve. Additionally, you may want to switch skills.
As an employee, when you need to switch technology or want to improve skills, you have training programs that one can enrol.
As a self-employed freelancer, you not only have to bear the cost to train yourself, but the time you are spending on getting taught is the time you don't earn.
So when I was working in vBulletin and wanted to move on, I had to choose where I have to make a move. Once I decided that it would be XenForo, I had to buy XenForo, install it on my local and development server, and learn to create addons.
Similarly, when I wanted to upgrade to XenForo 2.0, I spent time learning it on my local server.
It is the cost that I have to bear when I want to learn something new or upgrade my skillset. The time I spend on it isn't paid for by clients. However, once I have a basic understanding of the software, I can take up client work and then master it. That way, I am upgrading myself as well as getting paid.
So, as a freelancer, you have to keep time for learning something new all the time.
Legal and Accounting Cost
As an Indian freelancer, you have to pay income tax and comply with Goods and services tax or GST if your total revenue crosses 20Lakhs in a financial year.
As a business, you are likely to cross 20Lakhs as turnover in a financial year easily. So you have to register for GST and hire someone to file returns monthly or quarterly as needed.
Furthermore, you may need to register a private limited company or an LLP for the business.
There is a cost involved in filing those returns. So you have to consider those cost when you want to start a freelancing business.
Trust me, legal advice or accountants aren't cheap. And if you opt for more inexpensive services, you end up being screwed big way.
Taxation Cost
Finally, the last but one of the essential aspects that every freelancer misses considering when they start their business is the tax they need to pay.
It means, at the end of the year, you are not only responsible for completing the accounting matters but also pay the income tax or GST due, if any.
What's more, as a freelancing business, you need to prepare an estimated tax that you will have to pay and make an advance payment for the estimated tax. Otherwise, you will be liable to penalties in the form of Interest charges at the end of the year.
So if your total estimated earnings in a year will be such that your total tax due will be ₹40k, then you have to pay ₹10k as advance tax in each quarter. At the end of the year, when you are done with the final calculation, you can make the payment of a nominal amount as extra or if income changes, you may ask for a refund of the tax.
Final Thoughts
Freelancing is an incredible choice of career. If you are doing it on the weekends as a side income, you won't have to consider many of those costs. But if you want to start it as a full-time business, the approach has to be a lot different.