As a freelancer, vacation may sound tougher than they actually are. Once you take a vacation, you will find that it isn't that tough.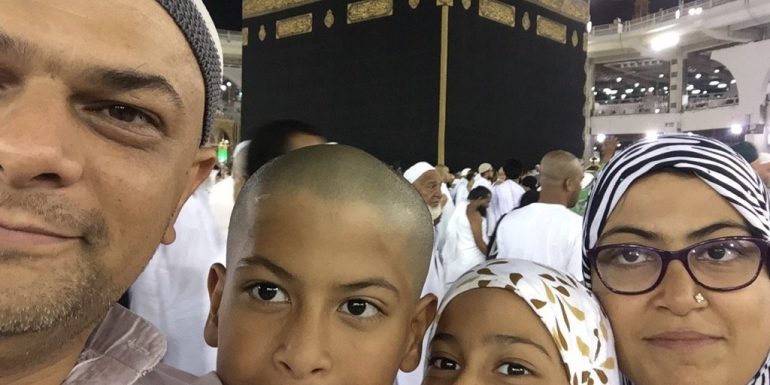 Bloggers on the Internet share working from beaches. The question is, do you need to be working from such places? More importantly, as a freelancer, should you be working from such places or instead prefer enjoying a vacation there?
As a freelancer, vacation may sound tougher than they are. Once you take a vacation, you will find that it isn't that tough. Recently I went to Mecca for an 18 days tour, and I did not carry a laptop or tablet with me and even avoided Internet connectivity.
The Short Story of Long Vacations
The most important aspect of being able to take vacations as a freelancer is to plan well in advance and let all your clients know your availability. If you are a blogger and if you cannot schedule posts, let your readers also know about your availability.
You will still have some clients who will miss the schedule and forget your availability, but that's ok. You can use your phone to respond to these clients and remind them about your availability again.
Once you inform your clients about your availability, make sure you don't schedule deliverables before you leave for the vacation. Instead, make work lighter before the holiday. It can help you avoid critical issues when you aren't available, as well as helps utilize the time before leaving to schedule posts on your blog or updates on social media.
Keep a buffer day to get back to work. My clients know I will be back the day after I am back. Once I am again, the buffer day is light work with email, blog comments, social media, and other catch-up tasks.
Vacations are more than finance and clients, and it allows you to spend time with your family and helps get re-energize you to work.
Start With Short Vacations
As a freelancer, you always think you need to be available even when on vacation. It is true that you need to be available and can't just switch off for an elongated period but not because you can't do it, but you shouldn't be doing it. Your client needs you, and you should be up for it.
But that doesn't mean you can't take vacations either. You have to find a balance between being available and able to enjoy holidays. So if you want to take extended leaves, you should start with short vacations.
Weekends can be a good start clubbed with an additional off day of either Friday or Monday. Monday works best for me and often for Indian freelancers working for US clients. Your Monday is still Sunday for them, and so you can always take a Monday off.
3 Days mini-vacations are a good starting point.
Make Off days a Habit.
You don't need to travel to call it a vacation. You can make an off day. There are a lot of things that you can do off days, and it is neither a working day nor a conventional vacation.
Read books
Hang out with friends
Meet an old school friend.
Visit a friend's house.
Watch a longer form of cricket matches.
And the list can be endless but taking off days will help you get used to taking vacations. Don't make these on Sundays but working days, and this is how you will be tempted to take an extended vacation.
Right Time for Long Vacation
I usually work for overseas clients, and work is always light near Christmas and new years. So as a freelancer, planning a long vacation around that time of the year is easy.
Observe when you have less client work and plan your vacation around that time.
BS The Right Time
What if your kid's vacation isn't when you are free? You have to prioritize and plan your vacation around your kid's holiday more than anything else.
Working Vacations??
The two big questions are:
Do you want to be working on Vacation?
Be honest and answer this to yourself. As a freelancer, do you want to be working on your vacation? Or you want to spend time with your family and enjoy the ambiance and the place where you are?
I am not a frequent traveler, and so when I am on vacation I like to be on vacation and prefer doing nothing. Earlier, I used to carry my laptop, but it is a time killer for me on holidays. So, I have been avoiding it for some time now.
I started avoiding laptops on my short vacations and had to make a habit of waking up without a laptop around. Some things can wait.
My blog and forums can wait even if they are down. I had the needed checks, and just in case of an emergency, I had my outsourcing team all the access to get things back on track.
All my clients were informed about my complete non-availability. Still, one client did some upgrade, and his site went down, there is very little I could do, and he had to get in touch with his host to get the website up and running from backup.
Just in case I am not tempted to carry my laptop, I moved away from MacBook to iMac, which means even if I want, I can't take it anymore.
Now, as far as I remember, I haven't carried my laptop anywhere with me in the last couple of years.
Do you need to be working on Vacation?
The more important question is, do you need to be working on your vacation.
From 4 Hour Work-week, be prepared for the worse. Is it ok if you lose all your current clients and have to start again? Can you afford yourself a few days after you are back to get new clients? Don't you lose a client for other reasons beyond your control?
If your answer is yes, you should be all good to that extended long trip. Still, if you let your clients know in advance about your unavailability, all should be good.
Bloggers have the advantage of scheduling their posts. I had planned my articles such that my blog readers didn't even realize I was not in town.
Long Vacations Pre-requisites
So once you are going for an extended vacation that spans more than a week, you have to plan it right. Here is how to plan your vacation.
More than vacation planning, you have to plan your pre-vacation work schedule as well.
Light Work Before You Go
As a blogger, you need to be doing a lot more of writing before you leave, but as a freelancer, if you let your clients know about your unavailability, there can be a gush of work that clients may want you to be doing before you leave.
I prefer the other way round of doing light work before I leave. I let clients know that a great job can wait because if anything cranky happens with those significant changes, I won't be available for fixes. So it can have a substantial impact on their business. Seldom clients prefer going for those material changes before I leave.
It has multiple advantages where I not only can focus more on my scheduling my blog posts, but it also means when I am back, I have a reason to email clients about my availability and get back on track with client work.
The Payment Schedule
Even if you are the guy who prefers bill payment on automation, there can be other payments that may need your attention before switching off for vacation
Are you taking a vacation when you may have tax liabilities that need to be paid?
Do you have credit cards where you need to make a manual payment?
Are there any bills (electric, Internet, Phone) that aren't on auto payment mode and needs your attention?
Are your freelancer's invoices paid, so they are more than willing to help when you aren't working and need them the most?
Diversification of Income
An important aspect to consider is income and expense.
As a freelancer who works for clients, vacations will have an impact on income, but it shouldn't be a significant impact, or else you will be tempted to be working on holidays.
Have more than one source of clients and more than one source of income so that you minimize the impact. I prefer to diversify my income and investment to the extent that any one of them is not a significant and primary source of my overall income.
Finally, will I have clients when I am back?
Yes, you will have clients once you are back. The question arises because you may think on vacation makes you out of touch with clients, but that's not true.
Your long term clients will respect your availability, and as you communicate about your availability early, it means an instant start of work once you are back.