Upwork has recently up the ante of suspending accounts and it is definitely for the good. Reasons why Upwork accounts are suspended.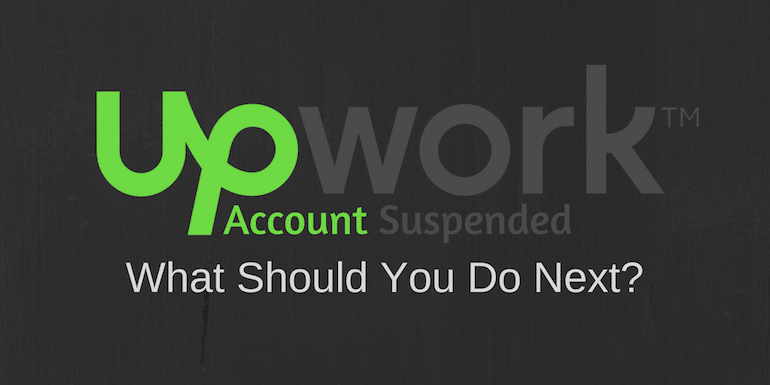 Upwork has recently up the ante of suspending accounts. I think it is definitely for the betterment of the marketplace. Many freelancers got their accounts suspended for various reasons. I will share the most common ones here but for a complete list check this link on Upwork.
These reasons I gathered by interacting with a couple of my Upworkers friends whose account is suspended recently.  as well as going through some of the threads posted by the suspended users in Upwork community.
Contact Information in Profile
The most common reason for accounts getting suspended is sharing your contact details either in profile or in the portfolio or with the proposal. You should be fine sharing links to the sample project, but it should not link to your blog's contact page or where you have your contact information very prominently displayed.
Don't see a reason to do it either.
I prefer the other way around where I want my blog readers to hire me on Upwork. I have many clients from my blog who hire me on Elance and Upwork. They create a personal project only for me, and it is so much more convenient for me to be working on Upwork.
I link to my Upwork profile and my past feedbacks boost clients the confidence to work with me.
Clients feel safe with escrow and pay if the work is delivered as per their needs.
You feel safe and confident with money already in escrow.
And don't miss to check out: How to Get Upwork Profile Approved.
Forcing Positive Reviews
Asking clients to give you a 5-star review instead of honest feedback is one of the other primary reason I found freelancers account getting suspended.
Upwork has an email notification system that sends an email to both parties to leave feedback. So, as a freelancer, you don't even need to request a review. But if you do, ask for an honest feedback. It helps you become better at what you do. On top of that, it can save you from being suspended.
Take a negative review with a pinch of salt and try to work your way of not repeating the mistake instead of asking for a 5-star review when you know you don't deserve it.
Success Ratio of Proposals
It is an email one of my blog readers got when his upwork account was suspended.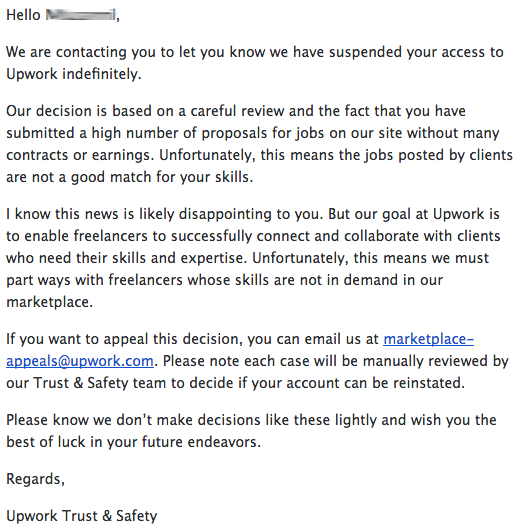 There is very little that one can do after you get such an email. The reason why the account is suspended is obvious. It happened to my friend because he submitted almost the same proposals to all the clients.
Applying for too many projects without success means you need to learn to write better proposals. Here is how I write my Upwork Proposals that lands me a project almost every time.
Multiple Accounts
I remember my Elance account was limited once. It required verification in 2008ish time when my brother also started with Elance. We both used to work from our home which meant we had same IPs / ISP. Have very similar expertise of vBulletin and our surname also matches. So we both have to get our accounts verified. It was all good then.
The reason to share this is having more than one account is always against the rule of Elance and Upwork terms.
As a freelancer, If you wish to hire someone, add a client account under the same login and don't try to get a separate account.
If you think you can trick the system, it is tough. With so many data points from so many users accessing the site daily, Upwork knows a lot more than you. They know about the common proxies and VPNs and so don't try that path.
Also check out: Ways To Receive Payments for Indian Freelancers.
What's Next?
Once your account is suspended, it is gone forever. There is very little one can do now. Still, the consensus is, there is a 1% chance of chance of account getting restored. Take that chance and confess what you did was wrong but were unaware.
As long as you are not trying to manipulate the system and are doing things ethically correct it should be all fine.
Still do not overly rely on only one site. I have been relying heavily on Upwork but will start building my profile on other freelancing sites.