Reader question for me if I had to start from Scratch as an Android developer, how will I go about fetching my first client on Upwork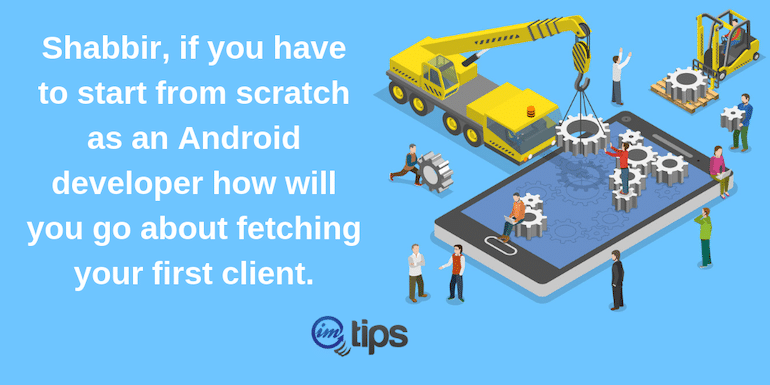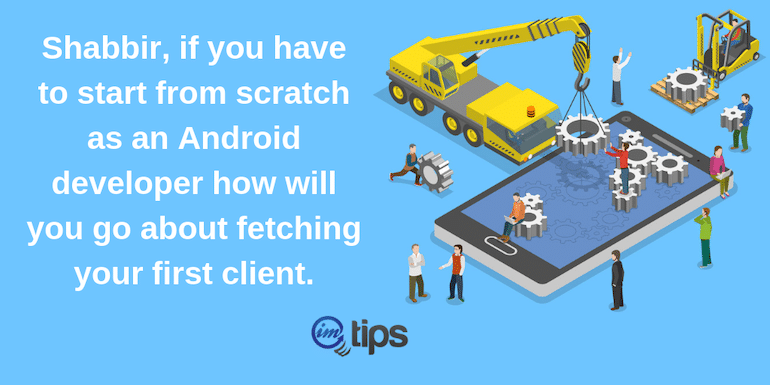 One of my blog readers asks me a provocative question about starting from scratch as an Android developer, how will I go about fetching clients:
Shabbir, if you have to start from scratch as an Android developer how will you go about fetching your first client.
The question is quite interesting because it not only asks about starting from scratch but also focuses on Android, where I don't even consider myself as a newbie.
Still, Let me share with you the roadmap to get the first client as an Android developer.
There are a couple of paths to go about it. So I will share both.
The first step is to choose the best freelancing marketplace for android developers.
The criteria to select the marketplace is the one that has a maximum number of android projects with as low as a possible competition among freelancer. Upwork has a good amount of Android projects posted regularly.
So the choice of the marketplace is now Upwork.
So let's get the profile approved on Upwork. If your profile is approved, structure the profile for Android expertise.
Android Specific Upwork Profile
We complete the profile early and much before we try to find a potential client because Upwork needs time to get your profile to rising talent status.
The tagline in Upwork is the most critical part of your profile because it is visible even if the client doesn't open your proposal.
My preferred tagline for the Android developer will be "Experienced eCommerce Android Developer."
Most of the new freelancer use multiple technologies like "Android, iOS, and Windows App Developer," but I narrow my expertise to eCommerce app developer for Android. I like to be a niche freelancer.
Ohh wait, I told I am a newbie and starting from scratch and trying to fetch our first client. So we shouldn't be creating a profile that says, experienced Android developer.
We are starting as a new freelancer but aren't a fresher as an Android developer. Still, let us make sure we don't lie and work towards making our tagline accurate.
Path 1. Build An Android App (For Someone)
Freelancers, always have an opportunity to work for free and get exposure. The best part of being a freelancer.
Select an eCommerce site that doesn't have an Android App. Use the contact form and provide them with one.
As a point to note, do not select a custom-coded eCommerce site. It will not be entirely feasible to get the fully functional app done for the site because some functionality needs web services on the server-side.
Choose any of the eCommerce CMSes.
The Functionality of the Demo App
Still a front end to list the products and admin able to send notifications about offers is good enough for a demo.
Once the app is ready, email the webmaster. Do not send the APK file but just a short email like this.
Hi [NAME]

I really like your e-commerce website but wasn't able to locate an Android app for it. I am an Android developer and has developed a sample app for your website. As I don't have access to your site's backend, the functionality of the app is limited but still, it is good for a demo. You can see the attached screenshots and let me know if you want to see a demo of what I have created for your site xyz.com

I am an experienced Android developer working for ABC and recently has become a freelancer. I am looking for some exposure and samples to showcase my talent.

Thanks
Shabbir Bhimani
Note: You aren't sending the complete source code and copyright of the code to the webmaster — only the APK file for the app. You own the code, and you are only allowing the webmaster to use the app.
Take the free services to the next level. If a webmaster is not tech-savvy, which is often the case, ask the client to add you as an app developer in their Google Play account. Then, you can submit the app to their Google play account.
Often, you may not even need to work for free. The webmaster will be more than happy to take your sample work as their full-fledged app. Moreover, they can hire you to customize it further. In some cases, when they are already working on something, and you share a better version than what they may have, it means you end up having a client instantly.
2. Build Your Own Android App
When starting from scratch trying to fetch the first client, creating an e-commerce site is one of the better alternatives.
You can create your e-commerce site with a few clicks. Once you have set up your e-commerce site, you can create an Android app for your website and submit the app to Google Play to reference as sample and demo.
If you create your site in WooCommerce, you can narrow the tagline even further as "Experienced WooCommerce Android App Developer." For any other CMS, you know how to change it. 😀
As an Android Developer, building an e-commerce site for a sample app may not be a feasible solution. However, we aren't focusing on eCommerce but Android. ECommerce is one of the options. You can also follow the same process for being an Android game developer. Build an Android game or any other utility app and have your site as well.
Also Read: WooCommerce SEO: A Step-by-Step Guide
Make sure your app is available for download in Google Play instead of sending an APK file to clients as a sample. It doesn't look professional, and your freelancing career as an Android developer can bear the cost of $25 that Google developer account charges for an app.
Your Android app to showcase your talent as an Android developer is undoubtedly going to boost the confidence of the clients where you are sending a proposal on Upwork.
Over to Upwork
So now we have made our tagline right.
Once the sample approves in Google Play, start applying to projects on Upwork. More importantly, I will choose only those projects where my sample matches closely to the client's requirement, to begin with.
So if my sample is for eCommerce app, I will target eCommerce clients. Similarly, if my example is for a game, I will focus on gaming projects. This way, my proposal becomes hard for clients to reject.
We are still trying to get our first client on Upwork as an Android developer. So don't expect top dollars for it even if the app has most of the functionality to what the client needs.
We are still building our reputation on Upwork. First 3 projects will be the work towards getting those positive reviews and building the Upwork profile as an Android developer. The quality of work and the willingness to be helpful will decide how far you go.