5 simple and practical tips I am using for the past decade to make sure every client I work with always pays me on time each time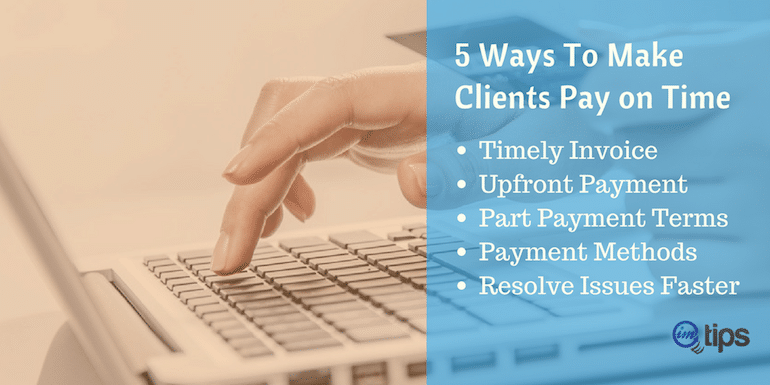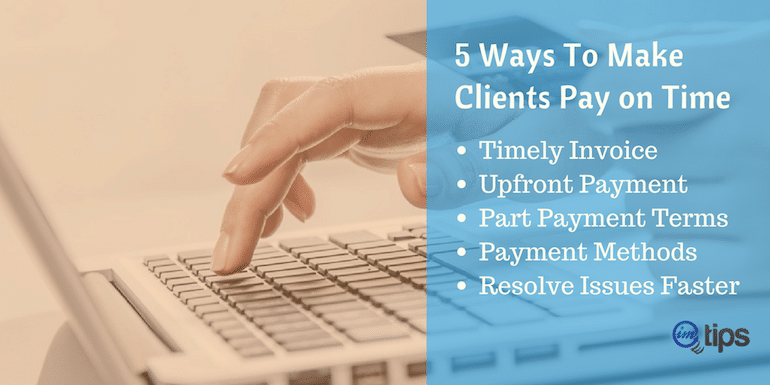 You need to pay your credit card bills on time, and you need to pay your mobile and internet bills on time, you need to pay your contractors and employees on time. So, if your client delays paying the invoices, it can lead to cash-flow problems that can have a repercussion effect on your entire freelancing business.
Here are five tips to help you collect payment from clients much faster and on time and make sure every client you work with pays on time.
1. Send Timely Invoice
If you delay sending the invoice to your clients, clients will delay the payment. If you want your clients to make a payment on time, you have to send them invoices on time as well.
Once you send the invoice, make sure the invoice has a due date. Moreover, keep the due date the same as the invoice date and not very far from when you send the invoice.
If you put the due date at a later date, the client may delay the payment and, in some cases, forget the due date. So either you set the due date for your invoice as the invoice date or if your due date has to be at a later date, send a reminder when the invoice is due for payment.
2. Ask for Upfront Payment
Don't wait for the project to complete before being paid and always ask for an advance payment.
I tend to follow a process where if the project is big, I take 30% as advance. If the project is of medium size, I split the payment in two and receive 50% as advance.
If the client is a regular client or if the project size is small, I am fine getting paid after the project is complete.
Even for regular and long-term clients, I avoid accumulating large sums and send them invoices regularly on a weekly basis.
Also read:
The client changed his FTP and CPanel password and did not pay me for my work. What can I do to get paid from the client who refuses to pay?
3. Opt for Part Payment
Make sure the payment terms aren't such that you get paid after the whole project is complete. Have an option for interim payments.
Split the large project into smaller milestones that you can be paid as you make progress with the project on a weekly billing.
Some clients may not be confident with such payment terms. So, opt for an Escrow option with Freelancing sites like Upwork.
4. Accept All Payment Methods
Some clients won't be confident paying with your choice of payment method. Make sure you accept payment methods that your clients are comfortable paying.
As an example, Upwork started 0% fees for clients that I refer to them. Some of my regular clients' found Upwork so overwhelming that they wanted to continue using Payoneer. It is as simple as I send the Invoice, and they can pay an invoice with one click.
So if you want to make your clients pay on time, make their life easy when paying.
5. Resolve Bug / Issues Faster
Some clients tend to send issues after you have submitted the final invoice to them. Often it is a tactic to delay the payment. You have to be up for it. It is often easier to resolve the issues than to argue. So make it super quick to solve, and clients can pay on time.
Even if things are beyond the scope of initial requirements and if you find those issues to be trivial, avoid getting into an argument and try to get those issues sorted to get paid. Such behavior from the client can mean you can avoid working with them going forward.