Answering all the common questions about invoicing for freelancers How and when to send invoices to clients, what information to include …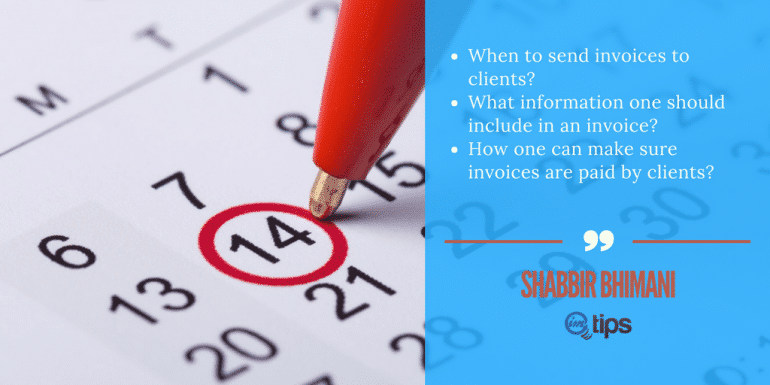 Invoice is a document issued by the seller to the buyer of the total amount due and the breakup of each product detail or services offered. In freelancing, the invoice is a document issued by a freelancer to their clients for his or her services. It should consist of the details of each service provided. Invoicing is the process of sending an invoice by freelancers to clients.
The invoice can be sent weekly or monthly, depending on the pre-agreed terms with the client. My preferred choice is always sending a weekly invoice to my clients, and I keep Saturday for invoices.
How do I Send Invoices to my Clients?
Invoicing for freelancers is simple and easy in PayPal. If my clients prefer PayPal, I send invoices using the PayPal interface.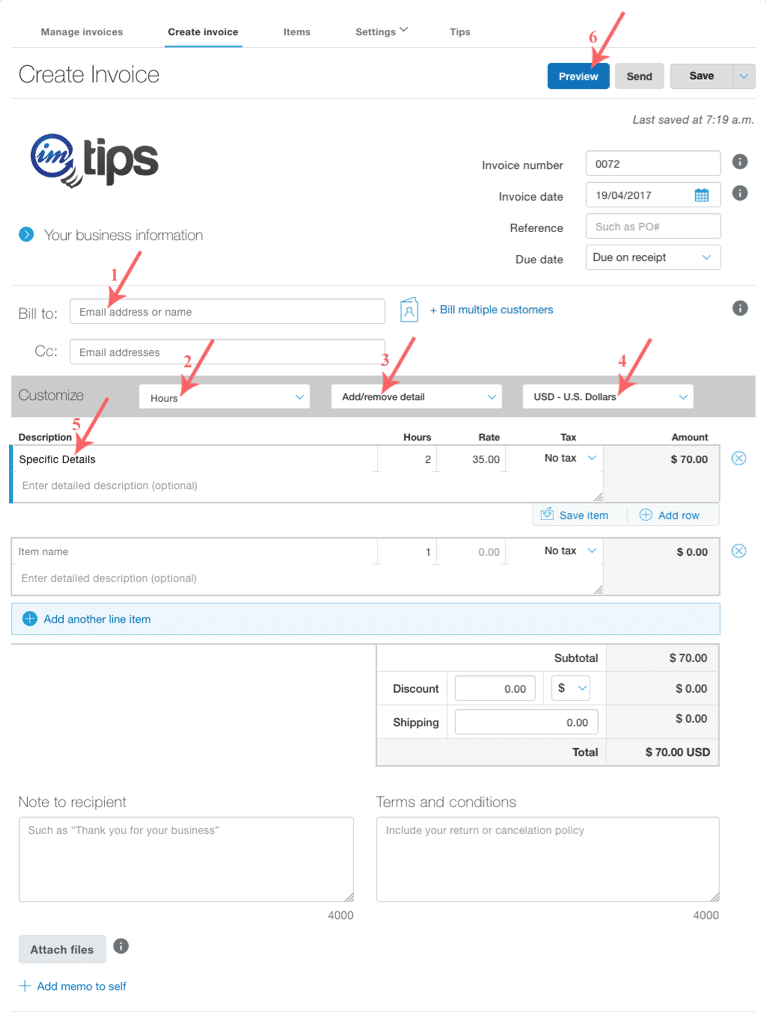 Add the client's PayPal email.
Customize the Invoice for Hourly, or amount based invoice.
Customize Invoice to include tax, discounts, shipping, etc.
Select a preferred choice of currency.
Add task-specific details.
Preview or send the invoice.
It is as simple as this.
Apart from PayPal, one of my preferred methods of getting paid is Upwork, where I send timesheet every week. We don't need to send an Invoice, and Upwork does it on our behalf for sending the invoice.
When I am using Payoneer or PingPongX, I don't use any other invoicing software but an Excel Google sheet.
If you prefer to create an Invoice online, here are 10+ Free Online Invoicing Apps For Freelancers or use FreeInvoiceBuilder.com.
When should one send an Invoice?
I will share my personal experience of when I send invoices to my clients. As a freelancer, feel feel to use the same process of invoicing your clients.
There are three types of clients that I deal with.
1. Weekly Invoices
I usually prefer to issue an Invoice every Saturday for all my clients, and I let the know very well in advance when I am sending them an invoice every weekend.
It is part of my proposal flow, and I convey the same as soon as my first weekend is near the corner. Just one line where I say, I will be sending the invoice for the work done so far.
As an exception, if I started very late in the week or if there is no significant work that has been done, I tend to avoid sending the invoice.
2. Per Task Invoices
There are some clients where the work is not hourly or weekly. It is on a per-task basis and if that is the case I send the invoice as soon as the work is done from my part but I also let them know that we have a support window for the pre-agreed time when we will be doing the support even after the invoice is paid.
In the invoice detail, I break down the amount that I charge for the included support. If some clients prefer to make the final payment after the support term, I try to keep the support time short and also keep the amount for the support significantly less in the invoice, so I have most of the payment.
3. Milestone Based Invoices
Even if I start late in the week, there are high chances that I complete a few milestones. The way I do it is, shortest milestones first. So I can quickly complete a few milestones and include them in an invoice to the client.
4. Invoices from Freelancers
Apart from my clients, I have freelancers who work for me and send me invoices. I prefer to hire people on per task basis, and my payment terms are – Invoices will be paid as soon as my client considers the job as complete and makes the payment.
What items need to be in an Invoice?
Invoicing for freelancers is relatively simple if they know what information one needs to provide. Here is a list of items one should have in an invoice:
Personal Name – Even if you are sending an invoice from a business name, include a name or contact person to help the client identify the source of the invoice.
Tax ID – Tax information is a must on invoices, even if a client is an overseas client. Always include the local tax ID on the invoice.
Address – The physical address for the business.
Contact Details – Skype/phone number/Email and any other contact information that you prefer sharing on your Invoice.
Client Details – Invoices need client business details, so it can be used as a document to claim as an expense. Ask business details from clients to be added to the invoices.
Invoice Date – The date when the invoice is prepared.
Invoice Number – I use the PayPal Invoices number for PayPal invoices, but if I use Excel Invoice, the Invoice Number format I use is Today's date, followed by a number like 1,2,3.
Due Date – Invoice due date may be different from invoice date depending on the pre-agreed payment terms. Ideally, you can make the due date as seven days after the invoice date if your payment terms are to pay the invoice within seven days of receipt of the invoice. I usually keep my due date the same as the invoice date, which means the invoice is due as soon as it is sent. Even if the invoice date and due date are the same, make sure the invoice has a due date.
Item Details – Each item in the invoice should be as detail as possible to avoid any confusion that a client may have when making a payment.
How to make sure Clients pay the invoices on time?
1. Clear Payment Terms
With Upwork, everything is in escrow, but for my direct clients, I prefer an Upfront payment of 50% and rest when the job is complete.
At times clients will not agree with your payment terms, and you can remain flexible for those clients. The best way to avoid payment conflicts is to make the payment terms clear.
I prefer smaller tasks from clients, but if you have large clients, you can have milestones based payment instead of upfront payment as well.
2. Every Detail in an Invoice
One more reason for being paid on time is to use the particular field to provide as much information as you can to make sure your invoice does not come up with surprises when it hits the client's inbox.
3. Discount For Upfront Payments
You can even provide discounts to clients if they make an upfront payment. It is a win-win situation for both. You get the money early, and your client receives a discount. I usually offer this only to my regular and long term clients.
4. Follow up on pending invoices
In my early days of freelancing, I had a client where I sent an invoice in PayPal that wasn't paid for a long time. I never knew the reason for not being paid.
A few months later, the client needed more work done; I asked for the earlier payment. It so happened that the client never got that email from PayPal, or the client just missed it.
When asked, he paid the invoice instantly as well as made sure the next payment was paid in advance. It wasn't intentional to not make a payment, but at times some emails can just skip from the inbox and send a friendly reminder that can help.
Also, you can prefer an alternate method of contact, then email like a Skype chat or iMessage (Many of my clients prefer iMessage) to ask about the unpaid invoice.