There is a lot one can learn as a blogger, freelancer from the life of Jack Ma. Here are 10 things I find encouraging and inspiring.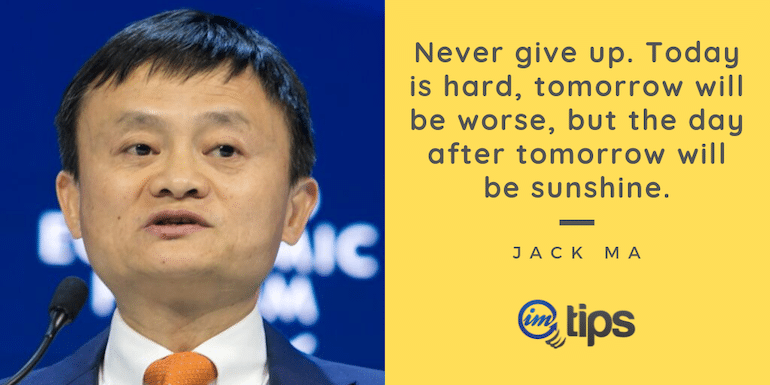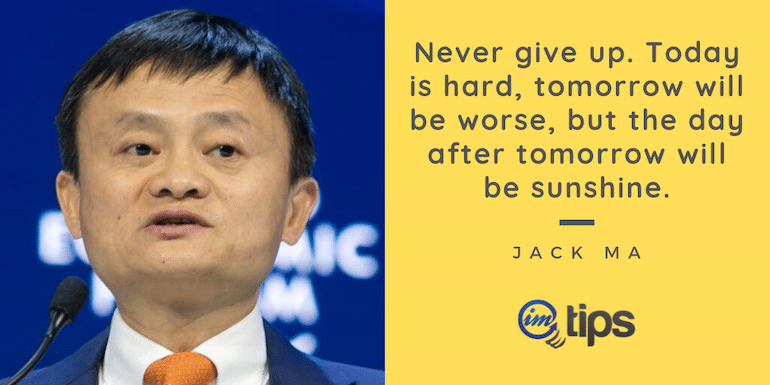 An unstoppable journey of a man – a business tycoon, failed twice in the university entrance exam, rejected from many jobs including KFC is now among the richest man in China. His net worth is over $23 billion.
Let's hear the story of Jack Ma who is behind the biggest giant and successful company in the world – Alibaba.com.
I learned some important lessons reading and viewing his journey on YouTube. Some are from the book Alibaba's world by Peter Erisman. His story is an inspiration to all the entrepreneurs. Especially bloggers and freelancers who dream of bigger success.
Who is Jack Ma?
Jack Ma was born on October 15, 1964, in Hangzhou, located in the southeastern part of China, originally known as Ma Yun. He is a prominent business figure in Asia and frequently listed as one of the world's most powerful people by Forbes.
A role model for many startups business all over the world and the co-founder and now former executive chairman of Alibaba Group companies.
Here are some few facts about Jack Ma's life:
His first job as a teenager was guiding tours and translates in English.
Jack failed twice in University entrance exams.
His first major company was to sell Chinese beers in America.
He convinced his 17 friends to invest in Alibaba.
In 2013, Alibaba broke the record of the biggest IPO in US history.
Jack Ma Life Story
Jack Ma was always interested in learning the English language since his childhood. Even, during his teens, he worked as a travel guide in Hangzhou as an English translator. He completed his bachelor studies in English in 1993.
In 1994, during the internet boom, he started his first company – Hangzhou Haibo Translation Agency. He provided an English translation for foreign tourists service in Hangzhou. He received a good response on his website and he thought the internet is a great source.
Later on, He visited America as a translator and he found that there was no information or an online portal for Chinese beers. So, he decided to create a website but it failed due to lack of funding.
Later on, he and his friend He Yibing opened the first office and started the third company in 1993 called China Pages. Within three years, the company made USD 8,00,000.
Then, he started a new company Alibaba in 1999. It was an e-commerce platform for Chinese enterprises. Alibaba is an amazing e-commerce platform where any manufacture or supplier can sell and buy products in bulk. And today the total net worth of the company is US$ 44 billion.
During the start of the company, he convinced his 17 friends to give funding in Alibaba and he received around Rs.167 crores.
And in 2013, Alibaba broke the record for the biggest IPO in US history. By then, Alibaba was a US-listed company and went public in September 2013 with 10 lac crores IPO. Jack Ma's net worth alone skyrocketed over 1.6 lac crores.
Though, the story of Jack Ma is not as simple as it looks. Of course, he went through dark days and crisis, but he made his special place in the whole world.
Being a successful entrepreneur, he taught me 10 important lessons which I follow in my professional career.
10 Lessons I Learn From His Story
Let's dive into the important lessons I learned from the life of Jack Ma.
1. Treat Every Opportunity As A New Door
According to Jack Ma, every opportunity that we get is never too small or minimal. Seize it before it goes away.
When running your business (small or big), sit with a binocular and scan every possibility of success. He never missed an opportunity.
As soon as the internet boomed, he started his first website and then he never stopped. So yes, treat every opportunity to grow further.
Read: How to Make Money Online With No Investment
2. Act Quick
Your ideas are not big but your actions are. It is only worth when you execute it. Jack Ma always believed in acting fast and therefore his Chinese company changing the face of global business.
Since it starts, he never stopped on standing upon one idea. He offered many other services and products to the consumers like Taobao, Tmall.com, Ali Express, China Yahoo, etc.
His ideas did turn into reality and therefore he is successful today.
Also Read: How to Earn a Living Blogging In India
3. Have a Clear Ambition
If your vision is not clear, you may taste its and bits of success, but it won't last long. Jack Ma says that do something which gives your long-lasting fruitful success.
When he started his e-commerce company Alibaba, everybody bashed him for starting something different. They didn't believe in him but he knew that E-commerce is the next future. And yes, he got it right.
Also Read: The 7 Habits of Highly Effective People By Stephen R Covey
4. Take Chances In Your Youth Life
Jack Ma has a wonderful thoughtfulness over today's generation youth. He believes that if we stop our children to take a risk in a professional career or financials, we are stopping them to grow.
Every failure is learning in life and we all should taste the failure. Because success has a price and it has to be paid in becoming big.
And being a youth, your ideas are fresh and you have maximum limits to go beyond your beneath. So explore the youth in you.
Also Read: CoderKube Success Story – 0 to 50 Developers In 4 Years
5. Approach with Right Mindset Is More Important Than Intelligence
To become a successful entrepreneur, you need to develop your attitude because it determines your altitude.
Intelligence comes from knowledge – as much as you learn but you can do this during the process. Anybody can make you learn things but nobody can teach you how to keep your attitude.
Always be calm whether the situation is rough or smooth. Your attitude is everything and makes you win dollars, good people and huge business.
Also Read: Mindset Vs Skill Set – Why Entrepreneurs Need The Right Mindset
6. Compete With Grace
Competition is good but healthy is the better one. When Jack Ma first gave his speech in one of the tech conferences, Jeff Bezos (founder of Amazon) was present over there.
Jack Ma thinks straight about the competition and says that learn from your competitors but never copy them.
This is how Jeff And Jack came together to play in the Chinese market together instead of playing opposites.
Also Read: How Developers Can Beat The Competition and Win Clients
7. Hire People With Superior Skills
When Jack Ma was in school, he had an intense affection with his teachers. He also said in one of his interviews that, "whatever I have learned or I am is because of my teachers. A true teacher is the one who always wants to make their students smarter then they are."
He followed the same mantra when he started a company and hired people who are smarter than him. He is so down to earth and said in public that he didn't know anything about technology or computers.
Therefore, he hired smarter people with extraordinary skills. The only thing he did is he made good people work together. And you can see the biggest E-commerce venture's success of Jack Ma.
Also Read: Importance of Consistency in Blogging – How to be Consistent?
8. Keep Money As Your Secondary Aspect
This is the main problem of any entrepreneur. Whenever you start anything, you start calculating profits. But it's never the right way to think or act upon. Money should be the least concerned aspect when you start something new.
Just think that before a week or a day, you had nothing in your hand and now you want million dollars in just a month of starting your venture. That's never the way.
When Jack Ma started his first website – the translation agency, he started it because he had a passion behind it. Later on, he started another website called China Pages which was a hit and earned USD 8,00,000.
So you see, money is not everything but once you follow your passion, it automatically follows you.
Also Read: 7 Ways College Student Can Make Money Programming
9. It's Important To Be The Best Than To Be The First
Many companies compete against each other because they want to become first on the list. But that should never be that. Maintaining the quality and giving something unique and useful to the customers should always be the focus.
Therefore, Jack Ma always says that being first will not make the best in the world but being the best makes you actual best in the world.
This is the same case with android companies and Apple. There may be not many users Apple has but it provides one of the best-operating systems in the world and it creates value to its customers.
Also Read: 7 Blogging Lesson Bloggers Can Learn from Success of Amazon
10. Never Give Up
Giving up is the biggest failure. Never take no as an answer. If something is not working, try other ways. Because every problem consists of solutions.
Jack Ma also had some failure of his website but he never stopped working on it and tried numerous ways.
He hired smart people and made an amazing team to get success in his tech projects. He learned from other entrepreneurs and competitors and changed the way of working. So, never give up and give you the best.
Also Read: Its OK to Quit – Don't Give Up
Some Jack Ma Quotes That Inspires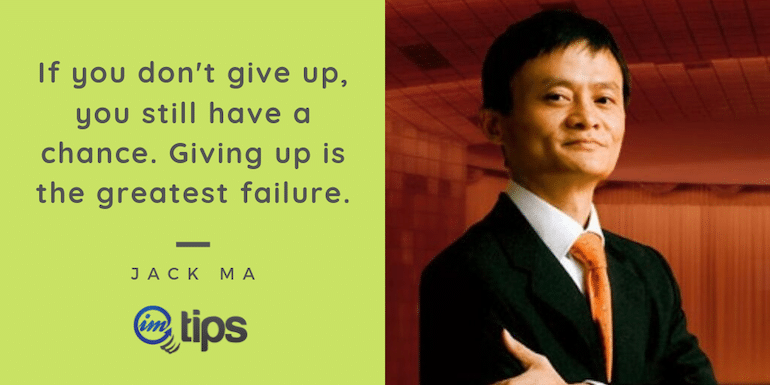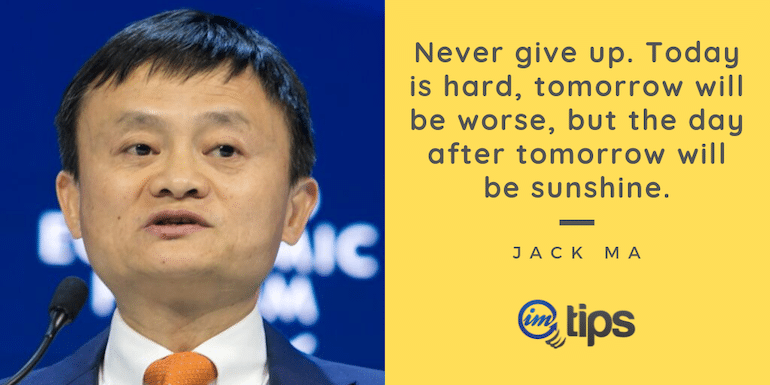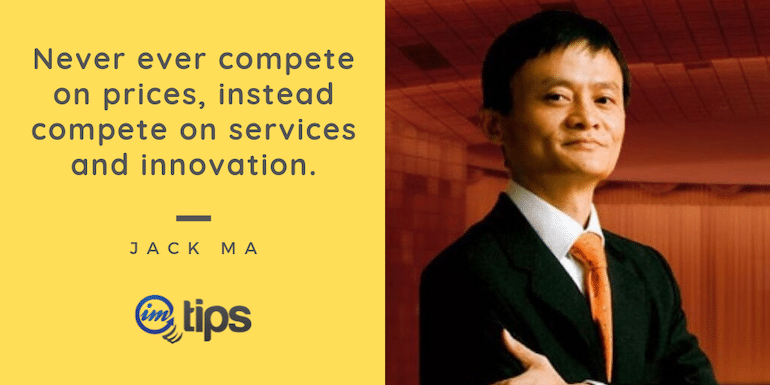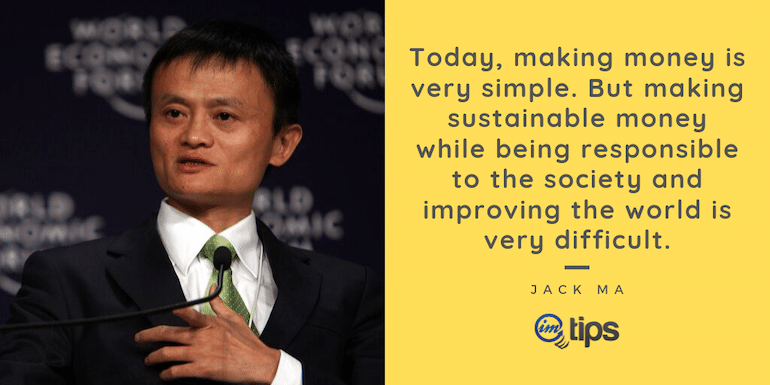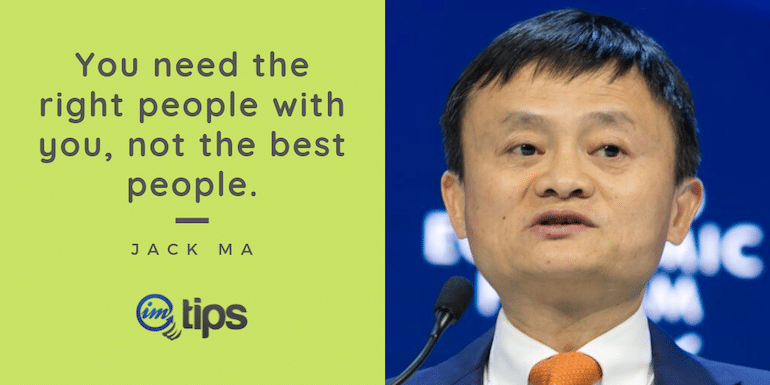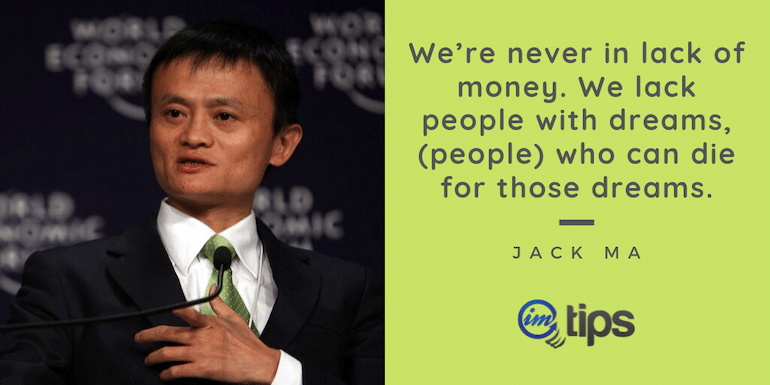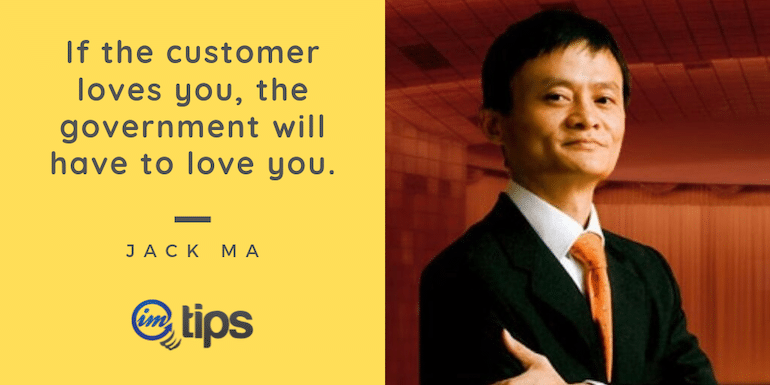 The Final Thoughts
For more than fifty years, a Chinese boy turned billionaire and successfully given us so much wisdom and some practical lessons to act upon. His success surely will bring light to our lives.
Whether you are an online marketer, a developer or a blogger, remember, the journey that you start should give you a proud moment when you sit with your grandchildren and satisfied inside that you did it.