Top 7 reasons why freelance developer fail at freelancing & the real reason why developers actually fail to make a mark at being a work from home freelancer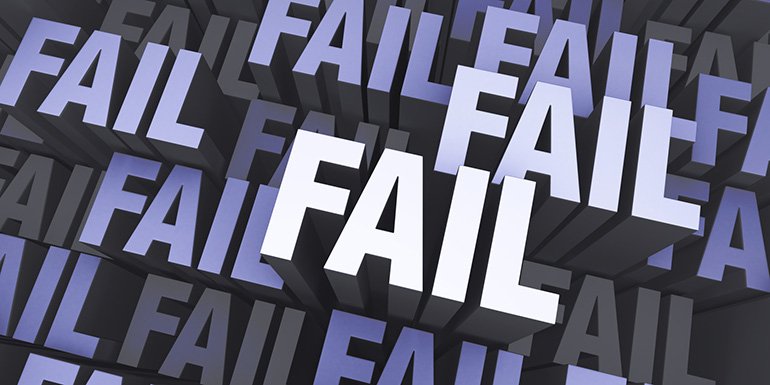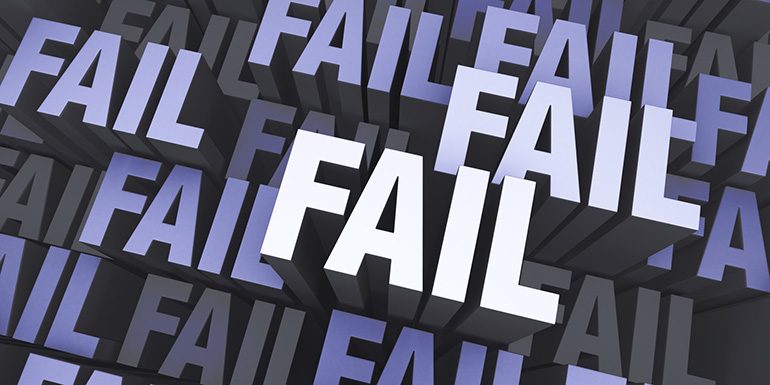 Don't you wonder why some developers make a living doing full-time freelancing whereas others don't get paid what they are worth and often consider themselves as a failure in freelancing?
Often we tend to have a reason.
Freelancers who are doing great love what they do, which makes them a better freelancer.
Others aren't doing what they love.
It may be true to an extent but not the full truth.
What if we view the scenario differently.
What if, you start loving what you do instead of trying to do what you love?
I love programming, and there is no denying fact about it.
But will I continue to love programming if as a programmer doing a 9to5 job is being pissed off day in and day out by my manager or boss?
Think about it.
The answer will be no.
The same will apply to every developer.
You love what you are doing for a reason. One of the reason is, you haven't been illtreated in front of others for it.
What if you are?
Similarly, I love reading charts and finding balance sheet discrepancies. Will I still like doing the same if I am working somewhere in the finance industry and isn't able to let the ends meet doing it?
More likely, the answer will be No.
So yes, it may be valid to the extent of what you love doing will help you survive as a freelancer, but it isn't the only way to success.
So what is it?
Also read:
How to start freelancing right now - The steps I followed amid the 2008 financial crisis to quit my high paying MNC job as a developer
Top Reasons Why Freelance Developers Fail at Freelancing
Before we get into the real reason of why developers may fail at being a freelancer, let us look at the top reasons why most fail at freelancing.
1. Starts in Saturated Market
The way Indian developers get into freelancing is, they do what others are doing.
There is no harm in it if it is only an inspiration to be a freelancer.
The problem happens when they try to be in the same technology as the other guy with tons of experience.
Freelancing in a competitive landscape. It can even mean you a commodity. Over time, the new freelancers start to believe the only way to getting a client has to be more on the price than skill.
As an example, if you are a PHP developer with a focus on getting clients from freelancing marketplaces like Upwork, chances are you will have fierce competition.
There is a truckload of PHP developers available just out of college, and it will be tough to beat them on pricing.
Quality and working in a non-competitive niche or frameworks is the only way out to be able to make a mark as a freelance developer.
2. Remains Outdated
Even if you start in a small niche, the freelancing world is fast changing.
Freelancers have to be right at the edge to be able to grab new opportunities as and when they come.
If someone is not willing to self-learn into the new era, it will be a tough job to remain relevant for a very long period for a freelance developer.
3. Loan/Ran out of cash/Bad Financial Management
If you have a loan, it becomes that much more challenging to be a freelancer.
If expense per month is 15k one needs 90k in the bank account to try freelancing for six months.
With loans and EMI, the amount can increase significantly to consider being a freelancer.
Similarly, as a freelancer, if you don't manage financial well enough, it can be tough to survive.
There will be weeks and months when you don't make any money. When you take vacations, payment can dry out, but expenses continue. So if you aren't managing your finances well enough, it tough to continue to freelance as well.
Similarly managing the credit cards well as a freelancer is also essential and remain away from loans and EMI. If you have loans, it can be tough to cope up with the uncertainty of being a freelancer.
4. Lack of non-technical Skills
Communication, negotiation, and marketing are some of the critical non-technical skills every developer must have to become a freelancer.
Often I see most developers lack such skills and are one of the reasons they fail to make a mark as a freelancer.
There is no harm in knowing to be an expert in these skills initially. The critical aspect is to realize that they are must-have skills to have as a freelancer. Then go ahead, learn them.
5. Sidetracked or Lose of Focus on Freelancing
If you are channelizing your energy in many places, chances are none of them will get the much-needed energy to make it big.
I am a fan of essentialism and always use this image when considering anything new.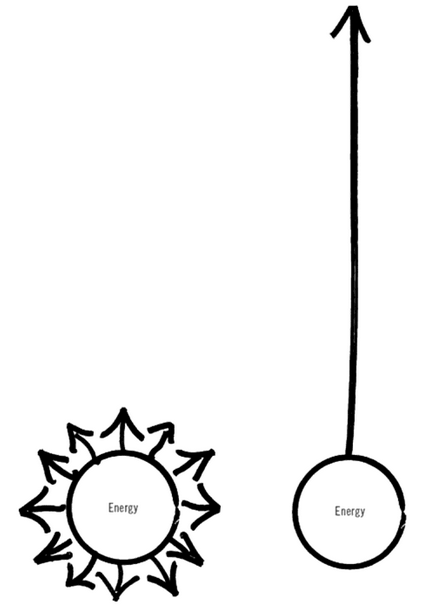 Do you need yet another pull in a different direction?
It makes sure I am not launching other blogs and only focus on BizTips.
6. Lack of Passion
Passion to be a freelancer and keep doing freelancing as to come from within.
It is tough but are you willing to work your way out of it or not.
If you aren't passionate enough to work for clients like it is your work, it can be tough to keep going for a long time.
The passion for performing is essential, but it is also equally important to keep on performing.
If you are into freelancing to make quick money, you aren't driven to be a freelancer.
7. Not Self Motivated
The last but the most crucial aspect why developers fail at freelancing is, they aren't self-motivation.
When you are working as an employee, there are other people to interact and drive motivation from.
However, as a freelancer, you have to drive motivation from within. The thing that gets you up in the morning has to be self-motivation — the motivation to start your computer and get going.
The Real Reason Why Freelancers Fail at Freelancing
Then I found this startup curve by Paul Graham of avc.com.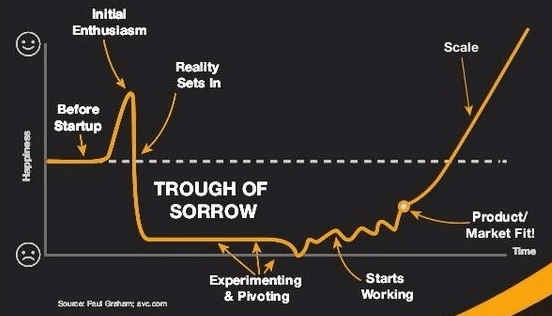 It clarifies why most of the freelancers fail at freelancing, and it is the real reason to fail as a freelancer/startup.
After the initial excitement to be a freelancer, the reality will kick in.
There is a long time wait time where the freelancer reaches the same happiness level before being a freelancer.
It can be because of a saturated market, lack of learning, no passion or focus or whatever other top reasons be — the time when most of the developers will quit as a freelancer.
The question is, how much is the right estimate of time?
For some, it is as low as a few months, and for others, it is as high as a few years.
The reason the time is low is that you have set a very low expectation of being happy as a freelancer.
Let me share my example here.
When I was doing a job, the salary I was drawing was quite high, but the amount I wanted to earn from freelancing wasn't to beat the amount I make out of my job. I did a calculation of my basic needs.
So when you have so little expectation out of it, the trough of sorrow time reduces significantly.
When you start making it a very high expectation, the trough of sorrow will be long and tedious, and the chances of you faltering in between are high.
I have seen people making ₹10k to ₹25k as salary per month and want to be a freelancer to make ₹100k.
There is no harm in such an aim, but then it also means you will have a long trough of sorrow.
Are you willing to play it out?
More important do you have the right attitude to be playing it for an elongated period?