The 7 blogging lessons I learned from the eCommerce giant Amazon over and above being consistent. These blogging lessons change the way I blog now.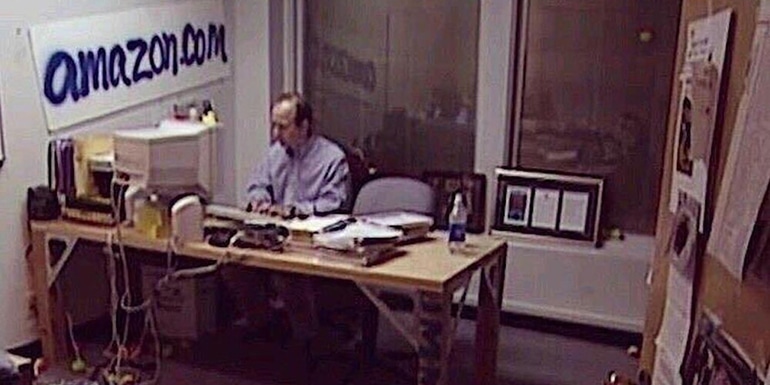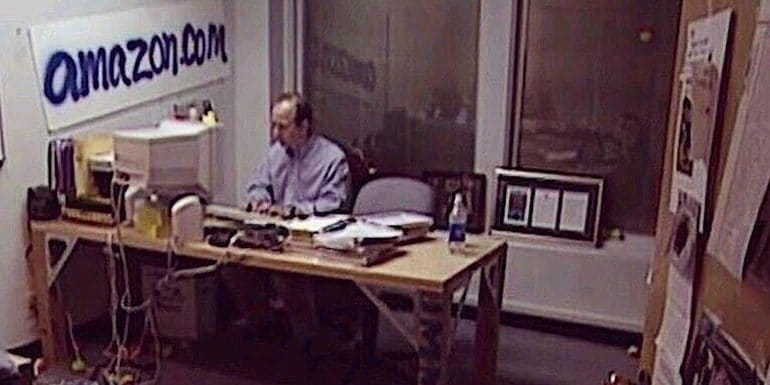 There is a lot a blogger can learn about blogging from the success of Amazon. In the past, I have shared blogging lessons we can learn from Success of WordPress or the God of Cricket – Sachin Tendulkar or from Bollywood Actors like Akshay Kumar and Aamir Khan.
Today let's learn a few blogging lessons from the eCommerce giant Amazon. As a customer, it amazes me whenever I interact with Amazon. Be it online, their support team, or even email them.
So let me share the lessons I can learn from the success of Amazon India.
Lesson 1. Always have Blog Search
Google has revolutionized search, and there is no second thought about it. It has changed the way users find information online.
But Amazon has surpassed Google for product searches.
People are accustomed to search. When they don't find what they are looking for, people opt to search the site. When there is no search function, they revert to Google.
So the site search option is a must because
Users won't dig a lot of pages to find what they are looking for.
A search bar will tempt users to stick to the site longer.
People are accustomed to search function (all thanks to Google).
Search analytics give valuable info about visitor's search and can help you craft topics around keywords.
Site search can help avoid navigation.
This blogging lesson from Amazon is the main reason why I have blog search everywhere.
Does your blog have an option for the visitor to search?
Lesson 2. Reduce Blog Load Time
Fast loading websites have lower bounce rate and higher pages per visit.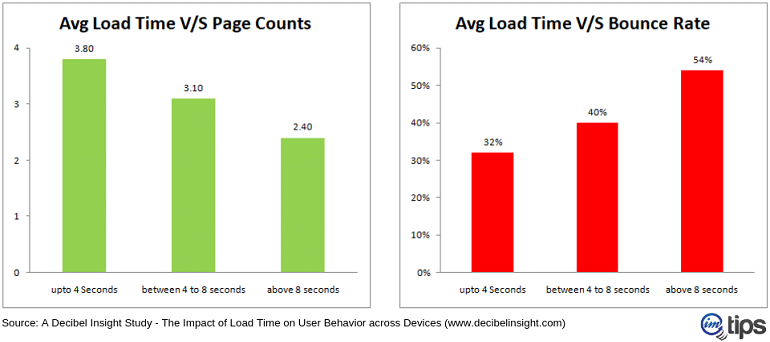 Other research reveals a delay of 1sec in load time can create a drop in sales by 1%.
The reason is simple; customers can't wait long enough for a website to load fully. Page load time is one of the most critical factors in improving user experience.
It can be quite an annoying experience for customers if they happen to land on your blog or website, and they are forced to wait until the page loads. Here are my Simple Usability Tweaks to Improve Reader Experience On WordPress and boost site performance.
Bloggers often overlook page load time. Is your blog's speed scaring your readers away?
Lesson 3. Self Help and Support
Whether it's Amazon or Alibaba, there's invariably one thing common. Their commitment to providing world-class support services to their customers.
Not only phone or email support but they have taken customer support to a whole new level. For instance, live chat, twitter, and facebook.
Addressing a customer's issue via email is a bit old school now. Brands use Twitter to offer better and faster customer support. Refer the below screenshot of amazon's twitter handle.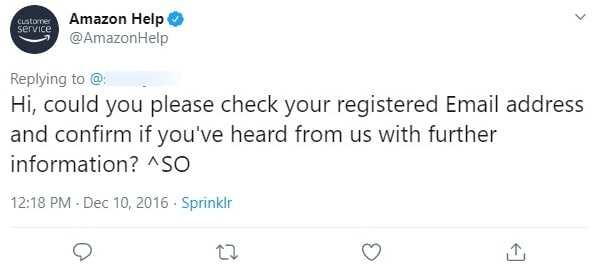 The main reason why Amazon has loyal customers for life.
Not only twitter, but Amazon offers reliable customer support on their website too. Users are given a series of self-help manuals in an easy to understand language.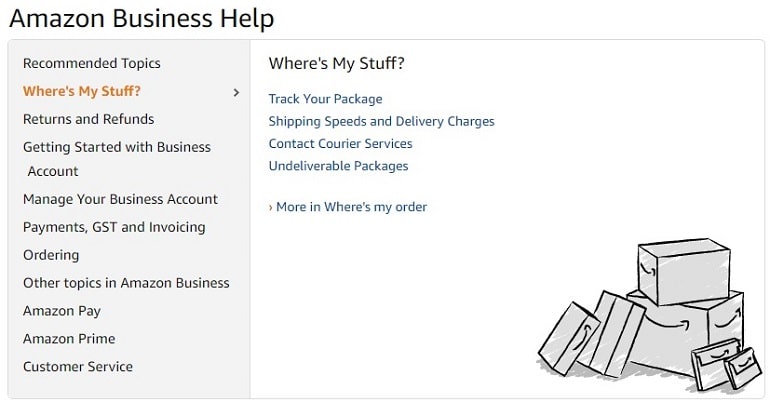 These help manuals allow users to access information without interacting with support executives. Most of the times, users can quickly resolve their problems using an insane number of self-help options.
Do you provide a self-help guide to your readers? This blogging lesson from Amazon led me to create Upwork Guide, Clients Guide, etc.
Lesson 4. Cross-Sell / Related Articles
Do you think offering more products in the sales funnel will be bad for the user?
What if it helps the potential customer?
When the focus is to generate maximum revenues, it may be the wrong choice for the user but helping them isn't. Let me explain how.
Amazon's focus has always been on personalized and custom user requirements. Suggestion to users based on past purchase, page views, cart items, and interest in the form of recommended products.
Amazon excellently displays frequently bought together items.

It is not a way to upsell or cross-sell but helping users with the product they may need with the one they are planning to buy.
The bottom line is a personalized shopping experience with higher conversion. It makes the buyer feel valued and understood. Building a buyer feel valuable altogether makes him/her happy too. It automatically guarantees more revenue.
Here are Amazon's unique selling pointers to elevate sales:
Special offers and product promotions
Frequently bought together
Customers who viewed this item also viewed
Customers who bought this item also bought
Sponsored products related to this item
Compare similar items
Customer questions & answers
Customer reviews
Bloggers only use a related post plugin to promote other articles. Why not add some article link within the content for further reading like:
Further Reading: 35+ Tweaks To Maximize SEO in WordPress Blog
Lesson 5. Emails To Keep Customers Updated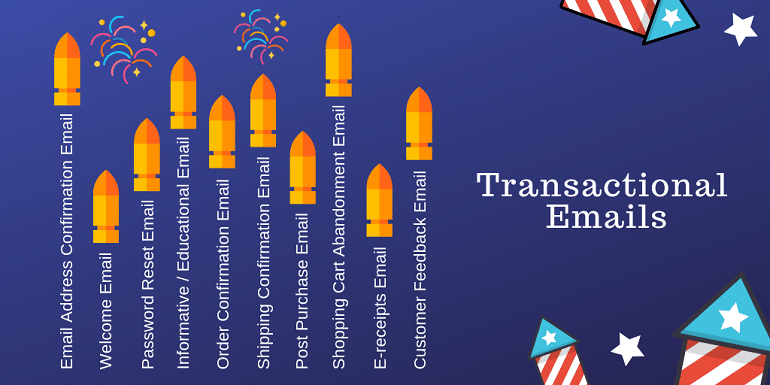 Email marketing is a powerful and cost-effective strategy. Amazon never fails to send emails for each offer or deal. Over and above, they send ten different types of one on one emails to keep me engaged.
Email Address Confirmation Email – These type of emails are sent to validate an email address of a customer. Valid emails will build a good email list.
Welcome Email – Customers usually get a welcome email soon after the sign-up process. It's a way to greet a customer first time.
Password Reset Email – These emails are triggered when a user ought to request a password reset.
Informative / Educational Email – These emails don't focus on selling to customers. It could contain a product manual, DIY guide, demo video, or anything related to educating the customer.
Order Confirmation Email – Emails sent upon successfully placing orders.
Shipping Confirmation Email – Shipment authentication emails are pretty straightforward with tracking information. These kinds of emails contain essential details of a shipping service provider, date of arrival, tracking code, and so on.
E-receipts Email – E-receipt or invoices in PDF form to provide customers their purchase proofs straight into their inboxes.
Post Purchase Email – Post-purchase emails make a customer feel like sellers care about them even after receiving payment. This email can be a thankyou note or creating engagement.
Shopping Cart Abandonment Email – Cart abandonment means the customer has left the website without purchasing the item. They are reminding the customer about the same to get the sales completed.
Ask Customer Feedback Email – Customer's opinion matters the most. It helps in understanding what they think about the product. Moreover, showcasing feedbacks upfront on the website will inspire others to purchase.
Are you sending emails to your blog readers regularly? I do.
Lesson 6. Use Social Proof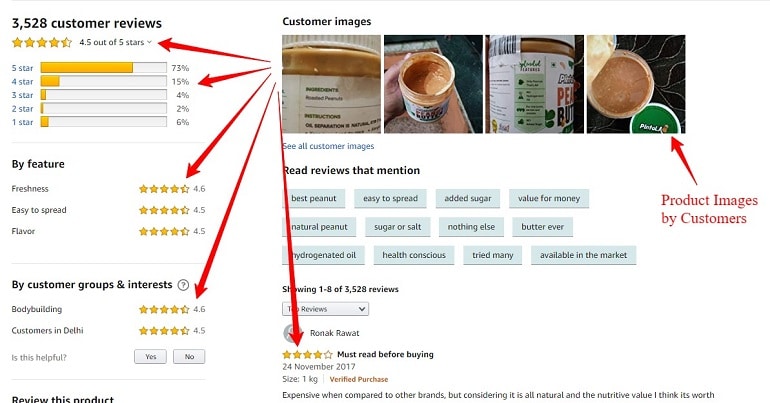 Amazon reviews are social proof to help newly browsing users to decide whether or not to buy a product and become a customer.
According to Search Engine Land, 88% of consumer trust online reviews as much as personal recommendations.
Amazon displays reviews and ratings everywhere.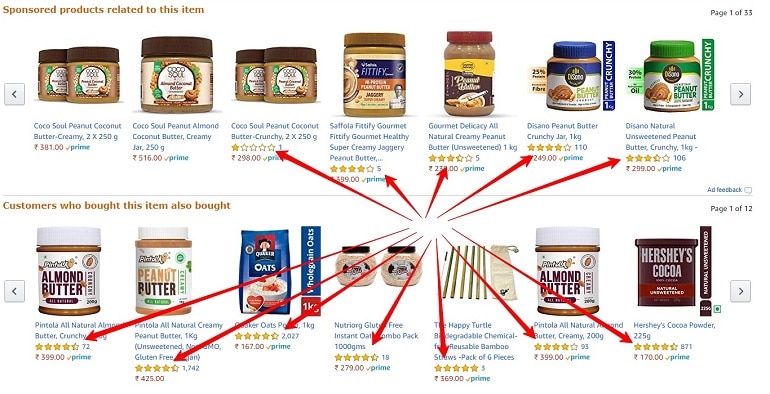 Users can upvote an existing review as well as can share views on the comments — a way to help new customers to decide on the products.
Are you using the social proof on your blog?
Lesson 7. Be in it for the Long-Term
The insane amount of resources a company like Amazon may have are beyond an individual's reach.
But, this is how Amazon started but more importantly, in 1999.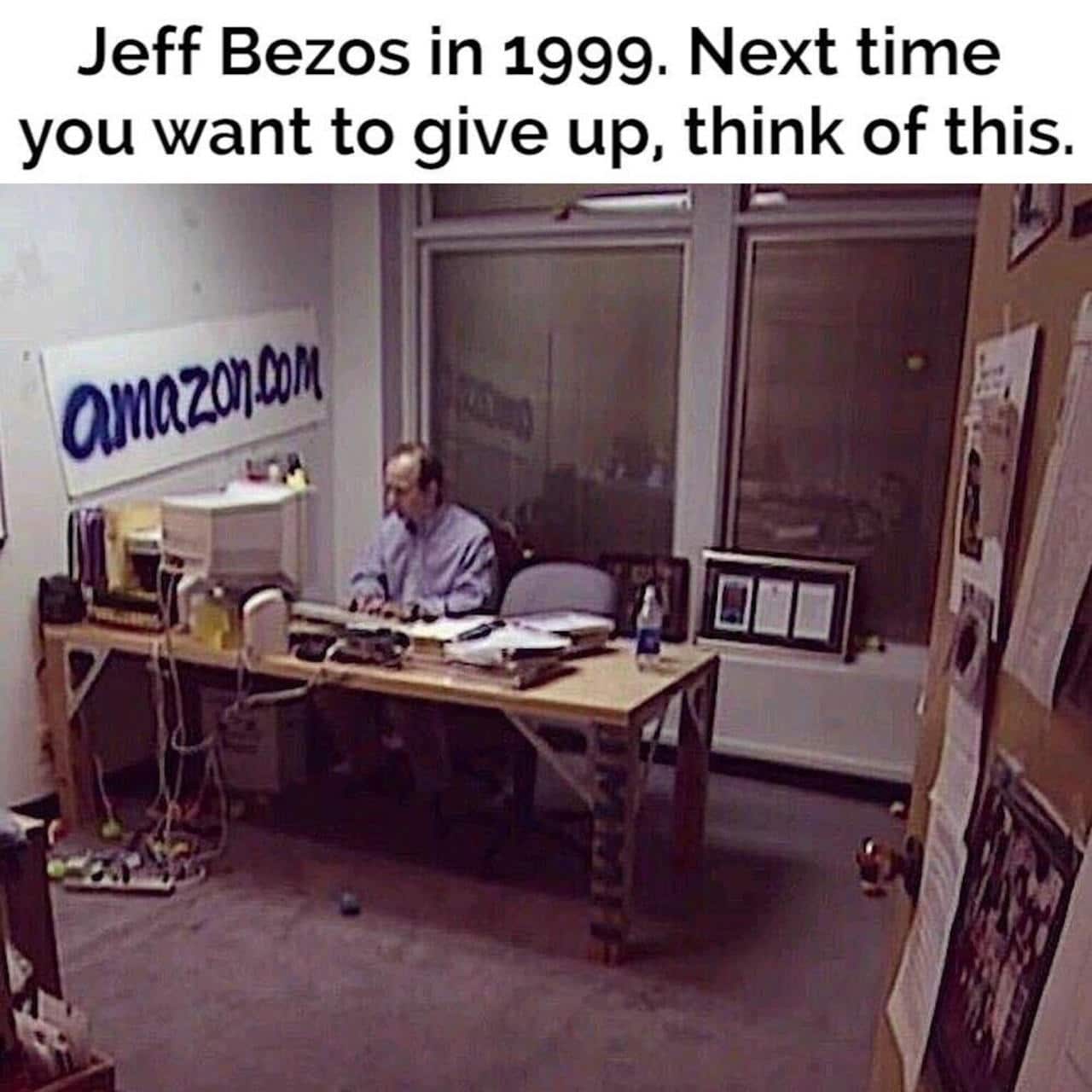 Source: Larry Kim on Twitter.
What we know about Amazon in 2019 is the total of all the effort of every team member for 20 long years.
Today we see some great features like:
Amazon India payment with a credit card doesn't take me out of Amazon to the card site for OTP.
Amazon has revolutionized the return policy. Provide customer peace of mind while shopping.
These are small aspects to wow customers, but it is about making things easier for the customer.
Amazon is always working to improve its customer experience, but when it is as long as 20 years, it can do wonders.
As a blogging lesson from Amazon, can you plan to blog for two decades? Blogging is a Marathon and not a sprint.
Final Thoughts
I firmly believe online success is rooted in doing the basics consistently. Making customers happy approach is the biggest reason why these companies are ridiculously successful online.