If anyone hasn't read The 7 Habits of Highly Effective People by Stephen R Covey, the first thing he or she should do is read it. Let me share why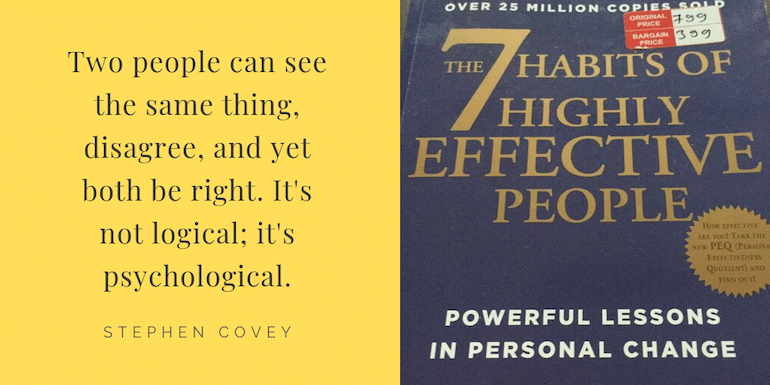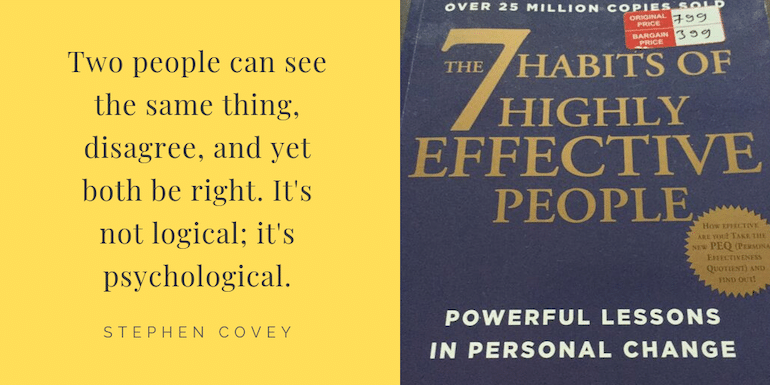 The Book, 7 Habits of Highly Effective People by Stephen R Covey, is a timeless bestseller. Some great athletes, leaders, CEO's, CFO's share their view for the book. Eighteen pages of testimonials.
One can imagine how much the book is read and appreciated all over the globe. A must-read for every individual more so for freelancers, bloggers, and entrepreneurs.
So, I will share some glimpse of things that touched my heart and is thought-provoking for me.
So let's begin.
The Paradigm Shift
I always believed one has to have the right attitude to be a success. Harsha Bhogle re-iterated the views I have.
But, Author shares an excellent example that I will share here.
Let's say you are given a wrong map and want to reach a destination. No matter how hard you work, it will get you to the wrong destination.
You might work on your behavior-you could try harder, be more diligent, double your speed. But your efforts would only succeed in getting you to the wrong place faster.

You might work on your attitude – you could think more positively. You still won't get to the right place.
The simple explanation of it touched me.
I may have done niche freelancing in phpBB, but it would have been a wrong map in my hand. The right map of vBulletin helped because vBulletin webmasters were looking to hire and pay top dollars whereas phpBB guys were looking to get things done cheaper.
So it is not only essential to have the right attitude and behavior, but you also need the right tools to be successful.
Two people see the same thing, disagree and both can be right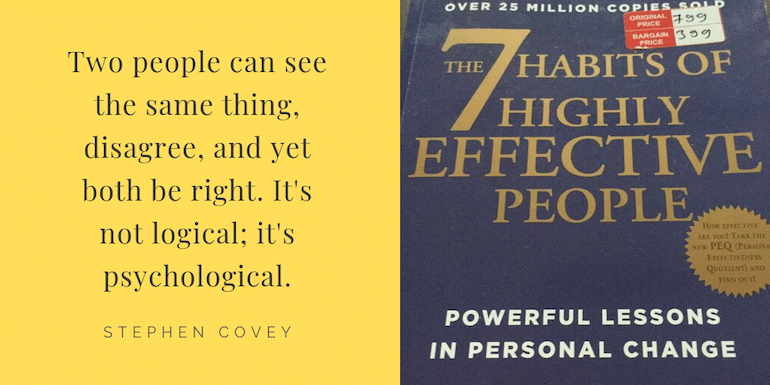 So true and yet all of us get it wrong.
An example author share is significant. So let me share it in brief here.
He gave to half the class a picture of a young lady and the other half were given the photo of an old lady.
Later they were given a photo that is a superimpose of both. The one that saw the old lady earlier were arguing the superimposed picture is of the old lady, and another group was arguing it is a young lady.
Both were right but depending on what they have seen in the past affects how they see things now.
So right for a blogger or freelancer. If one of the blog didn't work, we see the business of blogging seems wrong to us.
Similarly, if a niche in freelancing is price competitive, we tend to believe it is all about a price war and competition.
The 7 Habits
The seven habits to be effective in life are:
Move from Dependence to Independence

First Habit: Be Proactive
Second Habit: Begin with the end in mind
Third Habit: Put First Things First

Foundation for Effective Interdependence

Fourth Habit: Think Win-Win
Fifth Habit: Seek first to understand, then to be understood
Sixth Habit: Synergize

Habit of Renewals

Seventh Habit: Sharpen the Saw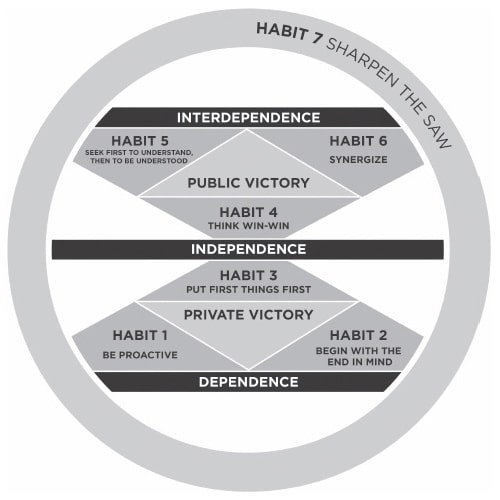 I will not get into the details of each habit, but I will like to share the time management matrix.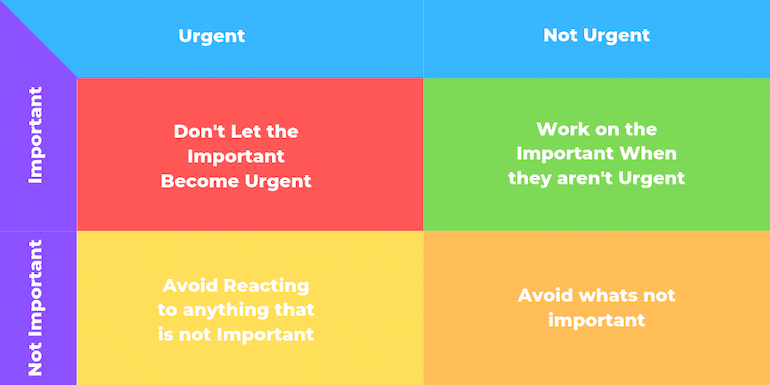 It can be the single most important reason for reading this book. Though the book is written 25 years earlier, in the world of social media, the matrix is even more relevant.
How we react to urgent things yet, we know those aren't important.
Or how we let important things become urgent before we start working on them.
Accounting is one of them where I prefer to work on it just before I need to file my income tax returns. After reading the book, I have been trying to get it done when it isn't urgent.
The Concept of Emotional Bank Account
We know about the financial bank account where we deposit money. In the needy times, we withdraw money from the bank to fulfill our financial needs.
Similarly, the emotional bank account is the amount of trust one has in the account with others. Trust is the basis of any relationship.
One can make six types of deposits in any relationship's emotional bank account:
Understanding the individuals
Attending to the little things
Keeping commitments
Clarifying the expectations
Showing personal integrity
Apologizing sincerely when you make a withdrawal.
And in needy times, one can use the emotional bank account for withdrawals.
A fantastic way to nurture a relationship.
People don't give much to the relationship and ask a lot in return. Never works that way.
Listening
There are many levels of listening. Quite thought-provoking for me.
There are different levels of listening:
Ignoring – Not listening at all.
Pretending – Yeah, Ohh Right response.
Selective listening – Hearing only certain parts of the conversation.
Attentive Listening – Paying attention and focusing energy on the conversation.
Empathic listening – Listing to understand the inner meaning of the conversation.
At the most we do is attentive listening but what we need is empathic listening.
The Whole is Greater than Sum of its Parts
In the habit of Synergize, one realizes how synergies can provide a completely different momentum.
Two trees planted side by side will improve the soil so much that both benefit from it. Similarly, two wooden sticks together can take up a lot more load than each individually.
Logically, one plus one is two, but psychologically it is always more than three.
So important to understand.
As an entrepreneur, an essential aspect is not the idea or the funding. It is always the team.
Sharpening the Saw
It is a very famous storyline, and it has to be from Stephen R Covey. I was mesmerized by reading it in the book that I took a picture of it to share it here.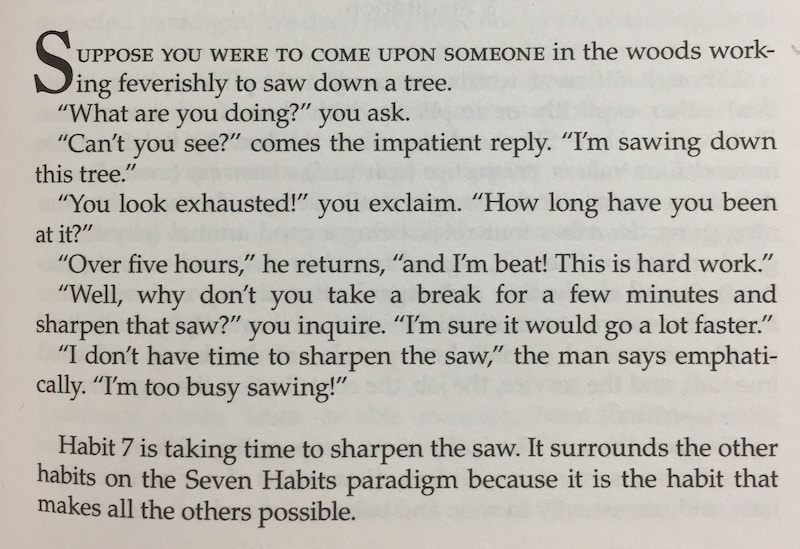 So true. We should all spend more time sharpening our saw.
As a blogger, I should spend more time reading than writing, but I am too busy writing.
Being a freelancer, I should spend more time learning something new, whereas I am too busy working for clients.
As an investor, I am too busy investing and finding the right investment opportunities, whereas I should learn the proper process to invest.
And the list goes on.
We always think we are sharpening the saw but are we?