Adding an Indian bank in Clickbank account is quite simple and easy. Here is How to Add an Indian Bank Account in ClickBank.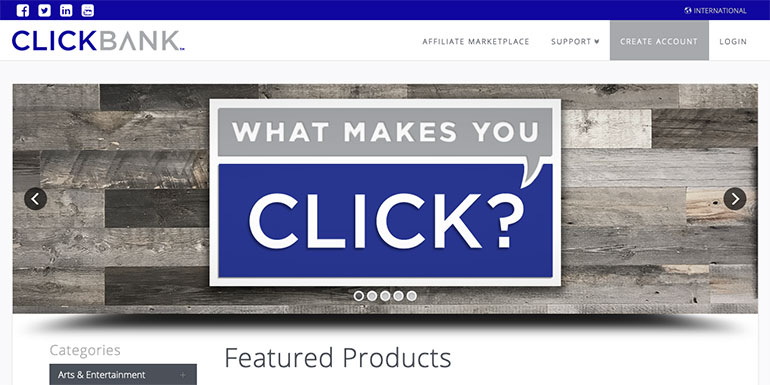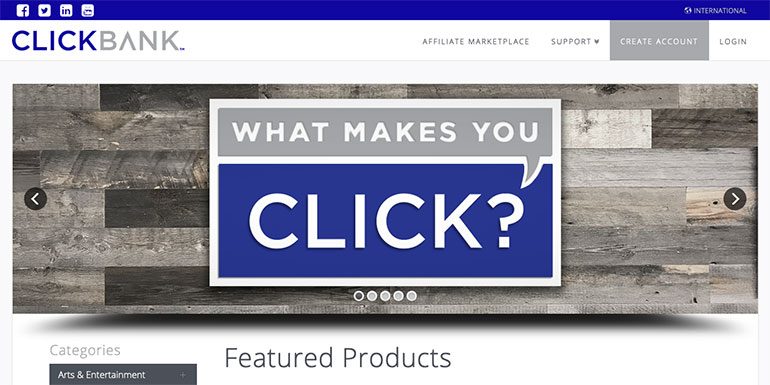 Initially, Clickbank allowed adding an Indian bank account only after sending a couple of checks to verify your physical address. The reason why I have a Check from Clickbank.
Fast forward in 2019 and enabling a bank deposit for an Indian account in Clickbank is an option right out of the box. The same is true for everything including freelancing. I shared the Freelancing Barriers I Faced Decade Ago when I started.
The process to receive payments now, all one needs to be doing is to add bank details in the ClickBank account. The procedure is the same for both vendors and affiliates.
But before we get into adding bank details let's understand the payment methods offered by ClickBank.
Clickbank Payment Methods
Clickbank offers 4 payment methods.
1. Check
It's the default payment method. When affiliates don't specify a particular means of receiving payments, ClickBank will pay through check. The check has a payee name on it and it is physically mailed to the registered address in the account. Note the check is in US currency. Here is how to deposit the US check into an Indian bank account.
Because the check is physically mailed, and that too in the US currency. The amount reflecting on the bank account can take almost a couple of months. The first month for the check to reach you and then 21 working days for it to clear.
2. Direct deposits
Payment is directly transferred to a designated bank account. To get money directly in a local bank, one has to add the bank account details. The direct deposit option is available in selected countries only. The good news is, it is available in India.
3. Wire transfer
A costly payment method. Clickbank charges $35 per wire. It is for those who reside in a country where ClickBank doesn't offer a Direct Deposit payment method.
Clickbank sends US dollars payment to the bank. So apart from Clickbank charges, the bank also charges a fee for conversion to local currency. Because in India we have a direct deposit option, wire transfer should be avoided.
4. Payoneer
Payoneer is an international payment gateway service provider. With direct deposit, an affiliate has an option to receive payment via Payoneer too.
Payoneer is not an option directly in Clickbank but only using the US bank account details. It is again not an option for Indians which is not an option for Indian Payoneer account. Refer to my detailed Payoneer review.
How to Add Indian Bank Details in ClickBank for Direct Deposit
Out of 4 major payment options we have only 1 to configure – direct deposits. So, let's do it.
Log in to the ClickBank affiliate account. Click the account settings tab on the top besides vendor settings. See the image below.

Scroll down to locate the payment information section. There's a small edit button on the top right. Click it. Refer to the image below.

Upon clicking the edit button the payment information editor opens up. See below.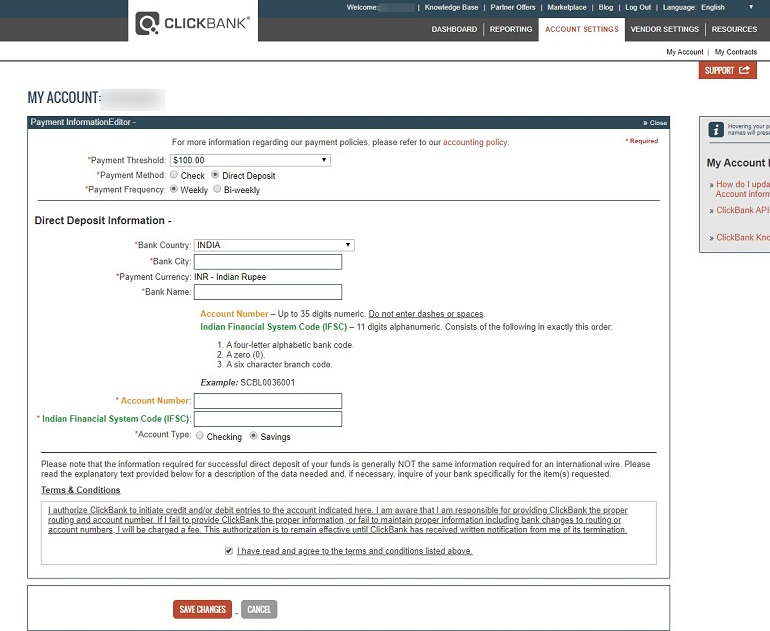 Select the payment threshold, method, and frequency as per convenience. Now select a bank country like India to reveal other fields in the form.
Enter the direct deposit information like bank country, city, name, account number, IFSC code, and account type.
Make sure all the details are correct. Check each and every detail twice before submitting it. Accept the terms & conditions and click save changes.
The direct deposit payment method is now configured. All future payments will deposit in your local bank account.
Also Read about the Purpose Code For Receiving Foreign Currency Payment in India
What if I Supply Wrong Bank Account Details by Mistake?
While configuring bank details there are chances of errors. The affiliate may give wrong details by mistake or the bank may not allow foreign deposits for whatsoever reasons.
In that case, the money returns to ClickBank. Now, ClickBank is bound to make a payment to an affiliate. So, what it does is resends the payment via a paper check.
In addition, the system will make the paper check as the default payment method for that particular account. The default payment method won't change until the correct bank details aren't provided.
Note: Affiliates can inquire about the details of money returned from his/her account to ClickBank. Send a request through Account Questions form. Provide details like the period ending date, amount, and account nickname.
How many days does it take for money to reach the bank?
With the direct deposit method, the amount reflects the same day or at most the next day.
I have stopped promoting Clickbank products as an affiliate because of the quality of products available. Still, here is one payment I received in 2018.

And it reflected in my bank account on 23rd May 2018 itself.