I have deposited Checks from Adsense, Clickbank, Amazon in my HDFC, SBI, SCB. Let me share the process to deposit USD check to Indian bank savings account.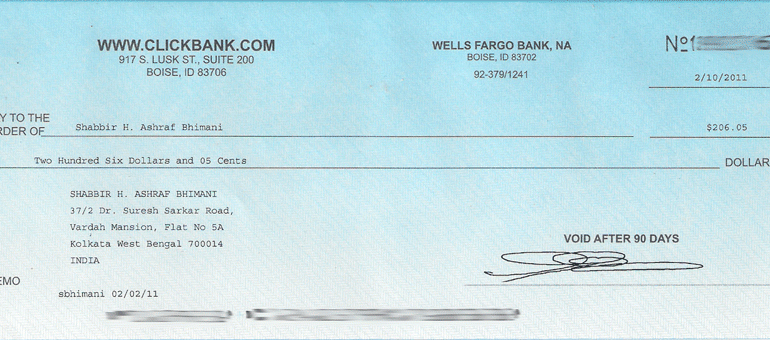 In the past, I had several checks (or cheque) from Clickbank, Amazon, AWeber that I have deposited in my bank accounts in HDFC, SBI, SCB, and recently in IDBI bank. In this article, I will share how you can Deposit a USD Check to your Indian bank account
Every Indian bank can accept and clear a USD currency check. However, some branch personnel is not aware of the process. So they can revert to you with an answer that you can't deposit other currency checks in your savings account. If any bank's any branch gives you such a response, visit the main branch in your city to deposit the foreign currency check.
I had an SBI account in Kolkata Moulali branch, and they were even fine dropping USD check in the drop-box as well though I don't prefer dropping USD check in the drop-box.
Let me share every detail that you need to know to deposit USD check in an Indian bank account.
The Process to Deposit USD Check to Indian Bank
Local check issued to you from any bank in India, the process is the check should be sent for clearance to the issuing bank. In India, now we have central clearance but just to understand the process. Once the issuing bank verifies the signature and performs the necessary check of availability of balance, it allows the transfer of funds from the check issuer's account to your account.
The process remains the same for international checks in any other currency, including USD. The check needs to be sent to the source bank for clearance, and once approved, the amount will be credited to your bank account.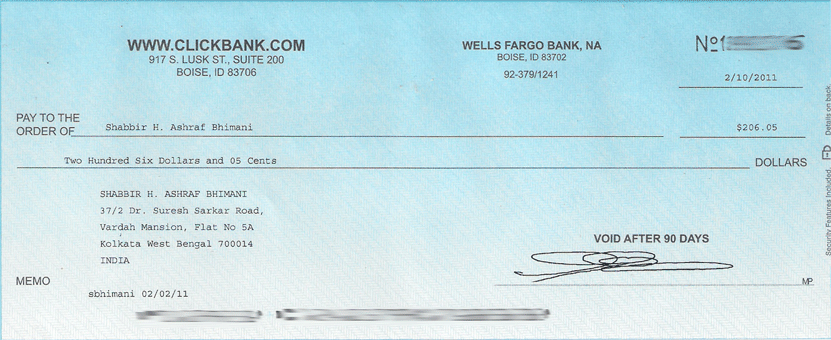 If you look at my past Clickbank USD check, you can see Wells Fargo Bank issued the check. So it is to be sent to Wells Fargo Bank in the US for clearance.
Also read:
As a individual indian freelancer and blogger here 10+ better and easy payment processing options to receive payments from foreign clients.
The Charges for USD Check Deposit
Bank levies courier charges for sending the check to the issuing bank and is commonly termed as check clearance charges.
HDFC Bank charges vary on the amount of a check deposited. So charge for clearance $1000 will be higher than $200 (pretty stupid). The minimum cost is pretty high, as well. Apart from that, other charges like FIRC certificate issuance charges were levied on some checks, but not all. It can vary, and no one can tell the exact charges.
In SBI, IDBI, and Standard Chartered Bank, it is a flat fee varying from ₹100 to ₹200.
You can verify what will be the check clearance charges if there are any other charges that you may need to pay. Even if you have confirmed there will be no charges; You cannot do much once the charges are deducted from your account.
Also read:
Purpose Code is a code issued by Reserve Bank of India (RBI) to classify the nature of foreign currency transaction.
Time for Clearance of USD Check
It's a long process and can take 21 working days for the amount to become available in the bank account.
You will not even see the check-in clearance in your statements. So there is no way to know the progress of it. You need to have the patience for almost a month without being able to see any progress of it.
Also read:
Answers to: Can one deposit a cheque in USD denomination to an Indian currency bank account? Can one deposit cash dollars in an INR currency bank account?
Few Points to Remember
Never drop the check in the drop-box and always submit the check at the counter and take the deposit slip counterfoil for future reference.
The slip should be kept carefully till the check amount appears as available in your bank account for withdrawal.
The deposit slip that you write should have the amount as USD and not INR.
Always keep a xerox or a scanned copy of the check deposited for reference because if anything goes wrong, you can refer to the details to your bank as well as can make a check stop payment from the issuer.
The reverse of checks is watermarked, and so you should not write on the backside of the check. There is a space provided on the back for writing and only use the designated space for writing things like your contact details or bank account number.
If you have any more questions or queries, ask me using the contact form here.