We all love YouTube but do you wonder how the Internet will be without YouTube or Google? I do. So here are 7 Alternatives to YouTube.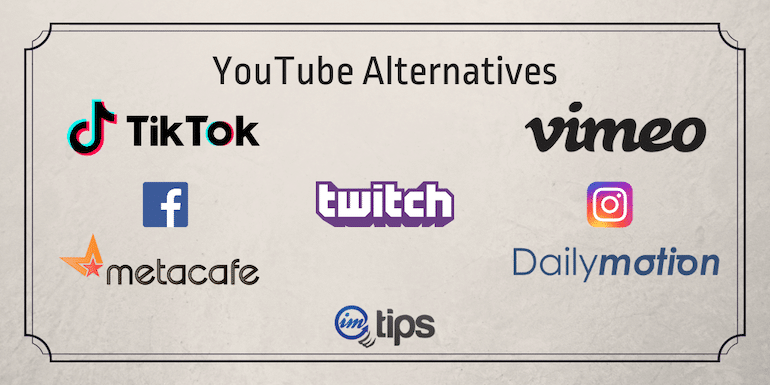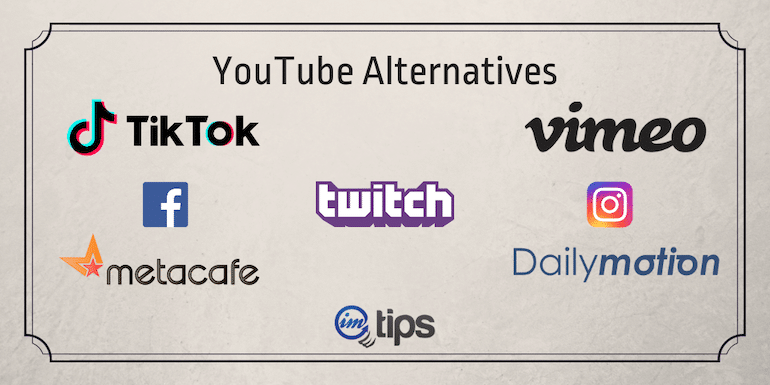 YouTube is popular and we all love it but it is not the only site to upload videos online. There are YouTube alternatives that you can use for online videos.
Videos are the future and there are many upcoming video social networking sites for videos. Whether you are producing cooking videos, tech reviews, traveling, or educational vlogs, you can market videos online.
On a side note, if you are looking for YouTube alternatives because you are not able to get subscribers to your channel do check out 25+ Ways A New YouTube Channel Can Get More Subscribers.
Let's check out the YouTube alternatives and you can be sure of getting value out of uploading videos.

Vimeo is one amazing YouTube alternative to upload and stream videos. The platform is quite modern and provides you n number of video categories.
There is less distraction streaming videos on Vimeo than YouTube. It offers a user-friendly platform and it's fun to watch.
Also, Vimeo has positioned itself as a video marketer platform where you as a professional videographer or a filmmaker can promote your business through videos.
One thing I like about Vimeo is that there are video categories and not channels. So, you can easily select the categorization of your video and upload it.
Vimeo promises you the quality over quantity.
Moreover, it can be a good place to upload videos, as it has approx 170 million viewers and a good ranking position on Google search.
Apart from that, there are user plans: Plus, Pro, Business, and Premium. You can choose the plan according to your usage.
Moving on to an important service that Vimeo provides is that it gives you the biggest opportunity to sell your videos online.
Yes, you heard it right. There is an amazing feature called Vimeo on demand. Suppose, you are a makeup vlogger and want to release your makeup tutorials. So, you can make a trailer about your first episode and start selling other episodes on Vimeo.
Selling videos on Vimeo is quite easy and you get an audience from all around the world. The difference between YouTube and Vimeo is only that YouTube gives you money based on Ad revenue whereas, on Vimeo, you get direct sales revenue.
Let's look at the pros and cons to give you an honest view.
Vimeo Pros:
Available for Android and iOS for free.
Focuses on videos and provide fewer distraction elements/Ads.
Best for professional content creators.
User-friendly video hosting platform.
It offers some TV series and supports 360-degree videos.
It provides superior video quality.
Customized privacy controls.
Prominent customer services.
Vimeo Cons:
500MB weekly upload limit. It can be upgraded with a pro plan.
You have to sell your videos.
It's a bit expensive than other alternatives. The minimum plan starts with $7/per month.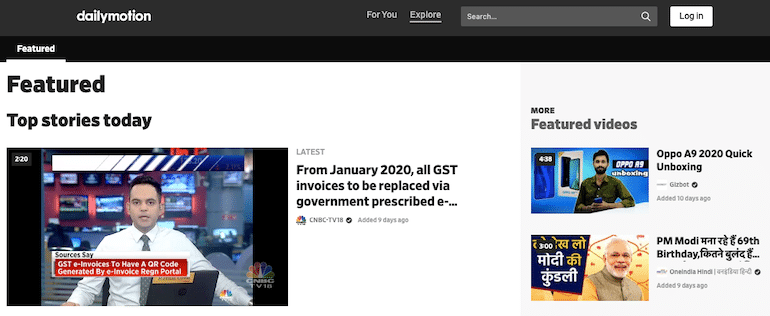 Dailymotion is very similar to YouTube and can be a good alternative to YouTube. It went live in March 2005 and became famous after just some months of its launch.
A competitor of YouTube with millions of videos uploaded by amateurs and professional video makers. The homepage is quite simple and easy to use.
Moreover, there are channels on Dailymotion just like YouTube that you can follow, share the video on social media, etc. One can say that it has a very organized homepage like categorizing hot stories and trending videos.
Create an account on Dailymotion and make a personalized feed for you. It's the second-best option after Vimeo.
Let's look at some pros and cons of Dailymotion.
Dailymotion Pros:
Less harsh rules than YouTube on removing videos.
Simple and user-friendly layout.
Make your personalized feed according to your watch.
Dailymotion Cons:
HD quality uploads are limited to pro users only.
There is a 4GB video limit which means that only 60 minutes of videos will be available.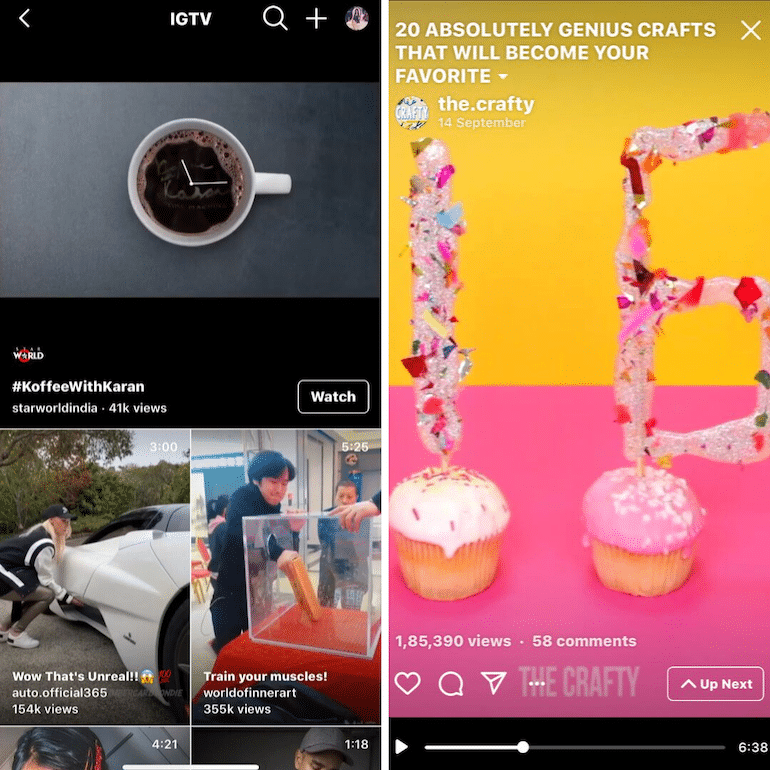 IGTV is a video application by Instagram. It allows longer videos and you can share video links too.  Very easy to use the in-built Instagram product.
IGTV works both on the mobile device as well as IGTV web. (laptop or desktop).
To upload your videos on IGTV, first, create a channel on it. You can also add title and description into your videos and youtube video links. Moreover, choose to post the preview of your video in the Instagram feed.
The maximum video length you can choose is 15 minutes when uploading from your mobile & 60 minutes when uploading from the web. You can upload a vertical video with an aspect ratio of 9:16 or a horizontal video with an aspect ratio of 16:9.
Also, you can share videos on the Facebook page or send it through direct message. IGTV is one amazing destination to host your videos and get viewership.
Let's look at the pros and cons to give you an honest view.
IGTV Pros
Share portrait mode videos.
No limits on video length.
Synchronize IGTV Videos with Facebook
Best for marketers and brands.
Share youtube links through IGTV.
IGTV Cons
Videos from High-End Camera aren't square or portrait.
Lack of monetization.
Viewership limited to Instagram only.
One can only upload from a smartphone
Also Read: 40+ Best Tools For Effective Social Media Marketing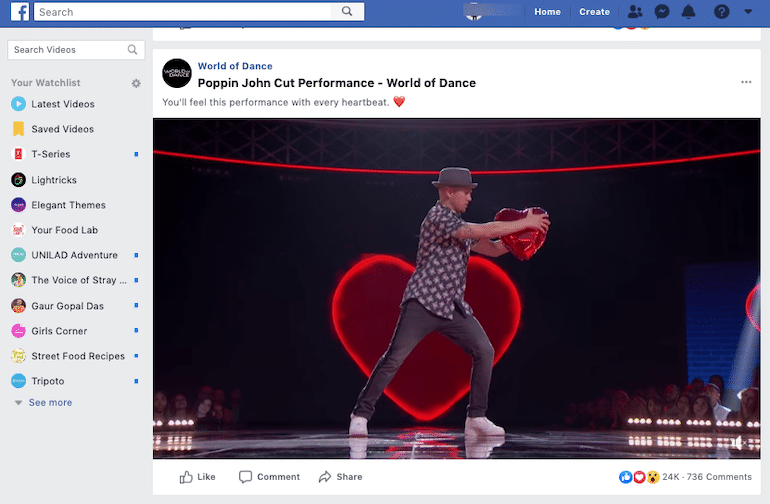 Facebook is a popular social media site and it's the best platform to promote your videos.
You can promote videos like cooking, photography learning, makeup tutorials, funny videos, motivational videos or tech reviews. Open to all types of professionals, bloggers, and vloggers.
Share videos with your friends or host a watch party with friends are some of the best features of Facebook videos. Watch on mobile phone or desktop – easy to navigate.
Also, one bonus point – you can monetize your videos on Facebook. They call it ad breaks.
Earn from video ads only when your Facebook page has at least 10,000 followers and 3-minute videos that have generated more than 30,000 1-minute views in total over the past two months. A way to eat into the market of Google.
Let's look at the pros and cons to give you an honest view.
Facebook Videos Pros:
Huge viewership on Facebook.
Easy to share, like and get a comment on videos.
The cost of getting your video to reach the audience on Facebook is three times cheaper than YouTube.
The Facebook crowd is always ready to consume videos.
Facebook Video Cons:
Facebook Video lifespan is shorter than Youtube. You won't search Facebook.
Once the video is gone from the feed, it is gone.
Facebook's organic reach is almost dead.
Also Read: How to Promote Non-Viral Niche Websites on Facebook

Twitch is the world's popular live streaming platform for gamers. You can watch videos, upload videos and chat with millions of people. Not a complete alternative to YouTube but definitely worth considering for gamers.
Twitch was founded in 2011 mainly focused on video games. You can also use it for creating artwork, cooking, music, talk show or any kind of series that you want to show it live.
It recommends streams on the front page of its website and its application. One can also discover new Twitch channels to watch by browsing the Games category.
Twitch Pros:
Build a community
Get Famous
Able to promote if you are a big streamer
Play games while getting paid
Twitch Cons:
Takes a long time to get success on Twitch
May not worth your investment time unless you are fond of gaming
Can get an insulting crowd so not good for emotional balance
The platform only suitable for passionate gamers
Also Read: How to Track YouTube Embeds Play/Pause Via Google Tag Manager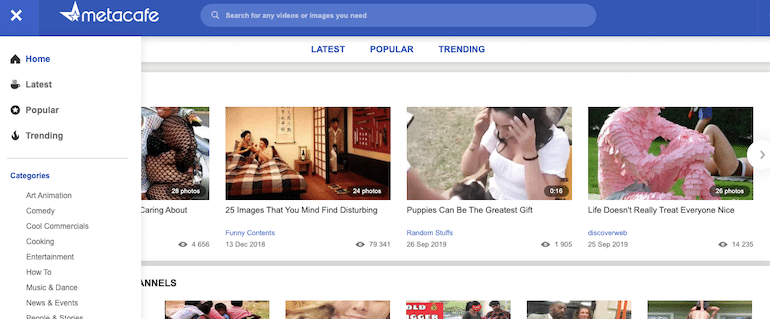 Metacafe is a video sharing website that specializes in short entertaining videos. A community-based YouTube alternative. People share the most embarrassing moments captured in videos or funny moments on Metacafe.
There is a 90 second limit in sharing videos in numerous categories like sports, funny videos, video games, movies, and news. Quite simple to use and easy to navigate videos for users.
Let's look at the pros and cons to give you an honest view.
Metacafe Pros:
Community-based content
Attracts around 40 million unique viewers
Metacafe Cons:
90-second videos mean comprehensive
Limited viewership in comparison to YouTube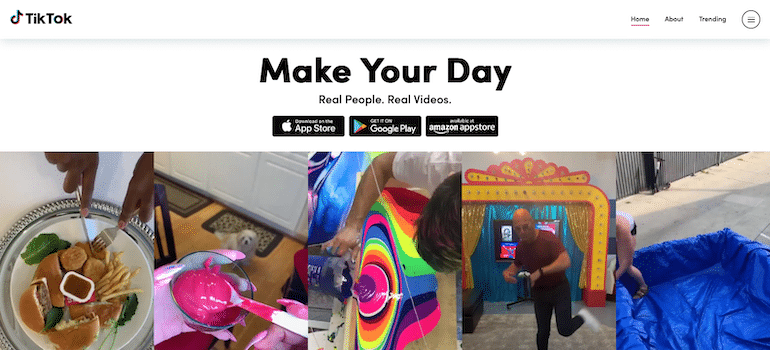 TikTok is an android and iOS based video app for short videos.
On TikTok, one can make a short video. The video maximum time shoot is 15 sec and generally is the storytelling of oneself in a short time. You can share anything with people you would like to.
This app was launched in 2017 in the Chinese market. Some famous TikoTokers turned celebrities also get opportunities to appear in music videos.
TikTok Pros:
Watch millions of videos selected for you (a personalized feed)
Get entertained and inspired by millions of TikTokers
Add your favorite music to your videos
It's completely free
Use emoji stickers and face filters
TikTok Cons:
Can't upload music from your mobile's music library
Video limit only 15 secs
No option of promoting any link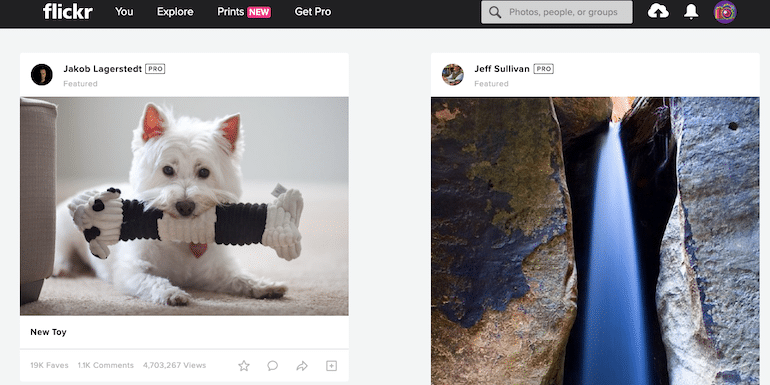 Flickr is a photo-sharing website as well as it has a video sharing option too. Owned by Yahoo! Flickr offers some amazing offers which are unique to its users.
Flickr video upload limit is up to 90 seconds and is famous for short videos. They call it 'long photos'.
Best for creative video creators who want to experiment something new in less time. It allows you to make a free account but it has limited uploading videos option. But, if you subscribe Flickr which approximately $25, you get unlimited uploads.
Let's look at the pros and cons to give you an honest view.
Flickr Pros:
Very clean and simple UI
Search for a variety of content
Videos can be uploaded free
Flickr Cons:
Video uploads are only up to 90 seconds.
No extra-ordinary features related to video sharing.
Final Thoughts
As a video creator, if you are finding other platforms to share/upload your videos, take the opportunity to get a massive audience. Many of you have tasted the success of YouTube, now explore the other emerging video sharing platforms too.
By doing these, you are getting two main benefits: broadening your horizons and giving more data to Google.
Moreover, if you are looking for the best YouTube alternative than yes, Dailymotion and Vimeo are the best ones and these two helps you maintain your video quality at best.