The 7 Key benefits of getting your business listed with Google My Business listing and why I think every local business should consider it.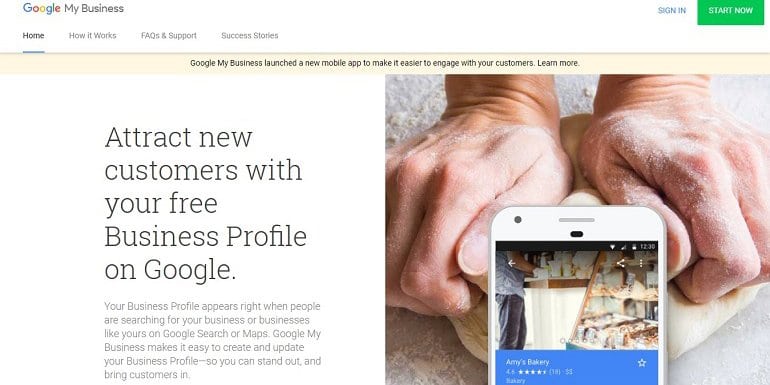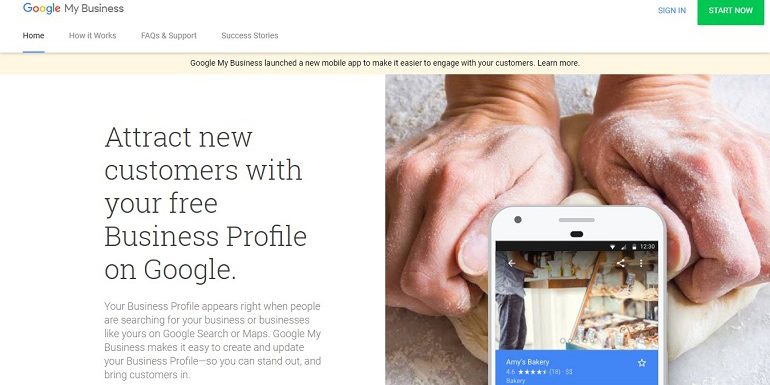 The benefits of using Google My Business or GMB are immense when done along with local SEO.
Why local?
The way we search has changed. When users search for a service or a product they are more inclined to drop by in a local shop. The whole idea of Google My Business tool is to align your business for local search results. Like – Gym, Barber Shop, Restaurants, etc.
Google My Business is how you find products and services in your area. 
To set up your own local business listing in Google, check out my Complete Guide to Setup a Google My Business Page.
So once you have your Google My Business Page, let me walk you through the key benefits of using FREE Google My Business tool to strengthen your online visibility and grow your business.
1. Mobile Enhanced Search Results
The most important benefit of Google My Business listing is highlighted search results on mobile.
Google search results are different on mobile devices. Similarly, the GMB listing differs on mobile. (Note: Google My Business page is also referred to as "Business Page Listing" or just "Listings").
For example, when I search for a barber-shop near me on my laptop & mobile device both at the same time I get the following results.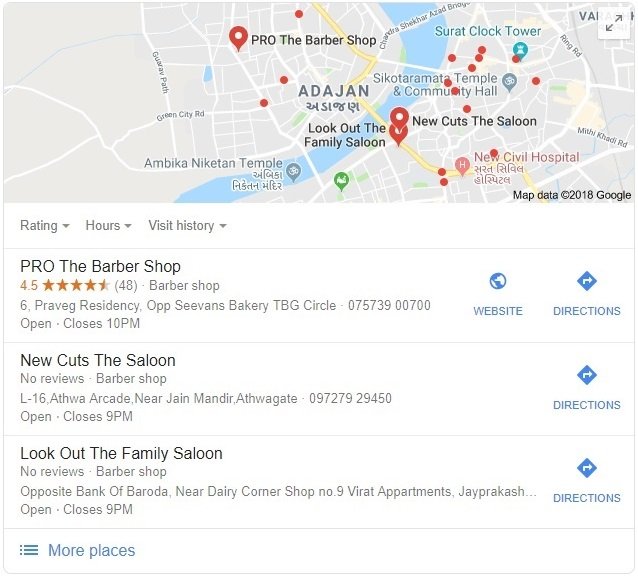 Google Search on Laptop
The Local Search on mobile also shows how far the barbershop is from my current location.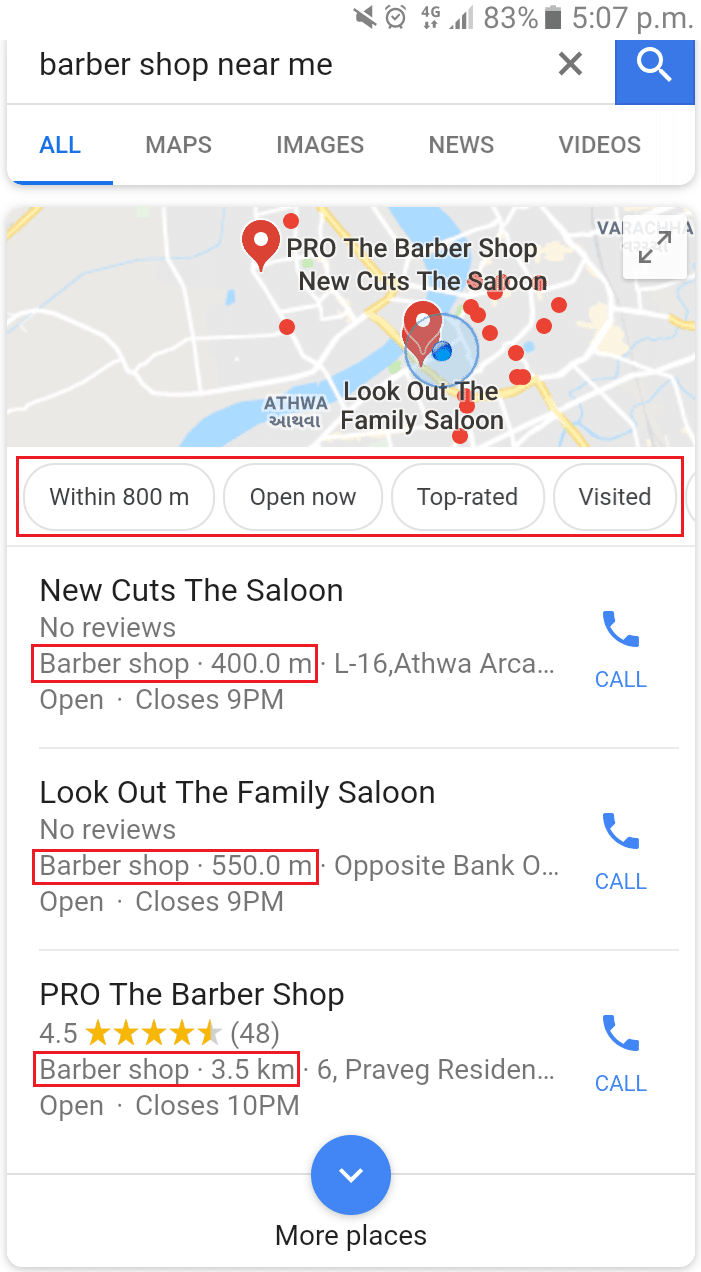 Google Search on Mobile Device
When a user clicks a particular result on a mobile device it gives more curated information about the business to them which in turn helps the user to make an informed decision.
Google even shows Popular times throughout the day from Monday to Sunday or how busy is the barber. Below the timings, it also shows what amount of time people spend at a given place.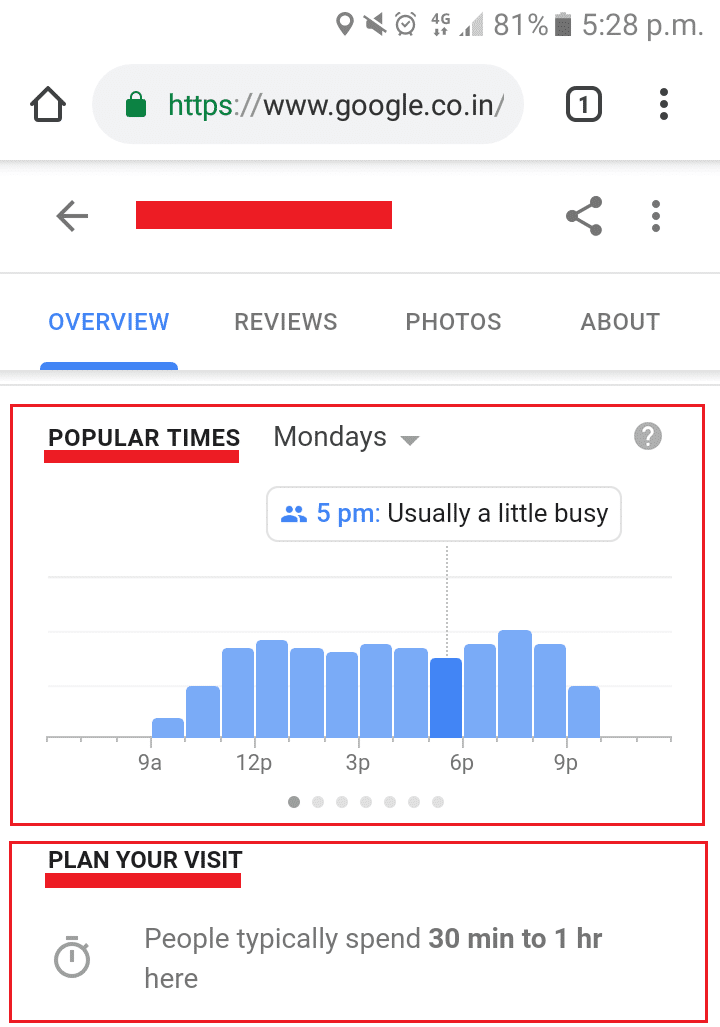 When such precise information about business surfaces on mobile search it elevates the credibility of the business. After all, if you find that your favorite barber is busy at a certain point in time would you visit him/her. So, that's the beauty of Google My Business listing all info about your business in a single click to the user.
2. Get Bookings Directly in Google
Which business doesn't want customers.
GMB displays the available hotels with the location, date, time, price range, reviews, facilities available at the hotels and a lot more. A very unique benefit for listing your business with Google My Business.
GMB is always an advisable option from the local SEO point of view. The bottom line is users prefer to search for a hotel nearby on Google instead of searching elsewhere.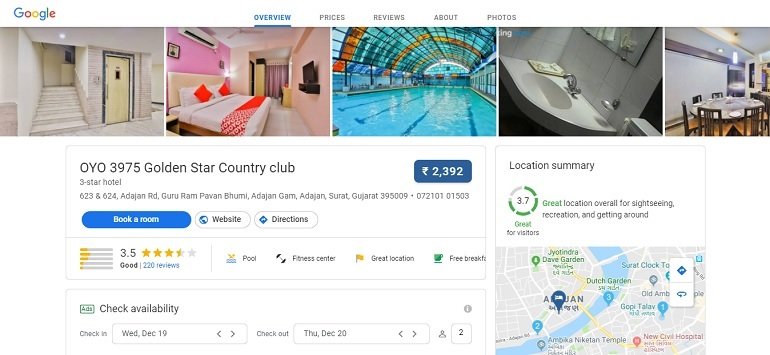 Your business can have a location summary widget as well. It helps users to see things nearby for a location. You not only feature other important offerings for your customer but you can also be featured in other peoples nearby offerings. Win-win for all.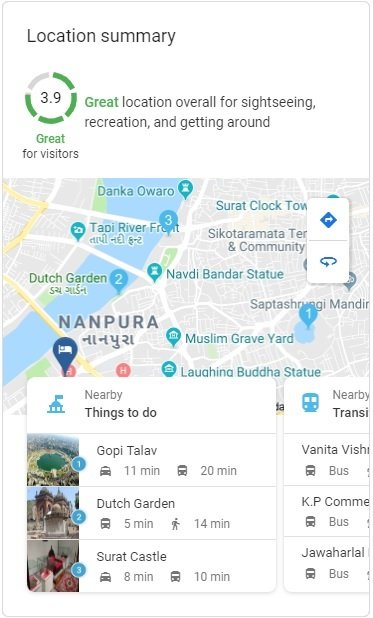 The location summary offers the following information to the user along with hotel details:
Things to do – Local Attractions
transit stops – Local Transport
Nearby airports – Domestic & International transits
3. Locate Physical Location
Registering your business on Google My Business with accurate information about the location can mean you enable your customers to find you on Google maps.
It eliminates the chances of a customer being lost in your vicinity. In order to get more accurately listed in Google Maps, you should always label your location. Labels help your business stand out in the search.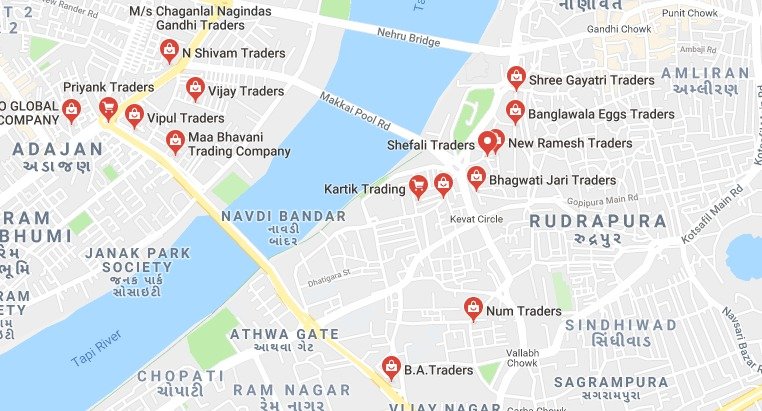 For example, I am looking for metal traders in my location. Upon searching I found the location of traders as a whole. It will be easy for me if the business owners label their location on maps with the type of metal business they are dealing with – Scrap Metal Traders, Aluminium Metal Trading, Copper Metal Traders, etc.
Labeling is easy and very helpful. If you aren't sure how to add labels, check out my article on How to Add Labels on Google Maps for your Business.
4. Accurate Information to Users
The concept of registering your business with the Google business listing tool is to showcase accurate details about your business to an anonymous user online. Google is committed towards the best search experience to the user and it makes sure you provide accurate business details.
GMB displays the following details upfront in the search results:
Business name
Website
Business address
Hours of operations
Phone numbers
Question & answer by users
Images
Customer reviews
Busy timings
Business description
Call Now button (in mobile search)
The distance of the target location (in mobile search)
As well as any other information that Google thinks will help the user find what they are looking for.
5. Customer Reviews
Customers are going to review your business both in the positive and negative sense. It is you who shall respond to them in a professional manner because the reviews and their response are publicly displayed for your listing.
A pro tip from my experience what I would like to share is to always reply to the customer reviews including both good and bad especially the negative ones. Although if you find that someone has intentionally left a negative review then you can notify the GMB team and get it removed.
How to Request a Review on Your Google Business Page?
Go to the GMB dashboard and locate the widget "Your Business is on Google".
You will see the view on maps and view on search links.
Open them in 2 separate tabs of your browser.
Copy both the links and save them in a notepad for future reference.
Send these links in emails, WhatsApp, Google Hangout, Skype, etc. to your customer.
Ask them to write a review.
Create a short PDF guide on how to review your business on GMB and send it along with the link. Your customers can review your business using both Google Maps & Google Search links that you send them.
Read: How to Get First (Or Next) Customer Review.
6. More Sales With Product Detail Posts
It's quite possible to list, sell and make money out of your products or services on GMB using the Create Post feature.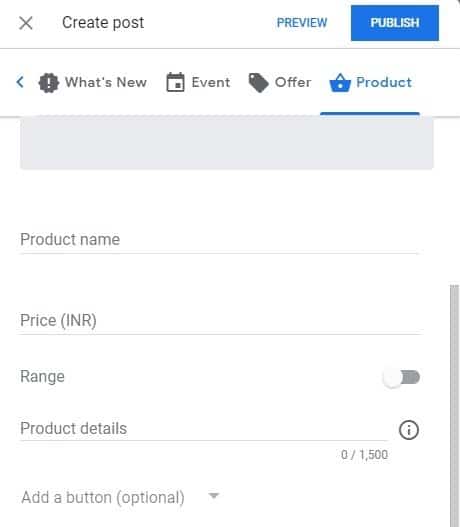 It helps you create a product post that includes product image or video, product name, price, product details (1500 characters) and a button that will take buyers to the product ordering page. The same you can do for creating an offer for a product that you are selling on your eCommerce website or an eCommerce channel like Amazon, Flipkart, Snapdeal or Shopclues.
Check out: Best Websites to Sell Anything Online in India
The create post tool in GMB integrates features that would help a wide category of businesses like food manufacturers, fast food chains, small food joints, restaurants, tuition classes, professional service renderers, FMCG suppliers & retailers, and others.
7. Valuable Business Insights
It is very important to know how users are interacting with your business and what keyword brings them to your GMB page in Google search.
The GMB insights let you see the wealth of real-time customer data which is divided into 3 categories viz Visibility, engagement, and audience. These data are readily available in the insight section on the left panel of the GMB dashboard or in the view insight widget when you scroll down to the bottom of the dashboard.

The GMB listing tracks the overall performance (28 days) of your business and shows a comprehensive report on the dashboard itself. The following image depicts a clear idea on how frequently a business search happens and the number of actions taken on both Google search and Google maps. See the image below.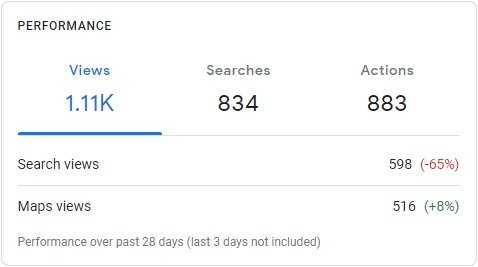 The following list shows the bifurcation of GMB customer insights:
Search queries used to find your business.
Total search made for your business.
Where customers viewed your business: Google Search or Google Maps.
Most common actions of customers: Website visit, direction request or call.
The total number of times your business photos were viewed.
Google My Business also lets business owners download local reports based on selected locations in an excel format. The data can range between 7 days to 90 days or even for a customized date range.
The following list shows in what verticals the data is available in GMB.
Found listing on Google Search or Maps
Searched for the business name or address on Google Search or Maps
Searched for the category, product or service on Google Search or Maps
View on Google Search or Maps
Visited the website from this listing
Requested directions from this listing
Called the business from this listing
Conclusion
Google My Business is the first step toward getting recognition in the online search. Where 9 out of 10 business search is by customers on Google to find the right business, GMB is the much-needed tool for any business looking for more customers.
Business owners can connect with their customers by optimizing their Google business page and analyzing valuable data to boost their online presence and grow their online sales.
In short, Google My Business is free and worth every effort.
So finally, I have to ask, Are you ready to take the benefits of listing your business with Google My Business and feature in Google search results?